Last Updated:
In a foodie's land like Singapore, we have no lack of choices when it comes to food. But why pay the full amount when you can make use of dining deals and promotions to shrink your bill? We have rounded up some good restaurants and F&B spots in Singapore where you can get 1-for-1 dining deals and promos with various credit cards!
We frequently keep this page updated so that you can find the most cost-saving dining and buffet promotions in Singapore as you uncover more delicacies in different corners of our densely-packed city.
Scroll down further to where to get your money worth and tummies filled!
READ ALSO: 14 Satisfying Buffet Promotions in 2019 You Don't Want to Miss
Seasonal Tastes, The Westin Singapore
Not sure whether you'd like an international buffet or a local buffet? Why not have the best of both worlds with Seasonal Tastes delectable selection of contemporary international and local cuisines? Enjoy the skylines of Singapore with its panoramic views of Singapore's Marina Bay and the South China Sea through its floor-to-ceiling windows. Enjoy a luscious spread of the catch of the day, complemented with its meat counterparts of roasts and prime cuts!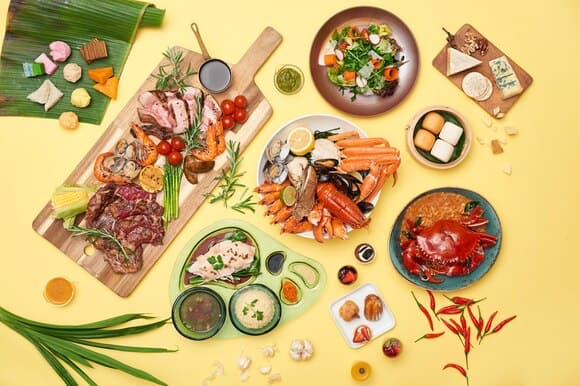 Promotion: 1-for-1 dinner buffet | with DBS/POSB Cards
Expires 31 July 2020
Limited to 100 pax daily
Valid for adult dinner buffet only
Address: 12 Marina View, Asia Square Tower 2, The Westin Singapore, Singapore 018961
The Kitchen Table, W Singapore
Known for its outdoor views that lets you soak in the sunlight, The Kitchen Table promises a spread that will satisfy even the pickiest eaters! With their variety of desserts (which includes a chocolate fountain), grills, carvery, seafood, local food and more, you're sure to find something that will satisfy your cravings for a hearty meal. Lunch buffet prices start from $78++.
Promotion: 1-for-1 buffet lunch & dinner | with UOB Card

Expires 31 Jan 2020
Max 8 diners per table
Reservation to be made at least 24 hour prior
Address: 21 Ocean Way, W Singapore, Sentosa Cove, Singapore
Triple Three, Mandarin Orchard
One of the best things about this buffet at Triple Three, Mandarin Orchard is the daily buffet dinner specials. On Mondays, you get to enjoy International delights with free-flow Kirin Draught Beer, Foie Gras on Tuesdays, Slow over-roasted Japanese Wagyu beef on Wednesdays, special shell seafood on Thursday and Lobster nights on Fridays-Saturdays!
Family lunch is available on Sundays, with a Kids' Corner available for your little ones so you can eat to your heart's content. This award-winning, Japanese-inspired buffet restaurant is usually booked-out so be sure to make your reservations in advance.
Promotion: 1-for-1 lunch buffet | with UOB Cards
Address: 333 Orchard Road, Mandarin Orchard Hotel, Level 5, Singapore 238867
Window on The Park, Holiday Inn Orchard
Some say it's impossible to miss Singapore food when you're literally living in Singapore, but I beg to differ! Singaporean food is probably ingrained in us and we'll never get bored of it. If that's how you feel, Window on the Park may be just for you! Featuring local favourites like Chinese Rojak and Kueh Pie Tee at the Do-It-Yourself counters, you're sure to enjoy trying your hand at putting together your own local dish! There are also local Kuehs at the dessert station for the complete Singaporean experience.

Promotion: 1-for-1 buffet lunch and dinner | with OCBC Cards
Expires 31 March 2020
Payment must be made with an OCBC Credit or Debit Card.
Promotion: 1-for-1 buffet lunch and dinner | with HSBC Cards
Expires 28 February 2020
Please quote "HSBC Dining Privileges" prior to ordering.
Address:11 Cavenagh Rd, #02-00, Holiday Inn® Singapore Orchard City Centre, Singapore 229616
Cocobolo Poolside Bar + Grill, Park Hotel Clarke Quay
A poolside party always calls for some good old barbecue party! Enjoy a casual poolside dining at Cocobolo for an amazing experience of dining under the stars with the glorious view of the city skyline. Brace yourself for wafts of caramelized char from the grill that will definitely make your mouth water. Buffet dinner prices start from S$72++ and it will definitely be a dining experience you won't forget!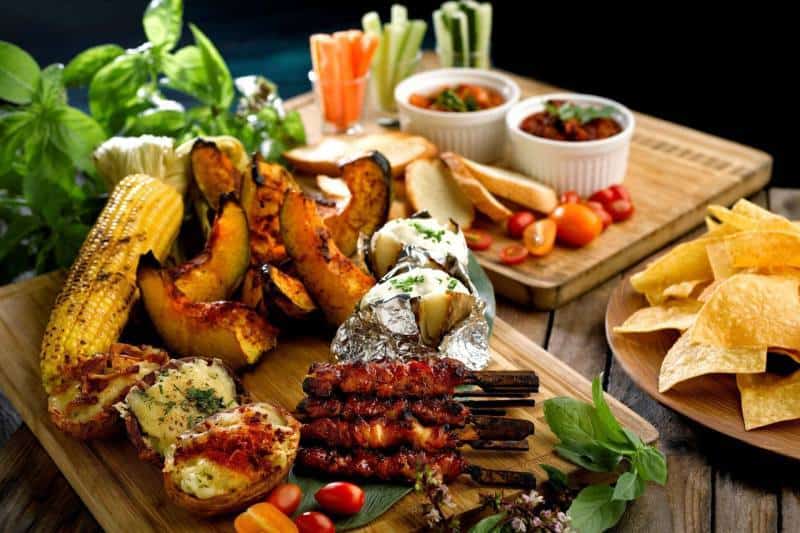 Promotion: 1-for-1 Main Course or BBQ Buffet | with OCBC Cards
Expires 31 March 2020
Valid daily except except on eve of and public holidays, special occasions (Mother's Day, Father's Day etc.), special event menus, and festive occasions such as Festive Christmas Buffet from 20 December to 31 December 2019
Limited to 8 redemptions per bill
Address:1 Unity Street, Singapore 237983
Atrium Restaurant, Holiday Inn
If you're going to splurge at a buffet, why not make sure it's worth it? The Atrium Restaurant at Holiday Inn Singapore will make a great choice. The restaurant features a wide variety of dishes from different cultures, as well as a kids' buffet section perfect for the little ones' taste buds. Try out their specialty Singaporean cuisine, as well as their seafood fresh from the waters!
Promotion: 1-for-1 festive buffet lunch | with Citibank credit cards

Valid till 5 January 2020
Advance reservation of at least 1 day is required and subject to availability.
Address: 317 Outram Road, Singapore – 169075
Escape Restaurant & Lounge, One Farrer Hotel
If you'd like your buffet experience to be more than just a dining experience, you might want to consider heading to Escape Restaurant & Lounge for a "show" where you can watch your chefs prepare food right in front of you! Hyping on the open-kitchen concept, the restaurant aims to distinguish themselves with the highly interactive set up for an immersive visual and taste experience.
Their extensive menu boasts a comprehensive range of local delights utilising quality ingredients as well as the usual Western favourites such as pasta, pizza, grilled meats and fresh seafood.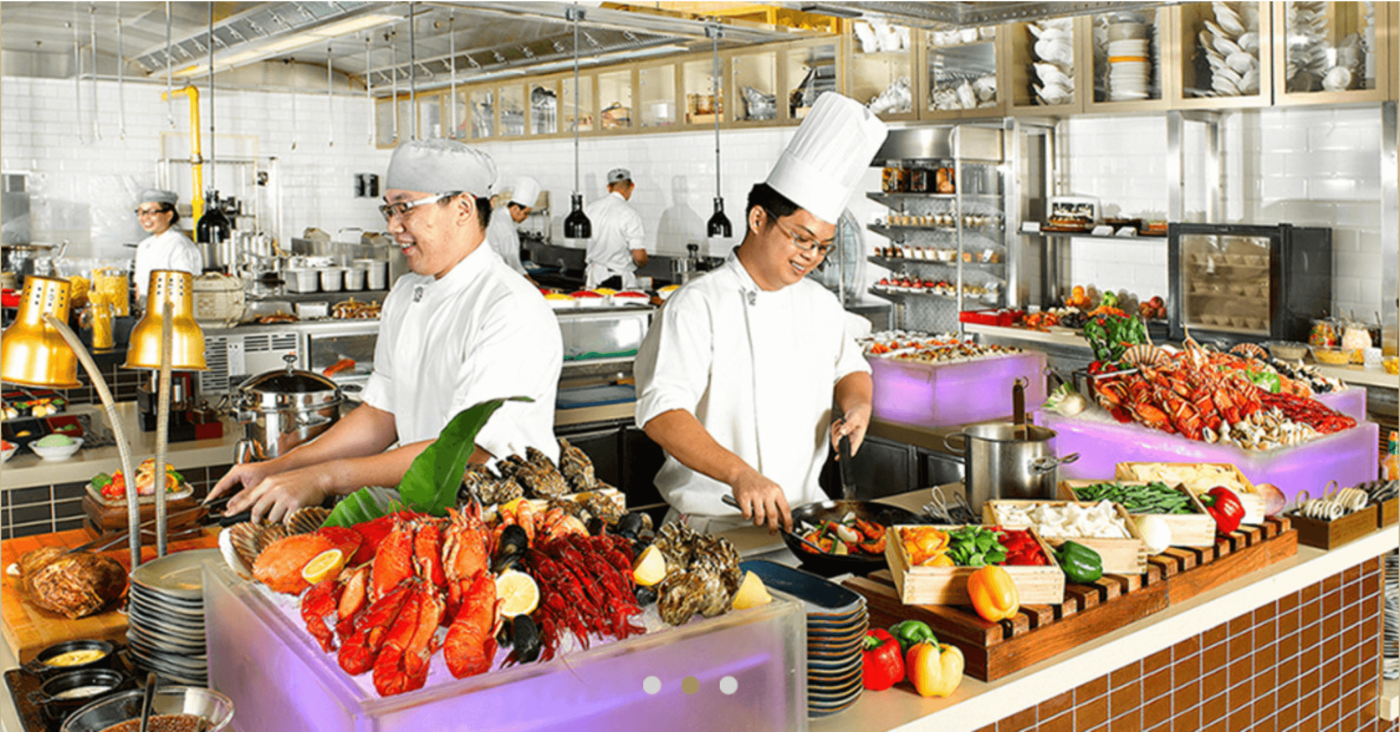 Promotion: 1-for-1 Christmas buffet dinner | with Citibank credit cards

Applicable Mon to Thurs only
Valid till 2 Jan 2020
Promotion: 50% OFF buffet lunch and dinner | with AMEX credit cards

Valid for all Love Dining AMEX Card members
Address: 1 Farrer Park Station Road, Singapore – 217562
Clove, Swissotel The Stamford
Up your game by dining in this beautiful classy restaurant that will surround you with an earthy wooden palette with sunlight streaming in as you fill your tummies with an unforgettable gastronomic voyage! Offering both native and international delights, the Clove also has Do-It-Yourself stations for a more customisable food experience. It is definitely perfect for a weekend catch up with your friends and family who loves food as much as you do.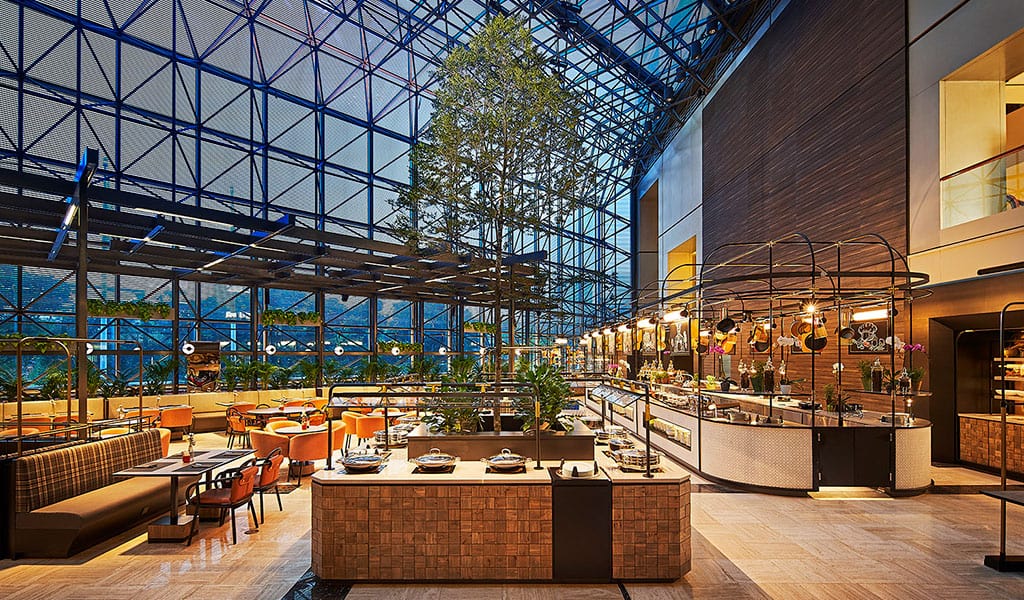 Promotion: 50% OFF buffet lunch and dinner when you dine with 1 guest | with AMEX Cards
Valid for all Love Dining AMEX Card members
Address: 2 Stamford Road, Swissôtel The Stamford, Singapore 178882
---
🙋🏻 Hungry for more delicious deals? They are waiting for you HERE at Cardable!
---
SKIRT, W Singapore
If you are a meat-lover, no doubt you would have heard of SKIRT. Well-known for their prime cuts of meat and fresh seafood, SKIRT is perfect for a decadent date night dinner. Wine and dine with a sumptuous grill including steaks, lamb belly, salmon and more!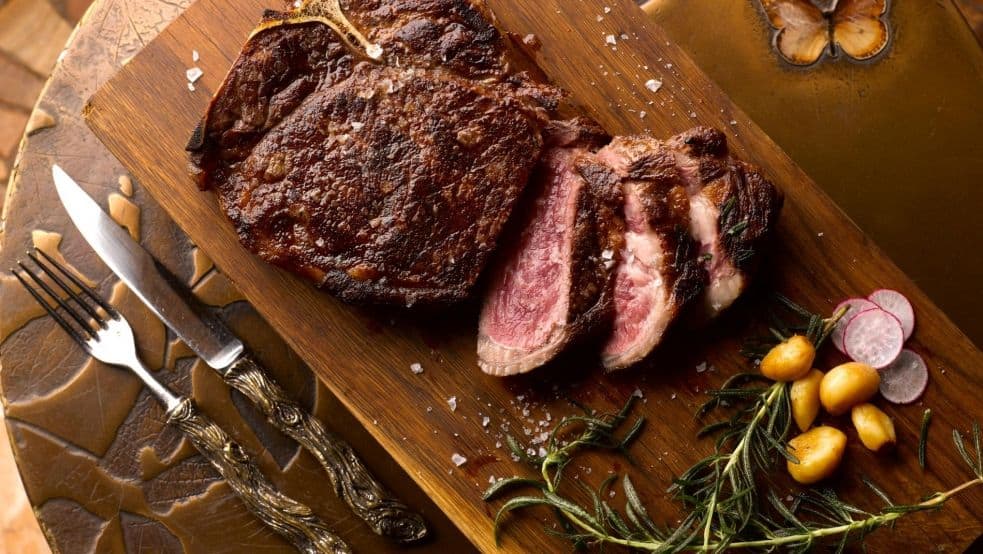 Promotion: 50% OFF buffet lunch and dinner for 2 persons | With AMEX cards
Expires 30 December 2019
50% for 2 persons, 35% for 3 persons, 25% for 4 persons 20%. For groups with 5-10 persons, 15% discount for 1 person
Address: 21 Ocean Way, W Singapore, Sentosa Cove, Singapore 098374
Sun's Cafe, Hotel Grand Pacific
The perfect place to indulge yourself in some of Singapore's finest local dishes, Sun's Cafe at Hotel Grand Pacific overlooking the busy Victoria Street. From authentic Peranakan cuisine with favourites like Babi Pongteh, Itik Siok, Sambal Udang to local and western cuisine like Hainanese Chicken Rice, Laksa, Seafood Mee Sua and even steaks, this is one buffet that will leave you satisfied and worth every calorie! Work it off with a (window) shopping spree at Bugis when you're done with your feast!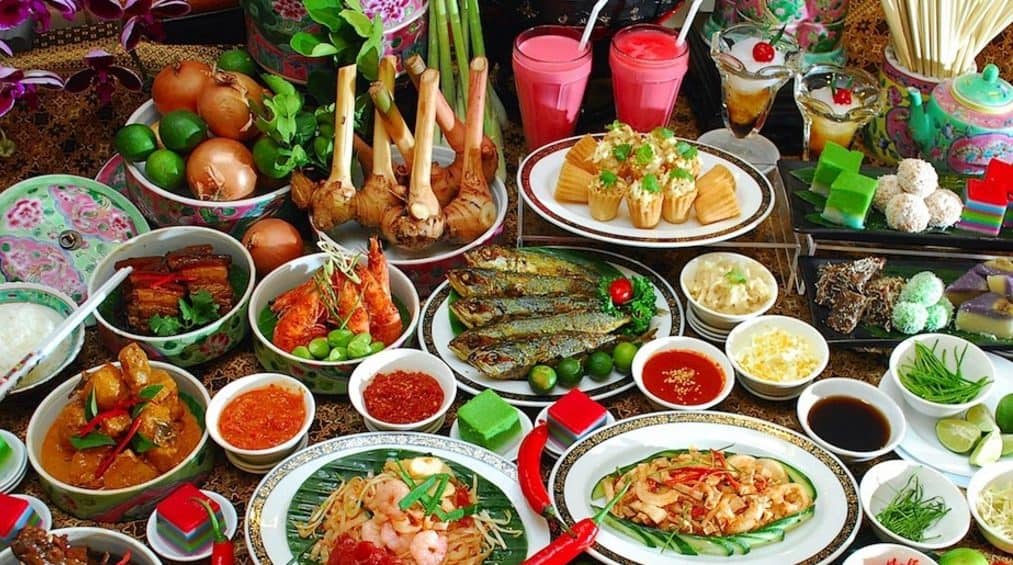 1-for-1 Peranakan lunch and dinner buffet | with DBS/POSB Cards
Expires 30 December 2019
Quote 'DBS/POSB' upon reservation & payment.
Address: 101 Victoria Street, Singapore 188018
Royale, Mercure Bugis
Royale's where you should go when you need to host a big family dinner and everyone has different tastes. It plays it safe while serving up delicious Western and Asian dishes you know and love. Here's where you'll find platters of delicious kueh contrasting with Baked Alaska and Port Glazed Lamb competing with Laksa for a space in your stomach. Go for the international buffet lunch, which has 50% off. But if everyone in your family loves Peranakan food, go for the Peranakan dinner buffet with the same promo.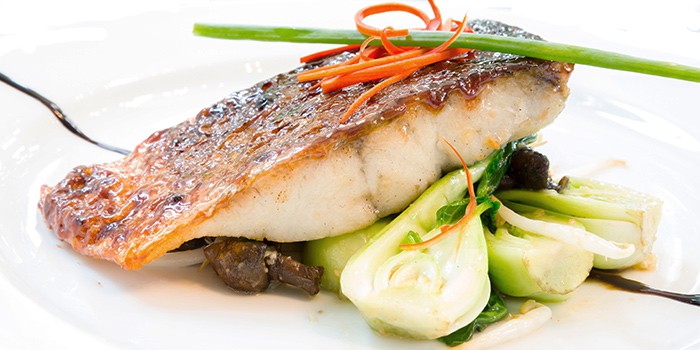 1-for-1 lunch, dinner and weekend high tea buffet | with DBS/POSB Credit Cards
Reservations need to be made in advance
Expires 30 December 2019
Address: 122 Middle Rd, Singapore 188973
---
What is a good card for deals?
That really depends on your palate and wallet. It's safe to say that AMEX cards have fabulous promotions with many fine-dining and upscale restaurants, such as the AMEX Platinum Credit Card.
Several other cards let you earn rewards or cash rebates when you spend on dining, including fast-food, cafes and food delivery.
One example is the HSBC Revolution Card, which lets you earn 5X rewards on local dining transactions, on top of exclusive discounts and 1-for-1 deals as you would notice in this article. If you're new to HSBC, you can even get a free 70cm American Tourister luggage when you sign up!
If you're looking for more deals and promotions, visit our promo pages for Lazada, Zalora, Agoda, Expedia, Booking.com and more!
---
Previous Promotions You Have Missed (Don't worry, we'll be back with more!)
Window on the Park Restaurant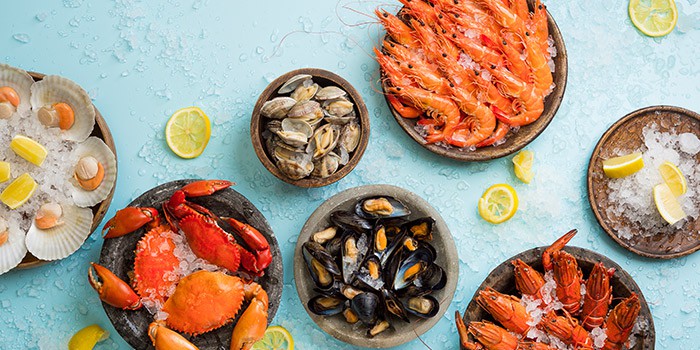 Eat and choose from a large selection of dishes at Window on the Park Restaurant. When you visit, make sure to try out their acclaimed seafood dishes like the oysters, as well as their delicious Singaporean laksa and durian pengat. Delicious food always taste better when you eat them during great promotions. What are you waiting for? It's time to treat yourself with amazing seafood dishes.
Promotion: 1-for-1 lunch & dinner buffet (inclusive of coffee and/or tea) | with Black PAssion Card
Promotion: 1-for-1 lunch & dinner buffet (inclusive of one free glass of house-pour wine, beer or soft drink, as well as coffee and/or tea) | with PAssion Silver and Platinum Card
Address: 11 Cavenagh Road Singapore Orchard City Centre Singapore 229616, Singapore
The Line, Shangri-La Hotel
One of the finest and most well-loved buffets in Singapore, The Line brings you an endless list of fine international cuisine from roast duck to pizzas, dim sum to fresh sashimi. With 16 food stations and a different themed buffet every day, now you know why this is a popular Singaporean favourite.
For a limited time only, beef lovers can indulge in 'Mad for Wagyu' Wednesdays where an extensive range of Wagyu dishes, such as Wagyu Sukiyaki, Braised Wagui Short Ribs and more will be served.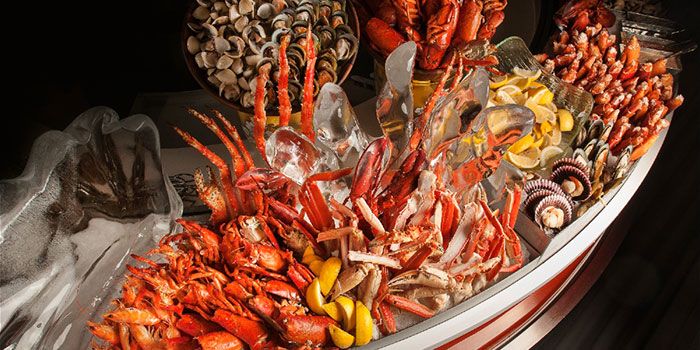 Promotion : 1-for-1 lunch and dinner buffet | with DBS/POSB Cards
Expires 27 May 2019

Reservation Period: 19 – 26 March 2019

Valid for first 150 adults during lunch and dinner every Monday.

Blackout date applies on Vesak Day, 20 May 2019.
Book now!

Address: 22 Orange Grove Road, Lower Lobby, Tower Wing, Shangri-La Hotel, Singapore, 25835

The Dining Room, Sheraton Towers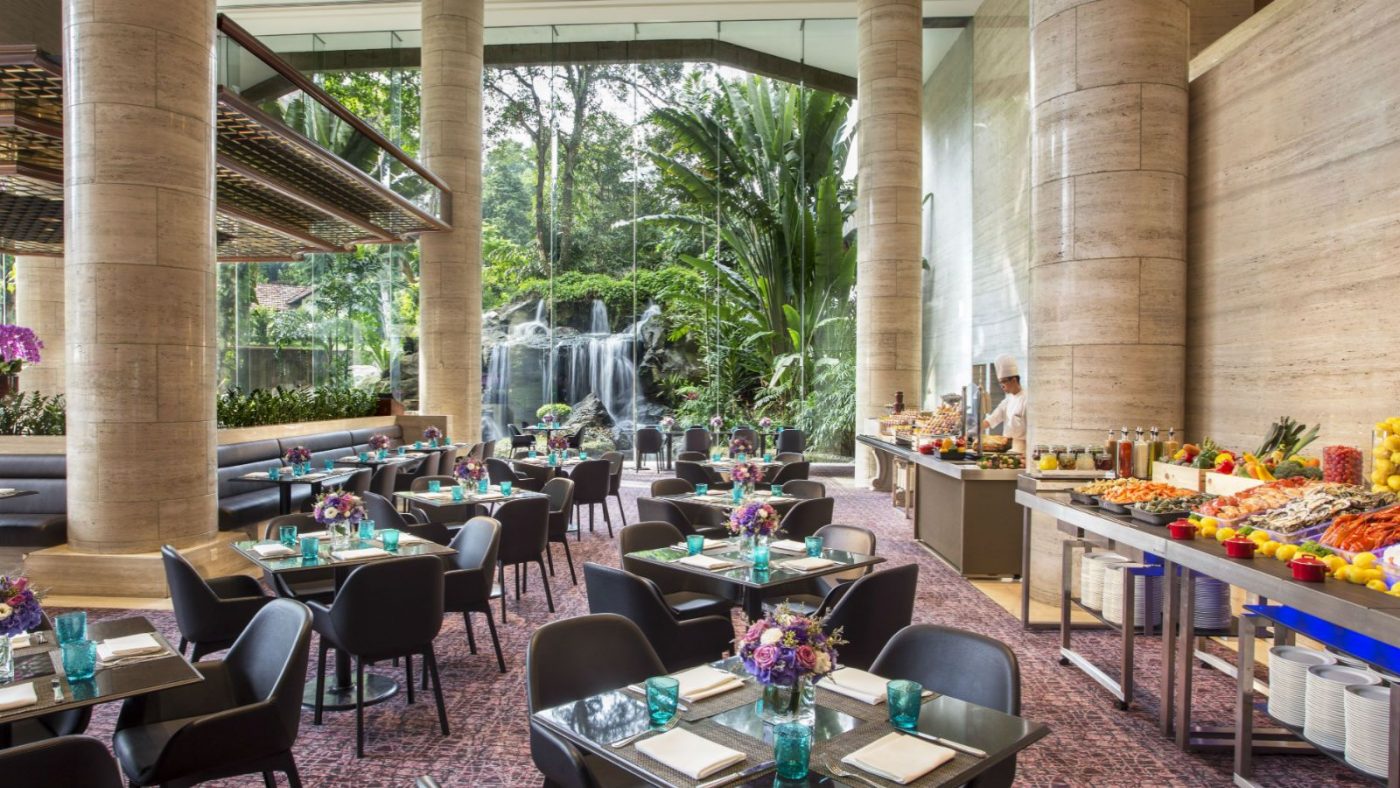 The Dining Room at the Sheraton Towers is one of the most romantic, serene restaurants among restaurants in Singapore's hotels. It's an ideal location if you prefer a cosy, peaceful environment with a great buffet spread. Their must-try signature dishes are the Crabmeat Fried Rice and Sheraton Laksa. Of course, we have to leave some stomach space for desserts. We recommend trying their Aloe Vera Jelly and Mud Pie to end off the meal on a sweet note.
Promotion: 1-for-1 lunch or dinner buffet | with Maybank Cards
Expires 30 September 2017

More details
Address: Sheraton Towers Singapore, 39 Scotts Road, Singapore 228230
Waterfall Lounge, Furama RiverFront Singapore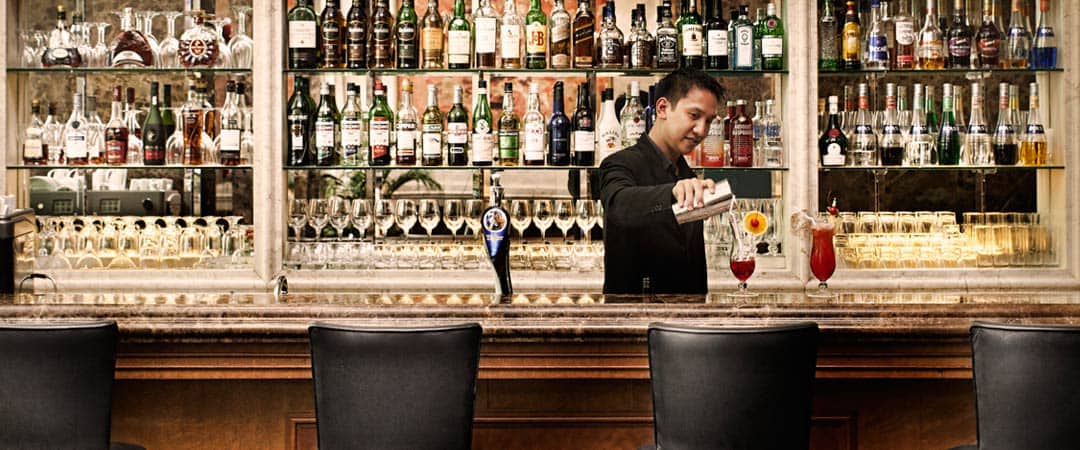 The Furama RiverFront Singapore doesn't only offer delicious dishes, they also serve coffee and cocktails for diners to relax with a 20ft waterfall set in the background. This is a perfect place to unwind and chill with friends and loved ones. What's more, with a UOB card, you are entitled to a 1-for-1 promotion on house pour beverages all day. Now that's an excellent reason to start on drinks before dinner!
Promotion: 1-for-1 promotion on house pour beverages all day | with UOB Cards
Expires 31 December 2017

Maximum of 8 person per card

More details
Address: 405 Havelock Road, Singapore 169633
Tiffany Café and Restaurant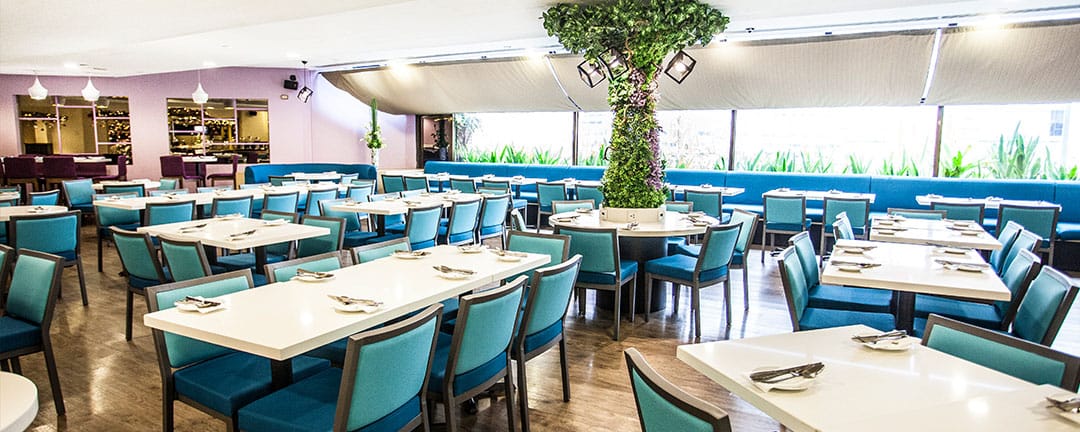 If you are nearby the Furama City Centre, why not try the buffet at Tiffany Café & Restaurant? It serves a large selection of dishes from several different cultures and regions – you'll feel as if you're travelling the world. You'll be able to enjoy an amazing value for your money, especially with the 1-for-1 buffet lunch and dinner promotions available with UOB cards! We recommend you save some stomach space for the large sushi selections as well as the decadent chocolate fondue if you're heading there.
Promotion: 1-for-1 lunch and dinner buffet | with OCBC & UOB Cards
Address: 60 Eu Tong Sen Street, Singapore 059804
The Carvery, Park Hotel Alexandra
If you are looking for a buffet menu that is unique, check out The Carvery for that difference. Presenting modern European dining at its best, The Carvery is truly a meat lover's paradise with a host of flavorful and delectable cuts that has been thoughtfully curated for you.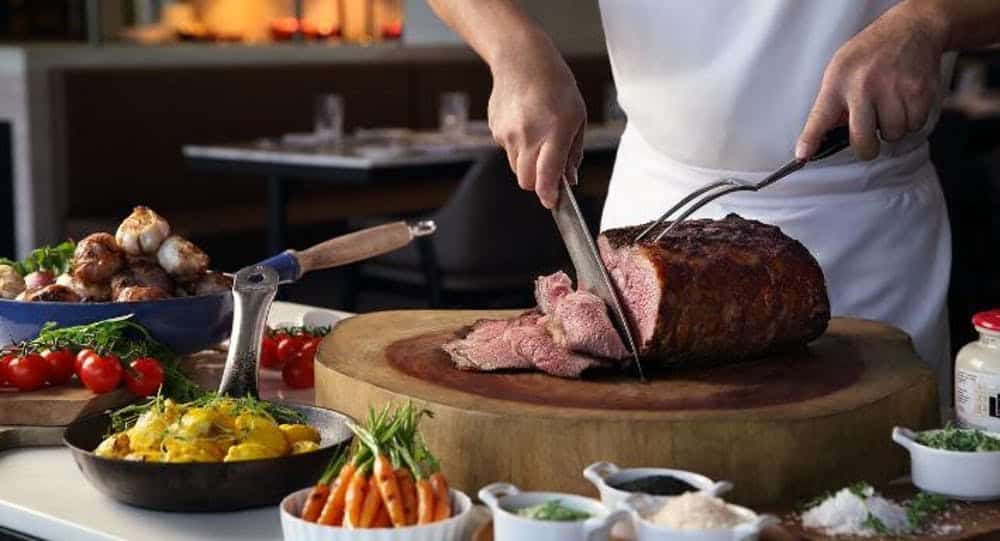 Promotion: 30% off lunch & dinner buffet | with NTUC & DBS Cards
Location: 323 Alexandra Road, Singapore 159972
The Line, The Shangri-La Hotel
With 16 food stations featuring different cooking styles to eat through at The Line, be spoilt for choice by fresh dim sum, sushi, delicious roasts, fresh seafood bar and more. The Line was also the winner for 'Best Bountiful Buffet' in the Chope Diners' Choice Awards 2018 so this is one buffet not to be missed. With a different themed buffet each day of the week, here's the perfect place to indulge in good food and take in relaxing views of the lush garden at The Shangri-La Hotel!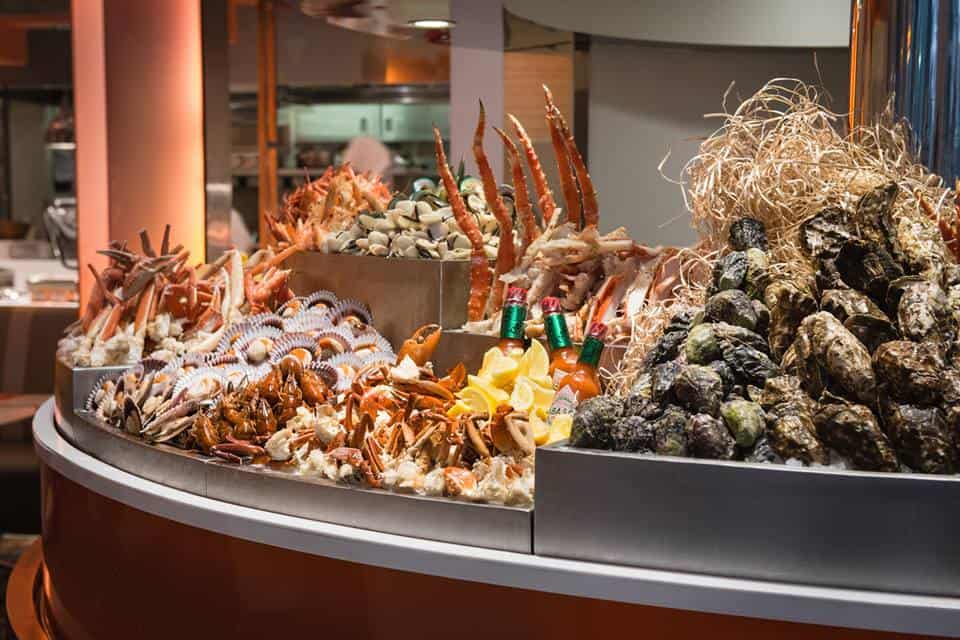 Promotion: 15% off lunch & dinner (Monday to Thursday) | with Citi Cards
Expires 30 April 2019

Large group offer available
Promotion: 10% off lunch & dinner (Friday to Sunday) | with Citi Cards
Address: 22 Orange Grove Road, Lower Lobby, Tower Wing, Shangri-La Hotel, Singapore (258350)