Last Updated:
Editor's Note: All content and information in this article are accurate as of published time.
---
#SupportLocal is no longer a hipster-only movement, each one of us has played a part in keeping this red dot shining bright! From unique homegrown start-ups to passionate musicians, stunning cafes, even fusion snacks or interesting food & drinks, our local scene is more vibrant than ever (There's no longer a reason to say that Singapore is boring hor).
Whether it's food or snacks, you've definitely #SupportLocal knowingly and (more often) unknowingly. With Singapore's birthday round the corner, we dug deep to find more than 10 well-loved food & beverage brands we bet you didn't know are local – and are super delicious too. Presenting our very own "made in Singapore" brands! 
Here are their stories.
1.

Gryphon Tea Company

Gryphon Tea Company was launched by a family-owned tea importer in Singapore. If there's one tea you must try, it's Gryphon's Pearl of the Orient, a light-bodied green tea blend with a slight hint of rose – perfect to go with breakfast for early mornings and also gentle enough for relaxing to in the evenings.

Missing the beautiful cherry blossoms this year? Perhaps the best thing is to catch a whiff of them right in your team cup with Gryphon's fragrant Hanami tea here.

Looking for a gift for a fellow tea-lover? Check out Gryphon Tea's Treasures Set that comes with an assortment of these 10 popular teas: Nymph Of The Nile, White Gingerlily, Lily Of The Field, Templetree Lotus, Mogambo, Tomatino, Marrakesh Mint, Contessa Grey, Straits Chai, Osmanthus Sencha. Get yours here!

Promotion: Free local shipping with min. purchase of S$15 
👉🏻 Order artisanal tea blends here!
---
2.

ETTE TEA Company

For tea today, skip your regular Earl Grey and opt for some truly unique blends from ETTE TEA! This contemporary brand seeks to combine the heritage and tradition of tea with modern and classic designs. ETTE TEA makes exquisite tea blends with local Singapore and South East Asian nuances into a faithful and expressive archive of harmonious tea flavours.

Ladies, if you're craving for a plate of chicken rice but don't want the carbs and calories, try ETTE TEA's Chicken Rice tea (yup, definitely a local brand). This local flavour is a blend of savoury Kukicha layered with lemongrass, ginger and pandan. One word, fragrant.

How about their latest, Bak Kwa tea? According to ETTE Tea, it is 100% vegan and is made up of a smoky blend of black tea, lapsangsouchong, fennel, cinnamon, black peppercorn, orange peel & safflower to render the flavour of freshly grilled sweet and succulent BBQ meat. 

Other local tea flavours include the Ice Kachang tea, Lychee Konnyaku, Mango Sticky Rice, Fortune Cookie Chai, Manila Mango Chiffon and more!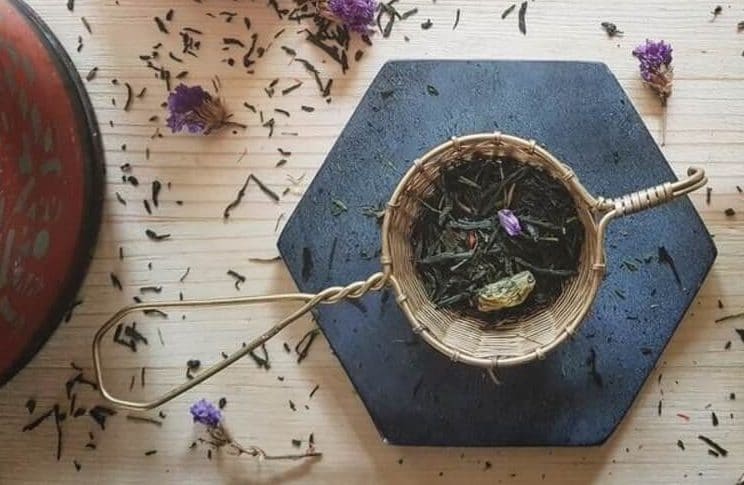 👉🏻 Sip some tea here.
---
3.

TWG Tea

Yes, we have an obsession with tea, but this is the last one, we promise!

We've seen the magnificent display of tea blends at their Ion Flagship store, spotted the well-groomed butlers at their Tea Salon, but never associated the brand with Singapore. Our first impression? "Wah this fancy looking brand must be from Europe."

Newsflash… TWG is a Singapore brand (their branding expert is really an expert)!

Established in Singapore and celebrates the year 1837 when our little red dot became a trading post for teas, spices and fine epicurean products. Today, TWG Tea is amongst the finest luxury tea brands around the world. They have curated a collection of over 800 different single-estate, fine harvests and exclusive tea blends from all of the tea-producing countries (also the largest collection in the world). If you're looking for a treat, the TWG Tea Salon & Boutique in Ion Orchard offers a luxurious high-tea experience.

Did you know?
The year 1837 printed on TWG's signature tins celebrates the year when Singapore became a trading post for teas.
👉🏻 Have a taste of luxury here.
---
4.

COCOLOCO

100% Coconut Water – takes a sip, nope. As self-proclaimed coconut masters, we have since developed a fear of "100% Coconut Water" labels. All bottled coconut water that we've tried lacks the sweetness and the thirst quenching pleasure from fresh coconuts.

But, can you imagine our excitement when we popped the bottle cap open and took a sip of COCOLOCO? Say goodbye to life-threatening knife stunts while opening the coconut, and hello to on-the-go 101% fresh Coconut Water!

COCOLOCO may be a small family owned company on sunny Singapore, but they certainly punch a pack in the 100% fresh coconut department. We're not sure what's their secret recipe but we're sure it has something to do with using only Thai Coconuts!
Did you know? 
You might get a bottle of pink coconut water but that's due to the chemical reactions present in natural coconut water. Yup, it's a sign that your bottle of coconut water is 100% fresh!
👉🏻 Go loco for coco here at RedMart!
Redmart
See all of RedMart's latest promo codes!
---
5.

Hook Coffee

Need a delicious caffeine boost? Hook Coffee is a home-grown specialty coffee store. With the belief that anyone can make their own cup of delicious coffee, the founders behind Hook Coffee specially source for the best specialty-grade coffee beans that are sent to customers within a week of roasting. Hmm, that sounds perfect for the work-from-home days!

Interesting Fact: Did you know that it can take nearly 4 years for the coffee beans from the plantation to make its way to be the delicious cup of Hook Coffee in your hands? Here's a timeline of their journey:
At least 3 years for a coffee seedling to grow into a tree;
Up to 4 weeks for coffee cherries to be processed
9-12 minutes to roast coffee beans
7-10 days for freshly roasted coffee to settle for a balanced cup of coffee (Source: Hook Coffee)
With catchy names like Specu-Lose Your Mind, Choco Loco, Give me S'mores, The Godfather and more, aren't you curious to give them a try? Choose from coffee drip bags, Dolce Gusto or Nespresso compatible capsules.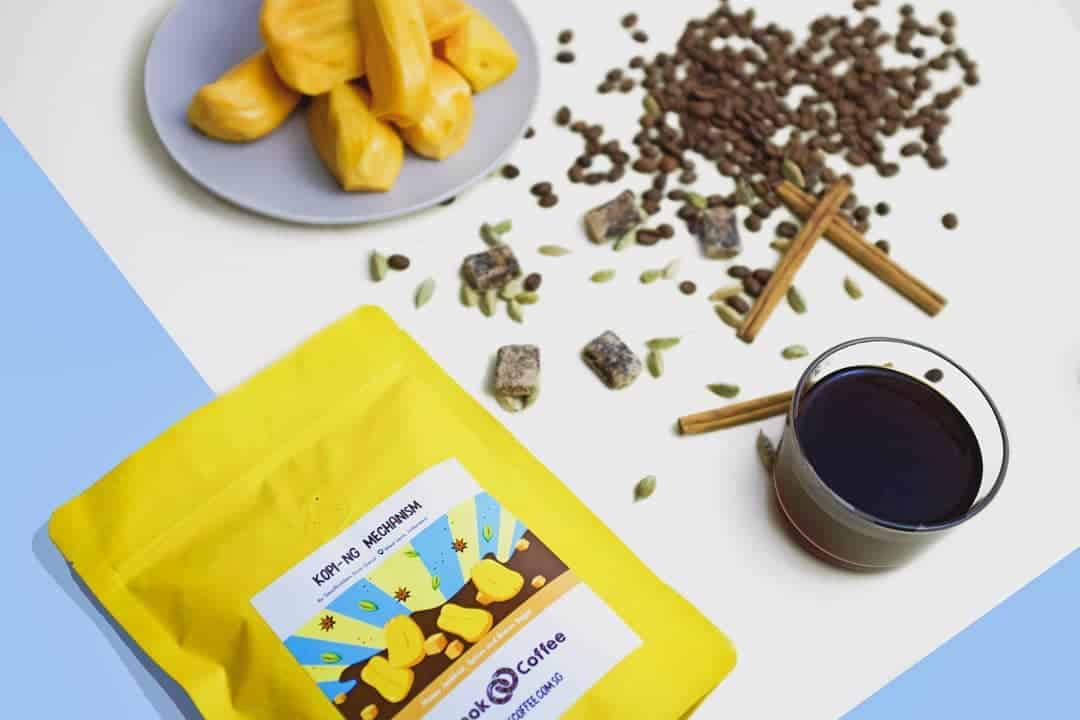 Promotion: Free local shipping with min. purchase of S$25 
👉🏻 Perk up your senses with some amazing caffeine boost here!
---
6.

Provisions Store Singapore 

Have you heard of The Halia at Singapore Botanic Gardens? Serving western and local favourites, as well as local-inspired food with a twist like Lemongrass & Ginger Prawn Salad and Halia's Singapore-Style Chilli Crab Spaghettini, this popular halal restaurant is like a little paradise hidden away amidst beautiful foliage in the Ginger Garden of the Singapore Botanic Gardens (If you'll like to enjoy this dining experience at The Halia, here's a weekday dining voucher at up to 45% off). 

If you wondering what's the connection, the same folks behind The Halia are the ones behind Provisions Store Singapore too! Get your chilli crab fix in the comfort of home with The Halia Chili Crab Sauce, or if you love anything ginger, you must get The Halia Ginger Flower Dress that's perfect as a salad dressing or glaze-marination over your favourite meat. The Halia's Signature Set here comes with a bottle of The Halia Chilli Crab Sauce, Signature Ginger Flower Sauce and Ginger & Pineapple Jam is also perfect as a gift!

Promotion: Free local shipping with min. purchase of S$15 
👉🏻 Indulge your tastebuds with Provisions Store Singapore here!
---
7.

Cat & the Fiddle

In Singapore's dynamic culinary scene, cakes are no longer just a frosted vanilla chiffon cake. If you're craving for a cheesecake, you'll find a selection of unique interpretations of the classic flavour.
At Cat & the Fiddle, you're treated to 17 exquisite delicious creations. Of course, as a true blue local brand, you'll find Singaporean favourites. The Milo Dinosaur got us reminiscing of the nose bleeds we got from the overload of Milo powder we topped over our already thick Milo. But, the real star is the Mao Shan Wang Cheesecake. The creamy durian flesh adds another layer of indulgence that you won't be able to resist!
Psst… if you're looking for a birthday cake, Cat & the Fiddle does next day delivery! A real saviour for last minute orders.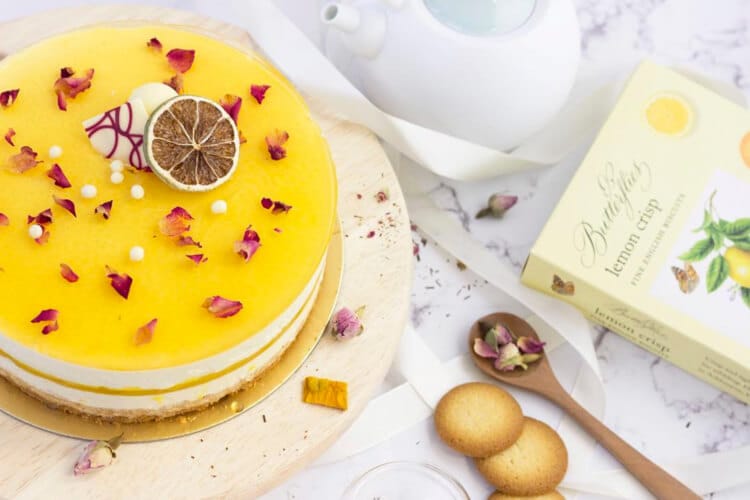 Did you know? 
The creative genius behind these fantastic cakes is the former founder of Bakerzin, Daniel Tay!
Promotion: 10% OFF all cheesecakes | with Safra, Popular & NTUC PLUS Cards
👉🏻 Indulge in cheesy goodness at: catandthefiddle.com

---
8.

The Kettle Gourmet

Wouldn't it be nice to have your favourite locally-inspired flavours like Nasi Lemak and Chilli Crab, sans the calories and all? Introducing The Kettle Gourmet with a delicious range of popular local flavours in a pack of popcorn that has been freshly baked to perfection in 100% pure Canola Oil. Not only is this a healthier snack, The Kettle Gourmet's popcorn is certified trans-fat free and certified halal – making it perfect for all occasions from office parties to birthday goodie bag fillers too!

Can't decide which flavor to try? Check out the assorted singles bundle that comes with all six flavors: Chilli Crab popcorn, Chicken Floss popcorn, Nasi Lemak popcorn, Kaya Butter Toast popcorn, Salted Caramel popcorn and Chocolate popcorn!

👉🏻 Experience locally-inspired poppin' goodness: thekettlegourmet.com
---
9.

Kele

Caramel Oats Cookies. Sweet Potato Cookies. Macadamia Nut Cookies. Rose Pineapple Tarts. Cocoa Pineapple Balls. Could you believe that these interesting flavours are from homegrown brand, Kele? Since 1983, Kele has been winning hearts with their traditional pineapple tarts and have introduced interesting flavors to excite taste buds and to keep up with the times.

Apart from delicious pastries, you can also indulge in Kele Roll Cakes. These Japanese roll cakes are light, fluffy and served with a generous filling of cream! With delightful local flavors like adzuki bean with gula melaka, mao shan wang as well as lychee martini and the sweet pastel packaging, one might forget that they are indeed as local as you and me!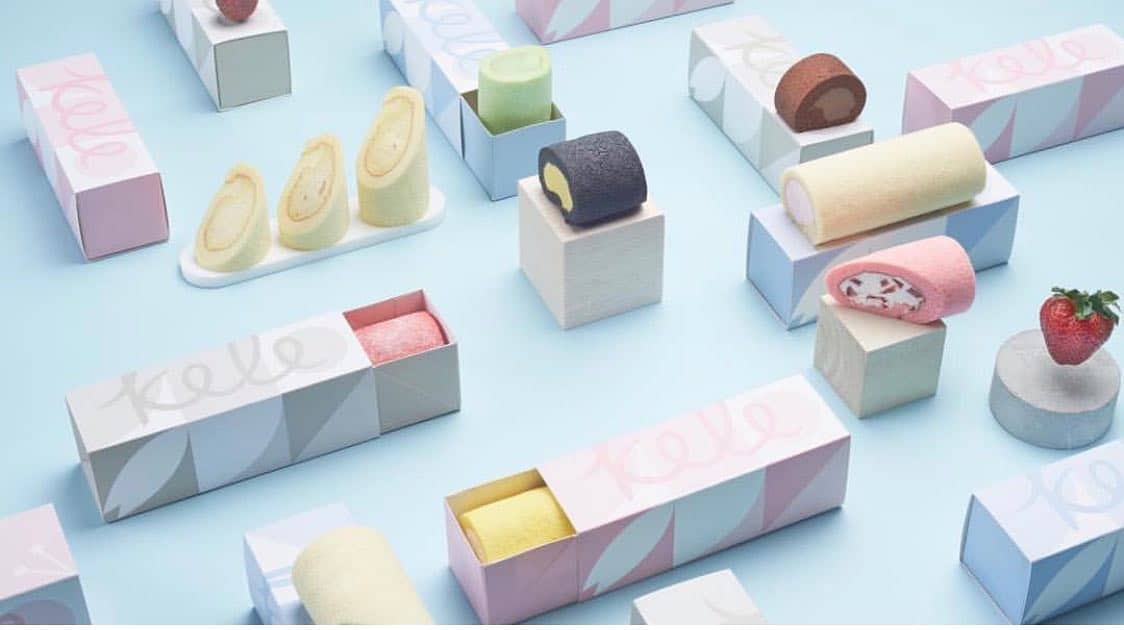 Promotion: Get 33% off 3 Premium Roll Cakes @ Vivo City | via CHOPE Deals
No reservation is required (takeaway only)
Voucher is valid for 90 days from time of purchase
Redeem at 1 Harbourfront Walk, B2-K10, Vivo City, Singapore 098585
👉🏻 Get a taste of Kele right here!
---
10.

Janice Wong

The surname Wong might give it away but did you know that Janice is the dessert genius behind the gorgeous pastries and chocolates served at 2am: dessertbar.

Now you can enjoy some of these goodies right at home! At the Janice Wong SG Official Store on Shopee, be spoilt for choice at the selections! Indulge in some Janice Wong Chocolate Chip Truffle Cookies, Dark Chocolate Pecan Sea Salt Bar or some beautiful yummy chocolate for a wonderful mood-booster. These also make wonderful Teacher's Day or festive gifts!

One interesting flavor for the kid in all of us is the Janice Wong Chocolate Popping Candy. Savour the richness of the 76% dark chocolate and enjoy the fizzy surprise!

Premixes are also available for you to try your hand at recreating the Janice Wong magic at home. Take your pick from the Janice Wong Chocolate Cake Premix, Madeleine Premix, Chocolate Chip Cookies Premix and more. Check out the rest of the flavors here.

Promotion: Free local shipping with min. purchase of S$50 
👉🏻 Indulge your sweet tooth in the culinary genius of Janice Wong here! 
---
Love everything local? Also read: 10 Locally-Inspired Food Creations You Mustn't Miss!
---
Did you know that the Citi Cash Back Card entitles cardholders to Citibank's Gourmet Pleasures list of restaurants and bars in Singapore? Sign up for the card today to get more dining deals!