Last Updated:
Were you impressed by McDonald's Har Cheong Gai Chicken Burger – chicken thigh marinated with real prawn paste, breaded with crispy crumbs and topped with prawn paste-flavored mayonnaise – last year? Or did you get a chance to try the Nasi Lemak burger when it returned briefly to local McDonald's earlier this year? Perhaps, like us, you might prefer good old Nasi Lemak instead 😉
Apart from McDonald's jumping on the bandwagon of locally inspired food, there are actually a whole list of restaurants and cafes who have had popular versions. So here's a list of 10 interesting dishes and desserts that are inspired by our favourite local food! You'll be happy to know too that they are local businesses so there's never a better time to #supportlocal! 🙂
Love everything local? Also read: 10 Brands We Bet You Didn't Know Are Local!
---
1.

Har Cheong Gai Burger | GRUB

GRUB is as 100% Singaporean as one can get. Their signature burger buns are customised and freshly baked by a local bakery, local brewers are featured in their craft beer list and local flavours are infused creatively throughout their menu. When you just can't decide between good ol' local food and Western cuisine, GRUB is one fantastic option to get the best of both worlds. GRUB's Signature Har Cheong Gai Burger is marinated in-house and cooked to the perfect golden brown. Try it along with Salted Egg Chicken Wings and Chilli Crab Pasta! Servings are generous and this is sure to be one satisfying meal.

Other interesting dishes worth a try at GRUB are the Mentaiko Fries, Truffle Floss Fries (S$9.50), Pork Yakiniku Burger and the Sakura Ebi Pasta.

If you're an 80s kid, remember the colourful ice-cream that totally made your childhood? Don't miss the Paddlepop Ice Cream Cake at GRUB! Super duper yummy!
Address:
510 Ang Mo Kio Avenue 1 (Bishan Park 1), Singapore (569983)
31 Ah Hood Road, #01-06, HomeTeamNS-JOM, Singapore (329979)
2.

Hae Bee Hiam Aglio Olio | The Assembly Ground
The Assembly Ground's menu features Singaporean-inspired food creations that are sure to tantalise your tastebuds. A casual dining cafe with affordable prices, this place makes for a perfect chill out spot with their featured coffee blends from Common Man Coffee Roasters and Nylon Coffee Roasters. The Hae Bee Hiam Aglio Olio comes with sea tiger prawns, squid and clams cooked with linguine.
Another popular choice would be the sinfully good Sio Bak Deluxe, a delicious pork burger topped with cucumber, goma dressing, lettuce, cilantro, fruits and vegetable salsa. For the adventurous, you'll like the Laksa Pizza and Rendang Mac and Cheese!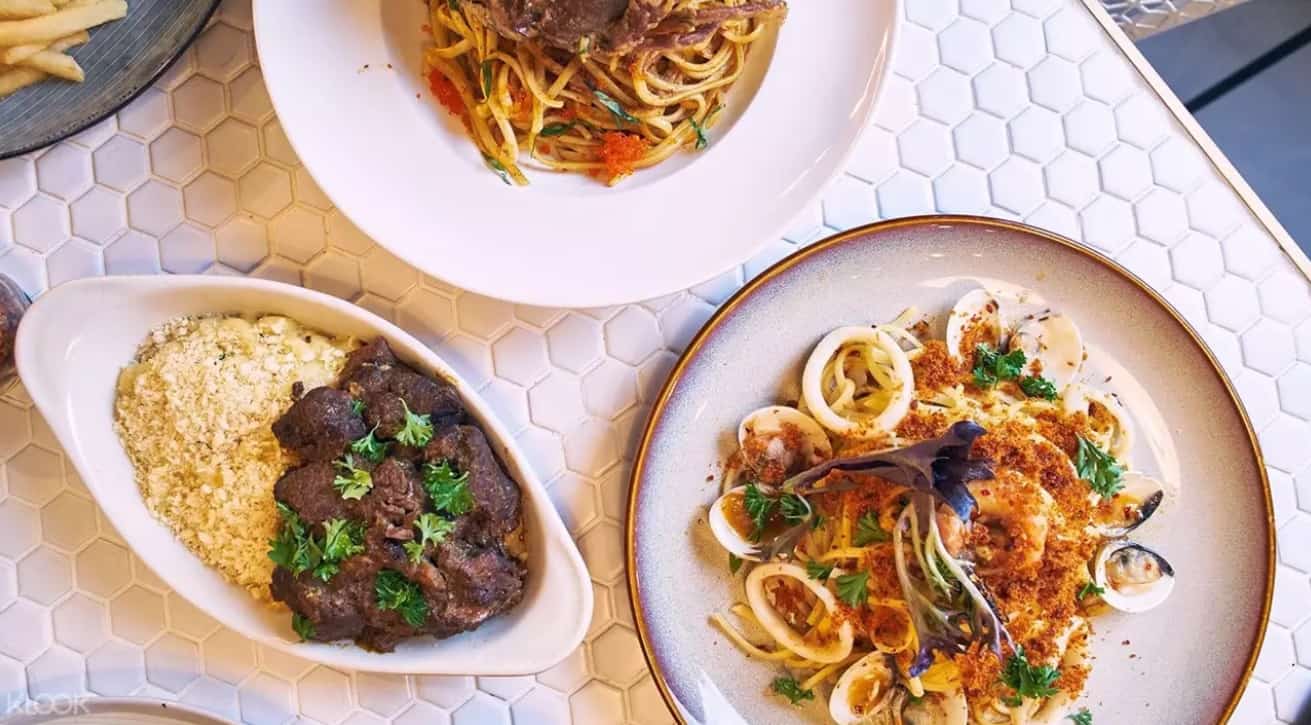 BOOK NOW!
Address: 2 Handy Rd #01-21 The Cathay, Singapore 229233
3.

Chilli Crab Pasta | Nassim Hill Bakery Bistro Bar

Located in the Tanglin Post Office Building, Nassim Hill Bakery Bistro Bar surprises us with locally inspired dishes such as Chilli Crab Pasta that's filled with large chunks of fresh crab meat sautéed in the restaurant's delicious homemade tangy chilli crab sauce and Dry Laksa Pasta that comes with spaghetti, fish cake and fresh juicy prawns tossed with a rich, creamy laksa sauce.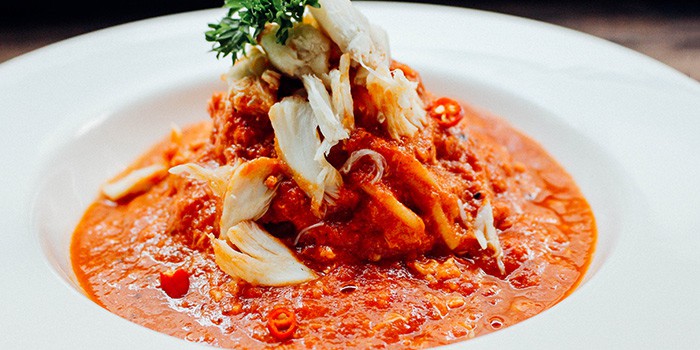 Address: 56 Tanglin Road, #01-03, Tanglin Post Office, Singapore (247964)
4.

Satay Burger | The Quarters

Filled with various locally-inspired items on the thoughtfully curated menu, like the Raffles Gaga that is crispy fish and chips paired with delicious curry lime tartar sauce, Satay Burger with chunks of tasty pork between rice patties and a tantalising satay sauce. There's so many interesting dishes to try here. The Wonderffle got us curious. Soft, fluffy waffles drizzled with gula melaka and topped with lemongrass and pandan ice-cream, this perfect combination is the perfect round up to a wonderful meal at The Quarters.
Address: 16 Enggor Street, #01-09, Icon Village, Singapore (079717)
5.

Steak & 'Chinchalok' | Redpan
There's no way we could leave Redpan out of this! Even their name pays tribute to Singaporean flavours! Besides being iconically Singaporean, the 'red' in their name also represents passion. Nearly everything on the Redpan menu is locally-inspired! Our pick is the Steak & 'Chinchalok' , tuck into a lovely charred Sirloin Steak, chunky smashed potatoes and an unique chinchalok salsa. Other interesting dishes include Bak Chor Foie Gras Pasta which pairs minced pork stew with seared pork belly and topped with a rich piece of foie gras.
Round up your evening with a sweet ending – take your pick from a Durian Baked Alaska, 'Teh Halia' Creme Brulee or a Banana Donuts 'Milo Dinosaur'!
Address: #02-03/04 Marina Square 6 Raffles Boulevard, Singapore 039594
6.

Prawn Otah Sandwich | Chiak by Cedele

Chiak is set up by Cedele. That should be enough to assure you that eating here is a healthier choice! Primarily a salad and noodle bar, Chiak also serves up some locally inspired snacks such as their Prawn Otah Sandwich. Part of their All Day Menu, the Brioche Sandwich Set sees other popular Asian-inspired flavours like the Pork Belly Char Siew, Teriyaki Chicken and Sesame Pulled Chicken. The patty in the Prawn Otah Sandwich is house-made and sits within a warmly toasted mantou bun. The sandwich is then completed with fresh vegetables.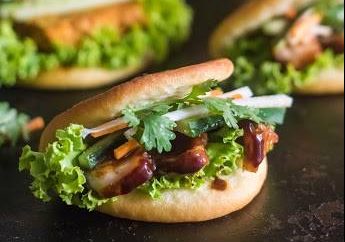 Address: 40 Pasir Panjang Road #02-37, Mapletree Business City, Singapore 117383
7.

Ondeh Ondeh Cake | Inthebrickyard

Sometimes, you REALLY want that second slice of cake. Sadly, our expanding waistlines don't allow for that to happen too often. Not unless the cake is from Inthebrickyard, that is. Inthebrickyard is a Singaporean start-up that prides itself on being light-handed with the sugar and using natural food colouring in their bakes. For bakes made with love along with inspirations from local flavours, their cakes are sure to hit the spot. Recommended cakes include the light and fluffy Ondeh Ondeh (from S$48), Pulut Hitam and the crowd favourite Thai Milk Tea. Be sure to place your orders at least a week in advance!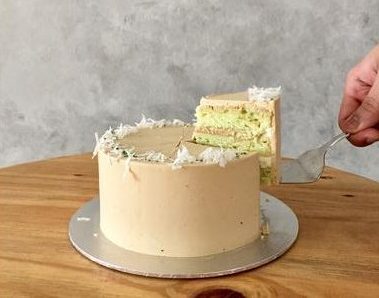 Address: 767 Upper Serangoon Rd, #B1-04 Spazio@Kovan, Singapore 534635
8.

Milo Kosong Gao Cruffin | Keong Saik Bakery
Keong Saik Bakery is a charming bakery set up by two friends. They serve a range of bread, pastries and cakes that fuse contemporary and traditional flavours that most of us are familiar with. Their signature pastry is the Sor Hei (S$3.20), which features a black and white Danish Pastry which has oozy chocolate chips embedded within its layers. We hear that cruffins (a muffin+croissant) are a big hit from Keong Saik Bakery! It comes in flavors like Milo Kosong Gao, Coconut and even limited edition flavors like Yam and Matcha Salted Egg.
If you are looking for a cake, popular flavours are the Attap Chee Rose Cheesecake or the Chendol Delight! Make your order here.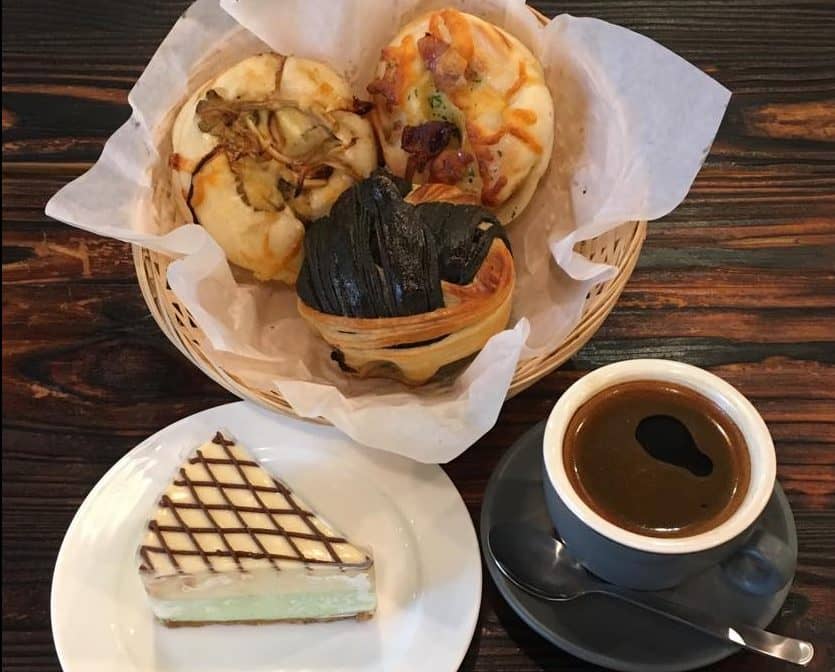 Promotion: S$10 cash voucher for S$8.50 | via KLOOK
Limited time only
This can be redeemed at any time during opening hours
There is no limit to the number of vouchers you can use in one transaction
Valid for all items in the shop
This shop does not charge GST and service charge
Address: 41 Keong Saik Road, Singapore 089146
9.

Gula Melaka Cake | Sinpopo

Gula Melaka (palm sugar in English) originates from the state of Malacca in Malaysia. Sinpopo prides itself on being an 'ode to Katong and its heritage'. They aim to preserve traditional flavours and make it more accessible to even the younger generation of Singaporeans. Well, I say that they're doing an amazing job. Their best seller is the Gula Melaka Cake, a rich tasting cake with a robust flavour that does not overwhelm the senses. If you're looking for something lighter on the palate, try the Pandan Kaya Tart, which features an authentic kueh sarlat filling in the buttery tart base.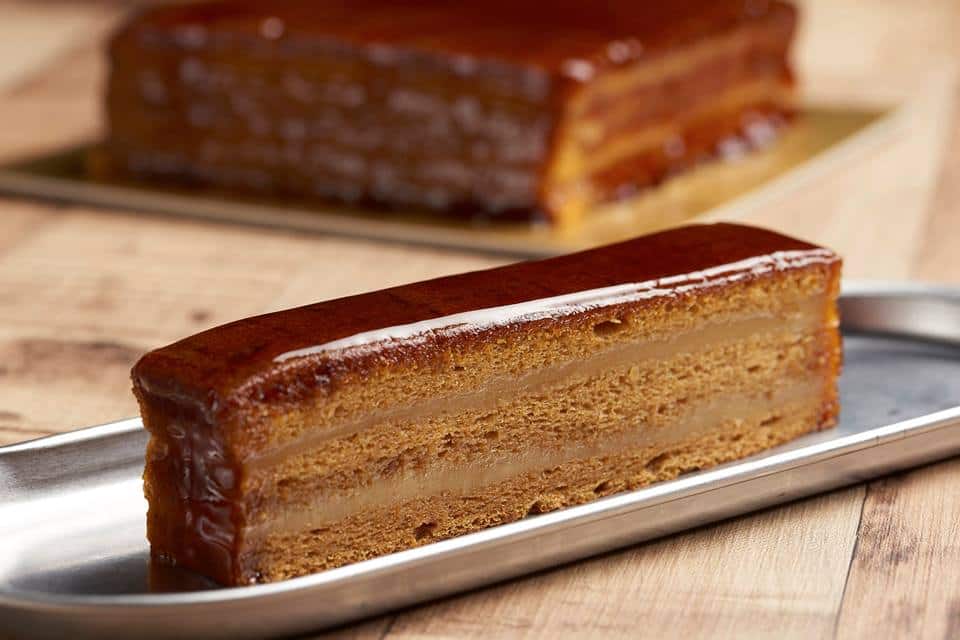 Address: 458 Joo Chiat Rd, Singapore 427671
10.

Pandan Chiffon Tea | ETTE TEA
Even if you're a tea aficionado, I bet you've never heard of Pandan Chiffon Tea, let alone Nasi Lemak tea! ETTE TEA is a contemporary tea shop located in the heart of Chinatown, Singapore. Started up by passionate tea maker Victor Koh, ETTE TEA aims to combine traditional tea making with modern flavours. They certainly have an extensive range of tea blends! Their Local Flavours collection includes blends like Mango Sticky Rice Tea, Nasi Lemak, Ice Kachang, Orh Nee and even Chicken Rice Tea! If you're not feeling too adventurous, stick to the classic tried and tested Green/Black/Oolong Tea blends which are also available.
Address: 333 Kreta Ayer Road #03-25, Singapore 080333
*Prices stated are as of published time and are subject to changes from the restaurants.
Love these yummy local creations that we've handpicked for you? Whether you're a buffet-lover or prefer 1-for-1s that are not hotel buffets? Check them out here!
---
Did you know that the Citi Cash Back Card entitles cardholders to Citibank's Gourmet Pleasures list of restaurants and bars in Singapore? Sign up for the card today to get more dining deals!
[citi_cashback]
---
Previously Featured locally Inspired Dishes…
Salted Egg Yolk Crab Cake Sliders – Lepark
[Editor's Note: Lepark has ceased operations on 30 September 2017] Get the best of local and western dishes with the Salted Egg Yolk Crab Cake Sliders (2 for S$14) from Lepark! The idea sounds simple but is genius. Basically, it consists of crispy homemade crab cake sandwiched in a piece of mantou, with Salted Egg Yolk drizzled generously over it. They also serve up the Lepark Platter (S$18) which comes with other locally-inspired sides such as Chicken Rice Nigiri Sushi, Thai Basil Pork Tau Pok, Otah Bomb and the Chicken Skin and Nachos with Spicy Salsa.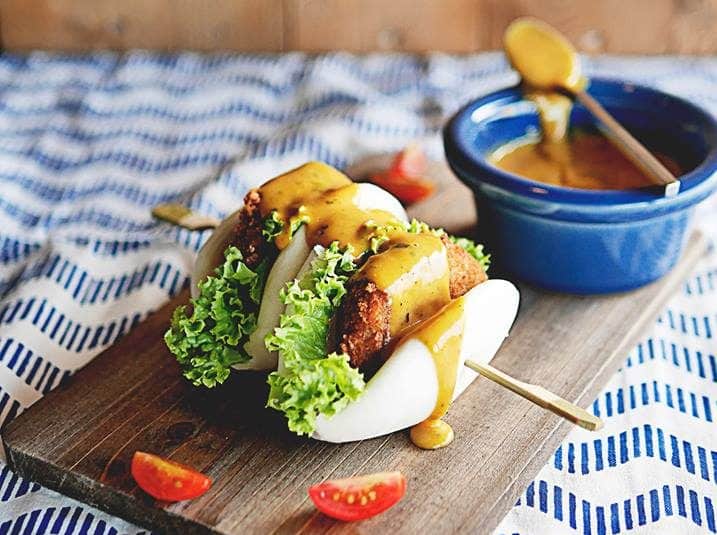 To chope a table, Facebook message the friendly folks at Lepark!
Address: 1 Park Road, Level 6, People's Park Complex, Singapore 059108
Gnocchi Mee Rebus – Hyde and Co
[Editor's Note: Hyde & Co has ceased operations] Hyde and Co is a halal-certified cafe serving up a new menu which has a plethora of mod-Sin dishes. Apart from their Signature Chilli Crab Pasta ($22.90), they have Gnocchi Mee Rebus ($21.90) that comes with a delicious poached egg, sambal sotong in homemade mee rubus sauce and fishcake cubes. Hyde and Co is probably the first cafe in Singapore to combine such distinct local and western flavours together! If you're looking for something to share as a side, why not try the half portion of The Bomb ($13.90 for half portion), which sees sambal cincalok spread smeared on the pizza base, and is topped with chye poh, fresh prawns and an omelette layer.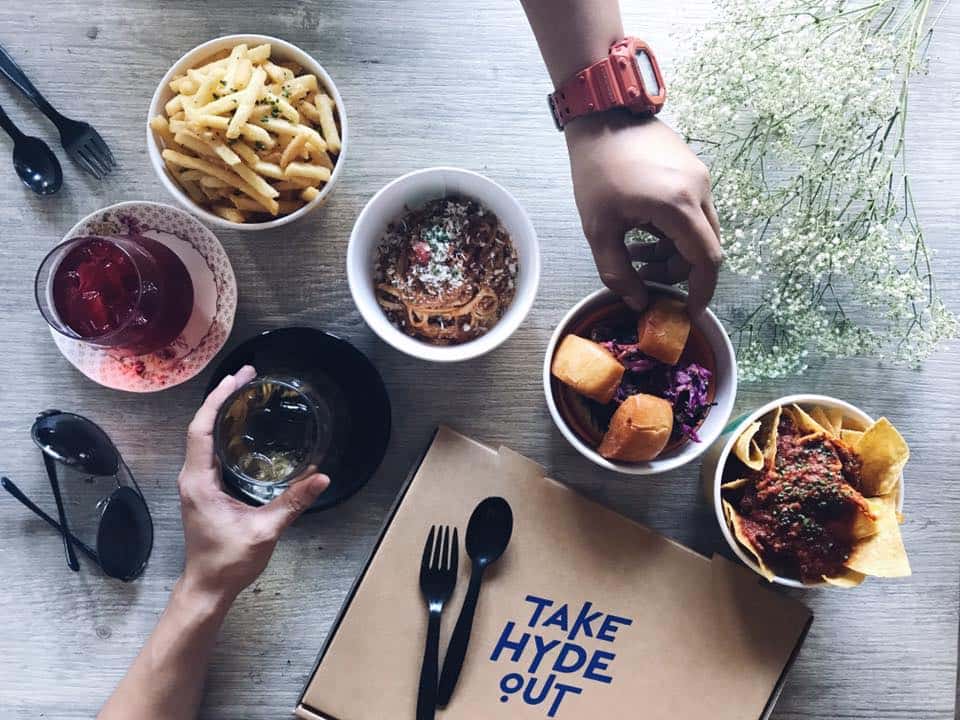 For reservations, call 6635 5785 or email hello@hydeandco.com.sg
Address: 785 North Bridge Road, Singapore