Last Updated:
This article was written in collaboration with Travelliker.com. Looking for a new place to explore in Southeast Asia? Also read: 2018年必去8個最受歡迎旅遊地.
---
Of late, hiking, trekking and mountaineering have become the latest travel trends for young adults and milennials.
I too, have just returned from my own hiking trip with friends to Mount Ijen and Bromo at East Java, Indonesia. There's just something exhilarating about conquering volcanic peaks in the dark of the night, trudging forward in the chilly air under the milky way blanket of stars, with only the silver moonlight to illuminate the path ahead.
Then, dawn breaks – and the transformation of Mother Nature leaves you, once more, in quiet reverence. At the summit, you observe the first glimmer of sunlight as it begin to colour the sky in a myriad of pink, orange and blue hues – it's a fresh, idyllic morning. The view from thousands of metres above sea level is breathtakingly serene.
In that moment, life is blissful.
Not only do hiking experiences become food for the soul, they also open your eyes to completely different ways of life. As you cross paths with the locals and reside in home-stays along the way, you'll be surprised at how much you can gain from a simple hiking trip. It's no wonder why mountain and volcanic treks have become popular in recent years. However, many Singaporeans may brood over the seemingly expensive cost of such trips. But what they don't know is that – Asia has a treasure trove of nature hiking trails. Active volcanoes, paddy rice fields, amazing wildlife, rustic heritage walks – you name it, Asia has it.
If you live in Asia and you're looking for a quick adventure getaway nearby, check out this consolidated list of the top 10 hiking trails in Asia, known for their breathtaking views.
TIP: Before leaving for your trip, you are encouraged to e-Register with the Ministry of Foreign Affairs so that you can be contacted should the need arise.
1.

Ijen, East Java, Indonesia
Ijen, also known as "Kawah Ijen" is well-known for its mesmerizing turquoise sulfur lake situated in the middle of the volcanic crater, its sulfur mines, and electric blue fire, a combustion reaction of the sulfuric gases.
Most hikers begin the ascent early in the middle of the night to reach the peak to catch sight of the blue fire. The way up takes about 1.5 hours and is manageable, but some fitness preparation beforehand never hurts!
Descend down into the base of the crater via a narrow and rocky path, but you can count on experienced local trek guides for support! At the base, if you're lucky, you'll be greeted with the blue flames, but it may sometimes be masked by yellow sulfurous smoke clouds. Before dawn, make it back to the top of Ijen Crater to wait for a grand sunrise – the soft glow of the morning sun highlighting the ridges of the crater in pink and orange hues, with a full view of the turquoise sulfur lake and sulfuric clouds gently floating up into the sky.
See for yourself why Ijen is a well-loved trekking trail in East Java. Book a tour today and find the closest hotels to Ijen Crater here!
2.

Mount Bromo, East Java, Indonesia
One of the most majestic volcanoes in Indonesia, Mount Bromo is not to be missed. With the options of taking a jeep on this trek, it can be a relatively easy challenge, yet one of the most interesting ones I've done.
Take a jeep up Mount Penanjakan at 4am to catch the spectacular sights of the sunrise as it breaks above the clouds. Be warned, it will be chilly – but worth it. Don't forget to head down to the Whispering Sands, a large sea of black volcanic sand. With huge clouds of fog passing by, it looks like a place out of this world, literally. As you make your way through the sea of sand to approach the crater, you will be provided with the options of a horseback ride up the crater! Climb the last 250-steps flight of stairs, where the majestic crater with smoke billowing out of it awaits you.
Book your private jeep tour here and check out these nearby hotels to Mt Bromo.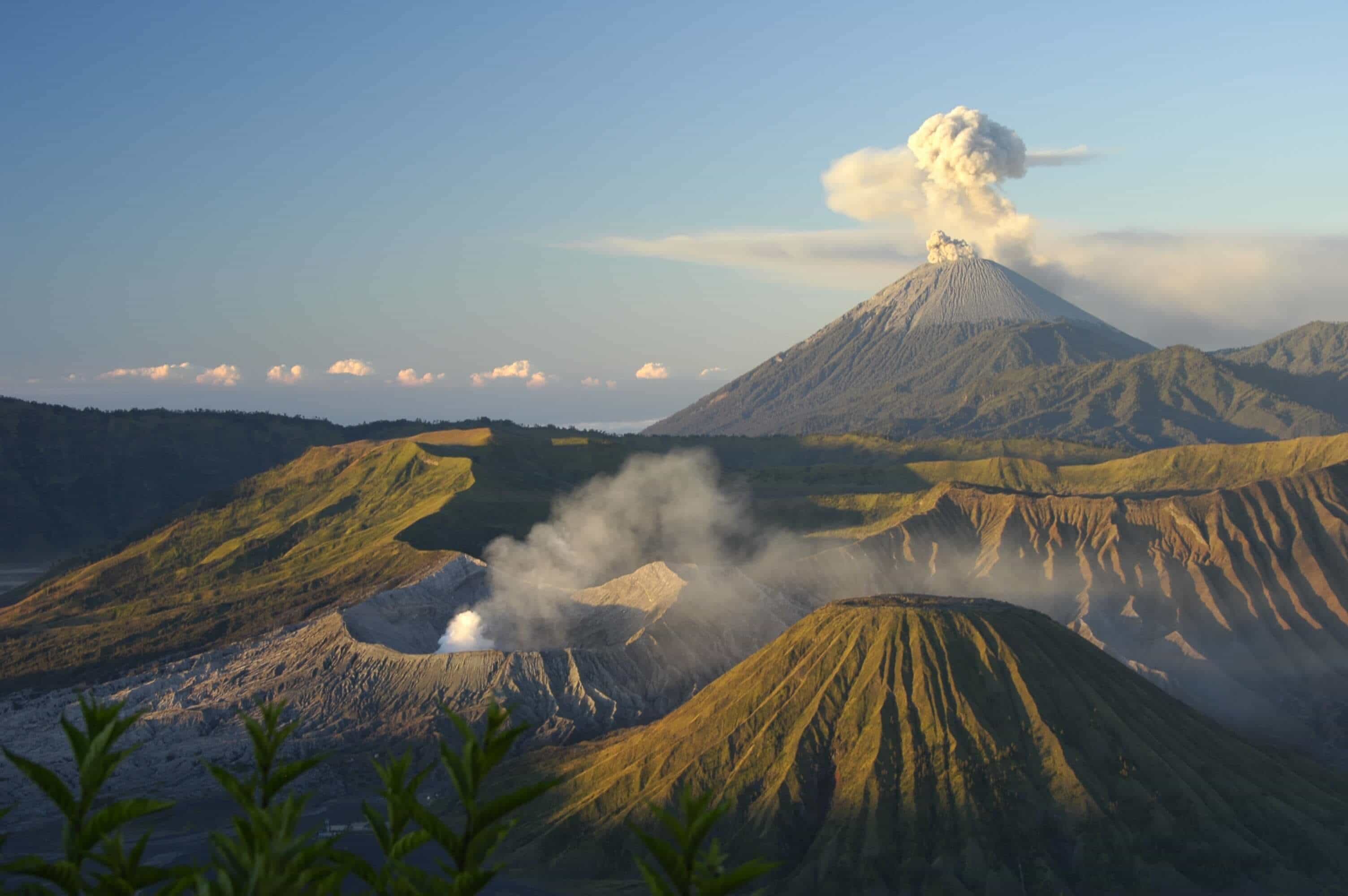 3.

Mount Rinjani, Lombok, Indonesia
With a staggering height of 3,726m, Mount Rinjani secures the spot of the second highest volcano in Indonesia. The 4-5 days adventurous trek up Mount Rinjani is not an easy one and requires fitness training, but it is guaranteed to be a fruitful experience with adventures at every corner. Overnight camps, stargazing, rainforest hikes, cliff jumps, waterfall hopping – this would be an all-in-one hiking adventure that would leave you wanting more.
What makes Mount Rinjani even more interesting than it already is, is its volcanic cone, Gunung Baru, located within the lake in its crater – forming another crater within a crater.
Conquer Mount Rinjani on a 5-day adventure here with Klook, inclusive of roundtrip hotel transfers, all food and drink during the hike, camping equipment and accommodation for four nights.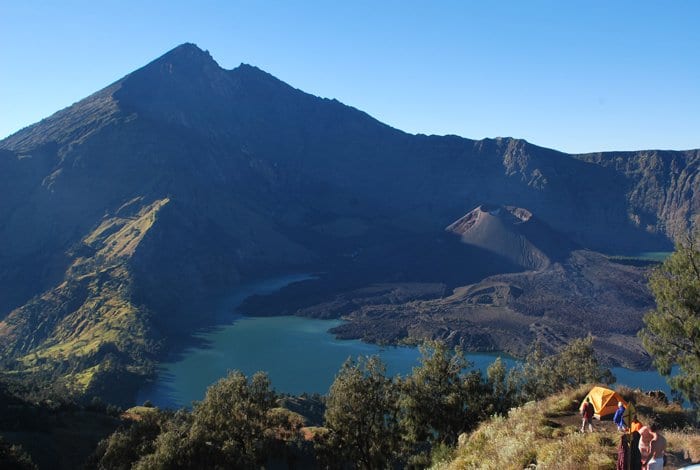 4.

Mount Agung, Bali, Indonesia
At 3,031m, Mount Agung is not only the highest summit in Bali but is also crowned as a holy site. This journey is not an easy one even for physically apt climbers with forest dirt paths, rocky boulders, and dangerously steep paths. Though it snatches your breath away, many hikers still choose to scale the peak in 4 hours, beginning in the middle of the night just to catch the spectacular sunrise across all of Bali.
With majestic, looming mountains all around, it is no wonder why this mountain is considered spiritual and sacred. Conquer this trek with your loved ones and friends, and you can be sure to make lasting memories.
Catch the magnificent sunrise atop Mount Agung on a tour with Expedia today!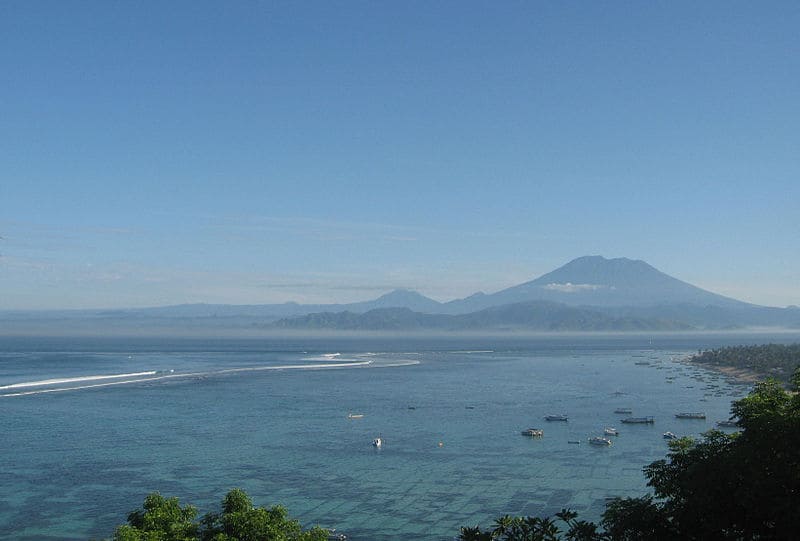 5.

 Mt Kinabalu, Malaysia
Located in Kinabalu National Park, a UNESCO world heritage site, Mount Kinabalu is one of the highest mountains in Malaysia. The hike up to the summit can take up to 2 to 3 days, but every hiker who has been there will boast of the beautiful sunrise – a grand view of orange streaked skies above a quiet blanket of clouds, that can only leave you in quiet reverence.
You can expect to stay overnight in huts along the way and stargaze under the clear starry night skies in the cold. The Mount Kinabalu height may be physically exhausting, but it might be another worthwhile mountain hiking experience to tick off.
Book your tour package here to climb Mount Kinabalu in two days!

6.

Everest Base Camp, Nepal
If you ever want to brag about the best trek of your life, Everest Base Camp is it. At 5545m, this trek is not easily accomplished by just any mountaineer. However, for those who do, they will never forget this experience against a glorious backdrop of snow-capped mountains and cold fog.
If you're new to mountaineering, the high altitude and thin air will call for some climbing training, yet you can be sure that braving the cold and exhaustion together with your fellow climbers will be worthwhile.
Book your 12-day private group trek to Everest Base Camp here!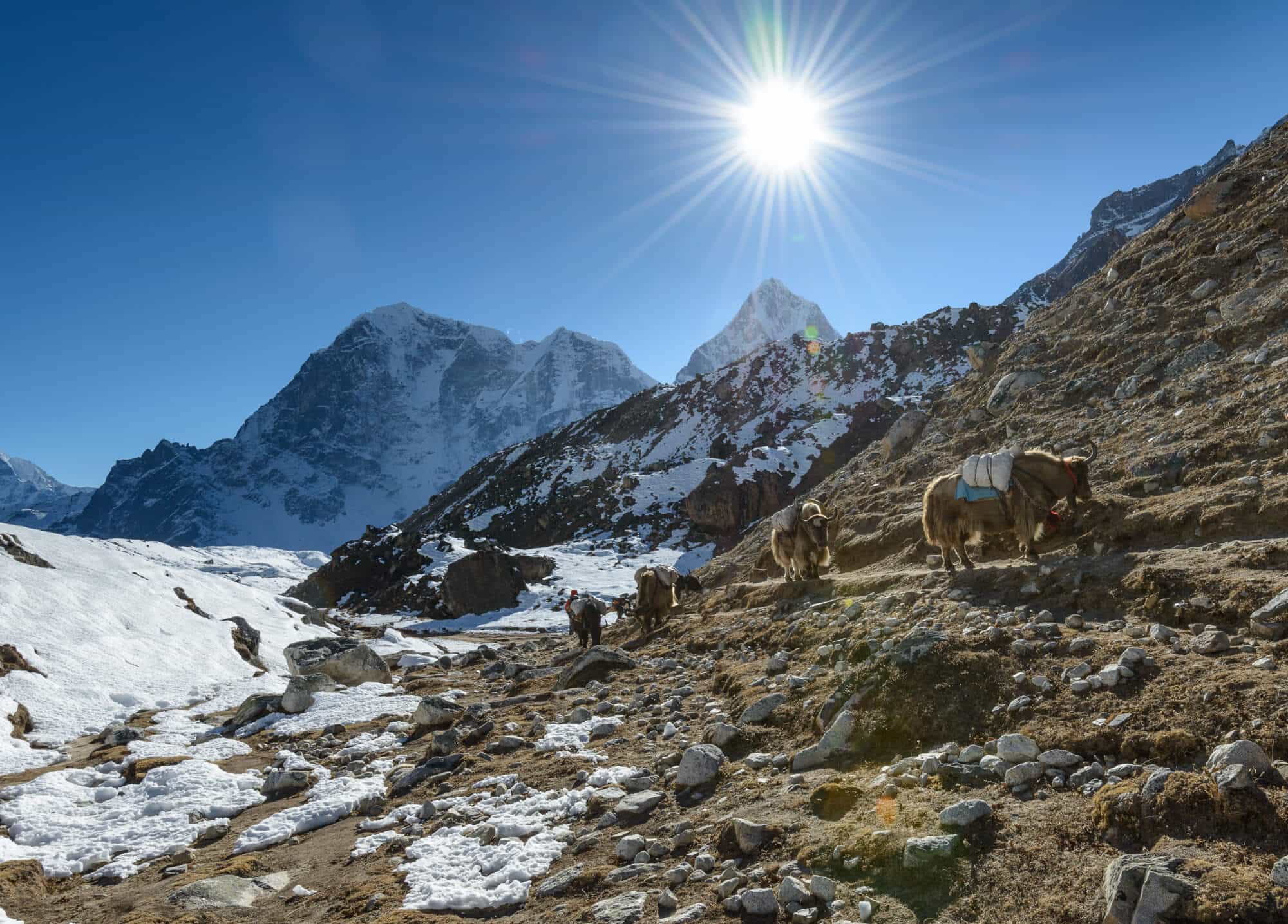 7.

 Annapurna Circuit, Nepal 
A dramatic, picturesque trek located in the Himalayas mountain range, and hailed as one of the top long distance hiking trails in Asia, the Annapurna Circuit can take up to 3 weeks to conquer with a total length of 160 to 230km.
Navigate through trails sandwiched between rugged, snow-capped Nepalese mountains, trudge across river valleys, and conquer the highest point Thorung La Pass at an altitude of 5,416m – the Annapurna Circuit is every adventure junkie's cinematic mountaineering fantasy. Beyond that, enrich yourself as you immerse in different cultural experiences in Tibetan and Hindu villages and sacred sites.
Book a 12-day long trek along Annapurna Circuit here – you can expect to cross Thorong La Pass and visit hot springs, with the help of local climbing guides!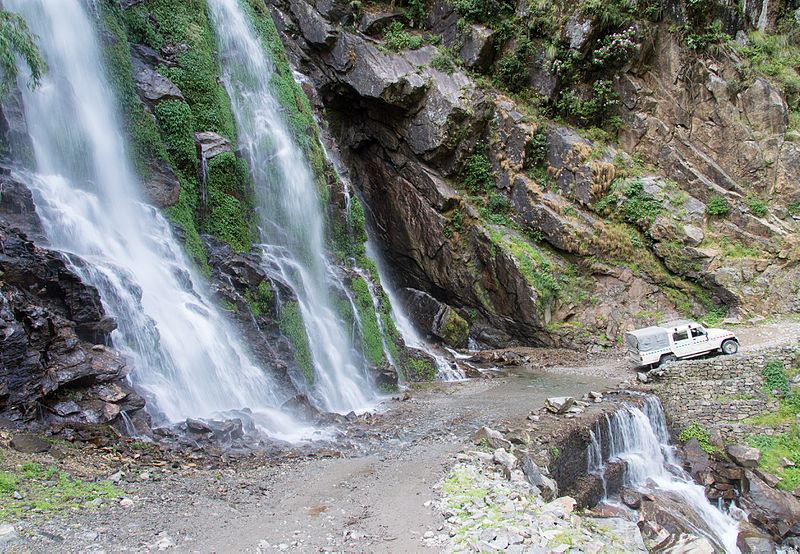 8.

The Snowman Trek, Bhutan
If you're looking for a radical hiking adventure like none before, one that could change your outlook on life, the Snowman Trek in Bhutan is the one for you. Hailed as one of the most difficult treks in the world, this hike will take you 25 days to complete as it brings you through 13 Himalayan mountain passes as high as 4,500m, while surrounded by 6 mountains over 7,000m.
Bhutan, the land of happiness, is a rustic escape into a kingdom away from the rest of the world. Visit Buddhist monasteries, look out for Himalayan blue sheep, and pass by some of the most remote and pristine Bhutanese valleys. immersing yourself in their culture.
Check out great deals on flights to Bhutan or if you'll like to explore other shorter trails in Bhutan, consider the 3D2N Bumthang Owl Trek and immerse yourself in the tranquil trails of lush forests that are rich in rare blue pine, majestic maple and strong bamboo. Another alternative would be the 9D8N Jomolhari Trek where your hike will take you deep into the mountains to Bhutan's most beautiful campsites.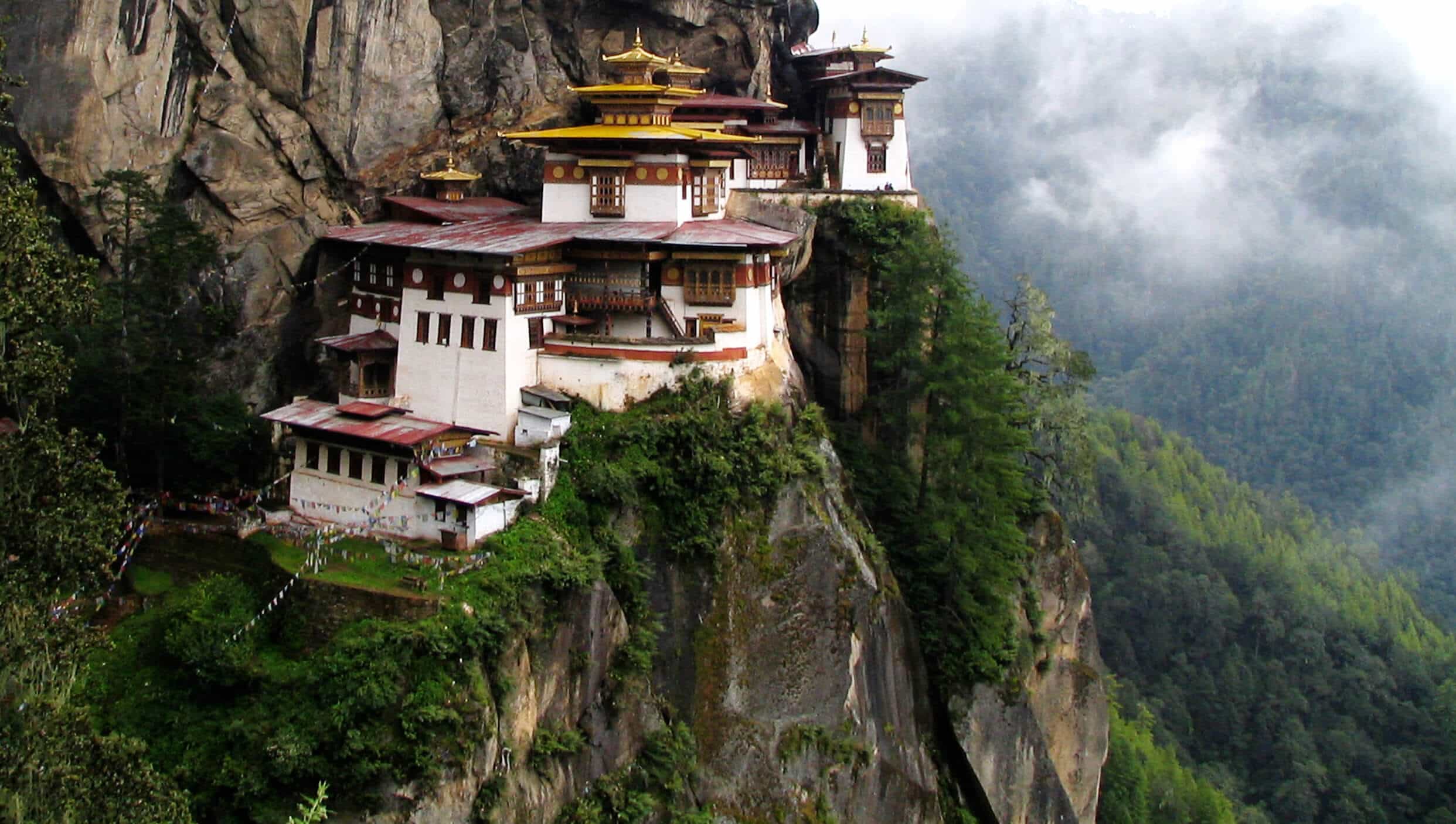 9.

Sapa, Vietnam
A quaint town in Vietnam where locals live and work, Sapa is not like other adventure and physically-intensive mountain climbs. As much as it is a hiking trail, it is also the living quarters of the indigenous tribes there. Expect to trek through local tribe villages and layers of paddy fields rice terraces, and have a glimpsed of their traditional way of life at the countryside and Sapa town.
Make it a point to stay at a local homestay for the full cultural experience – sleep in their village huts, enjoy hot spring baths, wake up to local breakfast with honey banana pancakes and traditional fried spring rolls, and follow your hosts as they go about their daily village activities. Hiking through Sapa not only presents a breathtaking view of the rice terraces, Vietnamese countryside, and winding streams, it also opens your eyes to a different way of life altogether.
Find hotels and accommodation in Sapa, Lao Cai here via Agoda!
10.

Dragon's Back Trail, Hong Kong

The Dragon's Back Trail is located on Hong Kong Island and is perfect as an introduction to hiking in Hong Kong. It is easily accessible via MTR yet away from the skyscrapers and hustle bustle of the city. Filled with stunning views and beautiful coastal scenery of Shek O, Tai Long Wan, Stanley, Tai Tam, and the South China Sea, this is one hike not to be missed if you are in Hong Kong.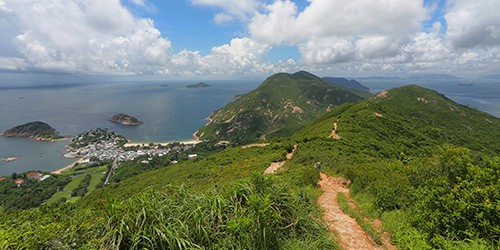 Check out Travelliker for great deals on Hong Kong flights, accomodation, day tours and more!
11.

Mount Fuji, Japan
An international national icon deemed to be sacred, Mount Fuji is well-known globally. Its hiking trails are only open in the middle of the year between July and September. This trek can be overcome even by beginners with amateur climbing skills, but the high altitude and steep slopes can render it arduous, posing a need for hikers to look out for their own health conditions, lest they succumb to altitude sickness.
Nonetheless, in good weather conditions, the summit view is truly stunning and worth the effort! Most people begin the ascend at night time to catch the sunrise at the peak.
Search for hotels atop Mount Fuji here!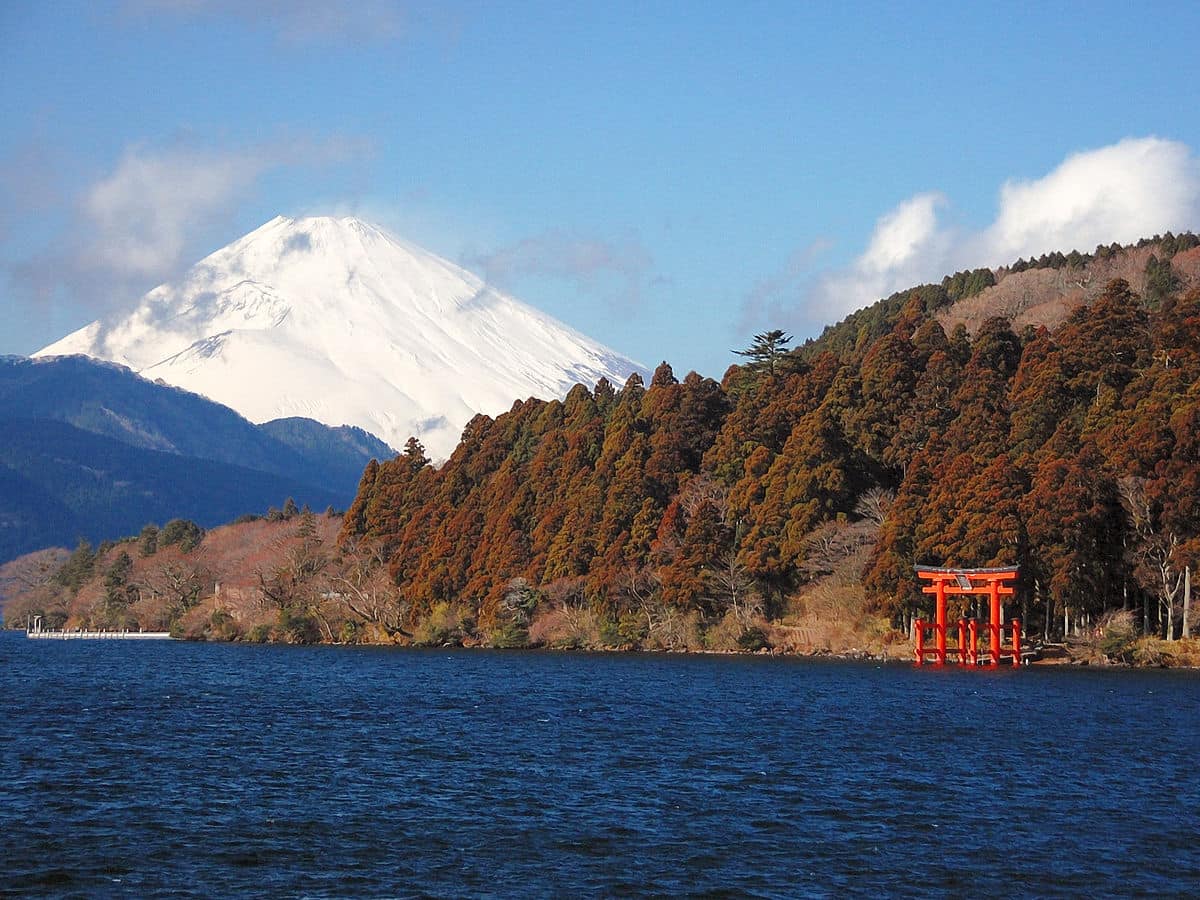 The world is your oyster. Don't wait until it's too late – let your wanderlust take flight. What's more, take advantage of these special offers to help offset your travelling expenses.
Promotion: 10% off booking via Expedia
Booking and travel periods vary for different cards
Various terms and conditions apply
Promotion: Up to 10% off booking via Agoda
Booking and travel periods vary for different cards
Various terms and conditions apply
Promotion: Up to 60% off booking via KLOOK
Booking and travel periods vary for different cards
Various terms and conditions apply
Start exploring all that Mother Nature has to offer with any one of these breathtaking hiking trails that is sure to be the adventure of your lifetime!
---
Whether you enjoy exploring nooks and crannies around the world or shopping up a storm in every city… no matter what kind of adventure you choose, the right credit card can help you save. Find out more in the Best Travel Credit Cards in Singapore.
---
About Travelliker.com
Travelliker.com brings you cheap flights, affordable hotels and day tour travel packages. Enjoy bigger discounts on travel products and insurance. Book now and fly out of Hong Kong at special prices! Read the Chinese version of the article here.