Last Updated:
If you've been living under a rock and haven't heard of the 11.11 Sale (like me), also known as the Singles' Day sale, then its time to slither out of your dark cleft and into modern society. Enter the largest online shopping festival that has taken the world by storm; by comparison, has generated more merchandise volume than the United States's Black Friday and Cyber Monday combined. If this online shopping spree was taken offline, you'd probably have a long line of queue from Pasir Ris to Tuas (ok exaggeration much) just to get their hands on the best deals.
If you're already familiar with this hyped-up event, then you should know how messy things can get when you don't plan ahead – so mark your calendar for the 11 November, prepare your monstrous list of items, and watch the prices get slashed by 50% or more when the date arrives. Happy Shopping!
Promotions for Singles' Day 11.11 Sale 2017
TRAVEL DEALS
| | | |
| --- | --- | --- |
| All Deals at 50% OFF & more at Hotels.com | Save big at KLOOK with S$100 OFF | Mastercard Special: S$100 rebate at Zuji |

SHOPPING & FASHION DEALS
| | | |
| --- | --- | --- |
| Additional 11% OFF with LAZSHOP1111 | 30% OFF ASOS for 24 Hours with WOW30OFF | Unbelievable 11.11 discounts at Qoo10 |
| S$5 OFF min spend of S$30 for DBS/POSB Cardholders | Get up to 70% OFF at Zalora | Love, Bonito 11.11 Sale + Extra 15% OFF with YAAAS |
| S$29 for 27 branded boxes worth S$100 | Access to over S$800 vouchers & more | Shop amazing 11.11 offers at AliExpress |

BEAUTY DEALS
| | | |
| --- | --- | --- |
| 25% OFF any booking with LOVEYOURSELF25* | Get limited edition gift boxes with min S$150 spend on Sephora online | 10% OFF at Althea with OMG1111SG17 |
| S$5 OFF any booking with LOVEYOURSELF5** | Shop exclusive S$11 Body Shop deals! | 20% OFF Benefit products on 11.11 (10am to 12pm) |
*Vaniday: For new users only
**Vaniday: For all customers, minimum order of $20.
DINING DEALS

MOTHERS, KIDS & BABIES DEALS
| | | |
| --- | --- | --- |
| Grab the best deals at mums.sg this 11.11 | 15% OFF storewide at Mothercare | Buy 4 tins of Dumex, get 2 tins free + FREE staycation |
OTHER AWESOME DEALS
| | | |
| --- | --- | --- |
| 11% OFF sitewide at FAVE with XTRA11 | 50% OFF at Prime Now's 11.11 Grand Sale! | S$11 OFF with min S$50 spend with SHOP11 |
| S$20 OFF registration fee with SAVENOW20 | Amazing 45% and S$45 OFF HP Products | Save big with up to 41% OFF Fitbit products |

Stay tuned! More promotions to come for Single's Day 11.11 2017! 
Please note: Respective merchants' T&Cs apply. Most deals expire 12 November 2017. Please always check with the merchant on the validity of the promotion before purchase.
---
About Singles' Day 11.11 Sale 
When you remove the middlemen (distributors, retailers, etc) from the supply chain, and connect consumers directly with wholesalers/manufacturers, what you get is inherently cheaper prices for products that would have otherwise cost you about 70% more. Combine that with the convenience of online shopping and swift last-mile delivery services, it's no wonder that retail spaces are now suffering.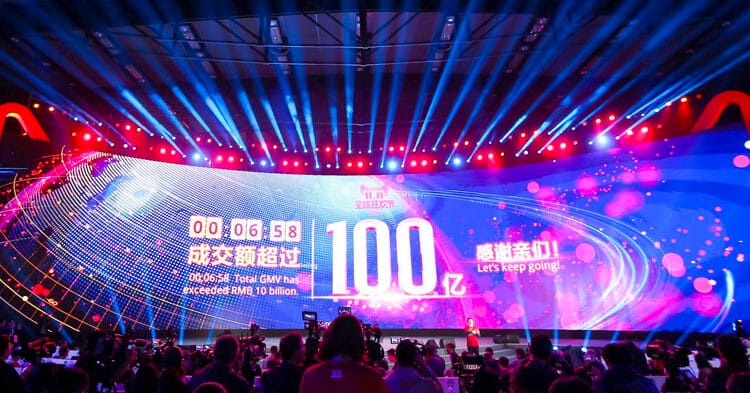 The 11.11 sale originally served the Chinese market through the e-commerce platform Taobao, but international brands gradually hopped on board the bandwagon after seeing the amount of success it garnered. Last year alone saw almost 42,000 brands taking part in the frenzy, and collectively served 207 countries and regions.
There is even a Countdown Gala event to promote the Singles' Day sale. Last year's event featured appearances from superstars like David and Victoria Beckham, American band OneRepublic, and founder of Alibaba Group Jack Ma himself.
What to expect in Singapore?
If you have come across Taobao's website, you would immediately realise that the WHOLE site is in Mandarin, which might be a problem for the diverse audience we have here; or if you're just generally bad at understanding Mandarin (like me – Orang Cina Bukan Cina). Fortunately, the gods of e-commerce have smiled in favour of us, and have delivered unto us the likes of Ezbuy, SGShop, or Oops; agents of Taobao that serve to make the whole shopping experience easier for us by providing a suite of services such as warehouse/storage, shipping/handling and a much appreciated full English website.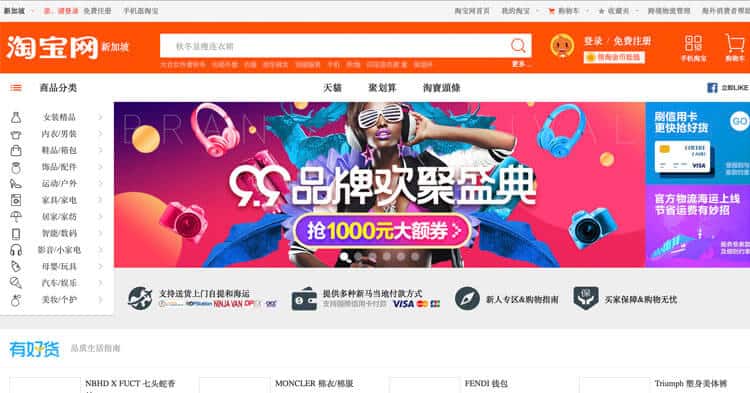 Be warned, though – there are companies out there who claim to be such agents and charge you a ridiculous sum for services like credit card surcharge, handling fee, or agent fees. It is best to do your due diligence before deciding on an agent to do your shopping with.
Breaking the Glass Ceiling
The best thing about this shopping frenzy is that it is not limited to Taobao alone. As we've mentioned earlier, local brands have noticed the Singles' Day 11.11 bug spreading like a pandemic in Singapore and have latched on to it as well. Brands such as Lazada and Zalora have taken advantage of this date and the ideology behind it to advertise their own promotions as well, which by standards are pretty noteworthy.
What Lazada had done in 2016 during the 11.11 season was to introduce its own "Lazada Online Revolution", which saw a pre-event giveaway of vouchers and rebates which customers could use during the actual Singles' Day sale. The real cookie was dropped on the date itself when Lazada introduced discounts of up to 90% on its items.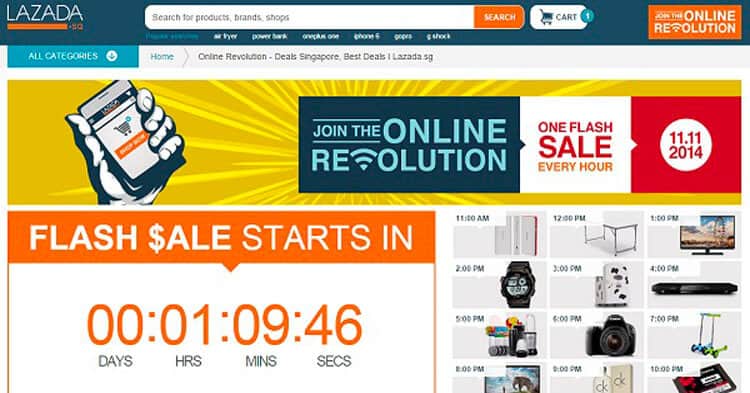 Among all these incredible deals, after we've stockpiled all the necessary and frivolous items in our cart, somehow we still get stuck at the checkout page when we finally glance at the shipping cost (although it's funny how we would spend hundreds of dollars willingly, and hesitate at a $10 shipping fee). Let's quell this conundrum – you won't have to worry anymore as most vendors would offer FREE shipping during this bonanza period. Let's hope this offer will be extended to this year's 11.11 Sale as well.
Get Ready to Shop this Singles' Day 11.11 Sale 2017
With Singles' Day 11.11 Sale 2017 drawing nearer, companies are ramping up in anticipation of the date. No doubt we can expect greater growth in sales and volume with the onslaught of information reaching the masses about this event. While there aren't many revelations regarding this year's Singles' Day sale yet, we will be providing timely updates on the latest promotions that will be offered by local companies over the next few days.
Keep an eye out for these best Singles' Day 11.11 offers with up to 90% OFF Lazada's Online Revolution, start collecting special 11.11 mons on Qoo10 and more! Shop for a brand new wardrobe over ASOS, Zalora and even AliExpress. If you are travelling soon, be sure to check out great promotions at Hotels.com, Klook and Zuji. Don't miss out on pampering yourself with the amazing discounts also available on Vaniday, Sephora, Althea, The BodyShop and Benefit Cosmetics! Fill your tummy with the delicious 11.11 deals available via Deliveroo and check out the other great treats on Fave and book your favourite restaurant via Quandoo. For mummies, do check out the offers available for you and your babies at mums.sg, Mothercare and Lazada!
---
Interested in the current Lazada Singapore sales? Click the link below to see a full list of Lazada promotions if you don't want to wait until the 11.11 Sale!
LAZADA
See all ongoing Lazada discounts!