Last Updated:
Roses are red, violets are blue, everyone loves receiving flowers and that's the truth! Whether it's for Mother's Day, your best friend's birthday, remembering an anniversary, surprising your other half, or sending your best wishes, there's nothing like the joy of receiving a delightful bouquet of blooms… making flowers a great gift suitable for any occasion.
Did you know that your credit cards can get you discounts as well? This makes gift-sending easier on your pocket so there's no good excuse now when you don't know what else to get.
Check out Cardable's pick of the best florists in Singapore, along with some of the wonderful promotions available!
1.

FarEastFlora.com

If you prefer a more traditional establishment, your go-to would be FarEastFlora.com. A pioneer in the industry with over 1,000 choices in floral arrangements, from hand bouquets to table gardens, weddings or even fengshui gifts, here's a reliable and trusted florist you can definitely count on.

Despite being in the industry since 1965, FarEastFlora.com constantly keeps up with the latest trends and designs to bring you the most beautiful blooms and arrangements. It's the perfect florist for you if you love to have choices.

Check out their GIANT bouquets that are approximately 110cm tall. Talk about romantic and definitely over the top (in a good way)!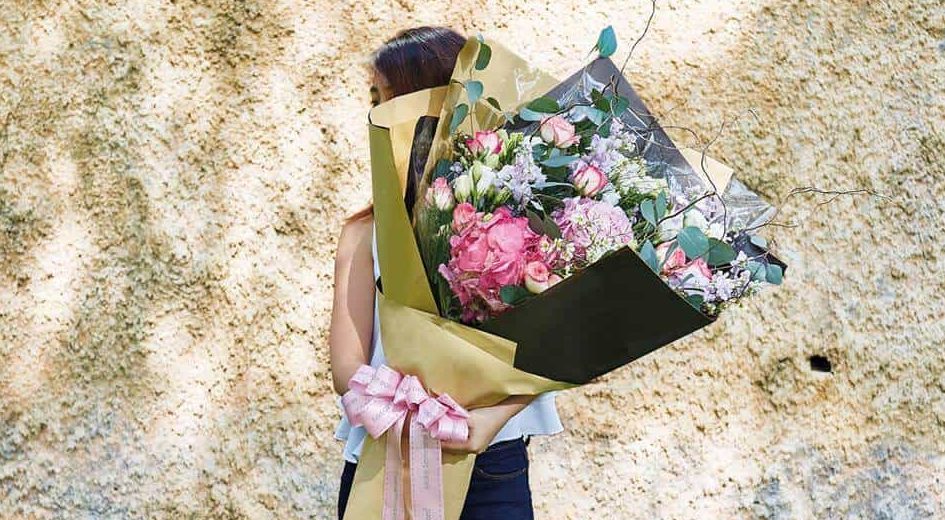 Promotion: Enjoy an extra S$5 off with a min. spend of S$80 on regular-priced items!
Promo Code: CARDABLEQ4
Valid till 31 December 2023
T&Cs apply
Promotion: [Autumn Collection] Send Seasonal Blooms from as low as S$39.90 – while stocks last!
Valid till 30 November 2023
T&Cs apply
---
💐 Get more Far East Flora promotions here! 💐

---
2.

Roses Only

Did you know that roses are also known as the flower of enchantment? Roses are symbolic of love and romance throughout the world, but different coloured roses can have different meanings. With Roses Only Singapore, you can charm your way through and take your pick of roses from red, white cream, pink, yellow, mauve purple, cherry brandy orange and more (subject to seasons and availability)!
You can also pair your pick of roses with your choice of flowers such as lilies, sunflowers, baby's breaths and more for the most beautiful surprise here.
Enjoy S$20 off min. spend of S$150 sitewide!
Promo code: XMASCARD23
Valid till 31 December 2023
T&Cs apply
Promotion: S$20 off your first order with min. spend of S$99
Promo code: SENDROSES
Valid for new customers only. Sign up here.
Limited time only, while redemptions last
T&Cs apply
Promotion: 15% off | with Citibank Cards
Promo code: CITI + First 6 Digit of Citi Credit Card
Valid till 31 December 2023
T&Cs apply
---
🌹 Get the latest Roses Only promotions here! 🌹
---
3.

Wild Matters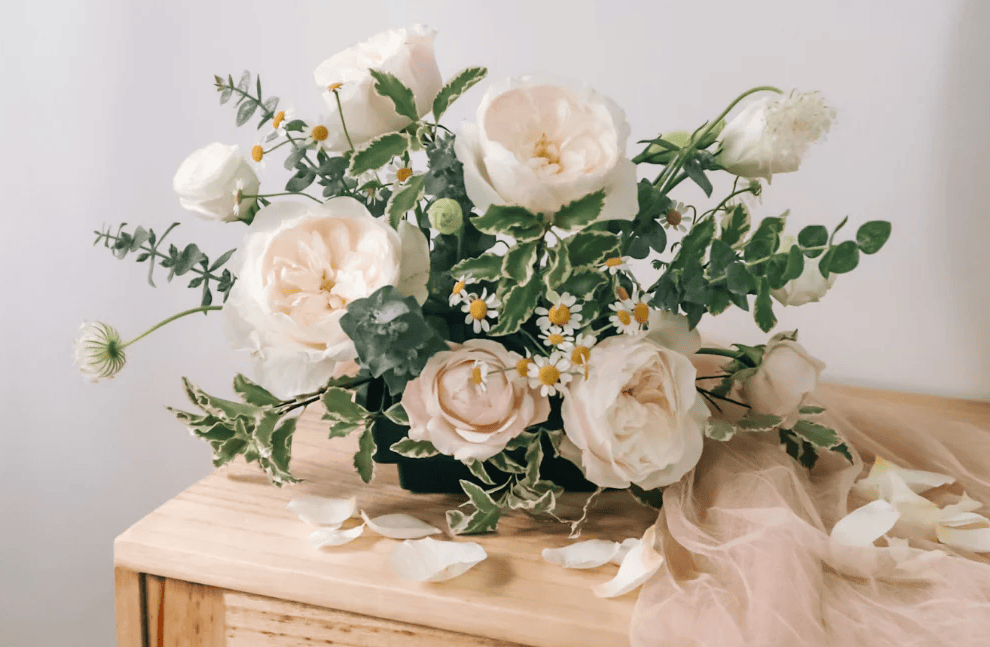 Not just your regular florist, Wild Matters is your go-to for a memorable gift of flowers, romantic wedding decor and even to pick up some floral arranging skills! Loved by many for their dreamy blooms and soft hues, you can also find Korean-inspired bouquets and floral arrangements for your special someone.
If you are planning for your wedding, be sure to have a chat with the dependable Wild Matters team, who is dedicated to create the perfect bespoke arrangement and decor that matches all your beautiful outfit, venue and details. Whether you are looking for a one-of-a-kind bridal bouquet, a church or solemnisation set-up and more, check out the wedding packages here.
Looking to surprise your better half or best friend? Don't miss out on the popular S$55 Florist's Pick and enjoy free delivery with every order!
---
🌹 Get more Wild Matters Singapore details and promotions here! 🌹
---
4.

Flowers and Kisses

Wear your heart on your sleeve with a special bouquet from Flowers & Kisses to tell your special someone just how much you love them. Presenting "quality and stylish floral bouquets at an affordable price", prices start from a reasonable S$27 for a single stalk of daisy (Petite Pam) beautifully presented in a little basket with baby's breath and foliage. You can also opt for the Uniquely Made bouquet where you can customise a bouquet to your preferences. Our favourite pick has got to be Delight, a stylish vase arrangement of six classic red roses that's bound to melt some hearts.
One of the best things about Flowers & Kisses is the free self collection service at their office (12 New Industrial Road, #02-02B, Singapore 536202) or opt for free same-day standard delivery (please note the cut-off times)! More self collection / delivery details here.
5.

Windflower Florist & Gifts
With its beginnings some 20 years ago as a small, quaint family florist located in the heartlands, Windflower Florist has stood the test of time with their beautiful and always-in-style bouquets. Perhaps the florist's enduring popularity stems from the affordability of its bouquets with starting prices from S$35 up.
Be spoilt for choices from a good range of beautiful and charming bouquets in their specialty style under the Rustic series. Gorgeous table top arrangements are also available with your pick of beautiful roses or carnations skillfully arranged in a mason jar or a 'Flower Novel' with flowers peeking out from a book cover box – perfect to dress up every office desk!
Windflower Florist also created waves in 2018 by creating Singapore's very first dried bouquets in vending machines.
6.

Fav Florist

For flowers that are 100% pesticide-free and organically grown, check out the range of beautiful blooms from Fav Florist. Not only is there free flower delivery available on all flower bouquets, you can also select from three time slots (12pm – 3pm / 3pm – 6pm / 6pm – 9pm). Express delivery within 1 hour is also available at a fee.
For certain bouquets like the Forever Young – Hydrangea Bouquet, you can even select your choice of colours (blue / pink). On a budget? We like the "Below S$55" section here where there is a good selection of premium beautiful bouquets that are pocket-friendly. You can choose from bouquet size of small, medium or large according to your budget.
7.

Little Flower Hut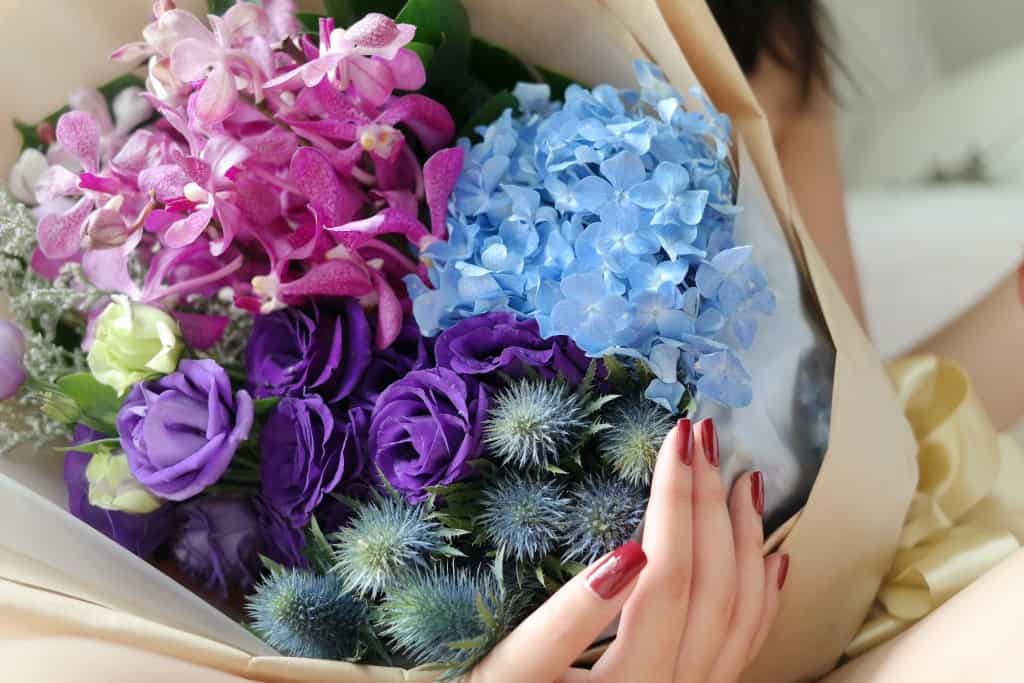 If you are looking for something beyond a bouquet of flowers, we like Little Flower Hut's creativity in presenting their cheery flowers in the form of a Birthday Cake, in a glass as a Martini or Margarita with their range of Happy Hour Flowers or a floral teddy bear! There's even a special arrangement that is shaped like an ong lai (pineapple) for that extra huat (prosperity)!
Table top arrangements and bouquets are also made extra cheery at Little Flower Hut with their bold pairing of colours and flowers, guaranteed to bring on the sunshine and warmth in your recipient's heart.
8.

Floral Magic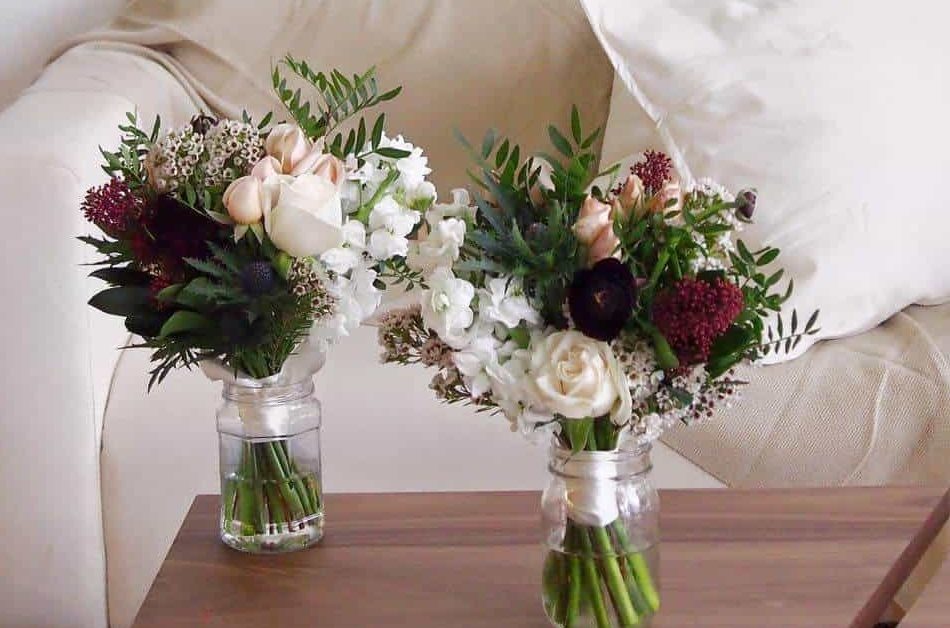 With the backbone of Floral Magic being their family, and is fronted by daughters – be it grandma, mother, aunt, wife or sister, the Floral Magic team keeps a strong focus on keeping each floral creation fresh, moving and organic by taking cues from nature. Even a bouquet of simple succulents look impressive after they've done working their magic.
If you are all about elegance and simplicity, you will fall in love with Floral Magic's signature rustic and lush bouquet style, especially for bridal flowers and wedding decor with lush floral and botanical styling.
Newly introduced, get your dose of floral magic in a bottle. Botburri is simply a bottle filled with half a litre of the prettiest dried flowers but the natural scent of these dried flowers will last through six months or more!
---
Are you celebrating a special occasion? What's a celebration without food! ALSO READ: 14 Satisfying Buffets Promotions in Singapore
---
9.

BloomThis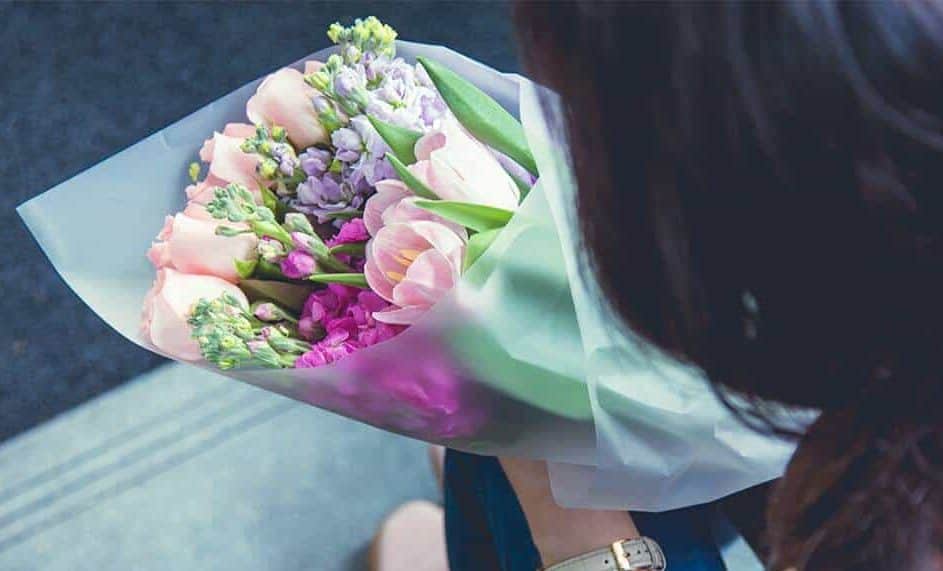 At BloomThis, it's all about the most luxurious flowers fresh from the farm and right to your doorstep. Take your pick between bouquets or flower boxes are uniquely designed to fit in specially handpicked flowers for a delightful surprise. Flowers also comes with a free sachet of flower food that contains nutrients that keeps your flowers fresh longer!
Promotion: 10% off first order | No specific card required
Sign up for the BloomThis newsletter to enjoy discount
Ongoing promotion
10.

Flower Chimp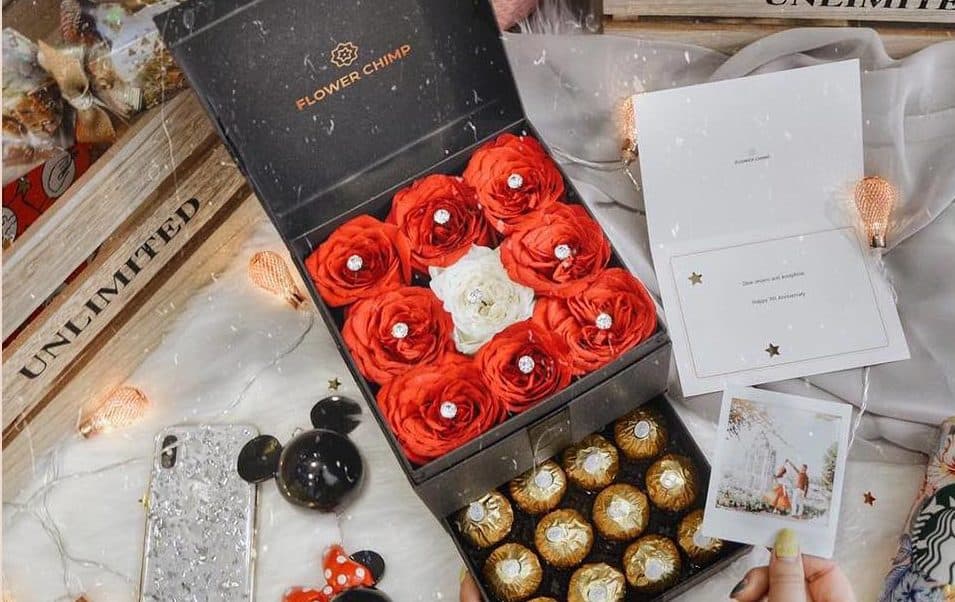 Whether you are looking for something simple or something to impress, be spoilt for choices at Flower Chimp's range of fresh flower boxes, baskets, bouquets and more! Flower Chimp also has an exclusive range of Trinity Boxes that is beautifully presented in an elegant black box with drawers that can fit flowers and 16 pieces of Ferrero Rocher. Prefer table top flowers to a bouquet? We like that there are choices of vased flowers as well as flowers in small, cute white wicker baskets!
11.

First Sight Singapore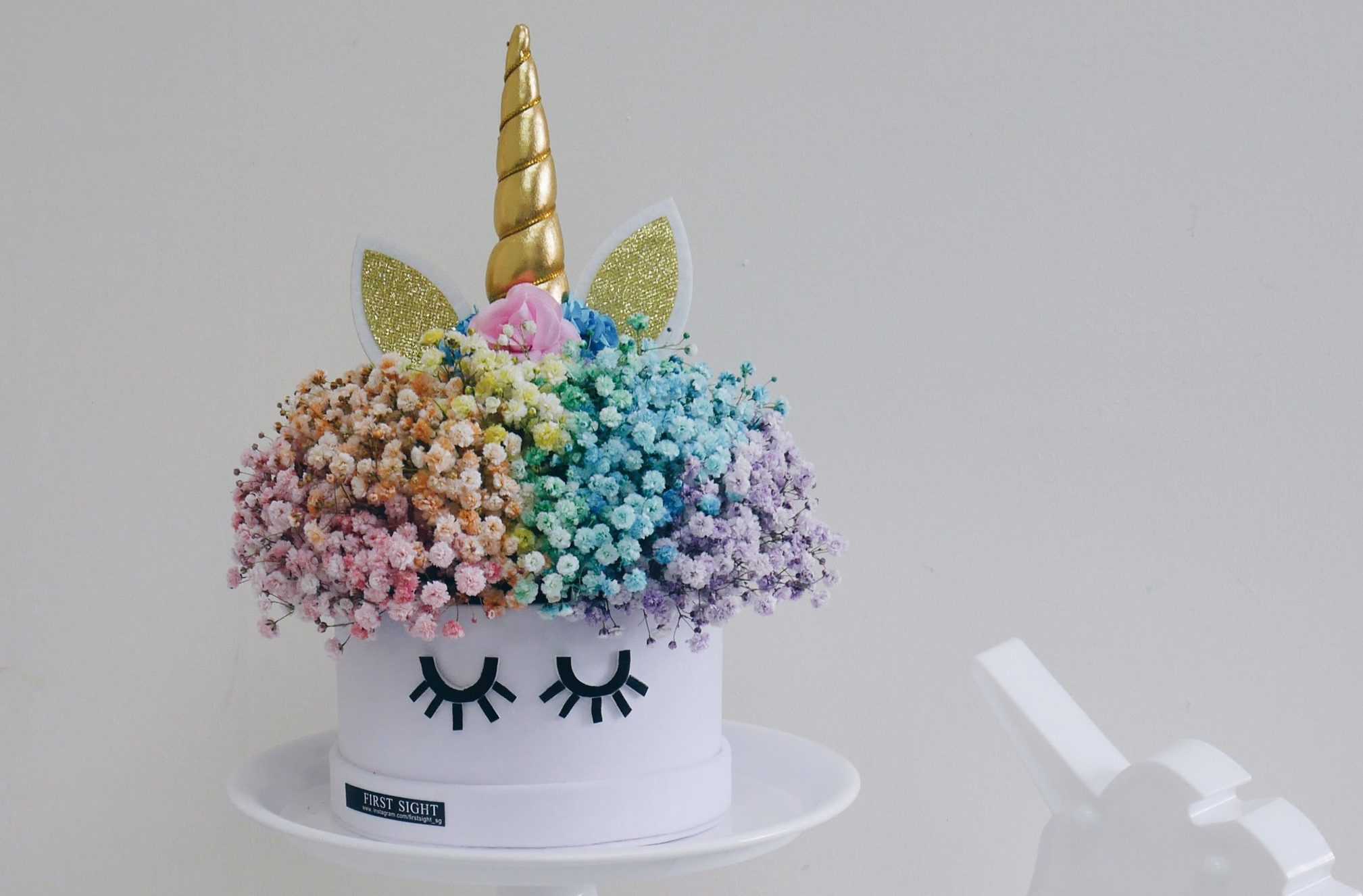 Want a bouquet that lasts for all time, but hate those tacky plastic flowers? Check out the everlasting range from First Sight Singapore. Made from real premium roses, preserved using state-of-the-art technology allowing fresh flora to maintain its natural beauty, texture and soft natural touch. Talk about a real love that will last forever! Each everlasting bouquet consists of preserved roses, cotton flower, dried lavender, dried baby breath, bunny tails and other seasonal foliage.
The rest of the floral bouquets can be summed up as simple yet dreamy and gorgeous. What caught our eye is the Dream a Little Dream pink hydrangea bouquet with baby breath that is sure to soften anyone's heart and the Unicorn Bloom Box that's artfully arranged with rainbow baby breath that is specially hand dyed.
12.

Charlotte Puxley Flowers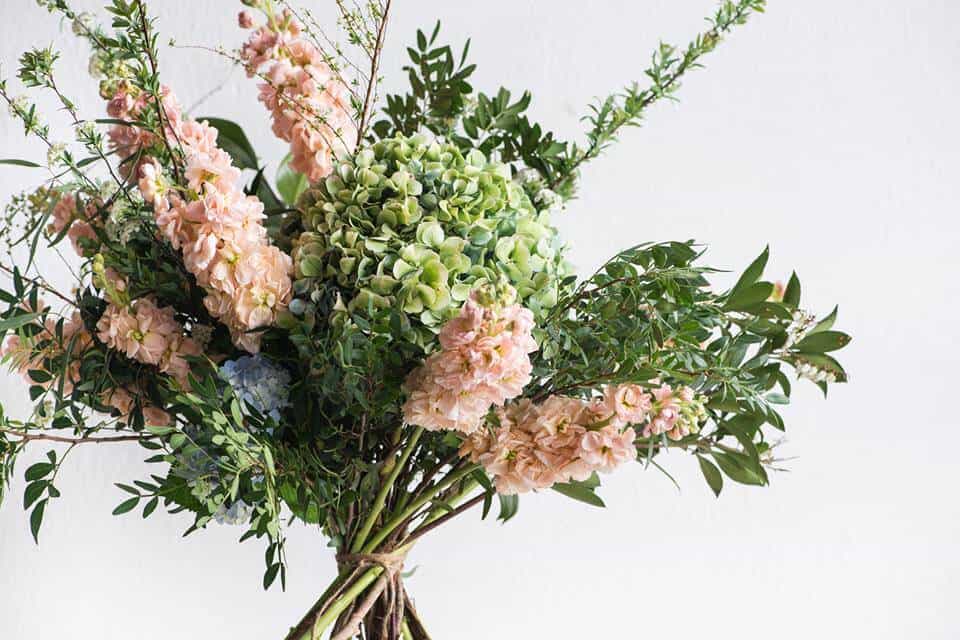 Charlotte Puxley practised the floral craft in London before coming over to our sunny shores. Her creations are a beautiful fusion between the English countryside and tropical Singapore, exuding a lovely rustic charm. Leaves poke out cheekily as the flowers are artfully arranged in a seemingly capricious manner to mimic how they would be found in nature.
Interestingly, you'll never know exactly the look of the bouquet you ordered until it arrives as they are ordered by colour categories! Take your pick from 'Pastels', 'Summery Seasonal' and more.
13.

Bloomen
Bloomen is a home-based, online florist with an expert eye on balancing colours and textures. A husband-and-wife team with an insane love and obsession with flowers, you can count on them to deliver nothing but the best on your behalf! Working off their own creativity, without any rules or limits, you can expect no two arrangements to be exactly the same. Be prepared to be impressed.
Bloomen's fresh flower bouquets are an amazing yet simple arrangement of blooms in their signature rustic style. You have the option of having the bouquet wrapped or expertly arranged in a vase. Size options are also available according to your budget, from small, regular, medium and large. DO note that orders must be made at least one day in advance. Self-collect at their home studio, opt for time slot delivery at S$10 or free standard delivery is available as well.
14.

The Bloom Box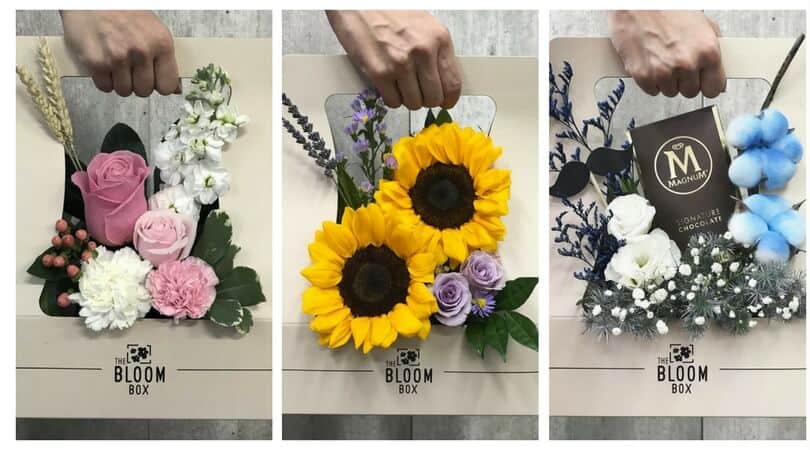 Have you ever felt overwhelmed by the sheer number of choices at a florist? Sometimes, we find it hard to make a decision when there is too much variety. At The Bloom Box, we are saved from such a dilemma as everyday is a surprise with just one flower arrangement! These lovely blooms are expertly paired and arranged together into a box with a handle. If you're looking for a #justbecause gift, this is affordable at just S$35 per box!
Keep an eye out for their limited edition rainbow or specially-coloured roses, cotton buds and baby's breath!
LAZADA
Looking for gift ideas? Check out the range of beauty, fashion and tech products on sale at Lazada
15.

LVLYTM

Check out LVLY's luxury flower jar bouquets for the chic and classic option that will be sure to make hearts smile! These bouquets come in an elegant LVLY glass jar with assorted quotes including 'Have a LVLY day', 'You LVLY thing' , 'Sending LVLY Vibes'. While a jar option might look simple but it keeps the focus on the natural beauty of flowers and foliage, sprucing up any table top instantly. Take your pick from various beautiful colour options and sizes, from classic to luxe!
Plus, all orders are packed lovingly into a 'Someone thinks you're awesome' gift box, giving you extra brownie points to your recipient!
16.

Gift Flowers Singapore

If you are looking for an alternative to regular bouquets, Gift Flowers Singapore's range of special floral arrangements make a great gift to brighten up any home or office desktop. Take your pick of round/square boxed flowers (you'll even get to select between black, baby blue or pink boxes), a chic clear glass vase or even a beautiful vintage tea cup!
With free delivery, a vast collection of flower bouquets and floral arrangements that includes popular choices of roses, lilies, gerberas, tulips, and rare finds of other flowers such as mattholia and thistle, this would be one florist you might want to keep bookmarked on your browser for quick, fresh flowers deliveries! 🥰
Fact bite: HSBC Revolution Card allows you to earn 5 times more reward points on online shopping (yes, including these lovely blooms) dining and entertainment.
| | | |
| --- | --- | --- |
| | HSBC Revolution Card | |
---
Do you have a favourite florist not listed here? Let us know what we're missing out! For more gift ideas, take a peek at these great shopping deals we've handpicked for you!