Last Updated:
Advertisement

Wearing cufflinks is a subtle and elegant way to elevate any formal wear effortlessly. The art of wearing these intricate accessories tastefully however, lies in matching the right cufflinks with the right occasion and of course, with the right dress shirt. Here are 4 types of cufflinks suitable for a range of formal and semi-formal events to add into your collection!
1. Classic Cufflinks – For Work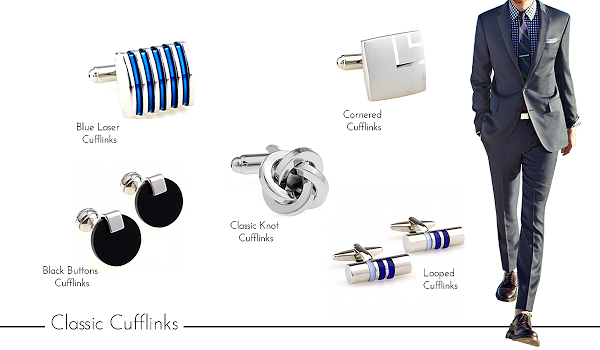 Classic cufflinks are simple, elegant and are the safest type of cufflinks to wear. If you are fresh out of school, you may wish to invest in a pair of these in case any formal event pops up at work. They are good for professional settings like boardroom meetings, important client presentations or job interviews. Silver, black, white and blue are timeless colours and are the easiest to match on any dress shirt.
Advertisement

What we love about these cufflinks is that they add just the right level of detail to a man's outfit without too much flamboyance. They are definitely the must-have everyday cufflink for the careerist.
2. Novelty Cufflinks – Semi-Formal Events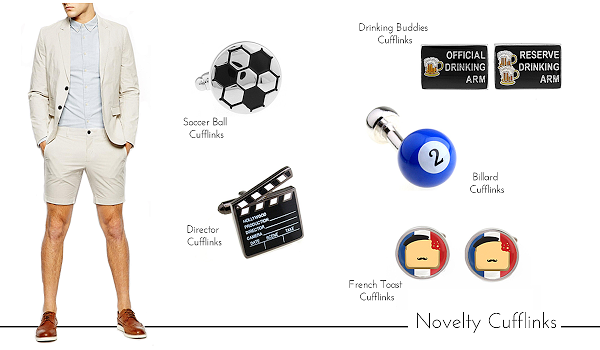 For slightly less formal functions like dinner galas, networking lunches or even first dates, wearing a pair of cufflinks that best represent you is the perfect way to strike up new conversations and leave lasting impressions. You might want to consider novelty cufflinks with designs like your favourite movies, superheroes or even sports team.
How about quirky designs that bring out your charming sense of humour? In short, wear the things that resonate deeply with you. Novelty cufflinks are great conversation starters that subtly express who you are on the inside underneath that dapper suit.
3. Statement Cufflinks – For the Black-Tie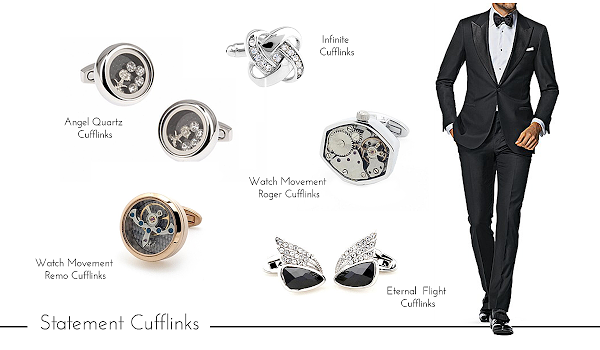 Black-Tie events are probably the most appropriate times for men to flash the dressier accessories in their wardrobe. Cufflinks are to men what jewellery is to women. Take advantage of that and plot the perfect look with bold statement pieces. Crystal cufflinks are naturally a popular choice as they instantly lift the outfit with the sparkles. For men who prefer a more sophisticated look, watch movement cufflinks will not disappoint. These exquisite pieces will definitely demonstrate an eye for details and great taste.
4. Customised Cufflinks – For Special Occasions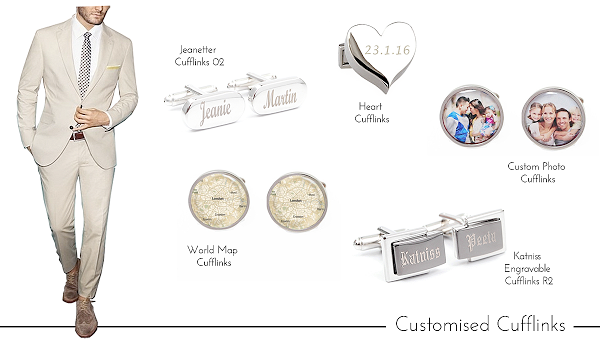 Special occasions such as your own wedding day are personal and deserve to be memorable. For the groom-to-be, choosing a personalised cufflink for the wedding day will add a personal touch for the special day. Consider getting a pair of customised cufflinks with a special message or engraved initials to commemorate this important milestone in life.
If you are a man of few words, you can also opt for a customised photo cufflink. The sky's the limit when it comes to customisation. You can even be creative and go for one with the map of the town or city where you first met your bride-to-be. Who knows, it could even become a sentimental ornament that gets passed down for generations!
---
Wedding planning in progress? Also read: 10 Money Saving Tips for Your Wedding Expenses
---
Promotion: Enjoy 10% off | with UOB Cards
Promo Code: UOB ‹ first 6 digits of UOB cardnumber >

Valid until 31 December 2018

View promo details

here
Want to take it up another level and match these cufflinks to the appropriate work shirts? Find out more with The Little Link's Cufflinks Guide 101 now!
 This article was written in collaboration with The Little Link. 
---
Previous The Little Link's promotions you might have missed
Don't have an UOB card? Here's a Cardable Exclusive!
Promotion: Get 10% off with Promo Code <CARDABLE10>
Promotion is valid for 6 months from 9 June to 9 November 2017.

Coupon code is only valid for use on www.thelittlelink.com

Coupon discounts cannot be applied retrospectively after a purchase has been made.

Not valid with any other coupon code promotion.
---
Check out more lifestyle deals on Cardable's website here for all credit card promotions. We hope you find some of the best lifestyle deals in Singapore here!
Available on the Web, IOS and Android.
---
Advertisement