Last Updated:
Ever since Singapore has gained independence fifty years ago, they slowly, but steadily transformed from a simple fishing village into a first world country that would charm the world so much. Today, Singapore is incredibly famous for welcoming millions of tourist in just a month and people cannot get enough of the city because of the state-of-the-art infrastructures, luxurious hotels, landmarks, restaurants, and shopping centers.
So, more and more people are willing to spend money for their stay in the country, 5 star hotels have been built all over Singapore in order to meet the demands of people for a luxurious accommodation complete with stunning decorations, infinity pools, indulging spa treatments, and attached malls. However, even as a local there, it feels good to feel pampered by checking in a luxurious hotel around Singapore for relaxation in day or two. So local or tourist, you must try staying in the 10 most luxurious hotels in Singapore and worry about that credit card debt later, because you can't exchange the experience for anything.
1. Marina Bay Sands Singapore
So maybe you are getting a little tired of seeing the name of this hotel because it is everywhere and pretty much all of the travel posts about Singapore, Marina Bay Sands is being featured and given a lot of praise. But once you visit this place, you would immediately understand why, because just by gazing at the building from afar, you would recognise the luxury dripping from the modern and gravity-defying architecture. Once inside, you would witness refinery from the curtains hanging in the window to the lush carpet and all the way to the customer service.
Aside from the iconic style, you would find famous restaurant in the hotel together with branded boutiques and unique shops. There are also a luxurious spa and of course, a wide expanse of infinity pool that gives you the perfect view to Singapore, as well as provide a thrill to your swim because of the height. So when you check in here, you would never be bored because there is always a lot going on and the enormous amount of people in the hotel also adds liveliness to your entire stay.
Location: 10 Bayfront Avenue, Marina Bay, 018956 Singapore, Singapore
Contact Info: www.marinabaysands.com
BONUS: Get 30% OFF on Hotel Bookings with Expedia.com.sg
2. Fullerton Bay Hotel
There is nothing more charming than the combination of modern ambiance and that of the old world. The vintage holds a lot of nostalgia, which sometimes ends up making people feel at home, while the modern atmosphere gives a lively vibe to the people.
The Fullerton Bay Hotel has managed to do this and their amazing customer service gives the utmost comfort, especially when you are just a tourist to Singapore. Also, Fullerton Bay Hotel is well-known for having one of the cleanest environments for a hotel in Southeast Asia, plus they have the amazing view of the city from the window of your hotel room while you are enjoying a wide variety of food and drinks.
Location: 80 Collyer Quay, 049326, Singapore
Contact Info: www.fullertonbayhotel.com
3. Ritz-Carlton Millenia Singapore
The Ritz-Carlton Millenia Hotel in Singapore is definitely for the rich, because even though the hotel is relatively young and only celebrating its sixteenth year anniversary compared to other luxury hotels in the area, which has stood for quite sometime, the hotel still proves that age doesn't matter—even for luxury hotels, because Ritz-Carlton Millenia immediately jumped to the top 10 favorite spot of tourists just last year.
The consensus of the people? The said hotel is giving excellent service despite of only having 32 floors. The iconic octagon-shaped lavatory windows together with the dome ceiling that has an embedded dazzling pearl, as well as the extravagant collection of 4,200 modern art pieces displayed all over the hotel and the restaurant within gives people the feel of the old times while benefiting from modern and high-quality customer service.
Also, it only has a distance of 20-30 minute drive from Changi Airport so you can immediately rest from your travel once you book with them You also get to explore the beautiful garden, huge swimming pool, and a trip to the international theaters nearby.
Location: Raffles Avenue, 039799, Singapore
Contact Info: www.ritzcarlton.com/singapore
4. InterContinental Singapore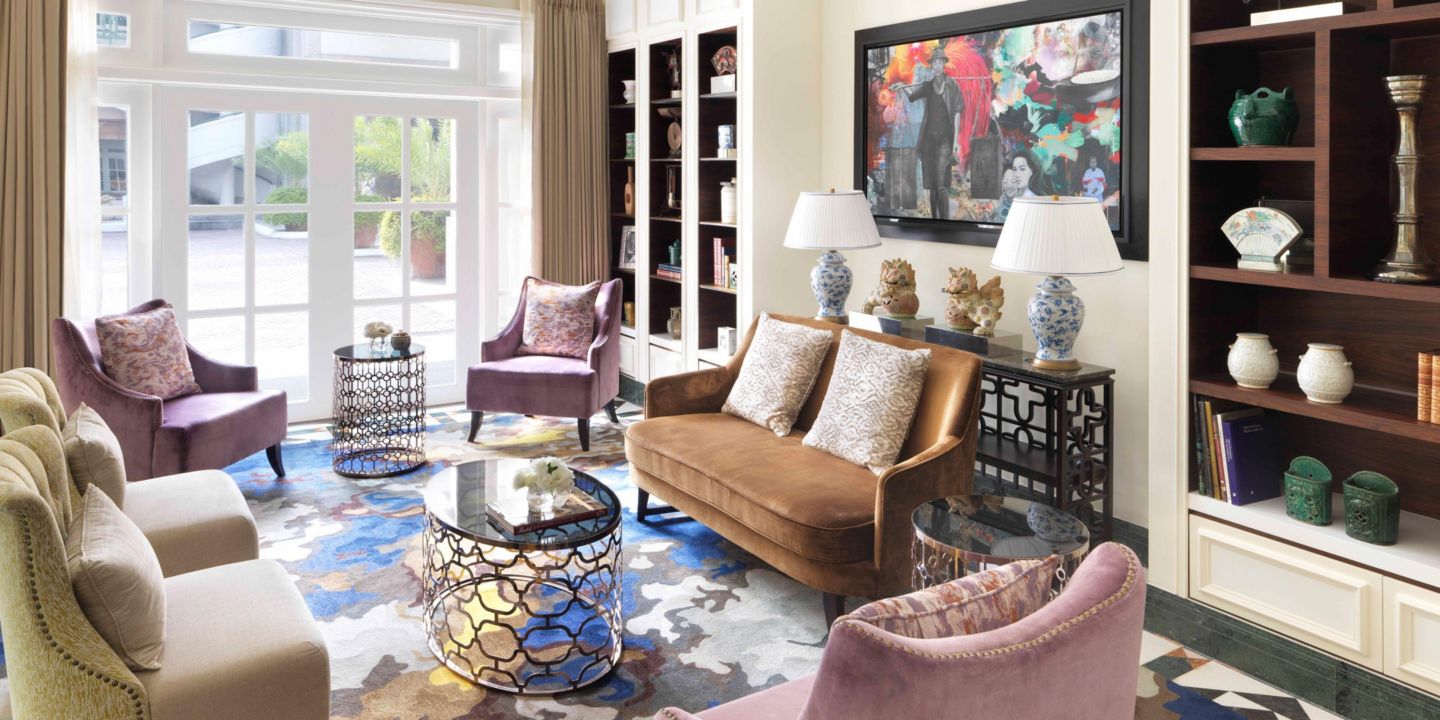 The design of this luxury hotel is muted compared to other lavish hotels around Singapore, but it does not make it any less, because the simplistic and rustic design make sit all the more iconic. It is inspired by the place in Bugis district wherein Peranakan or Straits Chinese shop houses are lined side by side, so InterContinental Singapore is more of thick and quite dark ornate wood carved into special and unique designs that borrows heavily from Chinese art. There is also a lot of displays revolving Peranakan designs and colorful ornaments, which contrast and balances the dark-based colors of the interior.
So even though it's not facing the harbor unlike any of its competitors, it's still a good place to stay. After all, if you choose this lavish hotel, you can easily access Parco Bugis Junction, which is a premium mall, then the Orchard Road, a world-renowned shopping district would be one station away by train.
Location: 80 Middle Road, 188966, Singapore
Contact Info: www.intercontinental.com/singapore
5. St. Regis Hotel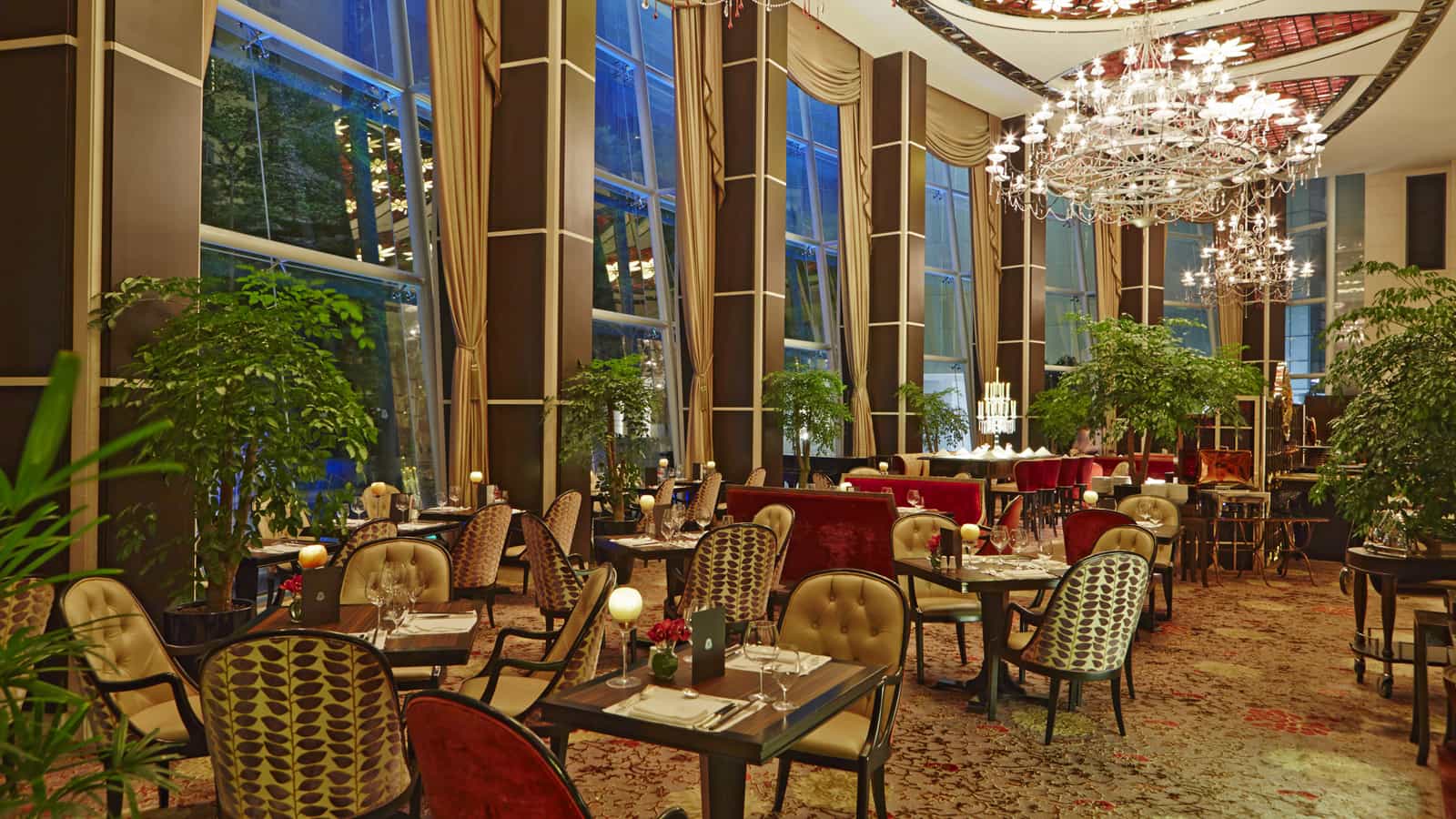 If we are going to spell luxury, then it would be spelled as St. Regis Hotel Singapore! If you just pass by the hotel, it's impossible not to try to stop in order to look more at this stunning place. If the outside looks amazing, wait until you get inside. It also manages to perfectly blend vintage feels and modernity, plus it does not fear going all out with so much gold designs paired by another gold assortment and even gold-lined portraits and wait until you dine in their restaurant, it's dripping with a whole lot of gold!
But the hotel works all of this to its advantage because it does not feel fake, it feels so real, as if you are living in some Sultan's home in the Middle East! Don't forget to take a look  at the amazing city view during night-time!
Location: 29 Tanglin Road 247911, Singapore
Contact Info: www.stregissingapore.com
See? There are so many luxurious to choose from when you feel like indulging yourself and splurging a little. It is an awesome experience especially if you are with family, friends, or special someone. Still, even if you are alone, you can definitely visit these hotels so that you can spoil yourself and shut the noise of the world and stress for a while.
After all, hotels are not only built so you have a place to sleep. It's a place to stay when you feel like getting away from everything in your life and gaining some space to think.
(Click Here to Save Up to 10% on Hotel Bookings with Agoda.com)