Last Updated:
Editor's Note: All content and information in this article are accurate as of published time.
---
As the year progresses into the last quarter of the year, it could only mean one thing: The start of the mega year-end shopping season! Beginning with the 9.9 Sale 2023 on 9 September, it is a build-up to the popular 11.11 Single's Day and Black Friday in November. We've shortlisted the top few online platforms with the best discounts you need to shop at this 9.9 Sale. All categories are covered in our shortlist – shopping, home essentials, beauty, fashion, kids stuff, food delivery, local activities, staycations and even groceries!
Take your pick, select your preferred brands to check out their 9.9 Sale 2023:
---
Shopee 9.9 Super Shopping Day 2023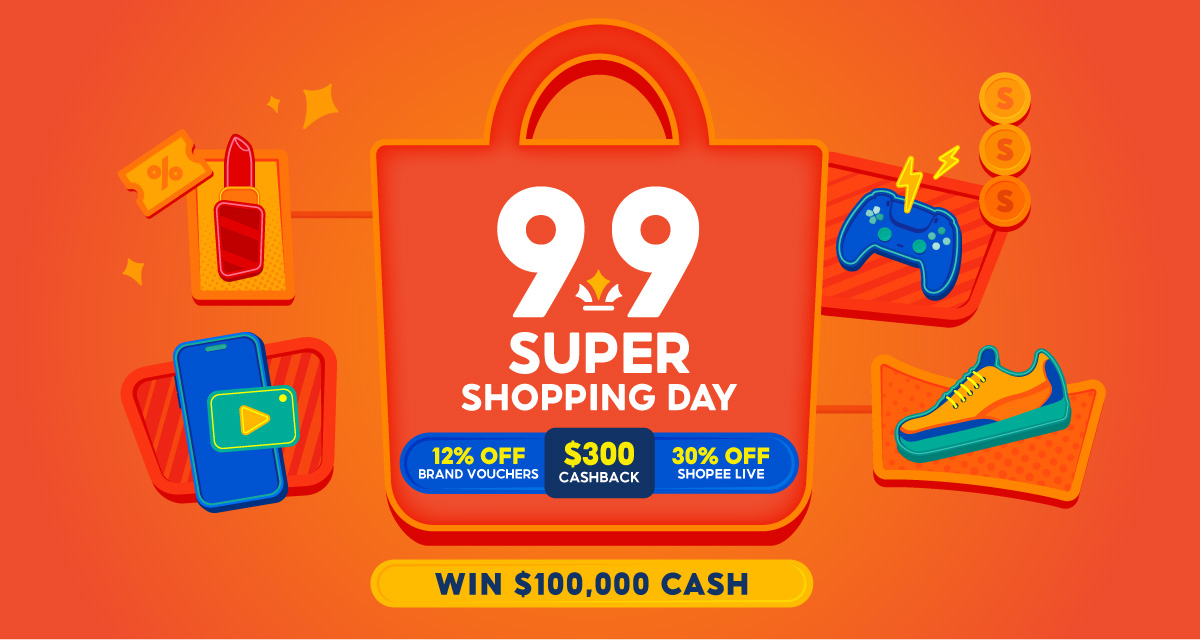 GET SHOPEE 9.9 SALE COUPONS HERE!
Shopee's 9.9 Sale is one BIG annual shopping event that you wouldn't want to miss. There are already various exciting deals happening right now!
Here are some popular brands to keep an eye out for on Shopee:
MORE SHOPEE 9.9 SUPER SHOPPING DAY DEALS HERE!
Here's what to look out for in Shopee's 9.9 Sale:
💳 SHOPEE 9.9

UOB

CARD PROMO
Enjoy up to S$30 off if you have a UOB Card! Plus, if you have a UOB One card, you'll get up to 10% cashback too.

💳 SHOPEE 9.9

CREDIT CARD

BANK PROMOS
If you have a UOB, CIMB, CITIBANK, DBS/POSB, DCS, HSBC, Maybank or OCBC card you're in luck! Keep an eye out for special vouchers here – some of these vouchers can be stackable when you pay with a VISA card!
Don't miss out on these 9.9 Shopee Deals here!
---
---
Lazada 9.9 Biggest Brands Sale 2023

GET LAZADA 9.9 SALE COUPONS HERE!
With up to 90% off over 250 brands in the Lazada 9.9 MEGA Brands Sale 2023, this is no doubt one sale you need to keep your eye on! Best of all, there are so many vouchers you can use to stack for more savings and also enjoy FREE shipping on selected purchases. Don't forget to collect the bonus voucher that gives you an extra S$6 off every S$80 – limited redemptions only!
LAZADA 9.9 BRANDS ON SALE HERE!
Here's what to look out for in Lazada's 9.9 Sale:
💳 LAZADA 9.9 BANK & CREDIT CARD VOUCHERS (Details here)
If you have a Citibank, DBS/POSB or Mastercard, be sure to collect your bank credit card vouchers here before they run out!

More 9.9 Lazada Discounts here!
---
Amazon.sg September Prime Day Sale 2023
If you've yet to discover the joys of shopping on Amazon.sg, here's the perfect time to get started! Simply join as an Amazon Prime Now Member in a 30-day free trial here and you can decide after! After your free trial, Amazon Prime is just S$2.99/month and you can choose to cancel anytime. Sign up here.
Best of all, Prime Members will also enjoy FREE one-day delivery with NO MIN. SPEND for eligible local items on Amazon.sg AND free international shipping for orders over S$60 from Amazon International! Keep an eye out for the "Prime" logo when you shop.

Here's a sneak peak of the Amazon 9.9 Sale:

🤩 Up to 30% off Prime Deals, up to 25% off best-selling toys

🎁 UP TO 35% off best-sellers and top recommended books (Details here)
✨DBS/POSB BANK VOUCHERS (Get yours here)
– S$12 off S$120 spend with code DBSASEP (Valid from 8 to 11 September 2023, T&Cs apply)
– S$8 off S$100 spend on eligible gaming products with code DBSGAME8 (Valid from 9 to 19 September 2023, T&Cs apply)
More 9.9 Amazon.sg Discounts here!
---
Zalora 9.9 Sale 2023
Give your wardrobe a refresh with some huge savings in the Zalora 9.9 Sale 2022. With (nearly) everything from 40 – 90% off, be spoilt for choice, from sportswear to dresses, accessories, footwear and beauty buys! Enjoy savings with the many promo codes on different brands and categories. Zalora also offers FREE delivery with a min. purchase of S$50!
Here's what to check out in the Zalora 9.9 Sale:

⚡️ 9.9 SALE NOW ON! (More details here)
Check out the massive deals on your favourite brands, including MANGO, adidas, COACH, Nike, Birkenstock and more. With over 3000+ styles starting from S$9, there's surely something you'll love! Plus, 9% off with no min. spend on almost everything!

GET SPORTY WITH EXTRA 40% OFF ADIDAS, PUMA & MORE (Zalora Women here | Zalora Men here | Zalora Kids here)
Enjoy big savings on the most comfortable workout gear, shoes and accessories from your favourite sports brands!

ZALORA BEAUTY FESTIVAL: Extra 20% OFF (More details here)
Time to get a self-care regime in place and there's no better time to do it now with up to 30% off + extra 20% off beauty, grooming and personal care products! Brands on sale include benefit, Foreo, Sulwhasoo, Laneige, NARS and more! See FULL LIST of Beauty brands on discount here!
Zalora 9.9 Credit Card Promotions 2023: 💳 Get the latest Zalora Credit Card Promotions here!
---
Klook 9.9 September Sale 2023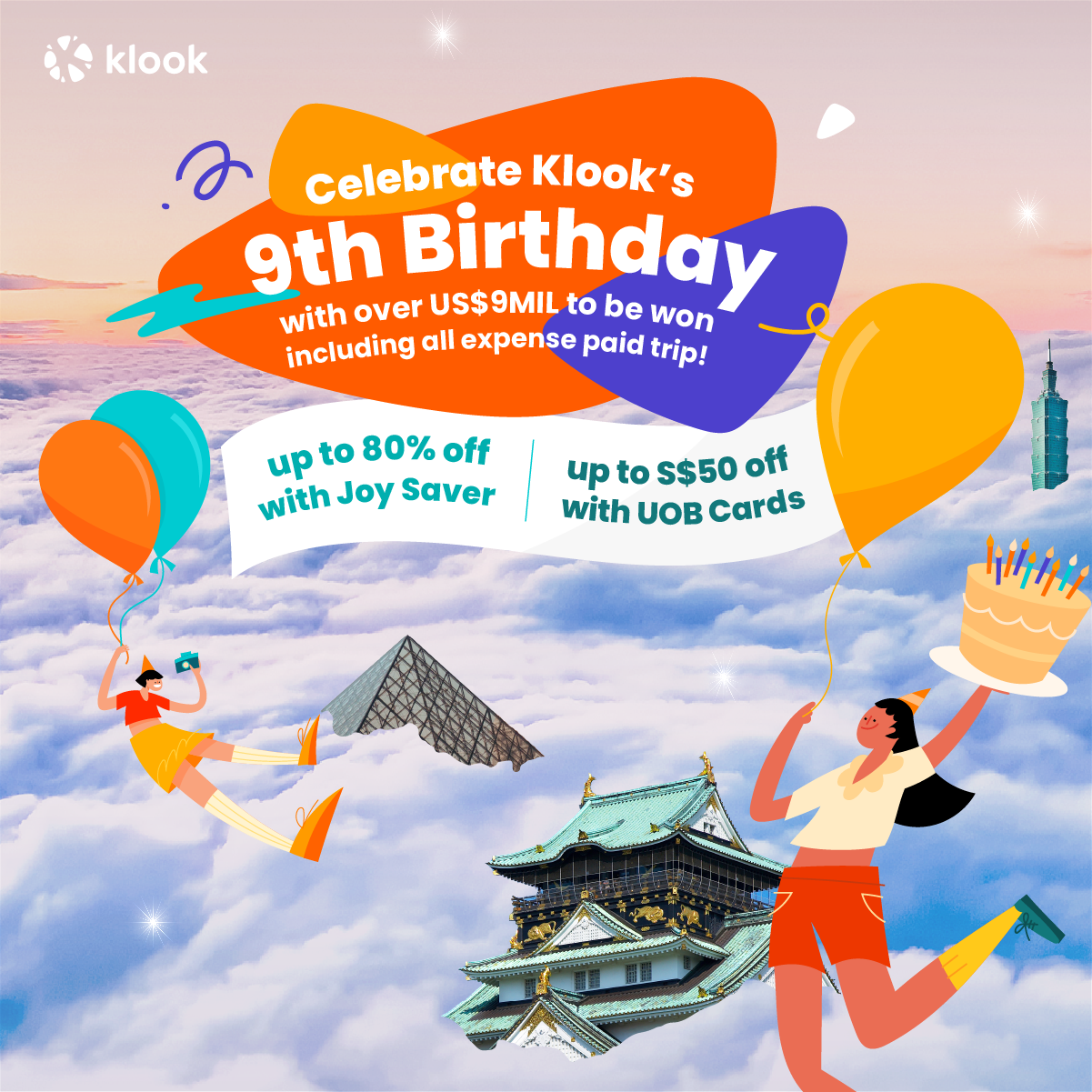 Klook's 9th Birthday Sale 2023 is filled with goodies galore! Enjoy up to 80% off selected activities, up to S$50 off with UOB Credit Cards and more!
GET KLOOK 9TH BIRTHDAY PROMO CODE
---
Watsons 9.9 September Savings Sale 2023
Here's a great time to replenish your beauty, skincare and healthcare essentials with the Watsons 9.9 September Savings Sale! Time to check the expiry dates of your stash at home and get new ones – Remember that beauty products like makeup have a lifespan of about a year after they have been opened and used. So do be good to your skin and get new ones if you need to – especially during a sale where you can enjoy some savings.
More 9.9 Watsons Discounts here!
---
Trip.com 9.9 Sale 2023

Save big on your next vacation with Trip.com! From now till 9 September 2023, enjoy supersized flash sales daily, exclusive promo codes and limited S$99 special codes. What's more, CIMB, CITIBANK, DCS, DBS, OCBC, UOB and Mastercard card holders enjoy special discounts too!
CHECK OUT TRIP.COM 9.9 SALE HERE!
---
🍲 Hungry for more great online shopping deals or credit card promotions? Cardable's got it all covered for you! Check them out here!
---
What's the 9.9 sale about?
Jumping on the bandwagon and giving consumers yet another great opportunity for good deals and seemingly endless promotions, many of our e-commerce giants in Singapore have brought the 9.9 Online Sale to us Singaporean consumers—companies like Shopee and Lazada are slated to hold their annual 9/9 sale in Singapore!
This annual sale happens on the 9 September every year, and consumers can look forward to an array and assortment of all sorts of products and services on massive sales. Expect lifestyle, dining and daily items for sale on major e-commerce sites.
Prepare for the 9.9 Mobile Shopping Day
From now till then, get yourself ready by checking out items you have been eyeing on and start shortlisting your stash! There is never really enough things to buy, especially when they can be slashed to ridiculously low and great prices. If you have a hard time keeping track of your shortlisted items, don't forget that there are wishlists and even online shopping carts to help shortlist your dream items. Simply cart out when the highly anticipated 9.9 mobile shopping day arrives and you can be sure that these items are on sale!
Watch out for major sites such as Lazada having their Lazada 9.9 Sale in Singapore. Lazada is one of the biggest and most popular e-commerce sites in Singapore, bringing in quality and reviewed items from all sorts of categories, from electronic devices to health and beauty items, home and lifestyle to men and women's fashion. Lazada also offers an app for mobile, making online shopping on the 9.9 online sale a more convenient breeze!
Having qualms about online shopping? Don't worry, Lazada is part of the Alibaba group and is supported by a multitude of logistics partners and payment options to ensure that there is an option for every type of shopper and consumer.
Navigating the Best Online Shopping Deals in Singapore
Avid online shoppers will always know popular dates for incredible sales periods—who doesn't want a good deal? Online shoppers are also tired of always checking physical retail stores for their sales dates, and more importantly, going down to physical stores mean squeezing in with the massive crowds that still throng the streets!
What else could we ask for when there are e-commerce sites available abundantly with promising quality and delivery options? Apparently there is much more to be asked for: lower cost, bigger savings! Stay up to date by sticking with sites like Cardable for the best and biggest sales periods and events throughout the year!
As customers we are always looking out for the biggest reasons for that perfect purchase, and we are spoilt for choice when it comes to big brands and companies coming up with new and more frequent opportunities for sales, just like the 9.9 Sale in Singapore.
Double Record Breaking Sales Revenue
Some typical sales dates for the online retail scene are 12.12, the Double 12 sales that falls on—yes, 12 December! Another popular sale period falls just before December, and yes you got that right too: 11.11, the one and only Singles Day. Every year, the sales records for eCommerce giant Alibaba keeps getting broken and brought to immense heights. With that many people coming on board to grab a slice of the sales pie to enjoy huge savings, why not give it a shot? As a consumer with access to the internet, you have plenty of opportunities and chances that should not be wasted!
---
🍣 Looking for dining deals? They are all waiting for you HERE over at Cardable!