Last Updated:
If you are welcoming a new baby to the family, a big congratulations to you! There is a never-ending list of things to prepare for a newborn and it can get really overwhelming as you decide on the perfect essentials suitable for your little one.
All the small stuff like clothing, diapers and more can easily add up to quite a substantial sum too, so it might be wise to streamline what to get. Having just the basics for the first few months is good enough and then you do a check-off later on to add-on or declutter things as your baby grows.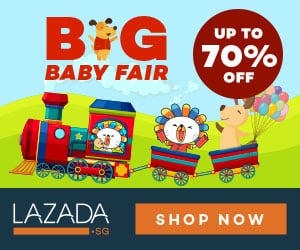 TIP: While Lazada might feel like a one-stop shopping destination, you'll be surprised at how well-stocked they are when it comes to baby and mummy essentials. If you are concerned about the reliability or authenticity of the products, select from the official stores that range from Nestle, Merries to Fisher-Price and more!
Some online stores might offer a wider range or promo prices and best of all, they are delivered to your doorstep. Check out Motherswork Online (via Lazada) or Mums.sg.
Remember, the key is to keep it simple. Here we go!
1.

Dressing the baby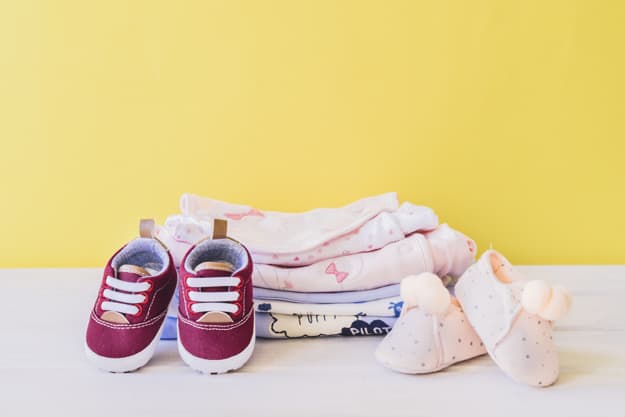 Baby clothing has got to be the cutest thing ever, especially in newborn sizes (cue: awww). It's completely understandable (and legit) to get carried away buying them. You might want to just buy a few in newborn size for the first week or so and then the rest could be in 3 months and above sizes. Most babies will outgrown the newborn clothing really quickly.
The quantity of each item depends on how often you will be doing the laundry but to be safe, it's good to get sufficient to last at least a week. Sometimes babies will regurgitate their milk so they might require more clothing and mitten changes throughout the day.
Remember the "holey singlets" of our times? Uniqlo stocks the modern day "holey singlets" and onesies that are comfortable and stylish!
TIP: Some babies might not like the feeling of a onesie or one-piece outfit being pulled over their head so do get some front-tie / kimono or button tops as well.
6-8 Short-sleeved one-piece / front-tie / button outfits
2-3 Sleeveless one-piece outfits (good for really hot afternoons in Singapore)
6-8 Hand mittens
6-8 Booties / socks
2 Beanie hats
6-8 Bibs
4 Pajama sets (long-sleeved if baby sleeps in an air-conditioned room)
4 Swaddle blankets
A nice outfit for the first month celebration!
2.

Diapering essentials

There are so many disposable diaper brands out there so the best way is to stick with a popular reputable brand such as Merries or Huggies. You can also sign up with these brands to receive samples before buying in huge quantity. There will also be diaper samples in your "hospital goodie bag" so you can let your baby try them as well.

If you are considering cloth diapers, popular brands are Charlie Banana or Moo Moo Kow.

TIP: For wet wipes, be sure to check the ingredients list before buying to ensure that they are suitable for babies. As the wipes come into contact with the baby's delicate skin, it is best that they are unscented, hypoallergenic and free of any strong chemicals.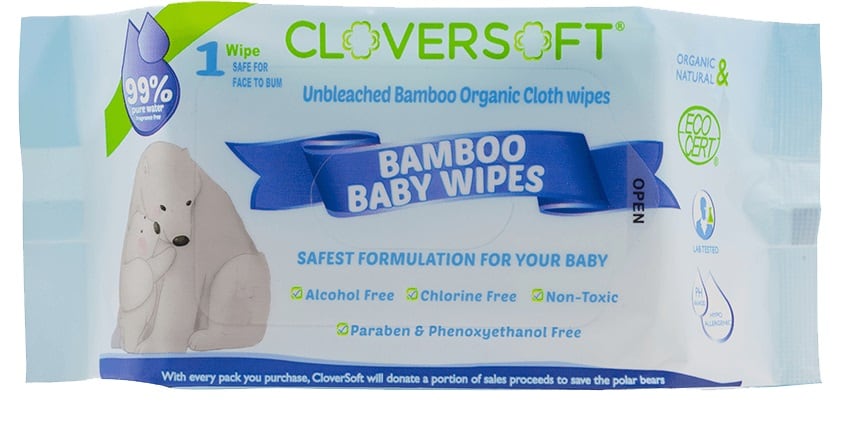 CloverSoft's unbleached bamboo baby wipes is a favourite as they are dermatologist and lab-tested to be safe for newborn babies. Most importantly, they are free of alcohol, chlorine, phthalates, paraben, phenoxyethanol and formaldehyde. Bamboo is also a safe and eco-friendly source with an extraordinary growth rate that makes it an abundant and sustainable crop as compared to paper products made from tree pulp.
Wet wipes
Cotton squares or cotton balls for cleaning
Gauze to clean baby's mouth
Disposable or cloth diapers
Diaper cream
Waterproof mat (the ones from IKEA are great and durable!)
Promotion: Get S$5 OFF all Cloversoft Products
Minimum purchase of S$45
Valid till 28 February 2018
Promo Code: CARDABLE5
3.

Cleaning essentials

Some babies might get more sweaty than others especially in Singapore's weather so it is good to plan a bath in the morning and a wipe-down in the later afternoon or evening.
3-4 Towels
6 Washcloths / Hankies
Baby shampoo & body wash
Moisturiser or aloe vera gel
Toiletries kit (includes soft brush and comb, nail clipper, ear thermometer and nasal aspirator)
Ru yi oil
Bathtub
4.

Baby room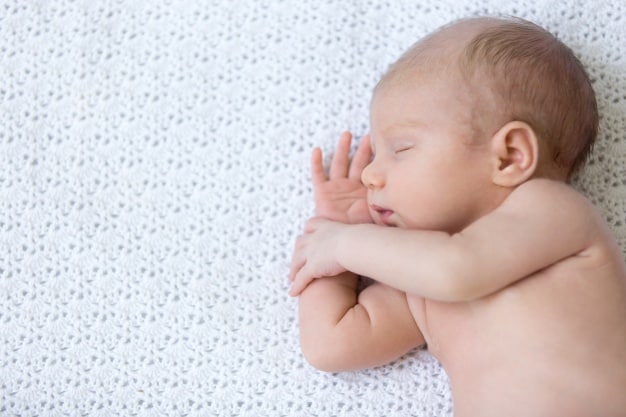 When you are setting up a space for the new addition to your family, whether it is the baby's room or a shared space in your bedroom, it helps to keep the items organised so that you'll have an easier time preparing for changing time, bath time and more. Keep the space clutter-free and pick out your favourite trinklets or decor to do up the space.
If you have bought bumper pads along with the cot, do keep them till the baby is older. Yes, bumper pads will come in handy as the baby gets older but for now, bumper pads, pillows and blankets pose a risk of sudden infant death syndrome (SIDS) or suffocation so please keep the cot clutter free.
TIP: Look for firm and heavy foam or latex mattresses that are resilient when you press against it. Surfaces that are too soft and can conform to a baby's shape creates a suffocation risk and SIDS hazard as well. The BabySafe brand available at Kiddy Palace, major department and baby stores like Takashimaya, Robinsons and Motherswork is a good choice.
Changing mat or table
Diaper cabby or basket to keep diapering essentials organised
Baby cot with mattress or co-sleeper
Fitted crib sheets
Nice to have: Baby Bouncer
Nice to have: Comfortable armchair for nursing and feeding
Nice to have: A favourite picture book or two to read for some family time. It's never too early to start reading! (Some popular favourites are Guess How Much I Love You by Sam McBratney or The Very Hungry Caterpillar by Eric Carle)
5.

Feeding the baby

For the first six months of baby's life, your little one relies on milk for nutrition. The World Health Organisation (WHO) recommends exclusive breastfeeding for the first six months of baby's life. Breast milk is recommended by experts as the best nutrition source for babies due the 'customised' body-building components in mummy's milk that is particularly suited to each baby's health and development.

Breastfeeding is a rewarding but tiring journey – to be honest, the first week is terribly tough but once you persevere through, it gets easier (ignore the naysayers and think of all the savings you get from buying milk powder!). The bonding with the baby is also incredible. Plus, breastfeeding mummies also slim down faster as the body converts calories into milk for the baby.

However, it is ultimately your decision even if you choose not to breastfeed. Remember, the most important thing is for baby to be fed and healthy. There are also many options of recommended formula milk available. Alternatively, you can also buy the same brand as what the hospital nursery provides for your newborn baby.
Breast pump
Milk storage containers / bags
Newborn bottles and teats
Bibs or hankies
Steriliser
Bottle cleaning brush to wash bottles and pump parts
Dishwashing liquid safe for babies
6.

For the new Mummy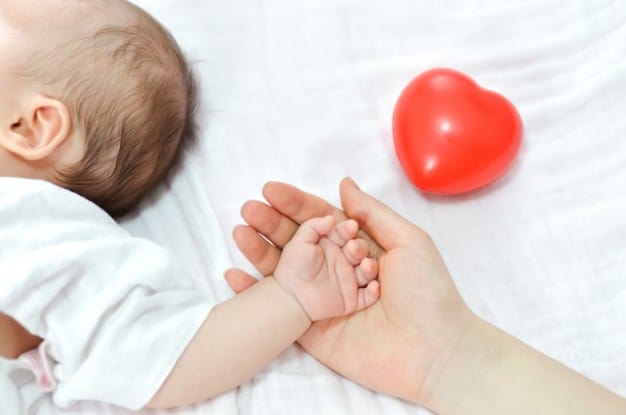 A happy mummy is important to the well-being of a happy baby. Often, while we focus on preparing the items for the arrival of the little one, we might forget what to prepare to settle the new mummy into her new (and very important) role.
It might also be a little tricky to find clothing to fit into after birth so you might want to consider nursing-friendly maternity wear that can be adjustable. ASOS and ZALORA have some chic choices that can make you look and feel good at pocket-friendly prices.
TIP: If you are nursing or breastfeeding, you will be VERY HUNGRY as your body doubles up to make milk for your baby. Do stock up some of your favourite snacks. Nuts, oats and honey are also common milk boosters. Alternatively, check out the delicious granolas from Amazin' Graze for that healthy but tasty boost.
Nursing bras
Breast pads
Nursing tops / dresses
Nipple cream
Mother's milk tea
Binder (for post c-sect recovery)
Maternity pads (Kotex maternity loop is recommended)
Good to have: Compression leggings to help with water retention
Good to have: "Swimming float" (for natural birth recovery)
Good to have: Confinement herbal bath / dry shampoo
Good to have: Milk boosting healthy snacks
7.

Going out with baby

Heading out with the baby can be as soon as the following day after baby's discharge from hospital to your nearest polyclinic for a jaundice checkup. While trendy diaper bags like Jujube are very popular right now, you don't need a diaper bag to use as a diaper bag. While these 'designated' diaper bags are well-loved by mummies (and daddies) for their many compartments, any roomy bag that can fit all your baby essentials can be used as your diaper bag. Do get a tough one that you can easily wash in the machine!
Roomy bag
Nursing cover
Portable changing mat
Diaper organiser (fits 2-3 diapers and small tube of cream, depending on how long you will be out)
Rear-facing car seat
Optional: Hot water flask (For making baby's milk or heating up breastmilk if not nursing on the go)
I know… it is really amazing how many things a tiny little being needs. Even after deciding on what to buy, there are so many brands out there that it can take some time to research and find out what's the best. But do bear in mind that every baby and mummy is different so what works well for another baby or mummy might not result in the same so do keep an open mind.
But do remember, if you have too many things, it will be frustrating and tough to keep track of what you have, especially in the first few months of being a new mummy (and in sleep deprived mode). So just focus on the basics and remember, some friends and relatives might also get you more baby essentials as a gift too.
Most of all, take time to enjoy the newborn moments. There will be nights of interrupted sleep, there will be some stressful situations. As they all say, the days are long but the years are short. It is true indeed. Before you know it, your little one will learning to sit up and moving about soon! <3
---
500