Last Updated:
"Which credit card got discount?"
The million dollar question we always ask after receiving a bill; be it after having a sumptuous meal at a restaurant, checking out our shopping cart at our favourite online store or buying the blockbuster movie ticket at the box office. In our hearts, we are always secretly hoping that one of the cards in our wallet will be the answer to that question. 
😊 There's nothing to hide – Everyone loves a great deal and no matter how much the savings are, it still feels pretty good to enjoy some discount.

We know no credit cards are created equal. Every credit card boasts itself of having the best credit card perks or rewards and seeking out the card with best credit card loyalty programme in Singapore is no easy feat.
To attempt answering your million dollar question and to ensure that you always have THE credit card in your wallet to enjoy some savings, we've studied all the promotions in the year 2018 in the five main categories: Dining, Shopping, Lifestyle, Entertainment and Travel; analysed and compared them across all the banks with credit cards in each of the categories to see who performed best.
🥇 Based on the 2018 promotions data that we have collated at Cardable, there were clear winners while a few others were neck-to-neck. Here, we will break it down and announce the various credit cards that took the winner's podium for the best credit cards comparison in Singapore! 
Before we dive into the individual categories, let us first take a look at how each bank's credit card performs overall in the year of 2018.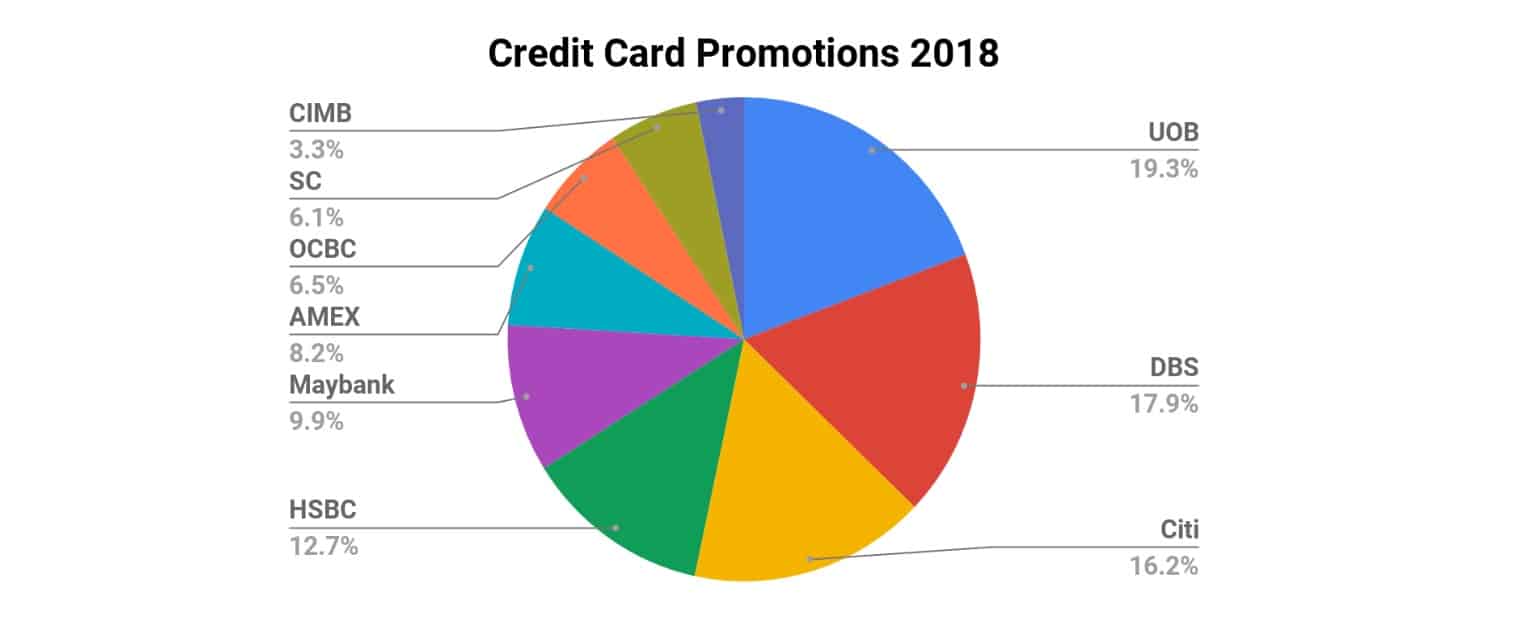 From this chart, UOB clearly takes the biggest slice of the pie (literally!), facing tough competition from both DBS and Citibank. UOB credit card claims 19.3% of the promotions which translates to almost 1 in every 5 promotions that was published in the year of 2018. Now, that is pretty impressive!
Trailing behind at 2nd and 3rd place, DBS and Citibank also hold quite a number of promotions to their card, claiming 17.9% and 16.2% of the promotions in 2018 respectively. Given the higher number of promotions to its card, does it also mean that UOB credit card will also be the winner in all the individual categories? Let's find out!
Now, are you ready to see if the winning cards matches what is in your wallet? Cue the drumroll and let's take a look!
BEST BANK FOR CREDIT CARD DINING PROMOTIONS
🏆 WINNER: CITIBANK CREDIT CARDS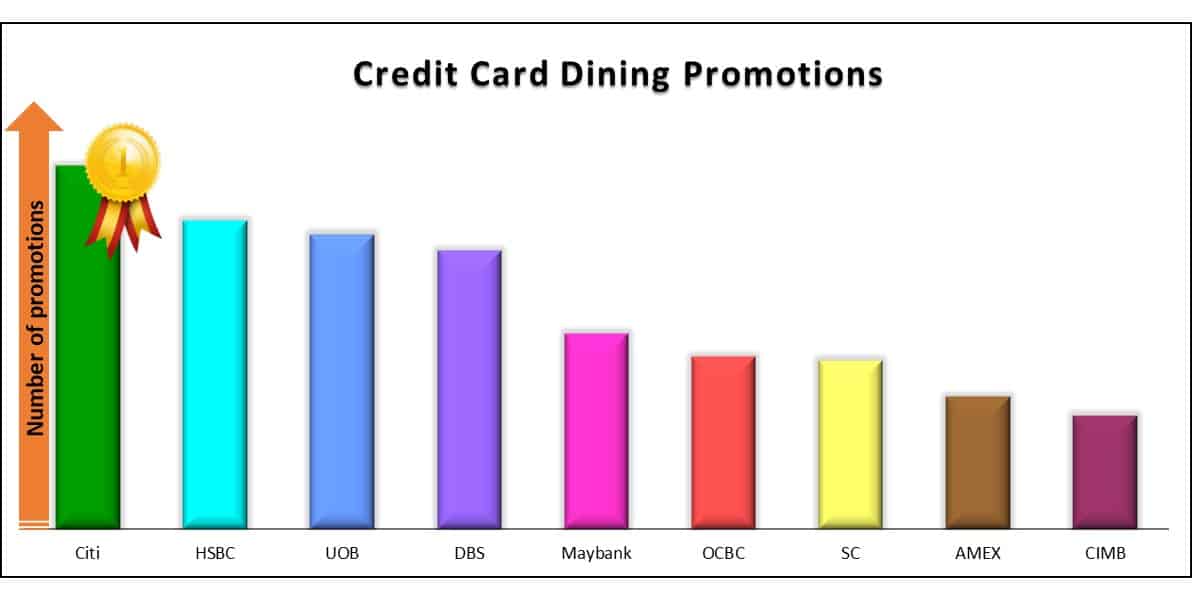 🍽️ Studies have shown that Singaporeans' favourite pastime is none other than to eat. We are constantly on the hunt for the latest food craze and are willing to spend hours in line just to get our hands on our favourite food. If you are someone who live to eat, the Citibank credit card is the card that you have to own. Although it only comes in 3rd place in the overall number of promotions in the year 2018, more than half of its promotions are all associated with dining.
With a staggering total number of more than 390 dining promotions in 2018 itself, we're sure that Citi's on the right track and will bring us even more delicious promotions this year! Well, one thing you can be assured of is that Citi's got your back when it comes to dining deals to help you save more as you fill your tummy everywhere you go.
Compared to the close runner-up HSBC, Citibank credit card dining promotions are salivating and most importantly, easy to claim (You just have to charge to your Citibank credit card, it's that simple! For HSBC, you'll be required to download the Entertainer app at a small fee to enjoy the discounts).
With Citi Cards, you can get savings up to 18% off  for a family buffet at major hotel restaurants and even a 40% off  for a romantic a-la-carte dinner for 2 at Lawrys 😋 Round up your makan kakis and start the feasting with Citi Cash Back right now!
| | | |
| --- | --- | --- |
| | Citi Cash Back Card | |
Don't have a Cit Card? Don't lose out! Make your meals better by earning 6% cashback on your dining expenses with the Citi Cash Back Card.
😎 Interesting fact: Based on 2018's data, about 60% of all the promotions are dining promotions. Looks like dining is really a big part of our lives and all the credit card companies and relating merchants are jumping on the culinary wagon to cater to our national pastime! 🥂
BEST BANK FOR CREDIT CARD SHOPPING PROMOTIONS
🏆 WINNER: UOB CREDIT CARDS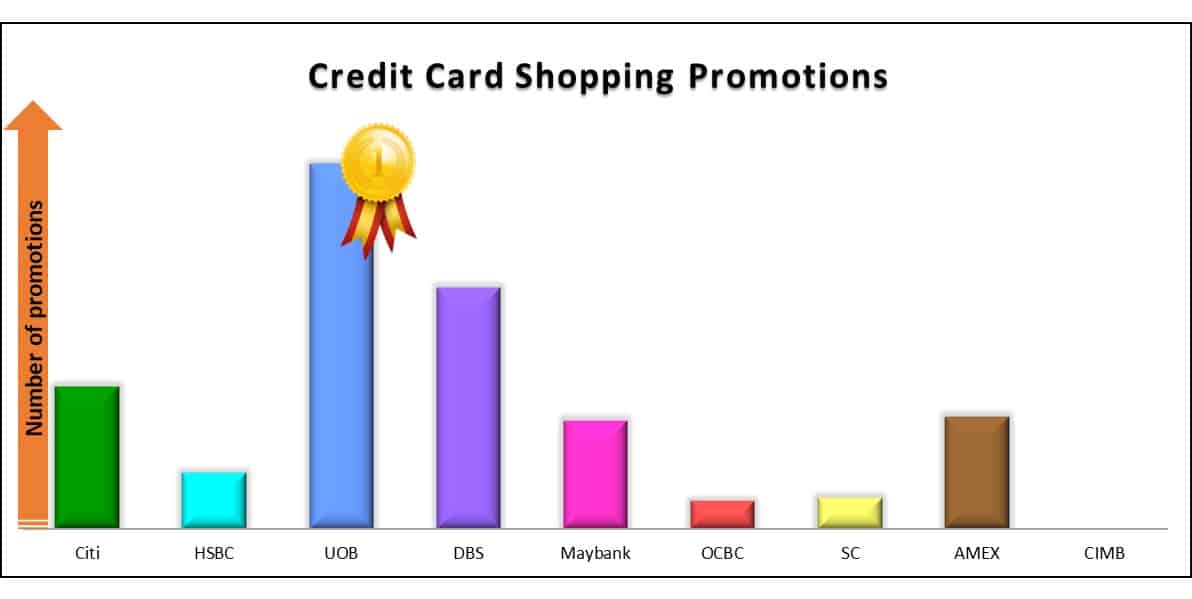 🛒 Who does not love a good shopping therapy and to put the cherry on the cake, who does not love saving a whole lot while going on a good shopping therapy?! Shopping Kings and Queens alert!
Based on the total number of shopping promotions tagged to its cards, way ahead of the rest of the competition in 2018, you'll want to make sure that you have an UOB credit card sitting in your wallet to help you save all that money while you splurge.
With UOB Cards, you can get discounts no matter what you are shopping for; furniture for your new home, household necessities, baby stuff, new clothing, beauty essentials and even jewellery for that special occasion. And as we migrate ourselves to online shopping, you might also wonder if it will give you the same benefits in this new age of retail therapy too?  
Fear not, for the avid online shopper, UOB Cards currently also offers you up to 15% off at popular online shopping sites like Shopee and Zalora; it even gives you a $10 off whenever you purchase from Qoo10 every Tuesday! So we know that more shopping galore deals definitely await us in 2019!
No UOB Card? Get yourself a UOB YOLO Card now and buy that something that you have always wanted!
| | | |
| --- | --- | --- |
| | UOB EVOL (Previously YOLO Card) | |
Not sure if the UOB YOLO Card is the right one for you? Find out more here!
BEST BANK FOR CREDIT CARD LIFESTYLE PROMOTIONS
🏆 WINNER: DBS CREDIT CARDS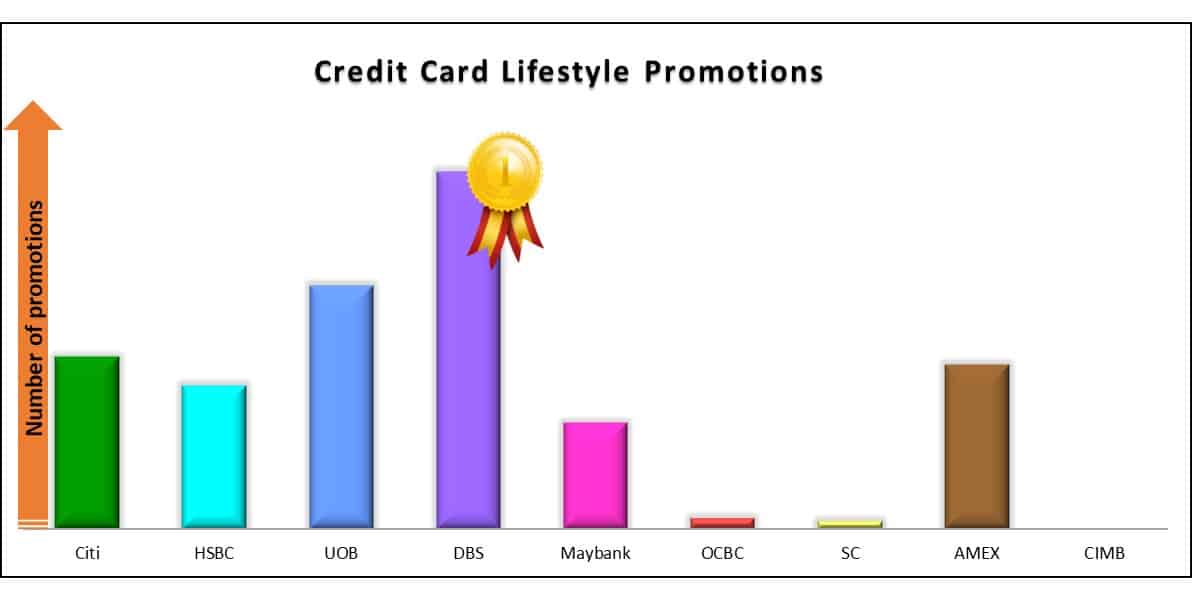 💆🏻 As we go about our busy daily routine, one important thing that we always brush aside is self-care. Once in a while, or ever so often, we should always slow down and take good care of our overall well being; be it enjoying  a relaxing full body massage and clarifying facial therapy or sweating it out in an energising fitness class.
These instant pick-me-ups usually do not come cheap and the credit card you need to own to enjoy all these pampering without breaking the bank is none other than the DBS credit card. This is a clear winner, racing ahead of the rest of the competition, with a total number of more than 130 lifestyle promotions tagged to its cards in 2018. We are sure that 2019 will bring about more exciting promotions by DBS and POSB! 
Currently, with the DBS credit card, you can get 15% off all treatments at the Ritz Carlton Spa or a 1-for-1 fitness class at BBOUNCE Studio. If you want the whole family to join you on this self-care mission, the card also gives you 20% off facial treatment at Urban Homme for the Daddy and 20% off 1st water training + massage for the littlest one at Baby Spa. Go on, apply for the DBS Black AMEX Card and indulge yourself after a tiring week at work and at home, you deserve it!
---
💳 Thinking of signing up for a new credit card but not sure if there are any sign-up promotions? Check them out here!
---
BEST BANK FOR CREDIT CARD ENTERTAINMENT PROMOTIONS
🏆 WINNER: DBS CREDIT CARDS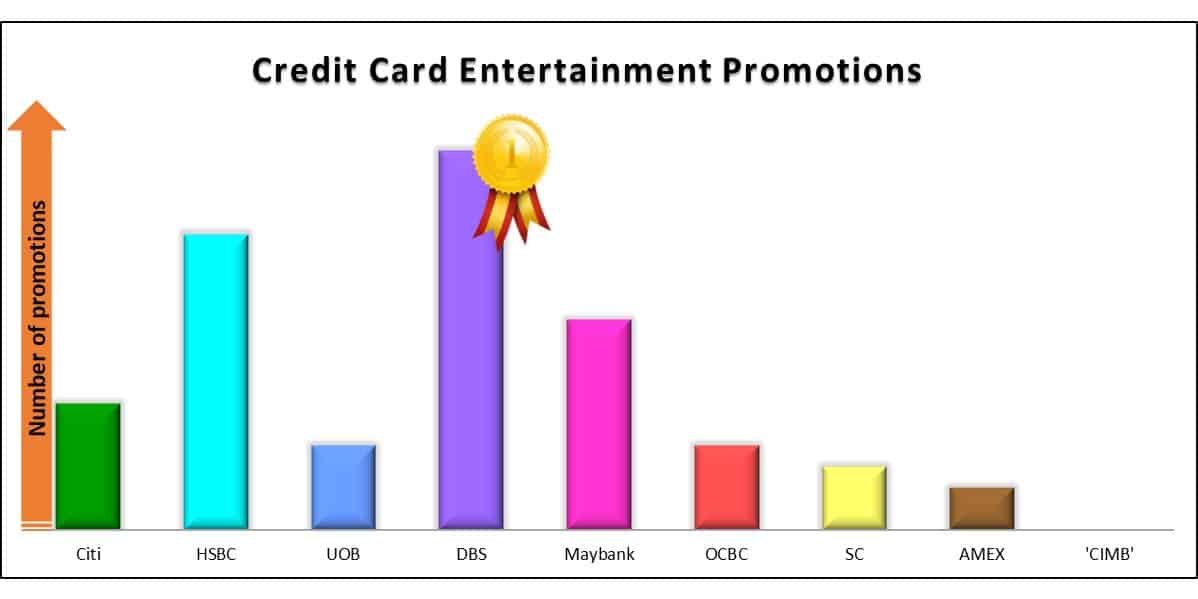 🎼 Are you a movie buff, catching all the latest blockbusters hot off the release? Or do you prefer to be a local tourist, spending your weekends visiting various places of interest? Perhaps you are a music and theatre enthusiast, enjoying the concerts and drama plays hosted locally? In all the above cases, the DBS credit card earns the gold medal once again, coming up top compared to the rest.
With the DBS credit card, you can get 30% off Cable Car, Merlion and Wings of Time tickets if you want to spend the weekend at our island resort or have your booking fee completely waived when you booked that favourite play or rock concert with Sistic. Who says there are nothing to do on our small island? Take your pick from various entertainment activities and do not forget to use the DBS Live Fresh Card to save while you play!
😎 Interesting fact: Even though UOB credit card comes up top in terms of overall total number of promotions in 2018, less than 1% of its promotions is relating to entertainment. This is clearly reflected in the chart as it falls to 5th/6th placement in this category.
TRAVEL PROMOTIONS
🏆 WINNER: UOB CREDIT CARDS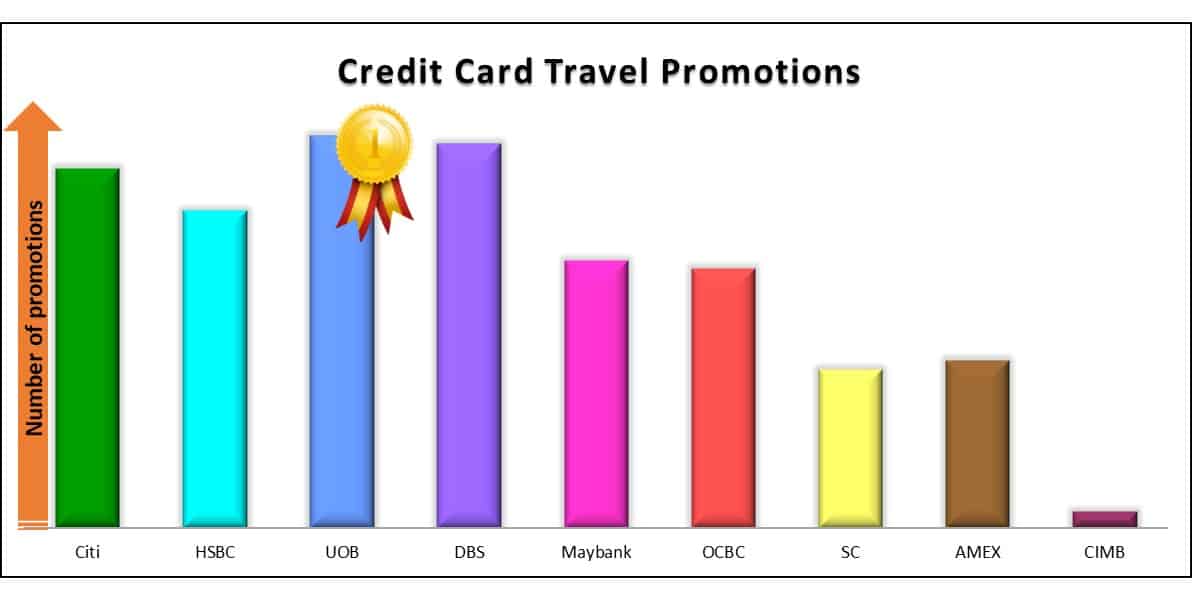 🧳 Singaporeans also love to travel and having one of the world's most powerful passport makes it fuss free for us to go explore the world. Data from Singstat shows that the average Singaporean spends about 7% of their monthly expenditure to recreational and vacation. How do we then ensure we continue to expand our horizon of the world without expanding this 7% expenditure? This category interest me the most as I love travelling and if you are just like me, you will want to know which credit card helps you save the bucks while you see the world.
This category sees the tightest race among all the categories with UOB credit card just inching ahead of the runner-up, DBS by nearly 50 promotions in the year 2018 to clinch the top spot! Citibank also follow closely behind at 3rd placement with more than 40 travelling promotions tagged to its card.
Right now, both UOB and DBS credit cards give you similar discounts at travel websites Agoda and Trip.com. UOB credit card gives the edge in providing you discounts in car rentals – 10% off car rental at Avis, while DBS try to level the playing field with its discounts at activity and tour websites, Klook and KKday. If car rental wins it for you, apply for the UOB PRVI Miles Card and book that destination that you always dreamed of and satisfy your wanderlust right away!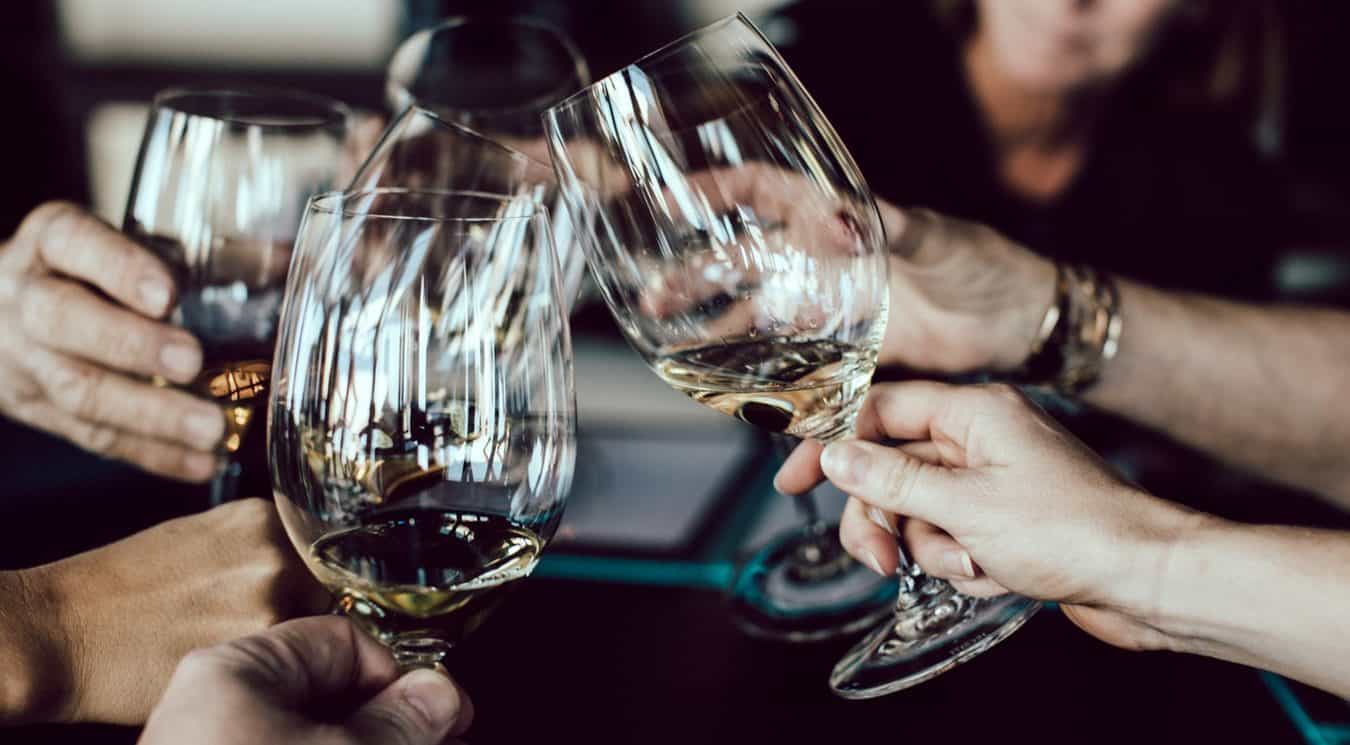 💁 There we have it, the credit cards' winner's circle. Whether you are someone who enjoys a gourmet, someone who does all the shopping for the family, someone who loves the occasional pampering, someone who plans the weekend activities or someone who is a globetrotter, we have got you covered and divulge all the cards that will save you the most.
The next time when you ask the million dollar question "Is there any credit card promotion?", you can be confident the card is right there in your wallet, all ready for you to whip out, swipe and save!
---
😄 Looking for more credit card perks? That's right. Make that stack of cards work harder for you. Be it for dining, travel, shopping or groceries, you can be sure to find these great promotions right HERE at Cardable!