Last Updated:
Editor's Note: All content and information in this article are accurate as of published time.
---
🎶 It's the most magical time of the year where life seems to slow down a little for us to catch our breath and savour the months gone by as we set aside time to spend with our friends and family. We make our Christmas shopping lists, check out beautiful and delicious festive log cakes and soak in the sparkly decorations at the malls!
If you are planning a nice Christmas brunch with your family – within the current safe-distancing restrictions, of course – have you thought of what to prepare? There'll be the usual ham and roast, pasta or perhaps the regular mains in most Singaporean celebratory meals – chicken curry and bee hoon, or even steamboat – so what should you get? How about something sweet to round up the meal?
Here's a collection of really good-looking logcakes (that will be just as delicious too!) and other festive treats perfect for your Christmas pot-luck gathering! 🎄
⚡ Savings Tip: This year, as more brands get onboard popular shopping platforms like Shopee or Lazada, you can find various discounts and ways to stack your discounts! If you prefer to order directly from the hotel, do check out the credit card bank discounts available as well!
---
1.

The Fullerton Cake Boutique

Credit: The Fullerton Hotel

Immerse yourself in a beautiful Winter Wonderland this Christmas with the Fullerton Cake Boutique. In addition to their signature Fullerton Signature Black Forest Yule Log Cake (S$75), check out two of their very special bakes: The Vanilla Mont Blanc Yule Log Cake (S$75) with awesome layers of vanilla crème chantilly, vanilla praline and candied Sabaton chestnut; as well as the refreshing fruity Mango Medley Yule Log Cake (S$75) made with mango passion crème, almond joconde, toffee pineapple and citrus crisp. ⛄

Classics like the Classic Fruity Panettone & Panettoncino (S$58) and Christmas Rum Fruit Cake (S$30) are also available.

Promotion: 15% off Christmas Yule Log Cakes, Festive Goodies and Roasts | with UOB, Citibank, StanChart DBS/POSB Cards


Promotion: Up to 10% off Christmas Yule Log Cakes via Klook
---
🎉 Get the latest Klook promo codes & discounts here!
---
2.

Amara Singapore
Make sure to check out Amara Hotel's 'Feastive Goodies' to find a sweet treat that will complete your Christmas dinner! Try their Martini Pear Yule Log Cake (S$52) for a refreshing fruity sweetness, or the Wistful Black Forest Log Cake (S$48) to liven up the festive spirit with your friends and family.
Can't decide? We recommend the Christmas Delight Box (S$85) that lets you have the Wistful Black Forest Log Cake, Martini Pear Yule Log Cake, Christmas Orange Savarin and Stollen, all in a box!
Promotion: Up to 25% off Festive Goodies | with UOB, OCBC, DBS/POSB Cards

Promotion: Special price on Amara Log Cakes via Lazada on 12.12!
---
😁 Get the latest Lazada promo codes & bank promotions here!
---
3.

The Deli, Goodwood Park

Credit: Goodwood Park

One of the most beautiful log cakes this year, Goodwood Park presents the alluring White Enchantment Log Cake (1kg, S$82.24) that is inspired by the splendor of Winter Wonderland. Embellished with glittering white chocolate baubles and stars for a magical Christmas on top of two layers of pistachio sponge nestle a delectable pear mousse studded with pieces of poached pear, then enveloped in a tangy yuzu cream set atop a sablé breton base. Definitely a magical masterpiece for a festive celebration!

We are also smitten with the Traditional Christmas Chocolate Log Cake (1kg, S$72.90), a charming non-alcoholic yule log stump with moist layers of rich Callebaut chocolate sponge, generously coated with smooth dark chocolate ganache. Decorated with mini white chocolate toadstools, chocolate discs, and sprinkled with chocolate crumble, it is both whimsical and enchanting!

In the spirit of giving, the hotel will donate 10% from the sales of Christmas log cakes to The Straits Times School Pocket Money Fund.

Promotion: 20% off festive takeaways | with Citibank Cards

4.

Colony, The Ritz-Carlton, Millenia Singapore
With an unusual pleasing twist to the regular logcakes, Colony Bakery at The Ritz-Carlton, Millenia Singapore brings us the Lychee Rose Champagne Log Cake (1.4kg, S$98) that's generously filed with lychee crème, lychee ganache, rose mousseline, lychee bits and a hint of champagne, pairing fabulously with white chocolate glaze.
Check out the White Chocolate Christmas Tree (S$58) that will make a delightful addition to your Christmas dinner. You even get to select flavours: Candied Fruits, Assorted Roasted Nuts or Fruit Crisps!
Promotion: 15% off Festive Goodies | with Citibank, DBS, HSBC, OCBC, POSB and UOB Cards

5.

Singapore Marriott Tang Plaza Hotel

Credit: Singapore Marriott Tang Plaza Hotel

Sweeten your December with Marriott's selection of log cakes. A perfect sight to behold, the Strawberry Vanilla Yoghurt Igloo Cake (1kg, S$69) will surely be a hit with the young ones. There's also the light Champagne Rose Cheesecake Log Cake (1kg, S$69) that will be delightful after a meal. If you enjoy French desserts, check out the delightful Pear Belle Helene Yule Log Cake (1kg, S$69) with a festive twist!

But of course, sometimes the classic is always the best. The popular Signature Chocolate Fudge Log Cake is also available as well (1kg, S$69) – while stocks last!

Promotion: Up to 25% off 3 items of Christmas Takeaways | with StanChart, Maybank, OCBC, DBS & UOB Cards

Promotion: 20% off on Marriott Tang Plaza Log Cakes via Shopee
---
🎁 Get the latest Shopee discount codes & credit card promotions here!
---
6.

Café Noël, Fairmont Singapore

Credit: Fairmont Singapore

One can definitely feel the amount of heart that Café Noël, Fairmont Singapore has put into their festive offerings this year! With lots to choose from, from a twist on their popular five-spice carrot cake in the Five Spice Orange Carrot Tea Cake with Citrus Cream Cheese and Yuzu Crumble Crunch (1kg, S$80) to the Enid Blyton-inspired Mushroom Toadstool with Hazelnut Financiers (S$120), you'll be spoilt for choices!

For a classic delight, be sure to check out the Grand Cru Chocolate Yule Log filled with citrusy orange confiture (1kg, S$80).

Promotion: 5% off Fairmont At Home Christmas Treats | with Citibank, DBS/POSB, UOB Cards


Promotion: 5% off Fairmont At Home Christmas Treats | with OCBC Cards

7.
Pacific Marketplace, Pan Pacific Singapore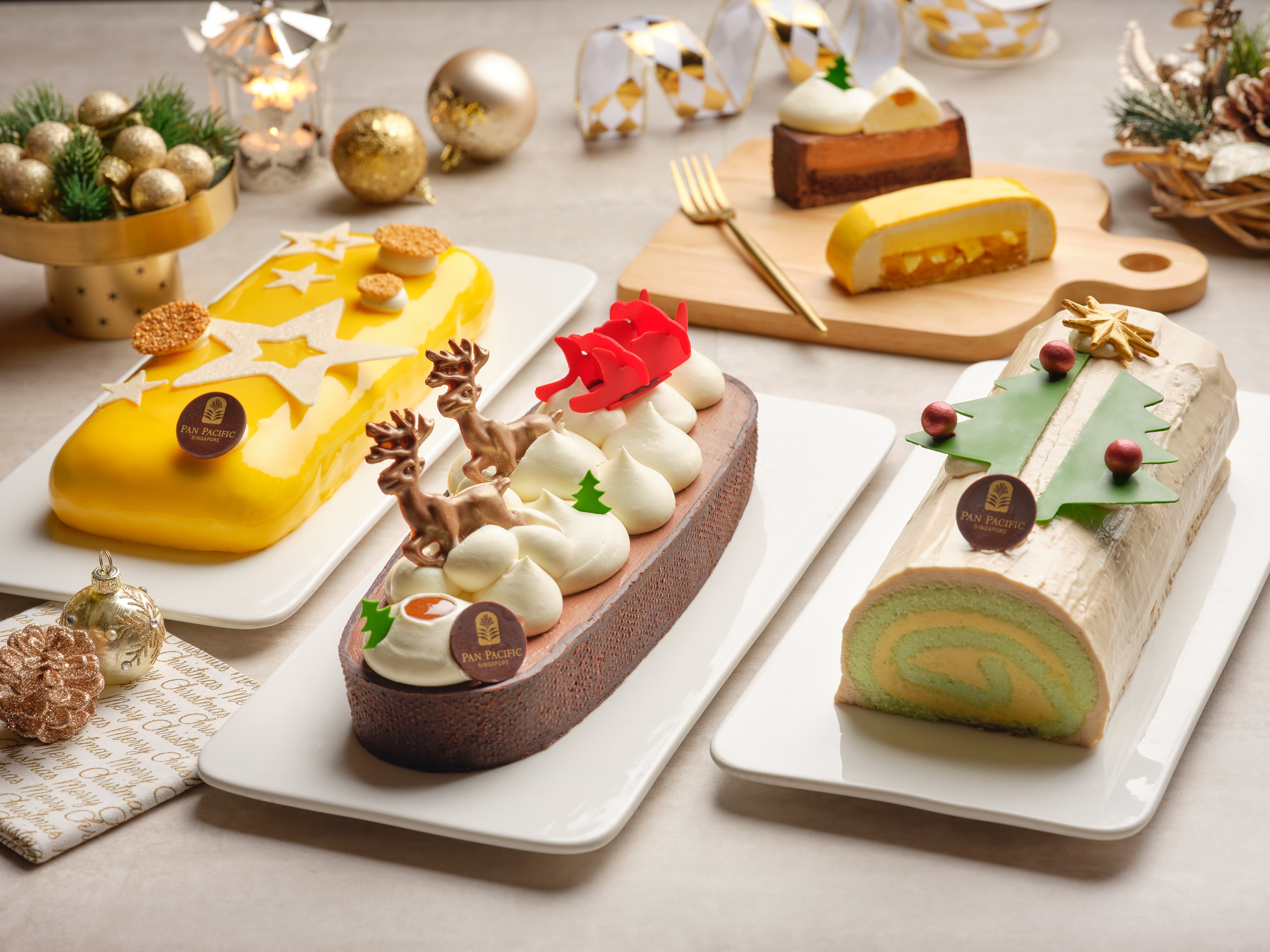 Bring home some delicious Christmas cheer with Pan Pacific Singapore's selection of festive treats! Enjoy a pleasurable local twist on the regular logcake with the rich and creamy Mao Shan Wang & Gula Melaka Log Cake (S$85.60). The pretty Sea Salt Caramel Chocolate Tart (S$87.74) is adorned with chocolate reindeer and makes for a lovely sight on the dining table, as well as a decadent delight that hits the sweet spot!
Promotion: 10% off festive goodies at Pacific Marketplace | with DBS, UOB, Citibank, Maybank, HSBC, OCBC & AMEX Cards

8.
Raffles Hotel Singapore
Credit: Raffles Hotel Singapore
Revel in the festivities in classic Raffles style safely at home. Take your pick between the Raffles Strawberry and Champagne Logcake (S$99), a light-textured cake filled with champagne mousse with rich strawberry compote jelly and almond feuilletine for a crunchy texture or the Raffles Chocolate Logcake (S$89), a chocolate roulade sponge sandwiched with rich chocolate buttercream, chocolate Chantilly and matcha crumble for a crunchy texture – We know, it's a tough choice!
Promotion: 20% off festive takeaways | with OCBC, HSBC, Maybank, DBS & Citibank Cards

9.
Regent Singapore
Credit: Regent Singapore
For a taste of this season's best treats, #TakeRegentHome and enjoy some of the most exquisitely crafted goodies. Made with the finest ingredients, Regent Hotel's yule logs feature flavours such as Tropical Ginger Bread, Bianco Natale and Coffeelicious.
Made with brown butter almond sponge, vanilla-scented crumble Williams pear-lemon coulis and generously filled with Williams pear custard pudding madagascann vanilla mascaropone and topped with whipped mousse, the Bianco Natale (S$98) is one logcake you got to try this Christmas!
Promotion: 10% off Festive Party to-go menu and log cakes | with OCBC Cards

10.
Crowne Plaza Changi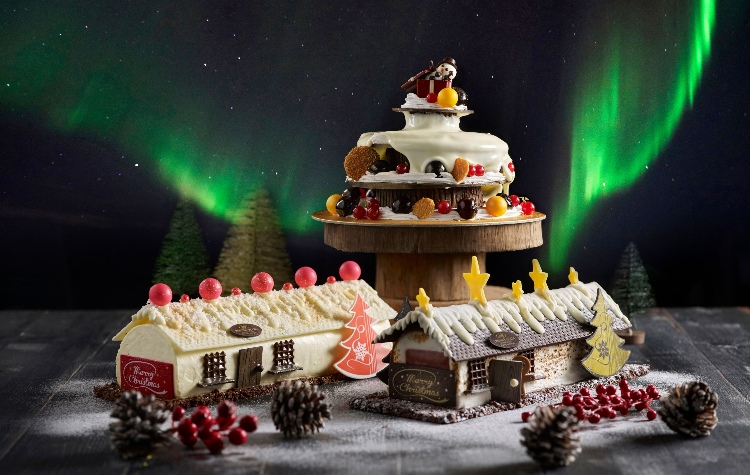 Bask in the festive holiday with Crown Plaza Changi's log cakes that reminds one of beautiful log houses nestled against the northern lights. Check out the locally-inspired yule log, Bubur Cha Cha Log Cake (1kg, S$75+) with light coconut mousse and taro and sweet potato sponge cake, encased in a beautiful white chocolate shell topped with fresh coconut sprinkles and pearly pink chocolate balls.
Another lovely treat is the Marshmallow Berries Log Cake (1kg, S$75+) that is handcrafted with Valrhona berry chocolate cream sponge cake layered with sweet wild berry chocolate pudding and crispy feuilletine chocolate, then wrapped in vanilla bean marshmallow.
Promotion: 25% off festive takeaways | with Amex, Citibank, Diners Club, HSBC, Maybank and UOB Cards

Promotion: 20% off on Crowne Plaza Changi Log Cakes via Lazada [Keep an eye out for special 12.12 discounts!]

We hope you find the perfect log cake and festive treat for your gathering! Do remember to make your orders in advance. Merry Christmas! 🤶
*Prices are accurate as of published time. They are indicative and might be subject to change. Please check with the respective merchants on prices and promotions before you make an order.
---
🌟 For other exciting Christmas promotions and year-end sale, hop over here for more great deals!