Last Updated:
From "Uncle, Kopi-C" to "One Caramel Macchiato please", my wallet has clearly been feeling the strain. Thankfully, I've found ways to get the most out of my daily coffee fix and those $5 caffeine boosts are slightly less painful now.
Before I share my money-saving caffeine maximising tips, I thought I should tell you about my journey from anti-coffee to "GIVE ME MORE".
My Coffee Addiction
I was never a coffee person. Earl Grey, Chamomile, Jasmine, yup I am (or was) someone who preferred a lightly scented, mellow flavour that slowly developed in taste. Coffee was bitter and in-your-face.
Alas, my final semester in university was crazy. Too many books to read, endless papers to write, but only 24 hours a day. Camping in the school library gave me a shelter to study, but not the energy to keep those eyes open.
Out of desperation (yes, till today I still insist it wasn't willingly), I tried my first Kopi-C from Koufu. The energy boost was marvellous. One cup after another, starting my day without it slowly became impossible. I was hooked.
The Damage
Unfortunately, the caffeine boost I was addicted to came at a price. The fragrant aroma of roasted coffee beans stressed my wallet. A good cup of latte averaged between $4.50 to $7.00.
Out of curiosity, I decided to track my expenditure on coffee last month and I ended the month with a huge shock. I spent a whopping $80 on coffee.
With the next month kicking in, I made a 1-month resolution (because yearly resolutions never work out) to cut my coffee expenses by 5%. My first solution was to go local and embrace our $1 Kopi-C again. However, my taste buds have grown so accustomed to the sweetness and acidity of arabica beans that the robusta's strong aftertaste just doesn't quite cut it anymore.
Attempt #1 failed, so I turned to Google for help. There I found pretty good discounts and promotions, but nothing quite as sustainable as my current strategy.
The Strategy
Imagine my delight when I figured a way to continue starting my day with a cup of $5 coffee while saving some cash. How? I did research and found two credit cards for coffee addicts like me!
OCBC FRANK Card
You probably could already tell that I'm the type of coffee addict who loves a Caramel Macchiato from Starbucks or a Vanilla Cold Brew from Coffee Bean. Basic, yes. Broke, no. The FRANK card has kept my wallet alive with 5% rebates on the weekends and Friday! Thank god for FRANK because those are the days when I feel a little more generous with my coffee choices. Don't worry about the other days, there's a 3% rebate for your daily caffeine too!  
If these rebates haven't caught your attention, this might. FRANK rebates applies at Starbucks, Coffee Bean & Tea Leaf, The Connoisseur Concerto, Dimbulah Coffee, Coffee Club AND Costa Coffee. There's definitely one that you go to for your fancy $5 coffee!
This fun-loving, lifestyle card has over 120 designs you can choose from and personalise to your interests! Naturally, my eye went straight for the design with coffee beans and a retro aesthetic. I've certainly came a long way from disliking coffee.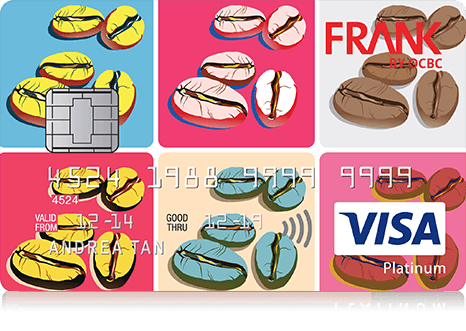 If you're still hesitating, this low-maintenance card has a small annual fee of only S$80 which will be waived off for the first 2 years! In fact, if you meet the minimum spend of S$10,000 a year, the fee will be waived off entirely.
Coffee rebates are only one part of this card's benefits. More cash saving benefits here!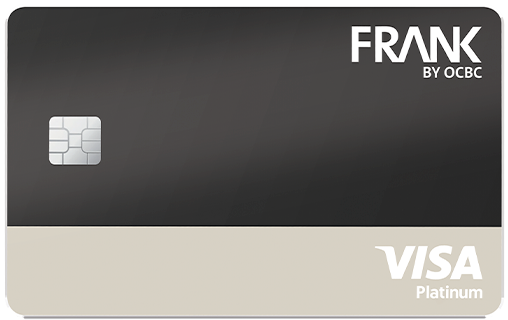 UOB YOLO Card
If you need your daily dose of coffee every morning, UOB YOLO card gives you 3% rebate on every cup you spend on weekdays. That adds up to $33 in savings per month (assuming 22 weekdays at $5 per cup), which translates to about 6 Starbucks Caramel Macchiato or 33 Kopi-Cs.
Don't worry, this is just the beginning. For the weekends when you're feeling a little more fancy, sip a cuppa at your favourite cafe with 8% rebate! If you don't drive, take a Grab there! UOB YOLO Card gives you free Grab rides (up to S$10 in value) every weekend.
Best of all, the YOLO Eat programme. You'll find aromatic pick-me-ups from Suzette, Caffe Vergnano and many more at wonderful deals! There's also a long list of cafes for your weekend cuppa chill out.
If those 16 cups of fancy coffee are right up your alley, you'll find more details here!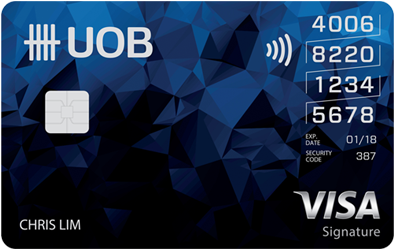 If you're deciding which of the 2 credit cards for coffee you should apply for, the following infographic might help!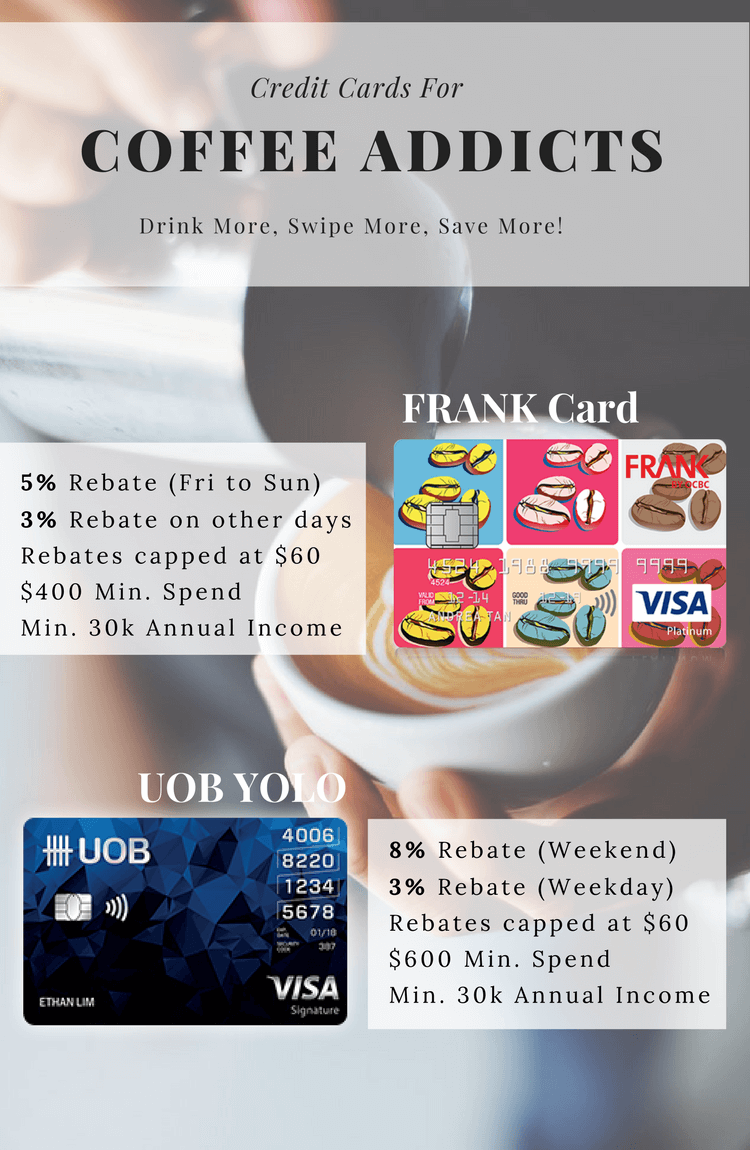 Are you a big coffee drinker like me? Then it's high time you consider a credit card for coffee purchases like the ones mentioned above. You'll be surprised how much these little savings can add up to.
The next time you get your daily caffeine boost, be sure to swipe to save!
---
Besides coffee, are you perhaps looking for credit card dining promotions? Click here to read more F&B promotions you can get with your credit cards!
Sign up for our weekly newsletter to be kept in the loop of new, exciting promotions available in Singapore!