Last Updated:
Editor's Note: All content and information in this article are accurate as of published time.
---
Even though 2020 has already started, I know it never feels like The New Year for me till Chinese New Year is done and dusted. Also known as the Lunar New Year or Spring Festival, Singaporeans typically celebrate Chinese New Year in Singapore with endless feasting and catching up with the relatives after a year of the daily grind.
In 2020, the first day of Chinese New Year falls on the 25 January 2020, Saturday, which means a long weekend's worth of eating and spending time with the family! Chinese New Year 2020 is also known as the Year of the Rat so we can see some really cute decorations and red packets around for prosperity and abundance! 🐭
From now till then, we know… there are lots to be done! Whether you are just starting out on spring-cleaning, or need to plan for this year's reunion dinner, check out these CNY specials and offers on storage solutions, your favourite CNY goodies, CNY decorations and more!
---
🎉 Take your pick, select your preferred brands to check out the Chinese New Year 2020 Deals going on in Singapore right now:
---
1.

LAZADA

What we love about Lazada is that we can buy just about anything on this shopping platform – From spring-cleaning essentials to new gadgets, baby essentials and even new clothing – and check it out at the same time! So you can check out #kitchengoals, #skingoals, #fashiongoals and more on your list easily with just one click.

Best of all, with many brands' official stores on LazMall, you can be assured that you will receive an authentic product as well as insider dibs on limited edition sets, exclusive offers and more!
Lazada's CNY Sale 2020 – Here's what else you can look forward to:
🏠 Lazada x Metro Exclusive: Up to 85% off household essentials + S$15 off min. spend of S$150
⏳ Save up to 80% off on Mayer Products here
🎉Lazada CNY Deals: Collect exclusive coupons from Dyson, Kinohimitsu, New Moon, Kitchen Aid and more here!
🍲 Reunion Dinner Essentials: If you are dining in this reunion dinner, get ready with these up to 60% off CNY Reunion Dinner essentials here!
Limited time only
T&Cs apply. Read more at link below.
2.

REDMART

Relatives visiting your house this CNY? Get your party essentials sorted up RedMart's CNY Flash Sale! Sick of CNY food? Add in a variation with the delicious range of Korean snacks and food available at RedMart!

What to look out for:
From mala hotpot soup base to a limited edition F&N Sparkling Variety Pack, get CNY-ready with RedMart here! You can even order some traditional goodies from Gin Thye via Redmart!
Forget about lugging home heavy boxes of mandarin oranges! Redmart yours here!
Limited time only, on selected products while stocks last
ACTIVATE REDMART CNY SALE NOW!
Valid till 21 January 2020 on all RedMart orders only
Limited redemptions, T&Cs apply
Valid till 21 January 2020 on all RedMart orders only
Limited redemptions, T&Cs apply
COLLECT REDMART x DBS/POSB VOUCHER NOW!

Back to top
3.

SHOPEE

Shopee saves us the pain of hustling with the crowds this Chinese New Year with the much anticipated Shopee CNY Mega Sale 2020! Set your calendar for Shopee's exciting last minute flash sale on 19 January 2020 where great deals from Dyson, AOne, New Moon, Chow Tai Fook and more will be released!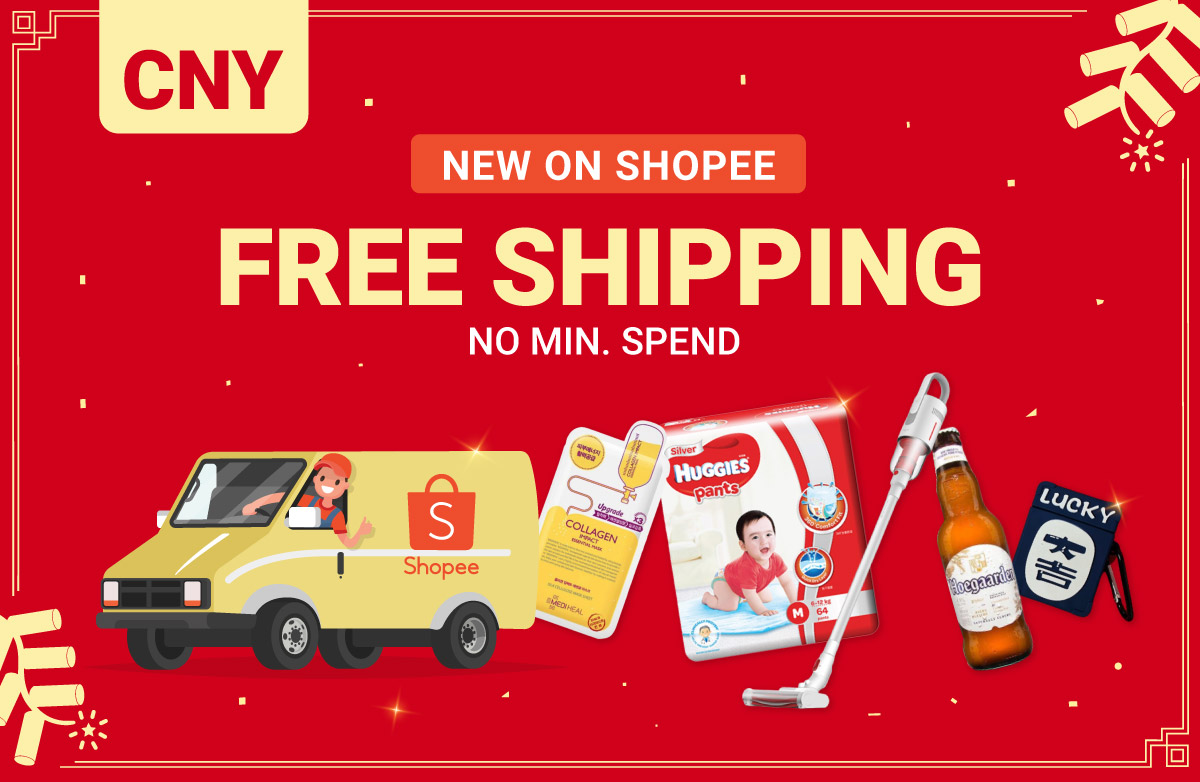 What to look out for:
Free shipping with no min. spend on selected items here!
Big Brands Finale Sale happening on 19 January 2020! Check it out here
Limited time only, while stocks last!
T&Cs apply
4.

QOO10

And yes… what's a sale without Qoo10? While there is Lazada and Shopee that are similar shopping platforms, we know that Qoo10 has its own followers. Hands up if you love the many Qoo10 credit cart discounts, shop coupons, cart coupons and Qexpress Quick delivery 🙋‍♀️

This year, you can save big with Qoo10's Super Chinese New Year Sale. Early bird offers have already started so be sure to check it out! Cart coupons are also up for grabs, even during mid-week, as Qoo10 gears up for CNY with us. Typically Qoo10 are more generous during the weekends so be sure to check for these coupons on Fridays!
What to look out for:
Valid from 10 to 19 January 2020
T&Cs apply
5.

AMAZON.SG
If you can't wait and would like to get your stuff as soon as possible, Amazon.sg is the place to shop at for your spring-cleaning and CNY essentials. With a 2-hour delivery option with Amazon Prime Now, it is perfect as a last minute option when you realised you forgot to get mandarin oranges, abalone or even a nice gift like bird's nest especially in the days leading up to Chinese New Year!
Not an Amazon Prime Now member yet? Don't miss out, sign up for a 30-day free trial here now! After your free trial, Amazon Prime is just S$2.99/month and you can choose to cancel anytime. Sign up here.
What to look out for:
Free red packet with a min. spend of S$40 on CNY deals here (while stocks last)
Up to 40% off Home & Kitchen items here – Perfect for all your CNY goodies baking!
Free international delivery with no min. spend for Prime Members from the Amazon International Store here
S$5 off min. spend of S$35 on Spring Cleaning Essentials
Valid till 23 January 2020
T&Cs apply. Read more here
SHOP AMAZON SPRING CLEANING DEALS
Amazon.sg Chinese New Year Deals
6.

FAIRPRICE ONLINE
Skip the queue and avoid the hassle of lugging your heavy groceries and CNY shopping back home with FairPrice Online! Not only do you enjoy the same deals as the retail stores, shopping at FairPrice ON also gives you access to exclusive online promotions – It is as good as shopping at the supermarket itself or perhaps even better with free delivery right to your doorstep with a minimum spend of S$59.
What to look out for:
S$5 off Abalone Sets when you pay with VISA on selected Abalone Gift Sets here (Valid till 12 February 2020, while stocks last)
Free red packet with every S$50 spent with promo code: HUAT (limited to 2 redemptions per customer, while stocks last)
Exclusive 2-day special here
FairPrice Online Promotion: S$5 off selected Abalone Sets | with VISA Card
Valid till 12 February 2020, or while redemptions last
Enjoy S$5 off on these selected abalone sets:

New Moon Premium 3s Gift Set
Golden Chef Prosperity Gift Set
Golden Chef Royal Abalone Treasure Pot
Skylight 6s Gift Set

Valid only when payment is made with Visa
Other T&Cs apply. Read more here.
FairPrice Online Promotion: Special deals on Spring Cleaning Essentials, CNY Goodies and Snacks
Limited time only, while stocks last
7.

ZALORA
If you are looking for that perfect CNY outfit, look no further than Zalora. With so many fashion and beauty brands available at just one click at Zalora, simplify your shopping with free delivery to your doorstep, plus easy returns should you decide not to keep it. The offers at Zalora get refreshed pretty often so be sure to check back often to see if the item that you've been eyeing is finally on sale!

What to look out for:
Zalora Women
Zalora Men
Zalora Kids

Up to 60% off the Kids Collection. Shop here!
Zalora CNY Sale: Special deals & more!
Limited time only, while redemptions last
8.

KLOOK
If you plan to take a break from all the CNY visiting (which can get really exhausting) and pigging out, check out Klook for some fun activities you can do with your family! An afternoon at Universal Studios Singapore, S.E.A Aquarium or even Gardens by the Bay would perk up the long weekend holiday.


What to look out for:
S$8 off min. spend of S$120 with promo code: HUATBULOUS (T&Cs apply) site-wide
Singapore F&B activities: Enjoy 8% off (capped at S$30) or S$8 off a min. spend of S$60! Restaurants include Dancing Crab, Lobby Lounge & Bar at Holiday Inn, Food Exchange Lunch & Dinner Buffet at Novotel Singapore and more! Get promo code here.
KLOOK CNY Sale for existing customers: S$8 off min. spend of S$120 (valid on Klook app only)
Promo Code: HUATBULOUS
Valid till 26 January 2020, or while redemption last
Valid on Klook App and not applicable on purchase of the JR Pass, Swiss Travel Pass, Universal Studios Japan Admission Tickets & Express Passes
T&Cs apply
KLOOK CNY Sale for new customers: 10% off min. spend of S$50 (capped at S$28, valid on Klook app only)
Promo Code: CAISHENDAO
Valid till 26 January 2020, or while redemption last
Valid on Klook App and not applicable on purchase of the JR Pass, Swiss Travel Pass, Universal Studios Japan Admission Tickets & Express Passes
T&Cs apply

KLOOK CNY F&B Sale: 8% off (Capped at S$30)
Promo Code: PROSPERITY8
Valid till 31 January 2020, or while redemption last
T&Cs apply
KLOOK CNY F&B Sale: S$8 off min. spend of S$60
Promo Code: HUATHUAT
Valid till 31 January 2020, or while redemption last
T&Cs apply
---
🎉 CHINESE NEW YEAR FUN FACTS
Seeing some relatives, cousins and even friends, once a year can either make for a lot of catching up to do, or a plenty of small talk. I've done my research for all you socially awkward people out there – here are four fun facts about Chinese New Year that you've probably never heard of before. Hopefully it'll help you break the ice with your distant relatives this coming Chinese New Year!
(1) Singapore isn't the only country to celebrate Chinese New Year (duh). But how many people actually celebrate it? The total number might shock you. Chinese New Year is actually celebrated by almost a quarter of the world's population! To put it into context, we recently reached a population of more than 7 billion!
(2) For students in China, Chinese New Year is as important as Christmas in the Western countries. Schools in China get about a month off homework and classes, and university students get an even longer break! It might surprise you, but even citizens of Brunei get a one day public holiday in lieu of the Chinese New Year festival.
(3) Apparently, going visiting on the 5th day of Chinese New Year is considered bad luck.The fifth day of the Chinese New Year is called 'Po Wu', according to China.org. We, the Chinese, are expected to remain at home to welcome the God of Wealth instead of going to visit our family and friends. Visiting and the usual festivities can then resume on the sixth and seventh day.
(4) Staying up the whole night after your reunion dinner might just help your parents live a little longer. This 守岁 tradition is quickly being abandoned by the younger generations. Legend has it that a fierce monster named 'Nian' will come to attack people and their livestock on the eve of Chinese New Year. In order to prevent this and avoid an attack by 'Nian', the villagers would stay up the whole night. It is believed that if the younger generation stays up the whole night, their parents will have longevity. True or not? Better safe than sorry, I say.
(5) Wearing new shoes help you pave the path of a smoother year ahead. It is said that wearing new shoes help you stomp out the "little people" around who might cause harm or make things difficult for you. So with these people out of your way, you will have a more successful and smoother year ahead!
💪🏻 DECLUTTERING FOR THE NEW YEAR
Some people are still talking about Marie Kondo, or the KonMari Method™. So if you haven't really found out what's it all about, it was a popular movement in 2019 that encouraged people to keep only those things that speak to your heart and spark joy for you. According to Marie's teaching, if you properly simplify and organise your home once, you'll never have to do it again. Sounds good huh?!! So if you are onto spring cleaning and would need some storage solutions, do check out Lazada, Qoo10 and even RedMart for some efficient cabinets and drawers! (Get the book here!)
💃🏻 CHINESE NEW YEAR 2020 CALLS FOR… NEW CLOTHES
Being dressed in new clothes will make your visitations much more pleasant, trust me. Get something that hides your flaws and highlights your strengths! No more pesky distant relatives telling you that you've gained weight over the past year (oops!).
Some websites that you can check out for great Chinese New Year appropriate clothes include Zalora and Lazada. I've personally used Zalora for many a Chinese New Year outfit. What I love about Zalora is that they have specific picks for Chinese New Year appropriate outfits! Yup, they MOSTLY come in different shades of red. You might think that it'll leave you looking like a walking ang pao, but their stylish designs are subtle enough to leave you looking elegant and classy instead of tacky and extra.
If you're looking to get your Chinese New Year clothes online, do remember to start looking early. Many will be trawling through the site for the best deals and discounts as early as the start of January, so its best to get clicking fast!
P.S. Check out some of the amazing promos and sales for Zalora and Lazada on Cardable. You might be able to score an extra sweet deal or discount for less with one of the coupon codes this Chinese New Year 2020.
🥘 BEST CHINESE NEW YEAR GOODIES, AND WHERE TO GET THEM
Okay, the festivities and feasting might seriously derail that healthy diet that you've been meaning to get started on. But the Chinese New Year goodies are SO worth it! Please do yourself a favour and eat a little of everything – in moderation, of course.
Here are some of the best Chinese New Year goodies that you just HAVE to get a taste of this 2020 Chinese New Year. I've also included places where you can get the best of these goodies. No wasting of calories here!
Pineapple tarts
Ah, my favourite. Buttery pastry with sweet, sticky filling makes for an addictive snack that you can continually pop into your mouth while watching television.
While I personally feel that my aunt makes the best homemade pineapple tarts (no preservatives!), it can be really time consuming and labour intensive to start from scratch. No matter, the ones that you get outside are pretty bomb as well.
My favourite are the ones at Joyous Pastries that taste rather 'homemade'. After all, they use only the finest ingredients to make their pineapple fillings. By the way, their pineapple fillings are homemade and not those that you'd find mass-made industrially! They also do not use preservatives or colouring, which makes for a slightly healthier treat.
Bak Kwa
Bak kwa, also known as rou gan, is classic Chinese New Year food. The stalls selling this Chinese salty-sweet dried meat product are mostly empty the rest of the year. But come the period before Chinese New Year, the queues are insane!
Here's a stall that continually gets queues that can last for HOURS: Lim Chee Guan. Make your long wait worthwhile with some bak kwa from this all-time-favourite stall. Year after year, the queue at their Chinatown outlet stretch for streets. The ridiculously long queue was even reported in The Straits' Times some years back.
Love Letters
The kids' choice, this light and crispy snack is super fragrant and perfect for a lighter snack compared to the heavier treats that adorn the table of goodies. A perfect love letter is hard to find. The worst is when you excitedly open the tin of love letters and… they've gone stale.
Here's a place where you can get fresh love letters that retain their crunch long after the guests have gone home: Lavender Confectionery and Bakery. With a few branches throughout Singapore, its even easier to get access to these treats! This family-owned company also has a few dining concepts around JB and KL. Their traditional love letters are made over a charcoal stove, that give it an extra crispy bite. So what makes their love letters stand out from the crowd? They don't go stale, because they've already been prepacked into small packages that contain six love letters per packet. This means you can feel less guilty about accidentally leaving that tin open – the quality of the other love letters will be kept intact.
🈵 THE SPIRIT OF CHINESE NEW YEAR
Although we've highlighted two exciting parts of Chinese New Year – the new clothes and the goodies, do remember to have a good catch-up with your family and friends as well. That's what Chinese New Year is all about after all. Enjoy the festivities and gong xi fa cai!
We know that there is much to prepare for for Chinese New Year, so do stay tuned as we update this article with the best Chinese New Year promotions we can find to help you get the best deals on new clothes, new shoes, Chinese New Year goodies, spring-cleaning help and more!