Last Updated:
Sleigh bells ring, are you listening?
To the SALES, that are glistening
A beautiful sight, we're happy tonight
Walking in the winter wonderland!
⭐️ Behold, the season of greetings and gifting is here! Christmas is a festivity many people around the world look forward to. It's a wonderful time of celebration with loved ones, basking in the merry mood of feasting and gifts. If you're making your purchases online, it's also good to note that delivery during such large-scale festive seasons tend to be slower due to the immense amount of orders. Do prepare ahead so that you don't have to face a situation where you attend a Christmas party empty-handed because your parcels got delayed!
---
🎁 Can't wait for Christmas? Check out these awesome festive offers now here!
---
First up, let's give our tummies a treat before we go into shopping for Christmas proper, but if you can't wait, simply select your preferred brands from this list:
1.

CHOPE Festive Dining Guide

🍽️ If you are looking for a place for a nice festive meal or a hearty buffet to round up the year, check out CHOPE's Festive Dining Guide for some ideas!
What to look out for:
Festive set menus at the different restaurants are limited and subject to availability so do make your reservations early
Certain restaurants might have additional promotions so do keep a lookout before you make your reservations!
Happy Hour with Chope! Look out for the special promo codes for 1-for-1 cocktails, beer, wine, free flows and more to toast to!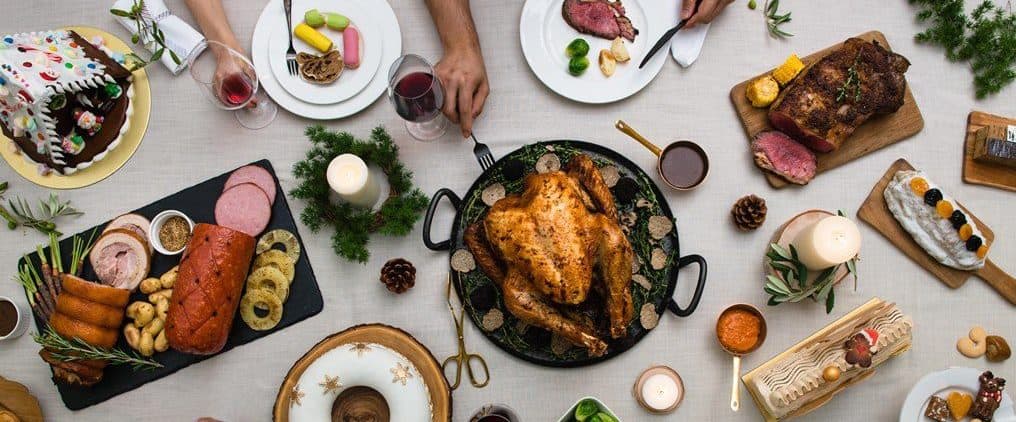 Valid till 31 December 2019
Valid for reservation made through the link below or through the Chope app
Valid for reservation for 4 or more pax
T&Cs apply. Read more at link below
CHOPE Festive Dining Guide: Get an extra 100 Chope-Dollars with reservation for 4 or more with promo code JOY100
Promo Code: JOY100
Limited time only
T&Cs apply. Read more at link below
CHOPE Exclusive: 1-for-1 and 50% off set meals, buffets and more!
Limited time only
T&Cs apply. Read more at link below
ACTIVATE 1-FOR-1 & 50% OFF DINING
2.

KLOOK Festive Dining Vouchers

🍽️ You wouldn't believe it but it's true – Apart from travel activities and holiday ideas, we can now find some of the best dining deals on Klook!
This Christmas, check out Klook's hot deals on some of the most scrumptious festive buffets and restaurants right here in Singapore. Take your pick from the special prices to Shangri-La's The Line, Marriott's Festive Buffet at Marriott Cafe to festive goodies from The Fullerton Cake Boutique, Marriott Tang Plaza and more right here!
What to look out for:
Festive set menus at the different restaurants are limited and subject to availability so do make your reservations early
The Chocolate Buffet at The Courtyard, Fullerton Hotel is one exquisite buffet not to be missed! Enter a chocolate wonderland and tuck into a selection of savouries such as Cocoa and Spice-rubbed Baby Back Pork Ribs, Peruvian Chocolate and Poblano Chilli Empanadas. There is even a Valrhona Tasting Table! More details and booking here.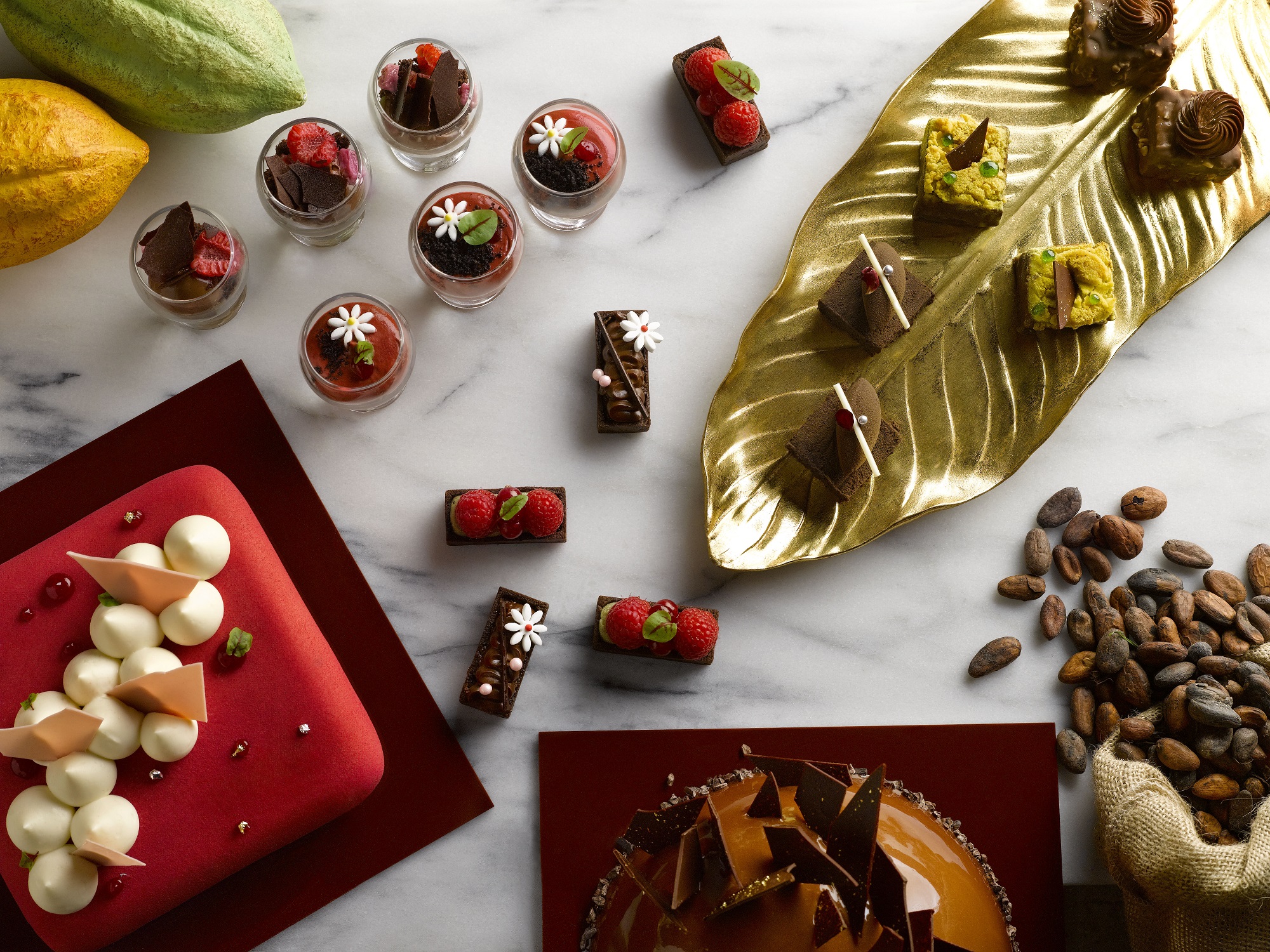 Now that we've taken care of the most important task to keep our tummies satisfied, it's time for some serious shopping! Ho, Ho, Ho… Ready, get set, shop!
TIP: If you need your items to arrive before Christmas, do check that the seller is located in Singapore and do check with the seller if they are able to deliver your parcels by the date you require them.
3.

AMAZON.SG Christmas Gift Guide + 3-for-2 Deals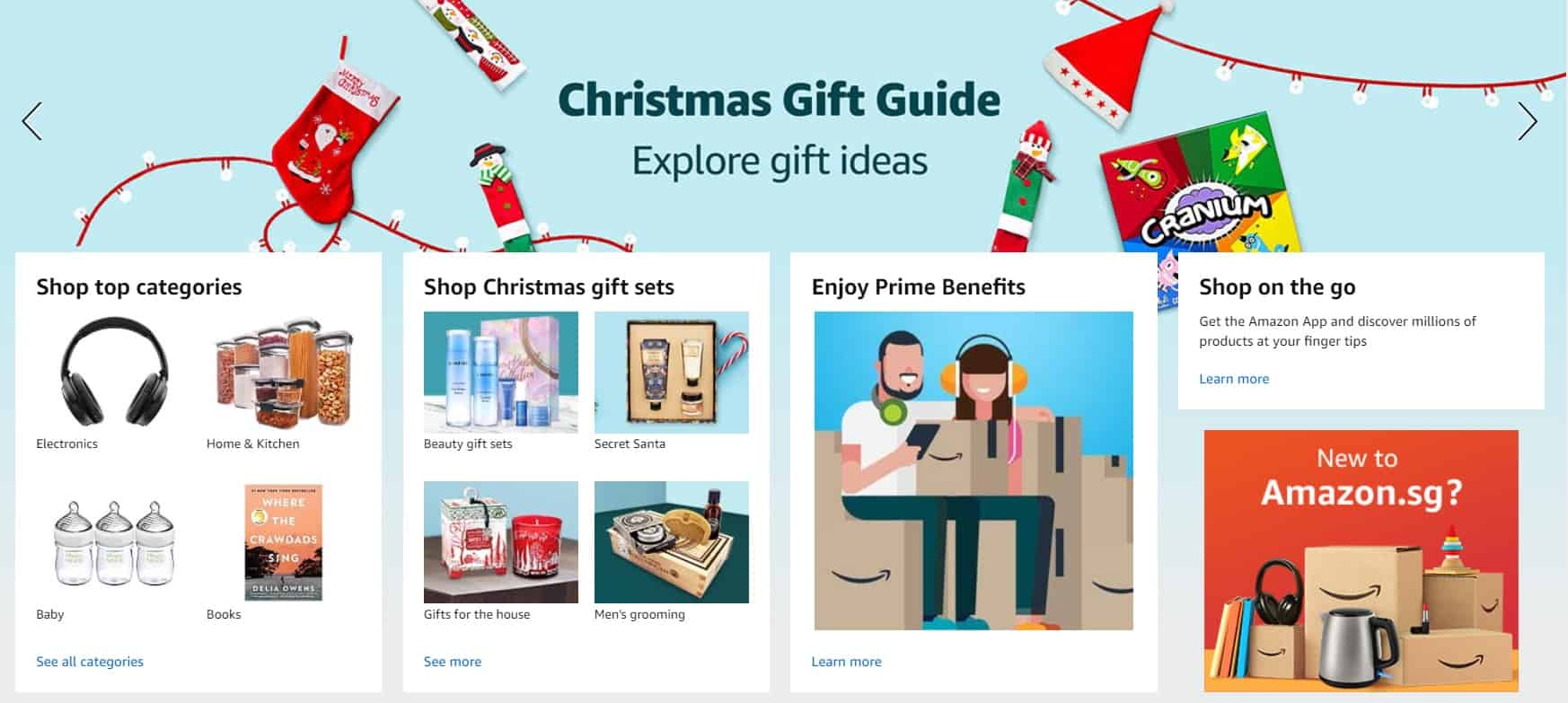 🎅 The new kid on the block this year in Singapore but with plenty of cool stuff and millions of items shipping from Amazon US! Check out The Christmas Shop on Amazon.sg as they have put together a wonderful gift guide to help you with your Christmas shopping! From gift guides for co-workers, ladies, men and even the hardest to shop for – teens! – secret santa and more, there's surely something interesting you can get.
Best of all, you get to decide when you want to receive the items that you buy! There are 3 options: Prime Now items for free 2-hour delivery on orders over S$40, Prime items get free one-day delivery and Prime USA items enjoy free delivery (timing to be advised), so select what you want according to these 3 options! (Read more about Amazon Prime here)
Tip: Not an Amazon Prime Now member yet? Don't miss out, sign up for a 30-day free trial here now! After your free trial, Amazon Prime is just S$2.99/month and you can choose to cancel anytime. Sign up here.
What to look out for:
3-for-2 deals across Books, Baby Essentials & Toys here
Top 10 Gifts selection: Check out the top gifts from any of your favourite categories like "Top 10 Wine & Spirits", "Top 10 Sports & Outdoors", "Top 10 Beauty Gifts" and more for some great ideas!
Valid till 24 December 2019, or while redemptions last
Mix and match any three items from the below selection and add to your basket. Qualifying items will have '3 for 2 applies' on the detail page.
Once you've added three qualifying items to your basket, you will get the lowest priced item for free
Other T&Cs apply. Read more at link below
CLAIM AMAZON.SG 3-FOR-2 DEAL NOW!
FOR NEW AMAZON SINGAPORE CUSTOMERS
Promotion: S$10 off min. S$40 spend on your first Amazon Singapore order
Promo Code: 10OFF40
Valid till 31 December 2019 or when fully redeemed
Applicable to products shipped from and sold by Amazon SG
Products sold by third-party sellers or other Amazon entities will not qualify for this offer, even if "fulfilled by Amazon" or "Prime Eligible"
Valid for first-time customer orders of S$40 and above where the promotion code is entered at checkout
Items must be purchased in a single order and delivered at the same speed to a single address
Limited to one per customer and account
Other T&Cs apply
4.

QOO10 Christmas Super Sale
🎅 For anything under the sun, you can find it in Qoo10 Christmas Super Sale 2019! Whether you are looking for secret santa gifts, Christmas or Chinese New Year goodies, Christmas party preparations, a new household appliance, stocking up on baby essentials or simply a pair of new shoes – Qoo10's your best bet to go.
TIP: 🍽️ Did you know of the interesting food and bakes you can get from Qoo10? Best of all, QExpress sends them to you via Quick Delivery so you can get them at the timeslot and day you want (but of course, you'll need to buy it quick before the slots get sold out) – and still fresh/frozen so it's perfect for your parties!
What to look out for:
Macaroons and Logcakes from Annabella Patisserie
Satisfy your Korean food cravings from Qoo10's K-Supermart here!
Christmas Logcakes from Emicakes here
Limited time only
T&Cs apply. Read more at link below
Limited time only
T&Cs apply. Read more at link below
Official Lego Store Sale on Qoo10: Up to 50% off + 20% more with vouchers!
Limited time only
T&Cs apply. Read more at link below
5.

Sephora Holiday Sale
With the end of the year just round the corner, it is also a good time to check your skincare products and make-up for their expiry date! If you need to replenish any of your favourite skincare or make-up products, Sephora Holiday Sale is perfect for you!
What to look out for:
Selected items from Sephora Exclusives like Tarte, Huda Beauty, Kat Von D Beauty and more are also on sale, as much as up to 50% off!
Frosted Part Advent Calendar from the Sephora Collection makes a nice "pass the parcel" party game at a girlfriends Christmas party!
Sephora Christmas Sale: Enjoy up to 50% off selected items
Valid till 31 January 2020, while stocks last, in-store, on sephora.sg and mobile app
Not valid with other discounts and promotions
Other T&Cs apply
SHOP SEPHORA CHRISTMAS SALE NOW!
Sephora 12 Days of Gift-mas Online: Stand a chance to win a Santa's Slay bag worth $2,200, including a Dyson Airwrap, with any purchase in-app.
Valid from now till 24 December 2019, while stocks last, on Sephora mobile app
Winners will be announced on Instagram @sephorasg
Instructions on collection of prizes will be emailed to winners by 26 Dec 2019
Not valid with other discounts and promotions
Other T&Cs apply
SHOP SEPHORA 12 DAYS OF GIFT-MAS NOW!
6.

KKDAY Open-top Light-Up Bus Tour
🎄 One of the festive buzzwords this year is to gift a gift of experience instead to minimise waste. So if you aren't sure what to get, why not get a pair (or more) of tickets to the kkday's Singapore Christmas Light-up Bus Tour? Get on board an open-top kkday double-decker bus and explore the Christmas extravaganza from Tanglin to Somerset!
One might stroll down Orchard Road to enjoy the light-up but the view is definitely different from the top, what more an open-top bus! This would definitely be an experience for your recipient or even your family to savour in the years to come <3
kkday's Singapore Christmas Light-up Bus Tour: Tickets start from S$10.50
Limited time only
T&Cs apply. Read more at link below

*NOTE: Featured promotions are accurate as of published time. Please check with the merchant for promotion validity, terms & conditions and delivery details.
---
☃️ Looking for more Festive dining and shopping deals? There's even more here! ❤️
---
🛍 Christmas Shopping 101
The origin of Christmas traces back to a religious belief, as many believers still commemorate this special day for its true meaning. This jolly day is made extra special as people take time to plan meals together, catching up over turkeys and hams, Christmas wine and pudding in the warm lights of the Christmas tree and melodic tunes of Christmas carols.
Since Christmas is a time of giving and festivities, you can expect the Christmas promos to last for a while, with sufficient inventory for this massive season of shopping, although you may not get certain items in the design you want.
With Christmas also comes Christmas gifts and sales. As people scramble to buy Christmas presents for families, friends and colleagues, many retail brands respond to this rush by offering Christmas promos during this time of the year. It's a blessing for all of us as we get swamped with all the discounts and sales.
Not just that, many retail stores also react to the needs of Christmas shoppers and create beautiful Christmas exclusive merchandise, packaging and in-store wrapping to make shopping more convenient and quick. Likely to be faced with similar issues themselves, they know the hassle of getting presents for colleagues you're probably not that familiar with, making it harder to buy something thoughtful and personalised. You would then look out for a gift that is universally-acceptable, gender-neutral, and hopefully presentable. In comes these beautifully-packaged Christmas gift sets, assembled together by companies who can second-guess your woes.
If you are one of the diligent shoppers and don't fancy pushing shopping (for others) to the very last minute, good news for you! Many retail companies have already started their Christmas sales, and we're talking about both in stores and online! Since you're starting early, chances are that the items you've set your eyes upon should probably be in stock, so you need not fret over an alternative present to get. Since you're early at this, why not buy a little Christmas for yourself too? You deserve a treat for starting ahead and staying on track! With all the great Christmas promos Singapore has, there is bound to be something good you can get at a discount.

💝 Christmas Gifts Inspiration
Stuck in a rut as you run out of gift ideas for your loved ones? We feel you. Christmas shopping need not be stressful if you put in a bit of effort to prepare in advance. Of course, some people prefer to ask the receiver whether they have anything they want, rather than risk buying them things they don't need. Whether you take the practical route or not, the abundance of Christmas promos Singapore has will surely help you to spend less than you ought to!
Big online sites like Lazada, Zalora and ASOS will almost definitely have some form of Christmas sales going on. Looking for stocking stuffers? Sephora often have Christmas deals and small, travel-size items that are perfect if you are putting together a mixture of items as a present. Or if you need to buy small presents for a group of people. For your significant other or for parents, check out Reebonz's Christmas discounts to find your ideal gift as you celebrate the jolly occasion. Want to get a new cook book for a friend who's an avid baker? Try finding one at Kinokuniya's website. The website has the entire glossary to make your search easier, and with the current Christmas promos, you can get it at a good price too.
If you're looking for gifts out of the norm, try buying a gift card from BonAppetour or Vaniday instead. These are gifts of experience, for people who need pampering, or would prefer to gain experiences rather than tangible items. With the amazing Christmas promos Singapore websites have, you may even want to consider pampering yourself with a good facial and spa on the Vaniday's platform in the midst of the Christmas parties' buzz. It will make a great gift option for a couple retreat, or a mother-daughter bonding time. Don't miss out on the deals and promos you can use when you make your reservation!
Restaurants and F&B websites will also have their fair share of promotions, so if you're eating out or having a potluck at home, take a look at the F&B promos before you decided on where to feast.
If you're planning to travel during Christmas season, there may be some travel deals to look out for as well. Keep a keen eye on the flights and travel-related promos we feature here so that you can maximise your travel budget.
🎅🏻 Stay in the know!
Don't miss out on the Christmas promos that run through this festive season! There will be a flurry of excitement and hype, and you may find yourself slightly overwhelmed to keep up. Fret not, let Cardable give you a helping hand with all the ongoing promotions so that you can focus on checking off your list of to-buys. Bookmark this page to keep up with the latest, most current deals and discounts, and check back just before you make a purchase so that you don't miss out on promo codes you can use.
Bear in mind that some credit cards will also give you additional promotions, or even freebies with purchases! As always, Cardable will strive to update you on the latest Christmas promos Singapore has.
Remember to treat yourself as well while you're shopping for others. After all, we all deserve some self-pampering too. Above all, it's the season of giving, but it's also the time to spend quality time with your loved ones. Don't sweat too much over the small stuff and treasure the moments together instead!
If you do most of your shopping online, using a credit card that can maximise your purchases will help you get cashback, earn miles, or even get special discounts on some brands. Find out more at Best Online Shopping Credit Cards in Singapore.
Happy Shopping and Merry Christmas. Cheers! ❤️
---
LAZADA
🎅 Lazada impressed me recently in the 12.12 Sale when I received all my parcels within the same week! There is indeed an irresistible collection of lovely items on sale that Lazada has curated for their Christmas Special but if you do need any of the items you intend to buy before Christmas, be sure to check before carting them out.
What to look out for:
Countdown to Christmas with The Body Shop with daily deals here!
Get set for the festive holidays with Official Beauty Stores at LazMall: Grab vouchers and up to 60% off special deals from Braun, L'Oreal, Laneige, Benefit, MAKE UP FOREVER and more here!
Can't wait for delivery? Lazada has put together a section on gift cards and vouchers so you can send an e-gift. Enjoy up to 50% off Up to 50% off Holiday Gift Cards & Vouchers here.
Limited time only

T&Cs apply. Read more at link below
ACTIVATE THE BODY SHOP CHRISTMAS SALE
Limited time only

T&Cs apply. Read more at link below
Limited time only

T&Cs apply. Read more at link below
Promo Code: LAZGOHSBC

Cap at S$10, limited redemptions daily from 9am

Limited time only

T&Cs apply. Read more at link below