Last Updated:
The elusive Business Class seat
Here's my secret confession: I've never ever sat in Business Class in a plane.
I've heard about the wonderful, comfortable experience from third-party accounts and have admire it from far for a long time. I've drooled over my bosses' recount, my friends' stories of delicious food, and even my sister's account of the personalised service she received (she received a complimentary upgrade). It seems that everybody (BUT ME) has experienced Business Class.
I'm definitely a self-confessed credit card strategist. Unfortunately, being the extrovert that I am, I love redeeming air tickets that are seated together. What this means is that I never get a chance to redeem 2 pairs of Business Class air tickets (as this would take forever and I do not think I am perfect at delaying self-gratification). I have heard of wonderful husbands sacrificing to be in economy class while redeeming Business Class air tickets for their wives (kidding, I would rather be in economy class with good company than to be in business class by myself- erm, I think!).
Since I cannot bring myself to take all the comfort and luxury for myself, I thought of a compromise- experience one half of the journey in Business Class and the other half in Economy Class (and swap with the husband vice versa). If you do not face this unique predicament (count yourself lucky!), you can follow these 4 easy steps and be on your way to receive your free Business Class air ticket in no time! For other long-suffering couples like me, let us press on and save more miles!
4 Easy Steps to redeeming a free Business Class air ticket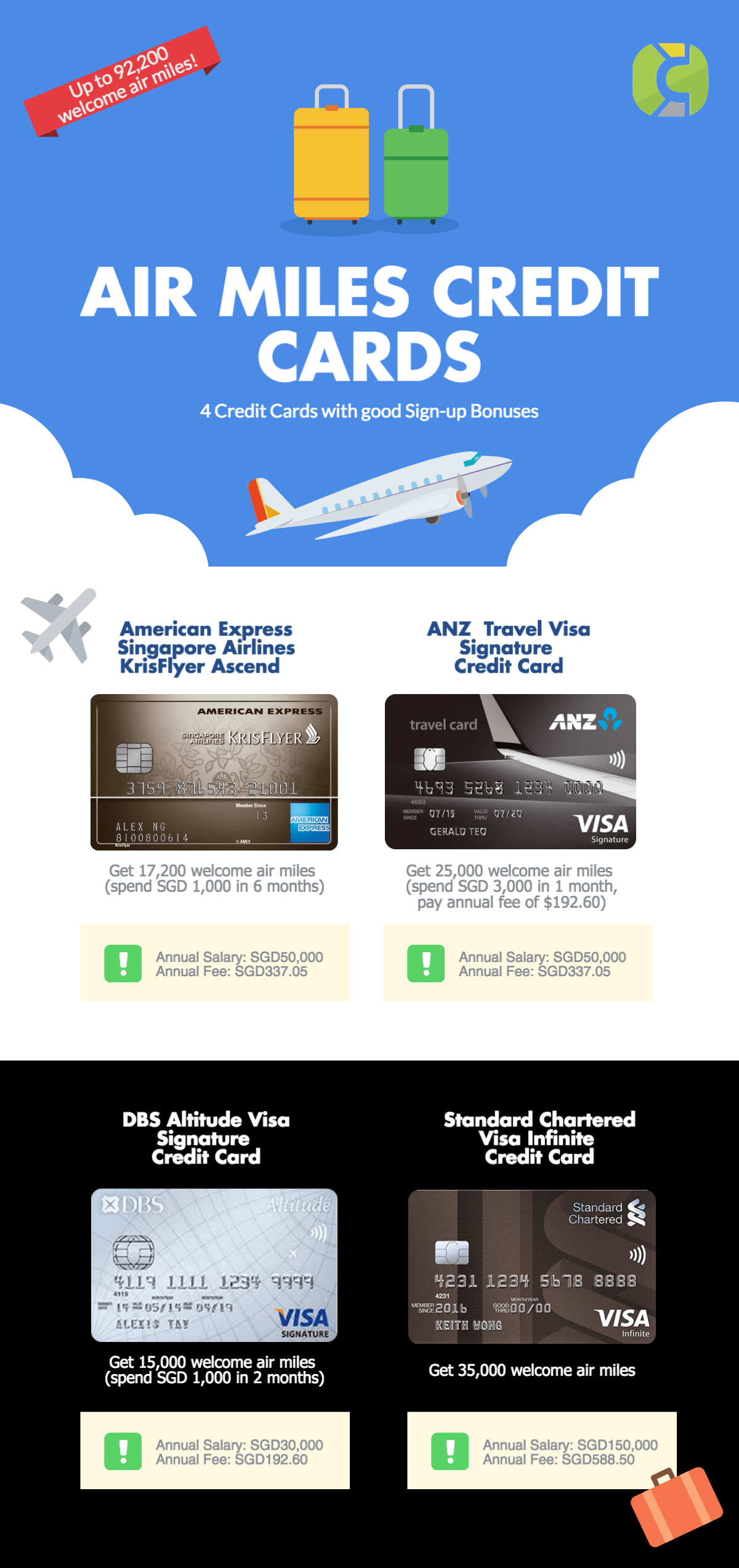 Step 1: Open a miles account at KrisFlyer
Step 2: Sign up for credit cards with good sign-up bonuses. Get up to 92,200 welcome air miles!
Check out these 4 credit cards (with respective spending criteria)- American Express Singapore Airlines KrisFlyer Ascend Credit Card, ANZ Travel Visa Signature Credit Card, DBS Altitude Visa Signature Credit Card, and Standard Chartered Visa Infinite Credit Card.
Step 3: Apply for the right credit cards.
Catch up on "6 ways to maximise air miles" to become the credit card strategist you need to be! Yes, the free Business Class air ticket is worth it! (My sister promised! She said it would be worth it! When I get there, I shall take a picture and we shall all celebrate in victory together!)
Step 4: Redeem your air miles online and save 15% on the miles required for redemption.
Flying to Japan or South Korea costs 80,000 air miles for a 2-way ticket; online redemption only requires 68,000 air miles. Compare this to SGD3657.60 or SGD2909.30 for a 6.5 hour flight to Tokyo or Seoul respectively.
If you follow these steps, you should get a free Business Class air ticket within a few months (after spending about SGD8,000 to fulfill the conditions of some of the welcome miles).
Take a snapshot if you do manage to redeem the much-coveted Business Class air ticket!