Last Updated:
So you've finally nailed an interview for your dream job, and now you need to decide what to wear. Before you decide to throw on a 3-piece suit, do some research on the company's website, or ask someone from the human resource department if they have a specific dress code to follow.
Once you get a sense of how formal you should dress, you can then start to put together your interview outfit. Add on a touch of your personal style so you can stand out from the crowd and leave a lasting impression. 
The ever stylish team from The Little Link shares some tips on how to dress right for different types of settings, while you focus on the important things.
THE STARTUP
For startups, chances are they only require a casual dress code. Startups are usually small and operated by a handful of founders or one individual. Most of the time, employees are allowed to wear casual shirts and sneakers on a daily basis.
What to Wear
Though it is a casual environment, casual doesn't mean sloppy. Opt for a plain long sleeve button down shirt or a short sleeved one if you're wearing it under a crew-neck sweater, and pair it with dark jeans or casual pants. Stick to basic colour schemes to be on the safe side.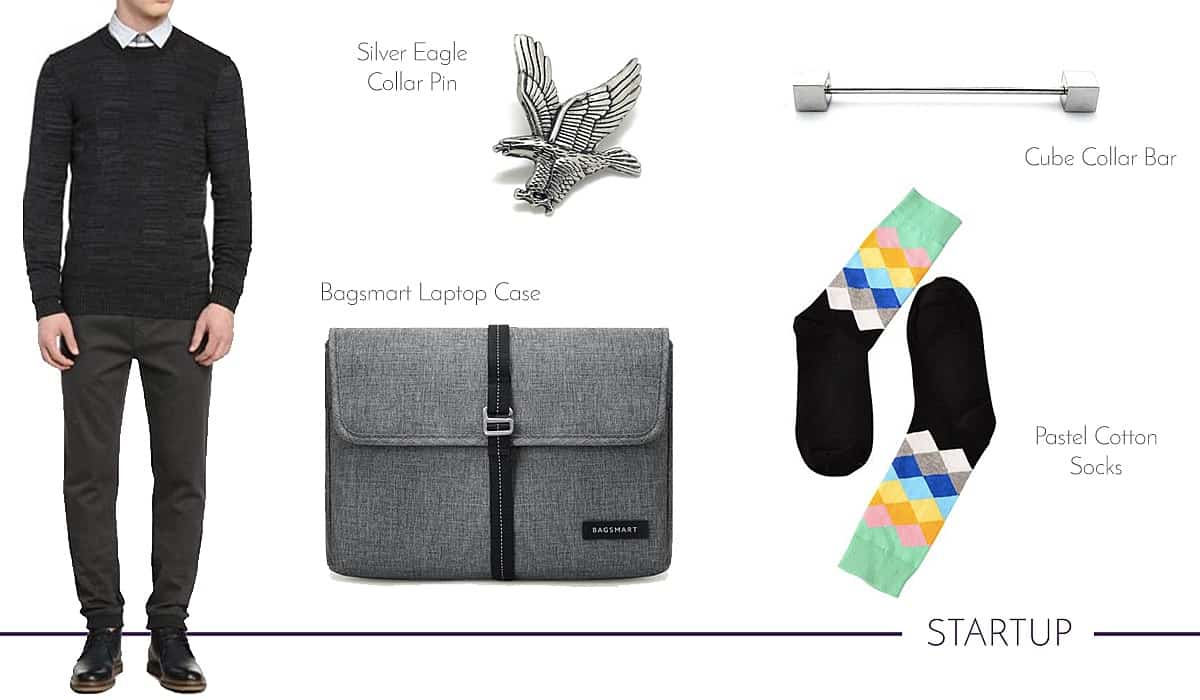 Style It With: Silver Eagle Collar Pin or Silver Cube Collar Bar. Add a subtle hint of colour with a pair of colourful socks, while you breeze in sleek and informed with a trendy grey laptop sleeve.
THE SMART CASUAL BUSINESS
This dress code is the most common one implemented in small and medium sized corporations. Business casual requires employees to sport the usual office attire, while allowing them a certain amount of freedom to express their personality through their outfits.
What to Wear
Include collared button-up shirts (in any color and pattern) worn under a slim fit jacket or cardigan and paired with black dress pants. A tie is not mandatory, but if you choose to, opt for a plain one. Complete the ensemble with black or brown leather shoes that are either oxford or loafers.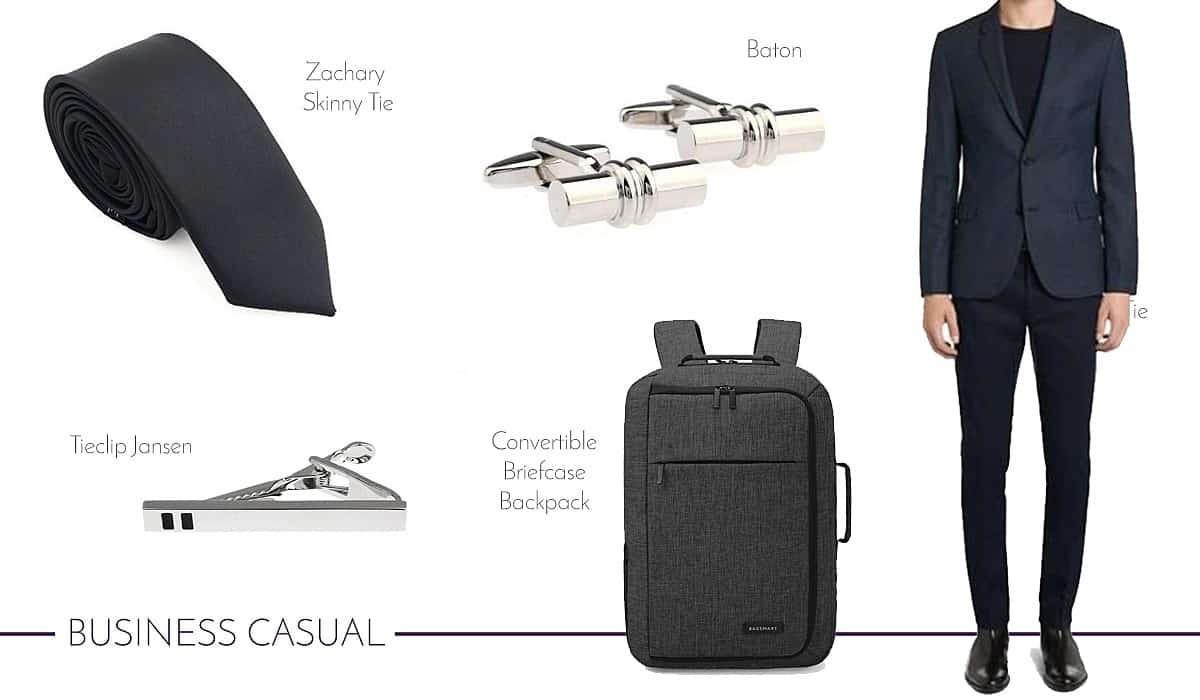 Style It With: Zachary Skinny Tie and Tieclip Jansen, while you sport a pair of classic Baton Cufflinks. House your laptop in this easy to match 2-in-1 convertible briefcase backpack in case you need to showcase your portfolio.
THE CORPORATE BUSINESS
For corporate environments, the business professional look is required for employees that interact face to face with customers. This may include finance, accounting and banking companies, as well as other conservative businesses like law firms.
What to Wear
A business professional dress code leaves little room for improvisation, so opt for the classic suit and tie, in basic colours.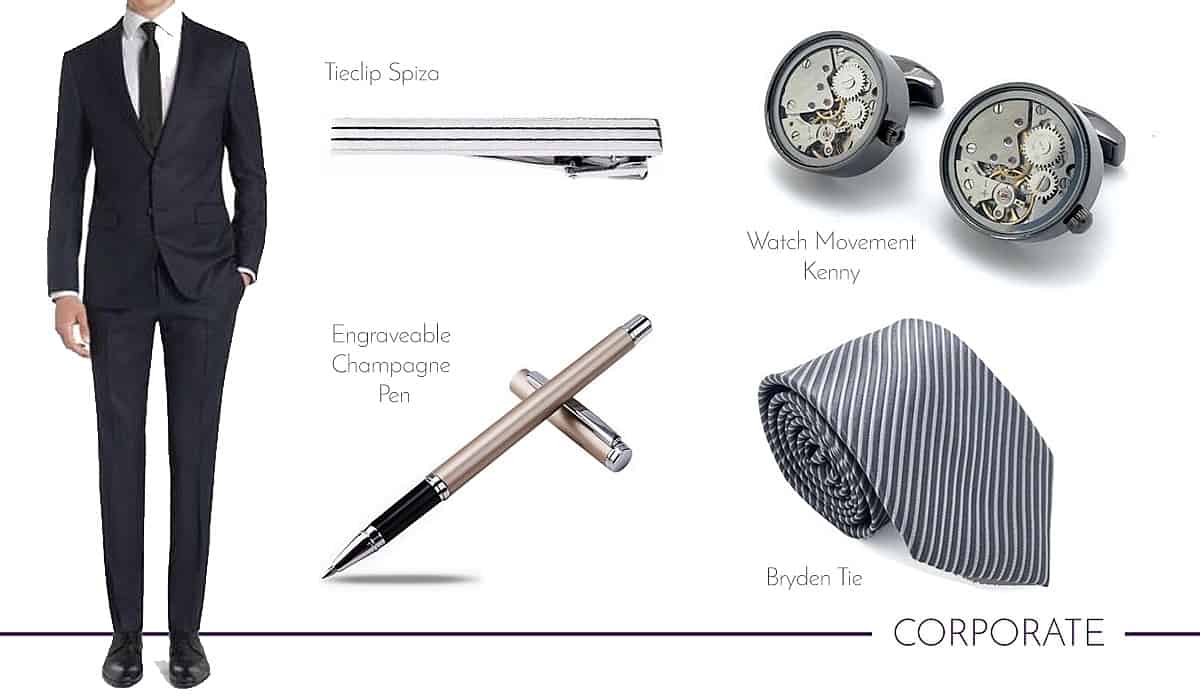 Style It With: Bryden Tie, Tieclip Spiza and Engraveable Stift Pen in Champagne. Take your suit up to the next level with Watch Movement Kenny Cufflinks and show you mean business.
The Little Link
See full list of The Little Link's latest promotions!
THE CREATIVE BUSINESS
For creative businesses like media agencies, fashion houses or TV networks, outfits skew away from the traditional suits and more towards expressing yourself. Although you can forego the suit, you still need to dress professionally in a up-to-date outfit that is clean and well fitted.
What to Wear
Feel free to express your individuality with your outfits. Do remember that your outfit still has to be professional, smart and trendy to make an impression.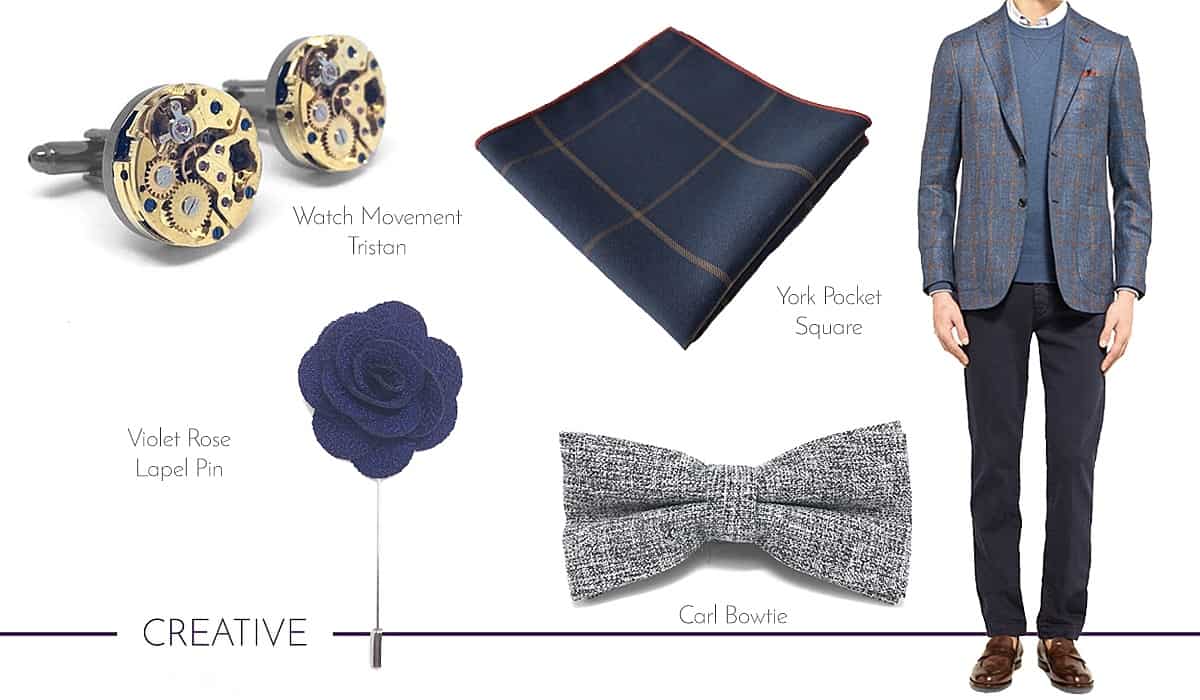 Style It With: Funky and statement accessories like Watch Movement Tristan, York Pocket Square, Violet Lapel Pin Rose and Carl Bowtie. Don't be afraid to experiment with print clashes and accent colours.
If you're confident you can perfect your interview look, go ahead and put together your personal style with The Little Link's range of over 1,000 cufflinks, ties and accessories!
All the best in acing that interview and getting your dream job!
This article was written in collaboration with The Little Link. 
---
Looking for the perfect outfit to pair your cufflinks and ties with? Show that you mean business over with the wide range of men's fitted blazers, sharp shirts and crisp pants at Zalora! Shop now!
ZALORA
Get up to 20% off with Zalora's latest discounts!