Last Updated:
Editor's Note: All content and information in this article are accurate as of published time.
---
Hopping onto a plane for a long-awaited road trip? Going on an adventurous escapade? Why not plan your upcoming vacation with Expedia Singapore? We know that opening tab after tab of hotel and flight bookings can be a pain in the neck and may even take away some of the excitement of a vacation. With Expedia, not only can you make hotel and accommodation bookings, you can only settle flights and tour packages at the same time.
While Expedia strives to provide a one-stop shop service for their users, they continue to attract customers by running frequent credit card promotions and travel deals. If you're looking for a travel site to settle all your travel related bookings, Expedia may just be the answer for you. Seize the best hotel and travel deals with these latest Expedia promotions and discounts.
Although Covid-19 has halted leisure international travel at the moment, take this chance to discover and experience our beautiful hotels right here in Singapore! Check out the best staycations in Singapore here!
---
* News Alert: Get the latest Expedia update on the COVID-19 situation here.

---
🏝️ LATEST EXPEDIA PROMOTIONS
MASTERCARD SPECIAL: 12% off hotel bookings + save your Mastercard in account and receive 1,000 Expedia Rewards Points | with Mastercard Cards
Promo Code: MASTERSG12
Valid till 30 June 2021
Hotel exclusions and T&Cs apply
Steps on how to save your Mastercard to your Expedia account here
Staycation Deals: Up to 30% off Staycation bookings in Singapore
Terms and conditions apply
Limited time only
PROMOTION
Promo Code

Up to 60% off bookings (Daily Deals)




Daily deals change daily at 12am. Check this page daily for new deals. Click on link to find out more. T&Cs apply




Valid promotion

Claim Promo Here!

Last-Minute Travel Deals




Offers are valid for stay dates within the next 14 days. Prices displayed include promotional discounts referred to – Discounts are applied to the standard rate of selected hotels, as determined and supplied by the hotels. Hotel prices displayed are per room per stay based on the cheapest double room available. [Package savings based on the price of the hotel + flight booked together, as compared to the price of the same components booked separately. Flight prices quoted are per person based on the cheapest return flights from the specified airports, inclusive of all taxes. Package prices quoted are per person per stay based on the cheapest return flights from the specified airports and two people sharing the cheapest double room, inclusive of all taxes. Prices are updated regularly and are accurate when published. Prices displayed are for stays or flights on the specific dates shown. Additional baggage charges may apply to flights and to packages, including flights provided by low-cost airlines. Blackout periods may apply. Please check individual hotel or airline for details. Offers are subject to limited availability and may be discontinued without notice. Please click through to individual deals to confirm prices, availability and applicable terms and conditions for those deals.




Valid promotion

Claim Promo Here!

Get unreal deals when you book flight and hotels together




Expedia offers unreal deals when you book flight and hotels together. The promotion is ongoing. Get the deal to enjoy the offer.




Valid promotion

Claim Promo Here!

Additional 10% off when you sign up as a member




Valid only for hotel bookings. Special deals only apply to members. No promo code required. T&Cs apply.




Valid promotion

Claim Promo Here!
💳 Latest Expedia Credit Card Promotions
Expedia DBS Promotions
No other promotions for now! Check back later!
Expedia OCBC Promotions
No other promotions for now! Check back later!
Expedia UOB Promotions
No other promotions for now! Check back later!
Expedia Standard Chartered Promotions
No other promotions for now! Check back later!
Expedia AMEX Promotions
No other promotions for now! Check back later!
Citibank Expedia Promotions
No other promotions for now! Check back later!
HSBC Expedia Promotions
No other promotions for now! Check back later!
CIMB Expedia Promotions
No other promotions for now! Check back later!
Expedia Maybank Promotions
No other promotions for now! Check back later!
Expedia SAFRA Promotions
No other promotions for now! Check back later!
---
ALSO READ: Best Travel Credit Cards in Singapore
---
At Expedia, you may search for the most suitable hotel and travel deals for your vacation from over 400,000 properties, 500 airlines and 25,000 activities. With the increasing demand from travelers who opt to self-drive during part of or for their whole vacation, Expedia also has rental car companies listed with them.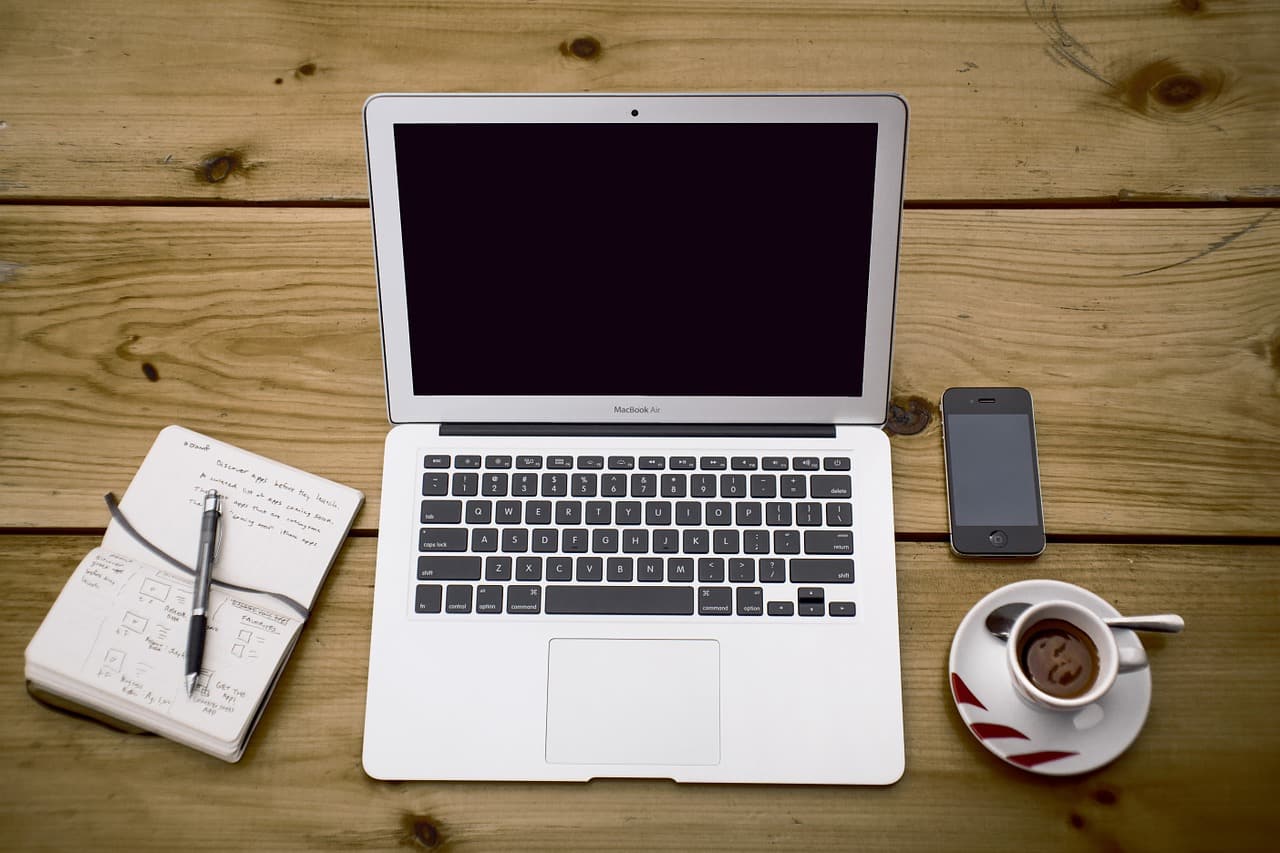 Don't kill the joy and excitement of your vacation by stressing over your travel bookings on different sites, when you can settle all these travel bookings on Expedia. With these Expedia promotions, you may find that you can spend less on these travel necessities and have a bigger budget on your shopping or wine & dine expenses! We also have a more comprehensive list of current Expedia promotions and deals you should look at before you finalize your booking.
Even for special sale events such as 11.11 Single's Day and 12.12 Online Fever, Expedia joins in the fun with special promotions so do stay tuned while we get the latest to you!
Do keep a lookout for the terms & conditions before you use any of these Expedia promotions. Most of the time, it is also mandatory for you to settle your booking payment in the respective credit card's promotion you use in order to qualify for the discount. Bear these in mind and you're on your way to a smaller bill!
---
Looking for more travel deals? Check out these wonderful travel promotions over at Cardable! 
---
WHY BOOK ON EXPEDIA SINGAPORE?
Do you want fast and reliable travel booking services? Do you fancy going on a vacation without jostling with crowds at a ticketing office or airline counter? Perhaps you wish for a place where you can book your travel itinerary – flights, hotels, and tours altogether. Or maybe you want cheaper alternatives to traditional travel agencies' expensive rates? In comes Expedia, the world's multi-awarded full-service online travel agent!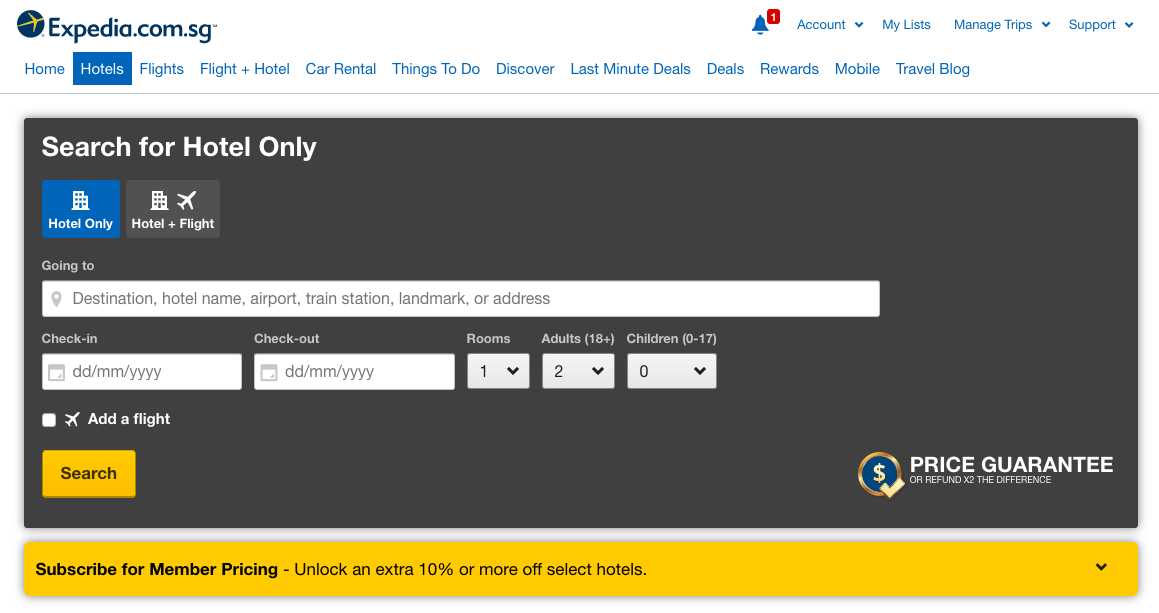 Expedia.com.sg is one of the many auxiliary brands of Expedia, Inc. in Asia. Expedia is one of the world's leading online travel agencies that revolutionise travel through the power of technology. Across the globe, their family of brands make travel much easier for millions of people who want to step out of their homes and into the world. They offer the best travel packages for an enjoyable vacation without bursting wallets.
MORE ABOUT EXPEDIA
Founded in 1996, Expedia has since powered the best travel brands in the world – to be independent, innovative, and fast. This international services company operates in over 30 countries in 5 continental regions: Asia, Australia, Canada, Europe, and Mexico. Expedia encompasses brands that deal with every aspect of researching, planning and booking travel. Choose the best airplane seat, read personal travel reviews of hotels and plan your activities before you arrive at your destination with Expedia. It has exclusive brands, auxiliaries and partnerships with several successful companies to make travel-planning more convenient for its users. With Expedia, both leisure and business travellers can be assured of quality travel services with tastes and budgets ranging from modest to luxury.
Many may not be aware, but besides localised Expedia companies, the Expedia brand offers an all-rounded list of brands for every traveller keen for an affordable vacation package:
Expedia (Expedia.com)
Hotels.com
Hotwire.com
Expedia Affiliate Network
Classic Vacations
Expedia Local Expert
Expedia CruiseShip Centers
Egencia
Venere.com
Trivago
Wotif Group
Orbitz Worldwide
Travelocity
HomeAway
CarRentals.com
The list of travel-related brands above give an insight on Expedia's focus to make the travel industry its niche, and give users like us more assurance that our travel bookings with them are well taken care of.
Travel service aside, Expedia and its brands have been recognised and praised for its favourable work culture for employees. This includes their respect for diversity in the workplace and all-for-one, one-for-all team dynamics. Such a positive working environment also lead to an increase in confidence in the company as a whole.
Some of the awards earned by Expedia Inc. include:
One of the "Best Places to Work for LGBT Equality," according to the Human Rights Campaign's annual Corporate Equality Index (CEI)
One of the 30 Best Workplaces in Technology, Fortune

WHAT EXPEDIA SINGAPORE CAN OFFER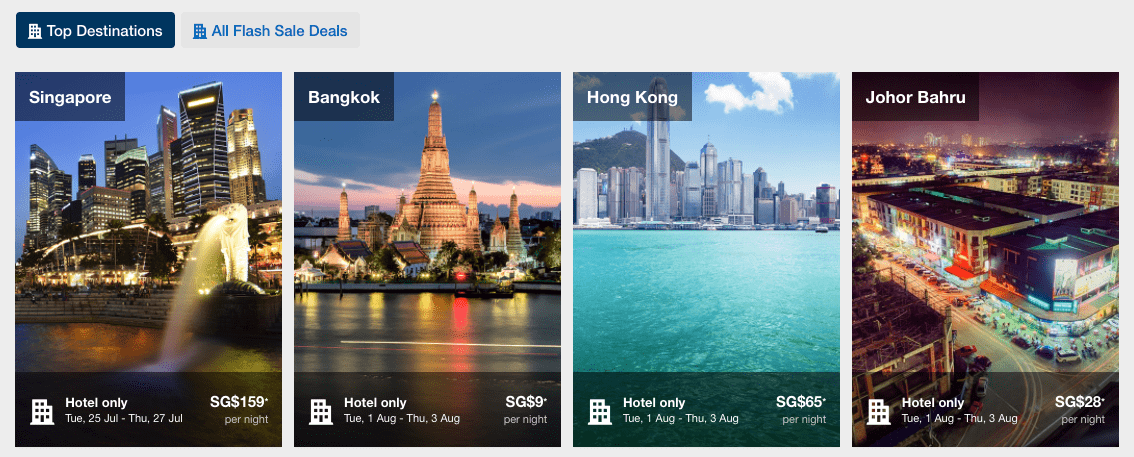 Your vacation is now at your fingertips. Choose from over 435,000 hotels and thousands of exciting holiday tour packages all over the world. Enjoy localised promos within Singapore with reliable and responsive customer support 24/7. Expedia is ready to help you with your vacation bookings at any time, from anywhere. With Expedia Singapore's exclusive Best Price Guarantee, you can get the lowest possible rates stand-alone hotels and flight-plus-hotel packages. That extra saving can offset the other expenses of your trip! Expedia Singapore can help every traveller arrange cars, cruise trips, and even buy travel insurance. You can also read independent travel reviews,  check your holiday destination's weather forecasts, maps and 360-degree virtual tour of hotels to help you make more informed decisions.
BARGAIN DEALS AT UNREAL LEVELS!
In the spirit of Expedia's relentless focus on value-laden services, affordable but always top in quality, the Expedia.com.sg website offers several worthwhile bargains for every destination you want to scale in your travel itinerary. What's more, Expedia ensures customers with no cancellation fee to change or cancel almost any hotel reservation.

Expedia Singapore prides in daily deals, flash deals and occasion-based bargains that can be redeemed with exclusive Expedia discount codes, or through the Expedia mobile app. Stay updated with Expedia's promo codes with Cardable.
When you choose Expedia, you can customise your own vacation or choose from a selection of time-tested ready-made packages. With just a click, you can buy flights and hotel accommodations at the best affordable rates. Save more when you book in the holiday packages option – you can enjoy a vast variety of activities, services, and attractions in your chosen destinations!
Plan your perfect holiday vacations with Expedia Singapore! Search for flights, hotels, car rentals, activities or services you want wherever your next travel bug may bring you. Use Expedia.com.sg's exclusive Discover and see independent reviews features to guide you in choosing your destination and the activities you might want to do during your vacation. With the wide selection Expedia offers, you may even get inspiration for your next holiday spot while planning for the current one! If you can get a good bargain with the deals and promotions, that will be an irresistible offer almost impossible to reject!
Here are some travel vouchers and discounted rates from Expedia that you can use to start planning your next vacation:
HOW TO BOOK WITH EXPEDIA
Perhaps Expedia understand the pain in coordinating a travel itinerary, because booking with Expedia is easy and uncomplicated. With the click of the mouse, you can book your vacation details – from flights to tour packages. Just follow these steps:
1. Cardable updates regularly and helps you to get the best deals and promo codes, so bookmark our page and visit us often to browse our latest coupons.
2. Go to Expedia.com.sg with any of our selected deals – sign up or log in and make a booking!
3. While booking, plan the rest of your itinerary – flights, activities, transportation services, etc. This way, you can get more savings in booking by bulk.
4. Provide your payment and contact details during booking – such as your credit card data and your mobile phone number.
5. Choose the most suitable payment option for your planned getaway. If you want discounted rates, pay immediately.
6. Look for the drop-down menu in the payment section, then slide to the bottom of the page and click "complete booking" banner.
7. Type discount code you've chosen above the "Apply Voucher" button. You're done – all you have to do is to receive the confirmation message and your booking details via email and you're all set to make the best of your vacation!
TRAVEL NOW WITH EXPEDIA SINGAPORE!
You no longer need a travel agent or a travel site to prepare for that last minute business trip or leisure travel. Fancy going on a last minute trip to the Philippines, Indonesia, South Korea, or Japan? Keep a lookout for last minute deals with offers for tickets or flights within the week.  Accommodations – hotels of any kind and quality level – are also just as accessible on Expedia.
So, what are you waiting for? Go to Expedia Singapore's website and get your dream vacation with the best savings for the most comfortable accommodations and tour packages!
Best of all, with the latest Expedia promo code or credit card promotion for discounts on Expedia flights and hotels booking as well as the OCBC, HSBC, DBS, UOB, Citibank Expedia promo codes on Cardable Singapore, you can look forward to some great savings as you travel the world!