Last Updated:
Whether you're planning a festive get-together for your friends and family, a year-end party for the office, or perhaps simply looking for a gift to thank your corporate clients, here's a list of credit card deals of fabulous Christmas treats from reputable hotels and restaurants to make your party awesome and stress-free!
Party tip: Please do make your order well in advance (at least 3 days) before your party to ensure that the restaurants can fulfil them in time.
1. The Deli, Goodwood Park Hotel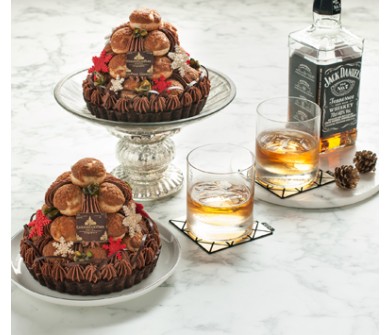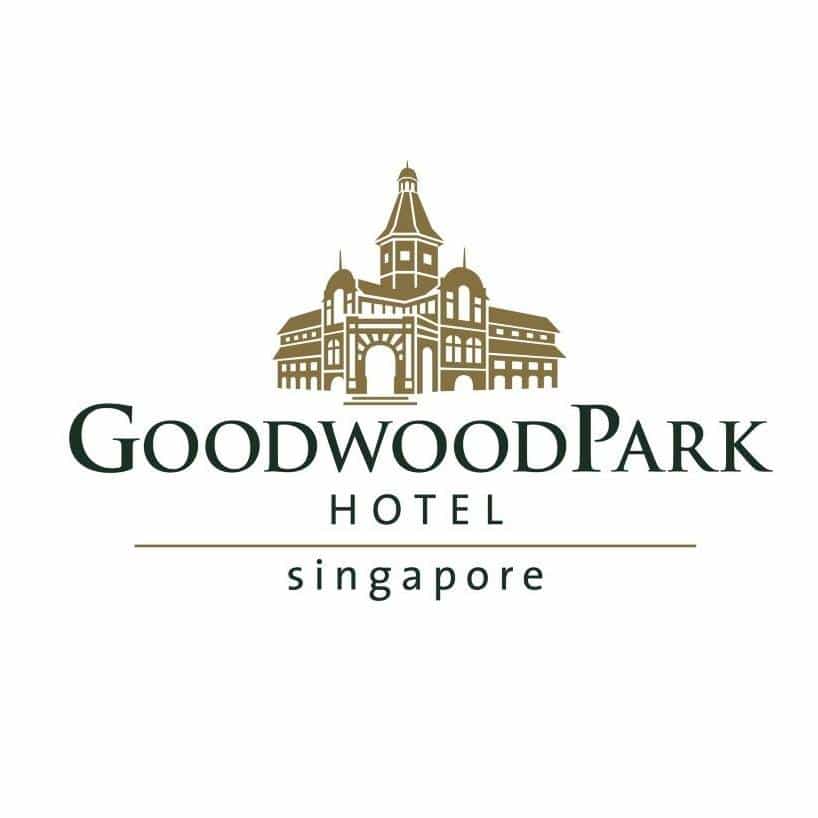 This year, Goodwood Park Hotel presents an irresistable range of takeaway festive savory delights and delicious sweet treats at The Deli. New on the menu is the 'Wu Xi' turkey ($218 for 8 to 10 persons), a juicy and tender Asian-inspired turkey braised with red yeast rice, red dates and a secret blend of spices for up to two hours makes a comforting and hearty dish on the festive table.
Of course, being renowned for their delicious durian bakes, the new Goodwood 'Mao Shan Wang' durian Christmas log cake ($62 for 500g) is packed with creamy premium durian goodness within layers of vanilla sponge is a must-have!
Also check out other stunning creations such as the Whiskey profiteroles chocolate tart ($48 for 600g) – a decadent dessert inspired by the croquembouche with choux pastry profiteroles filled with whiskey custard on a chocolate sponge base surrounded by an 'Oreo' crust; Merry mosaic cakes ($48 for 500g) – a combination of 16 pretty cake 'squares' with Mango mousse, Raspberry earl grey, Carrot cake, Coconut, Green tea and Cheesecake flavors. These make great gifts for your corporate clients as well.
There are also Combo Specials available – Traditional Christmas Combo ($298 / usual price $381) includes the traditional Christmas Turkey with stuffing, giblet gravy and cranberry sauce, Honey glazed boneless ham with vanilla-pineapple sauce, and the traditional Christmas chocolate log cake. The Local Christmas Combo ($254 / usual price $319) consists of 'Wu Xi' turkey, popular Peranakan appetiser Turkey 'kueh pie tee', and Goodwood D24 durian Christmas log cake.
Citi, DBS/POSB, OCBC and UOB Cards | 20% off takeaway Christmas treats
Early Bird Exclusive for OCBC Cards | Additional 5% off festive takeaway goodies for payments made before 6 Dec 2016
Citi, DBS/POSB, OCBC and UOB Cards | 15% off takeaway Christmas treats
2. Dolcetto By Basilico, 
Regent Hotel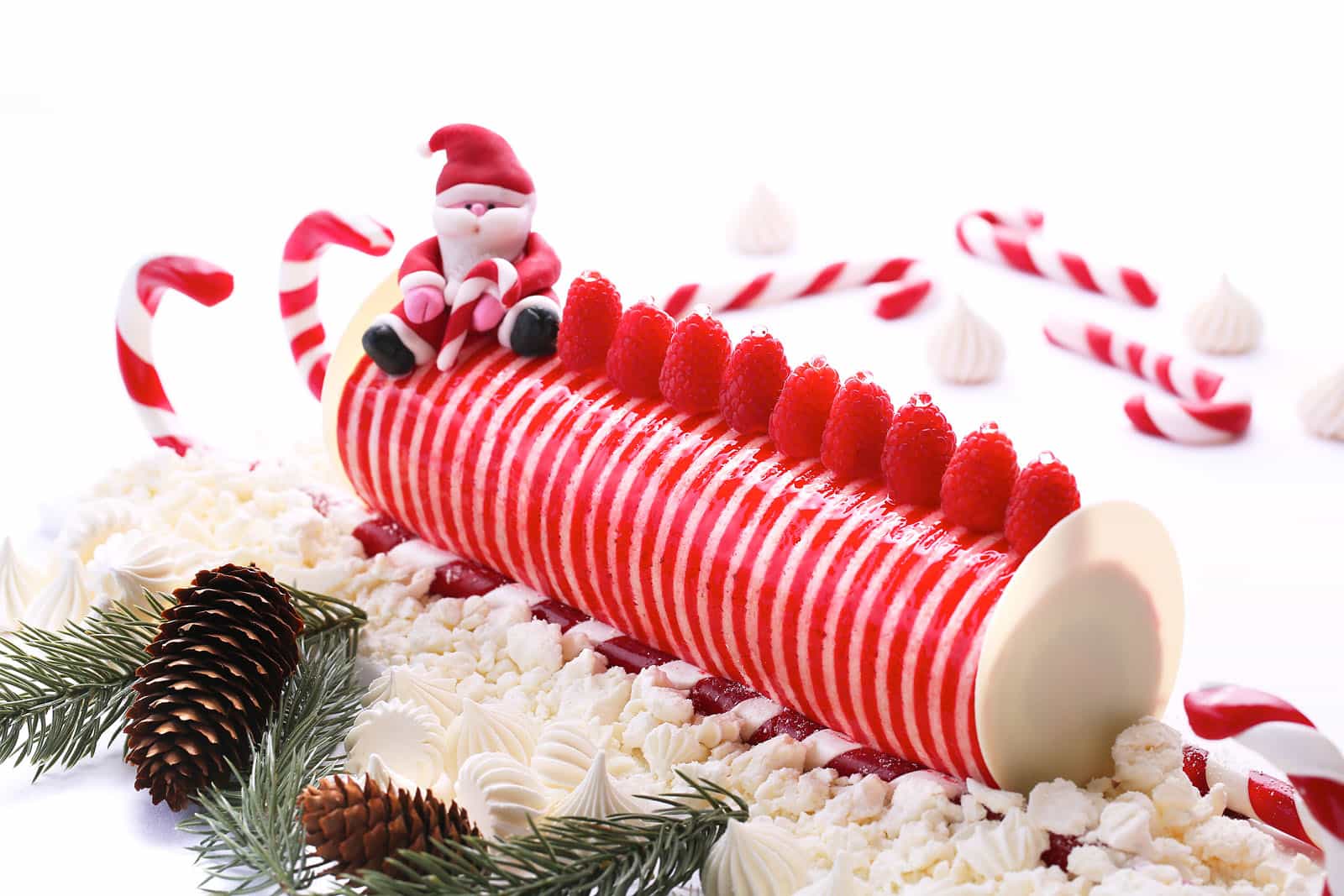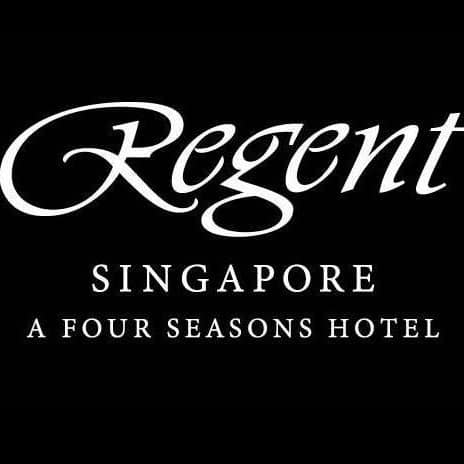 For your perfect Christmas home party, choose from a premium sumptuous spread of festive highlights from Dolcetto By Basilico for a memorable party! Take your pick starting with the Slow-Roasted Roman-Style Pork Belly stuffed with pears, lavender and wild fennel seeds ($178 for 2kg) and the ever-popular Roasted Lamb Chops with Primitivo wine, Taggiasca olives, sun-dried tomatoes and artichokes ($228 for 2kg), among others.
Indulge in the Rich Amedei dark chocolate, almond, hazelnut and cherry Christmas Surprise ($108 for 1kg). Encased in an intricate chocolate box with a gold-dusted chocolate ribbon over is the almond chocolate sponge layered with 70% dark chocolate mousse, this will surely end the night on a fabulous mood.
Another highlight is the Santa's Raspberry and Bronte Pistachio Cake ($79 for 1kg), a complementary mix of flavours featuring almond raspberry, chocolate  and bronte pistachio all in one delightful bite as well as a visual treat with its striking red and white "candy cane" details made from almond and raspberry paste.
UOB & OCBC Cards | 10% off hampers, festive log cakes and party-to-go menu
Valid from 1-31 December 2016
Order details available here
View promo details here
3. Lobby Lounge, Crowne Plaza Changi Airport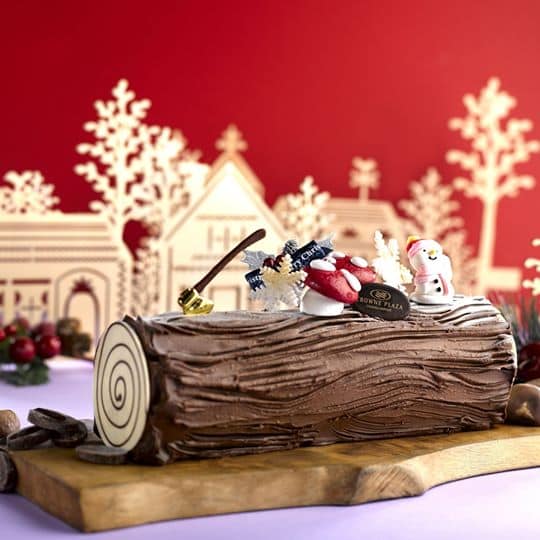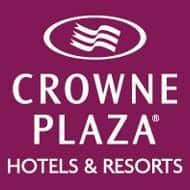 Be spoilt for choice at the gourmet Yuletide treats from Lobby Lounge, from succulent roasts to delectable yule logs and festive fruitcake!
Check out their new creation, the Satay-marinated Iberico Pork Rib ($118+, 1.2 kg). Inspired by Singaporeans' local favourite Satay, the meat is marinated overnight in a blend of Asian spices including lemongrass, blue ginger and dried chili. Pair it with the accompanying creamy and chunky peanut sauce for a familiar delicious treat! If you're catering for guests of different ages, the flavourful Three-Cheese Chicken Roulade ($88+, 1.5kg) is perfect. Look forward to an indulgent combination of boursin, red cheddar and smoked havarti cheese makes a melty filling in this chicken leg roulade, which is baked to golden brown perfection.
Sweeten your celebration with the Manjari Chocolate & Caramel Chestnut Yule Log Cake ($68+) – A rich, moist and incredibly decadent chocolate cake rolled up around a luscious and creamy caramel chestnut filling, and artfully crafted to resemble a log from an enchanted forest and garnished with seasonal decorations.
Citi, UOB, Standard Chartered, OCBC and Bank of China Cards| 25% off Yuletide takeaways
Citi, UOB, Standard Chartered, OCBC and Bank of China Cards | 20% off Yuletide takeaways
4. The Bakery in Colony, The Ritz-Carlton, Millenia Singapore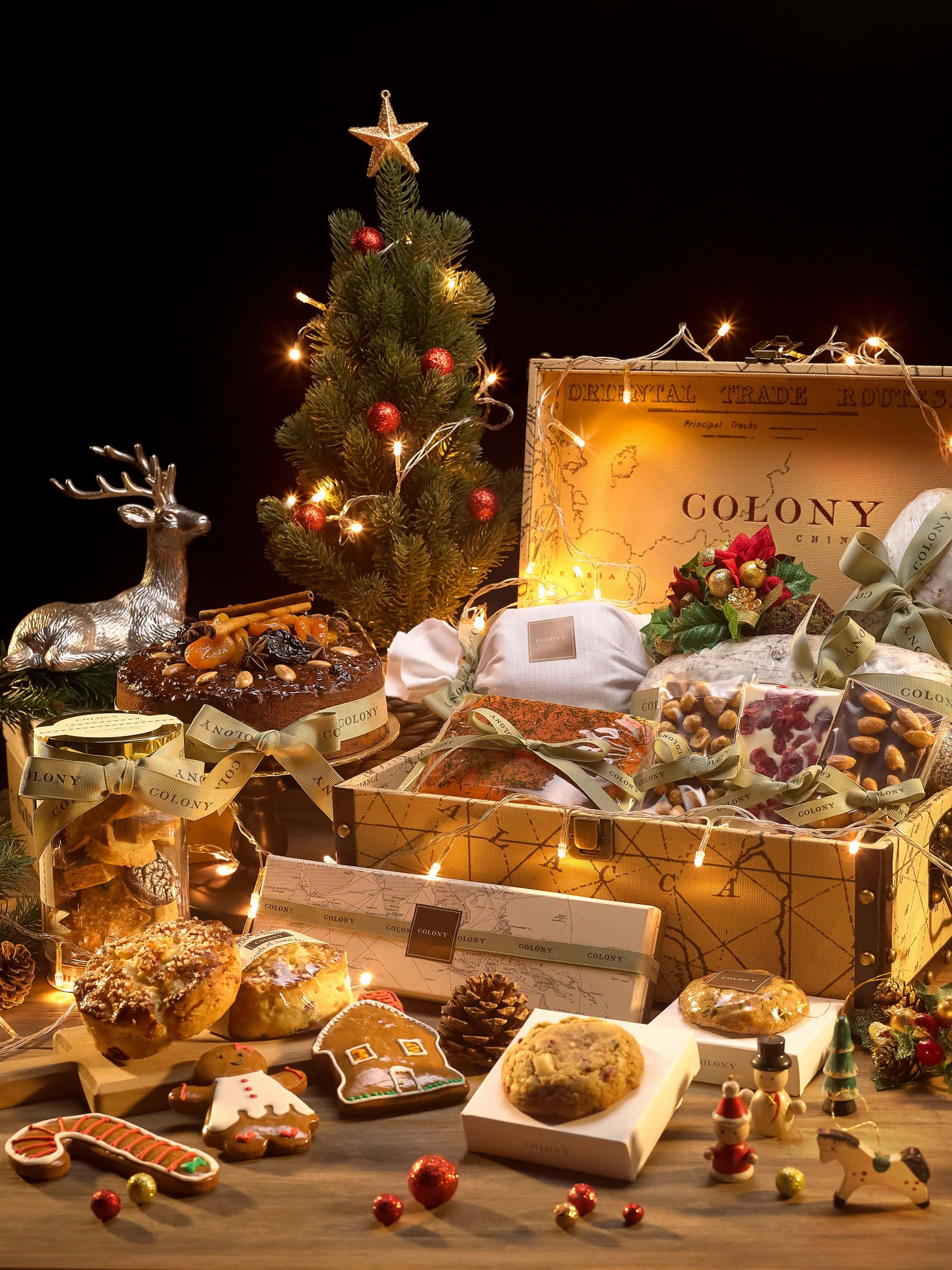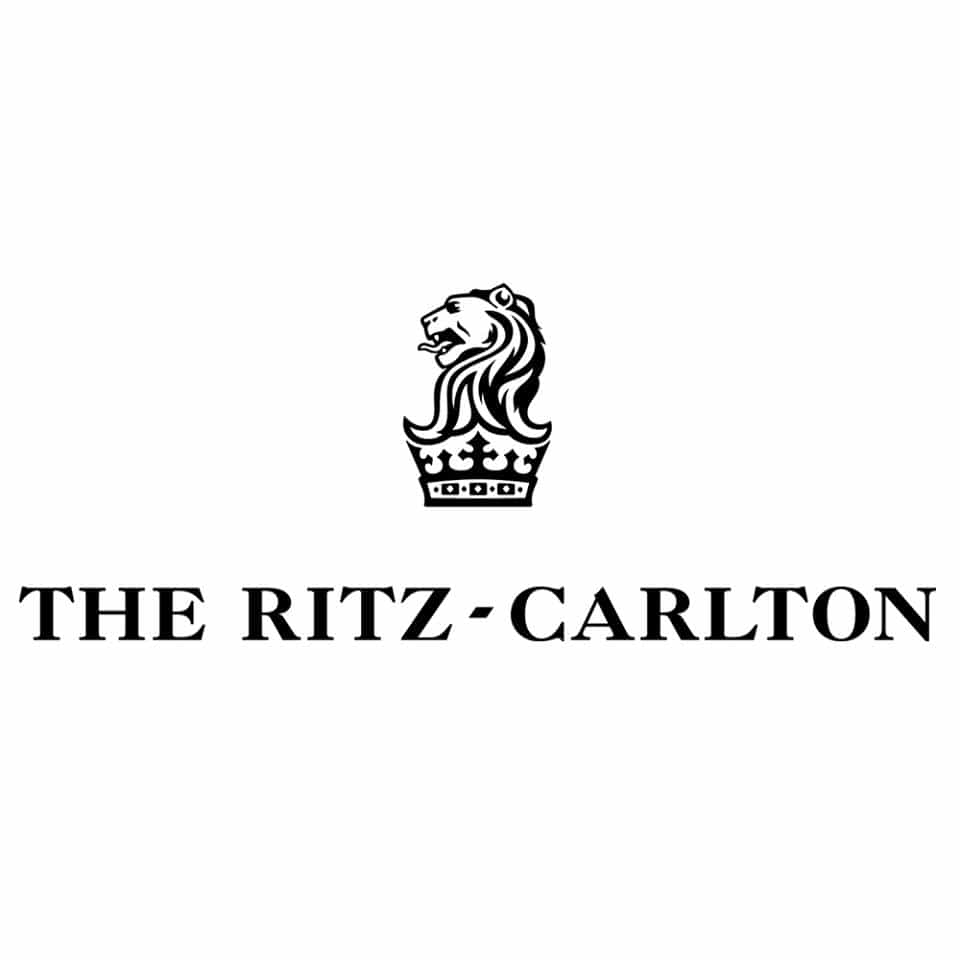 Celebrate Christmas with the Ritz-Carlton with a handcrafted selection of extra meaningful specialty logcakes – Joy, Warmth, Love, Peace and Hope.
"Joy" ($78) is a white chocolate snowflake decorated logcake filled with vanilla & caramelised pecan mousse, walnut biscuit and chestnut chantilly cream, evoking memories of catching that first snowfall on Christmas morning. Warmth" ($68), a traditional looking yule log with almond sponge, joconde biscuit, grand marnier and praline cream references the fireplace during winter where stories and festive goodies are shared with family.
The fiery chocolate flames of "Love" ($78)  represents passion and familial ties and comes in an indulgent dark chocolate mousse with blood orange biscuit and gelée. "Peace" ($78), the earthy green log with the delightful flavors of pistachio & white chocolate mousse, cherry biscuit and gelée, references the start of a new year and fresh beginnings.
The gold star dusted "Hope" ($88) is filled with rich dark chocolate ganache, hazelnut biscuit, gianduja crémeux, raspberry mousse and gelée, symbolising good luck and well wishes.
Also available as the perfect gift for business associates or loved ones is the Colony Hamper ($288), a limited edition vintage chest filled with an assortment of sweet and savoury traditional goodies such as Christmas fruit cake, stollen, chocolate pralines, salmon gravlax, foie gras au torchon and spiced hot chocolate.
UOB Cards | 15% privilege on Christmas goodies
5. InterContinental Singapore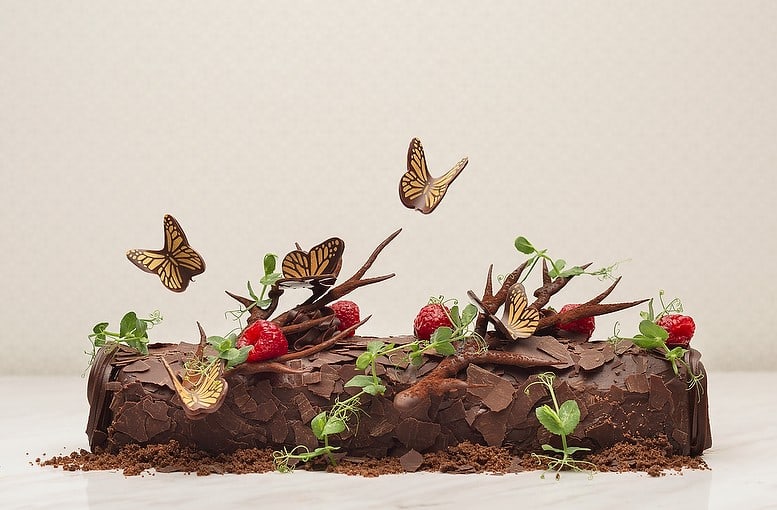 Add a touch of festivity to your celebrations with thoughtful gourmet take-home treats including succulent roasts, handcrafted logcakes and fruitcakes, as well as a medley of chocolate confectionaries from InterContinental Singapore.
A notable highlight this year is the new Maple Wood Bacon-Wrapped Tom Turkey ($168 for 5kg). Wrapped with decadent strips of bacon and slow-roasted to perfection over Maple wood, the tender turkey meat is capped with the umami taste of bacon, a mix of salty and sweet, complemented with the smoked aroma of Maple wood. Each order is also served with sides including charcoal-baked potatoes, winter vegetables, mushroom stuffing and giblet gravy.
Check out their creative rendition of the logcake this year, Rescue Santa ($75 for 1kg). A dome-shaped chocolate shell resembling a snow globe, it cracks open with an accompanying chocolate hammer, revealing a centre of light mascarpone cream with apricot filling, and capped with apricot almond pain de genes and cinnamon crumble – set like a scene of Santa standing in snow. This will delight both kids and adults at your party.
For a sugar-free option, the beautiful Framboise of the Wild Forest ($68 for 1kg) offers a guilt-free choice which comprises a chocolate mousse, sugarfree chocolate ganache, centred with a raspberry confit atop a crunchy chocolate biscuit base.
UOB Cards | 20% discount on all Festive Takeaways
Valid from 23 November – 25 December 2016.
Minimum of 3 days advance booking is required.
Order details here
View promo details here
6. Conrad Centennial Singapore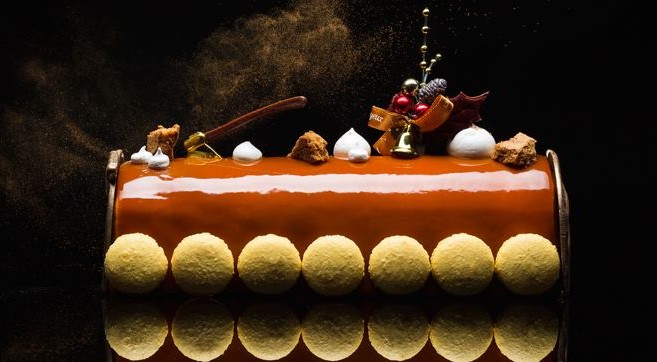 No celebration is complete without the lavish selection of Christmas roasts, logcakes and a medley of baked goodies from Conrad. Choose from the Buche de Noël Orange Chocolate Duo (1kg, $62), an orange-infused chocolate sponge with Venezuelan chocolate butter cream and orange mousseline centre or the Buche de Noël Coffee Hazelnut Macchiato (1kg, $62), a hazelnut sponge with coffee-infused butter cream and roasted caramelised hazelnuts (we know, it's a tough call!), or spoil your guests with the Praline Cointreau Chocolate Swirl (1kg, $65, contains alcohol), a light Cointreau cinnamon mousse with Madagascan chocolate ganache and hazelnut glaze.
For a stress-free dinner, consider the Conrad Luxury Dinner Pack (suitable for 6pax, $328) that comes with a whole roast turkey with chestnut and herb stuffing, honey and pineapple glazed boneless ham, two side dishes, three types of sauce and a choice of one logcake.
Citi, HSBC & UOB Cards | 15% off Christmas takeaway items
7. 

Swissbake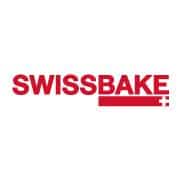 Enjoy the finest merry treats from Swissbake. Known for their premium quality European bread and confectionery products, their Handcrafted and freshly baked, make your festive celebration extra special with Swissbake's Traditional Chocolate Truffle Log Cake, Homemade Panettone, Dutch Almond Kerstkrans and many other Christmas Goodness.
OCBC Cards | 10% off Swissbake Christmas items
UOB Cards | 5% off Swissbake Christmas items
8. 

The Peninsula Boutique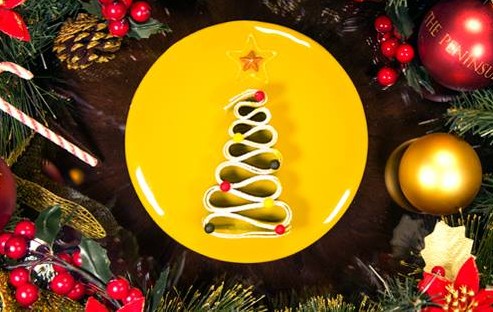 Located at Ion Orchard, The Peninsula Boutique is a specialty store from Hong Kong offering the finest selection of delicacies. Check out their range of delightful festive collection for a sweet, seasonal treat, perfect for parties and as gifts. Their popular gift sets include the Tie Guan Yin, Pu Er & Rose Tea Gift Set and the Assorted Chocolate Carrés & Peninsula Blend Tea Bag Gift Set.
OCBC Cards | 10% off Yuletide and Holiday Christmas Hampers
Valid from 15 November – 31 December 2016
View details here
Know of other fabulous Christmas treats not listed here? Share them with us! Or perhaps your credit card promotions aren't included in this list? Check out more shopping deals on Cardable's website here for all credit card promotions. We hope you find some of the best festive feasting deals in Singapore here!
---
Cardable presents all your credit card and membership card promotions on one platform, and matches people to suitable credit cards according to their income and spending profile with an advanced recommendation tool
Available on the Web, IOS and Android.
---