Last Updated:
This article was written in collaboration with Amazin' Graze. Find out more at the end of the article.
Christmas is around the corner and our calendars are filled with Christmas gatherings, decadent office gifts and indulgent dinner plans with family and friends – within the current safe distancing measures of course. It is a joyous time to eat, drink and celebrate… but more often than not, all our healthy habits go out the window and our jeans seem to feel a little snug.
Here in Singapore, we tend to go a little crazy at buffets and parties, eating our hearts out enough for two (or more) meals! While that is really shiok, overeating can not only result in indigestion and some discomfort, it could also lead to more serious issues that might ruin your plans for the holiday season altogether!
So, without further ado, check out some tips from the Amazin' Graze team so that you can enjoy this feasting season and still feel great by the time the New Year rolls around!
1.

Start each day with a good breakfast

Having a healthy lunch or dinner this month may be hard so make it a priority to have an energising and nutritious breakfast. Try to incorporate more fruits and vegetables. Some great options are eggs and sautéed vegetables or a green smoothie bowl filled with fruits and dark leafy greens like spinach or kale. Top it with some Amazin' Graze granola and enjoy! We hear that these granola are really delicious!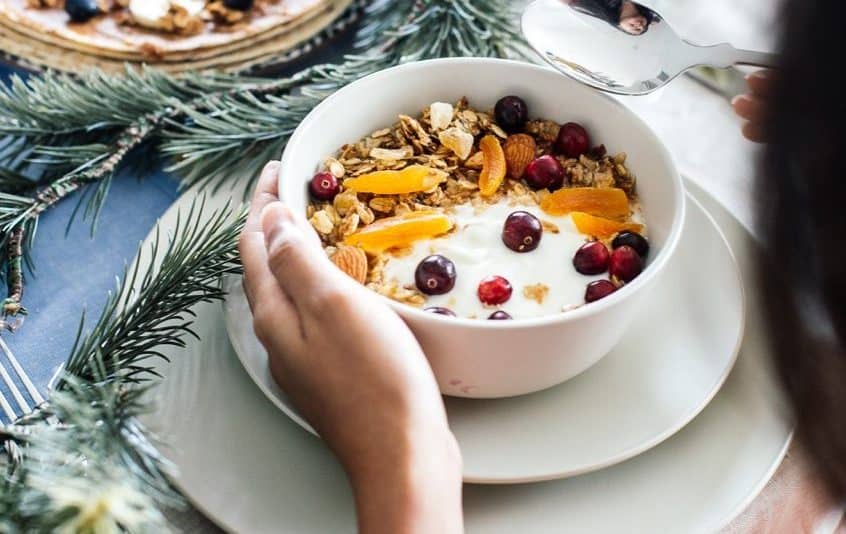 2.

Get active

Fit in a sweat session to get your heart pumping and activate your digestive system. If you have absolutely no time, try to increase your daily number of steps by taking the stairs instead of the escalator or make it social by inviting a friend. Exercising will help to make you feel less lethargic after a night of heavy eating.
3.

Be mindful

Remember to chew your food slowly and take the time to enjoy your food as well as the company you are with. It can take up to 20 minutes for our bodies to register when we are full, so slow down and check in with yourself before going for second helpings.
4.

Know your weakness

One of the joys of the holiday season is being able to indulge. However, the added sugars in alcohol and desserts are often a source of empty calories, meaning they do not provide your body with many nutrients. With endless opportunities to feast, keep in mind you do not need to have both the glass of wine and slice of chocolate cake. Choose your one treat for the night and enjoy it.
5.

Keep to the basics

Rushing around to buy presents and enduring Christmas crowds can leave you feeling exhausted so there is no need to add unnecessary pressure on yourself and get fixated on eating perfect 100% of the time. Keep to the basics of drinking enough plain water, getting enough sleep and incorporating some form of movement every day. It's the small habits that build up!
6.

Choose your indulgences wisely

We all have our little weak spot when it comes to food. It is perfectly okay to indulge! Here's how you can indulge without paying the price. Instead of wanting to try and eat everything, be selective and save your calories for your favourite food of the season. Be it a toffee-nut latte, rich fruitcakes, or simply an aunt's annual turkey roast with the most delicious stuffing.

Pace yourself. Instead of eating too much of it at one sitting, take your time to savour and enjoy it. It's not the quantity you eat, but the quality of the food and the company you eat with.

If you are looking for a festive treat that is healthy at the same time, we like the Amazin' Graze peppermint brownie chips (available here). Thin & crispy layers of minty chocolate indulgence that are made with antioxidant-rich cocoa powder and topped with superfoods: cacao nibs, buckwheat, almond flakes and whole rolled oats.

We hope you'll have a great time this festive season with these healthy tips! Merry Christmas!
---
If you're looking for a healthy Christmas gift or some guilt-free, delicious snacks, check out the amazing bakes at Amazin' Graze here from Shopee!
---
Amazin' Graze is a local start up that creates snacks which is natural, tasty, locally-inspired and cost effective. Operating out of a small kitchen in Sentul, they hand-bake each treat to be delivered across Malaysia, Singapore, Hong Kong and Dubai. Get your healthy treats here!