Last Updated:
Are you a massive fan of Korean dramas or Korean music (better known as K-dramas and K-pop)? Do you know the names of the most popular Korean stars at the moment? Whether you're on this bandwagon or not, the Korean wave is a massive one and we highly doubt it'll die down anytime soon. The impact of this K-wave? Korean beauty, language, trends, fashion, and food. We're sure you've caught on a few Korean things (or words) here and there, because even if you're not a fan, there is bound to be at least one person around you who is.
Many big brands have also opted to get Korean stars as their models and spokesperson. And if you walk down the stretch of Tanjong Pagar Road littered with Korean food joints, you should have caught sight of posters with Korean stars posing for soju, beers and snacks.
Confession time. I'm a big K-everything fan, and a beauty junkie.
There, I've said it. Now I won't feel too guilty if you stick around this article, because I've given you a heads-up on what you're about to read – Korean makeup inspiration. Henceforth, if you are going to continue indulging in this read, you might want to get ready your wallets because I'm going to share some great deals along the way!
---
Korean Beauty Language
K-beauty – Short for Korean beauty
Chok chok – Adjective; Glowing, dewy, bouncy. Used to describe one's skin
Unnie – A Korean word used by a female to address an older sister
Aegyo-sal – Aegyo is Korean for "cute", and the term aegyo-sal emerged to mean cute eye fat when one smiles, i.e. an eye smile. Should not be mistaken for eye bags!
Now that I've got the basics out of the way, it's time for real business! Note: I will only be elaborating on some of the focal points of these ladies' makeup. 
---
Korean makeup inspirations
I get Korean makeup inspirations in my head whenever I ogle too much at the female leads. If you're like me and spend hours watching Korean dramas (don't judge, it's addictive!), you may also be scratching your head wondering how these female Korean stars look adorable and pretty even when they are crying, or in the midst of a war. Yes I'm looking at you two, Jun Ji Hyun and Song Hye Kyo. The almost-perfect chok chok skin, the neat and natural brows, the slight hue of pink/peach for a natural flush…it's not a crime to imitate these looks right? One can always try!
I'm zooming into 5 female Korean stars with 5 different makeup looks, and scrutinising their makeup so that we can all attempt to achieve a similar effect, fingers crossed.
P.S.: Yes I'm biased in my selection and I think these 5 ladies are absolutely stunning
-inserts heart-shaped eyes emoji- 
Jun Ji Hyun in
You Who Came from the Stars
One of my favourite K-dramas of all time, and Jun Ji Hyun looking stunning in almost every scene definitely played a part. This drama was like her fashion and makeup diary, she looked fabulous all the time! Her aura both on and off screen oozes confidence and charisma, without dramatic makeup or unnecessary skin-showing. In the following picture, she looks every bit classy and elegant, an effortless poise not every woman possesses and delivers. Although well into her 30s, she remains the most attractive female Korean star in my opinion. Unnie, teach me the secret to your charisma please!
Jun Ji Hyun's look below lets the lips do the talking (pun intended), leaving the rest of her makeup minimal and crisp. Her eyebrows are dark, matching her hair colour, and brushed up for a bushy brow effect. If you have stronger brows like her, this is where you can shine.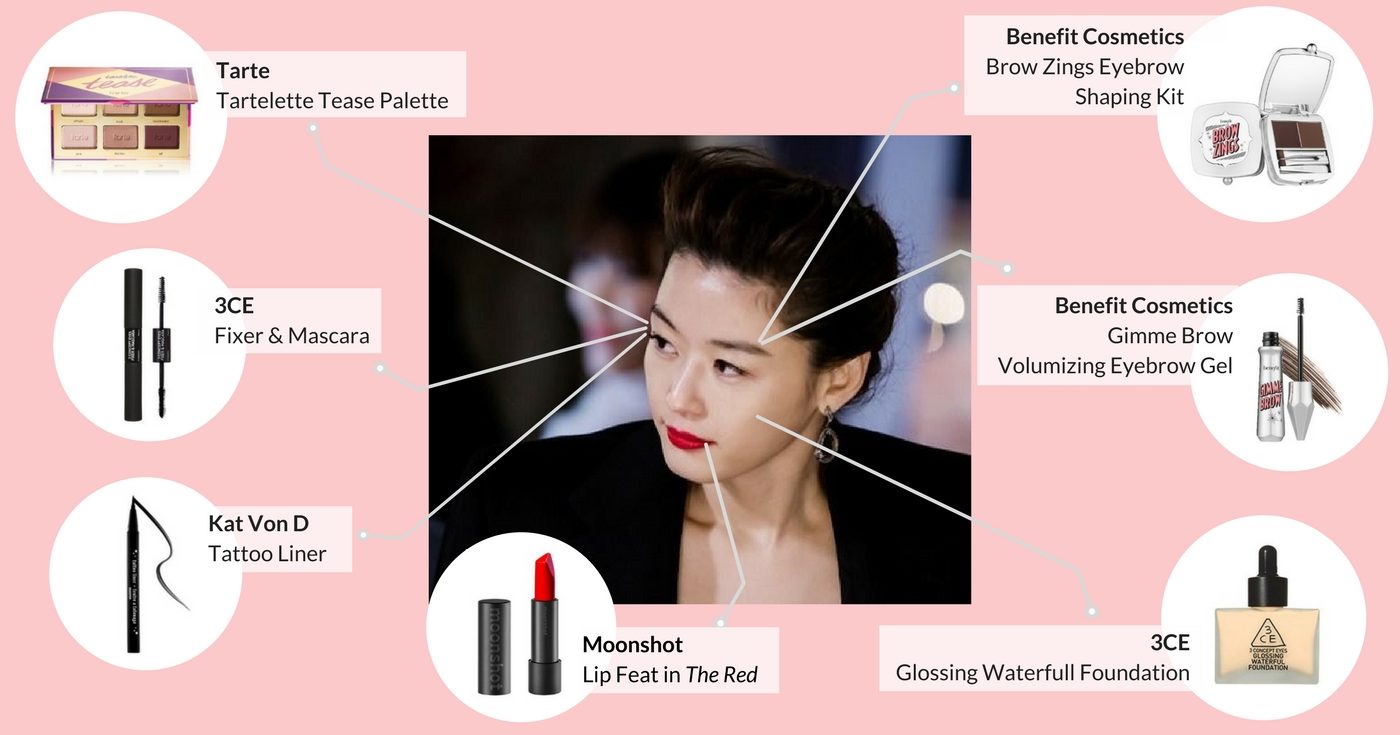 Jun Ji Hyun's Korean makeup inspiration:
Sephora.sg
75% off makeup and more
Park Shin Hye
Park Shin Hye's eyes are what draws me in. Many critics have said that her acting is bland or exaggerated, but to me, her eyes narrate the unspeakable emotions. That, to me, speaks more than words, and is definitely not an easy feat achievable by every actress.
If you have big eyes like hers, her makeup looks will be a good source of inspiration! In the picture below, the makeup artist clearly used her pretty, doe-like eyes to accentuate her entire look, and seals it up with a simple cherry-coloured lipstick. This could be a good daily office-friendly makeup, provided your makeup doesn't melt when you step outdoors into Singapore's infamous humidity.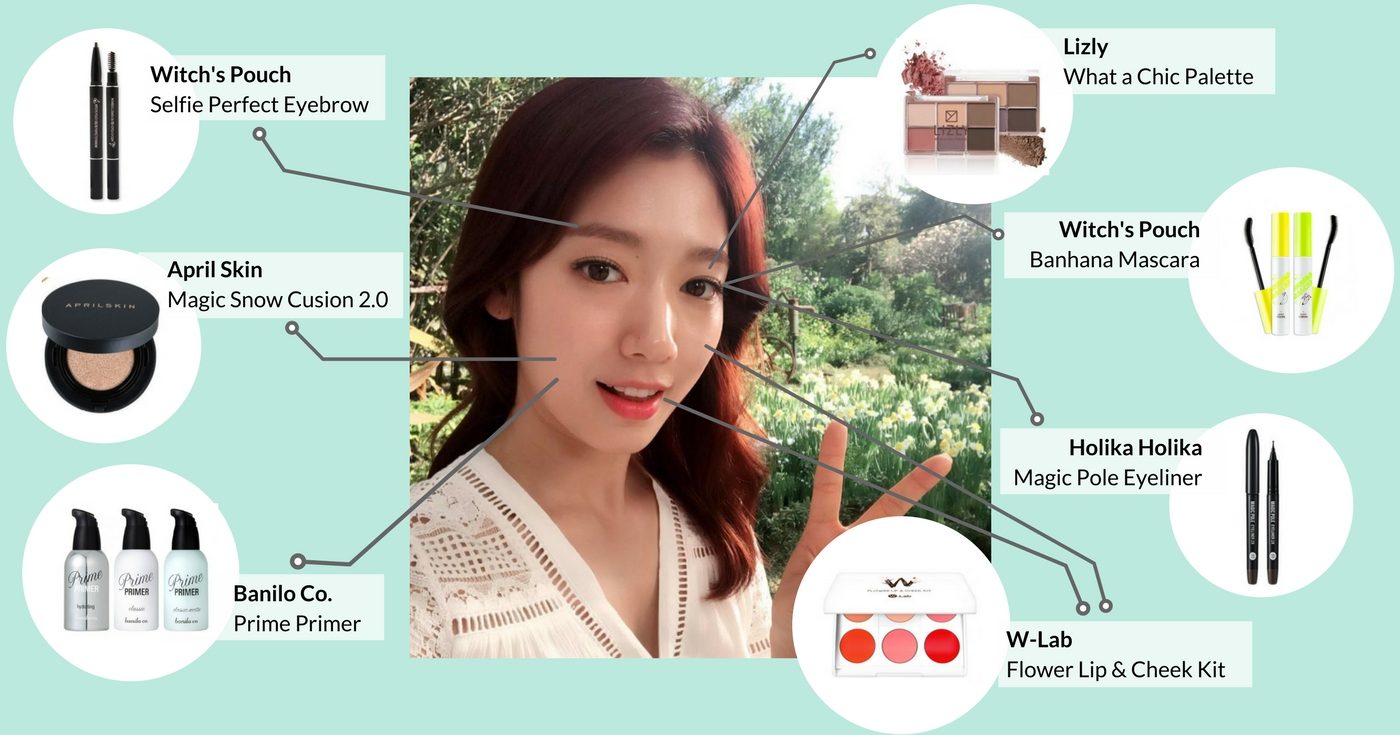 Park Shin Hye's Korean makeup inspiration:
Althea
See full list of Althea coupons and discounts!
Song Hye Kyo
Fair-skinned Song Hye Kyo shot back to fame with Descendants of the Sun, which took many countries by storm. We're not going to discuss her upcoming marriage with her co-star in the show, Song Joong Ki, although I have to point out that Song Joong Ki's Forencos Seven Days Mask is sold on ezbuy SG if you are keen.
The surge in popularity with the show then saw Song Hye Kyo fronting the stores of Laneige with her dewy bright skin. Ah Song Hye Kyo, how does your skin look like a 25-year-old when you're turning 36 this year? I reckon the secret to her glowing look, no matter what type of makeup she puts on, traces back to good skin. But if you'd like to achieve this chok-chok look, here are the things you should look at.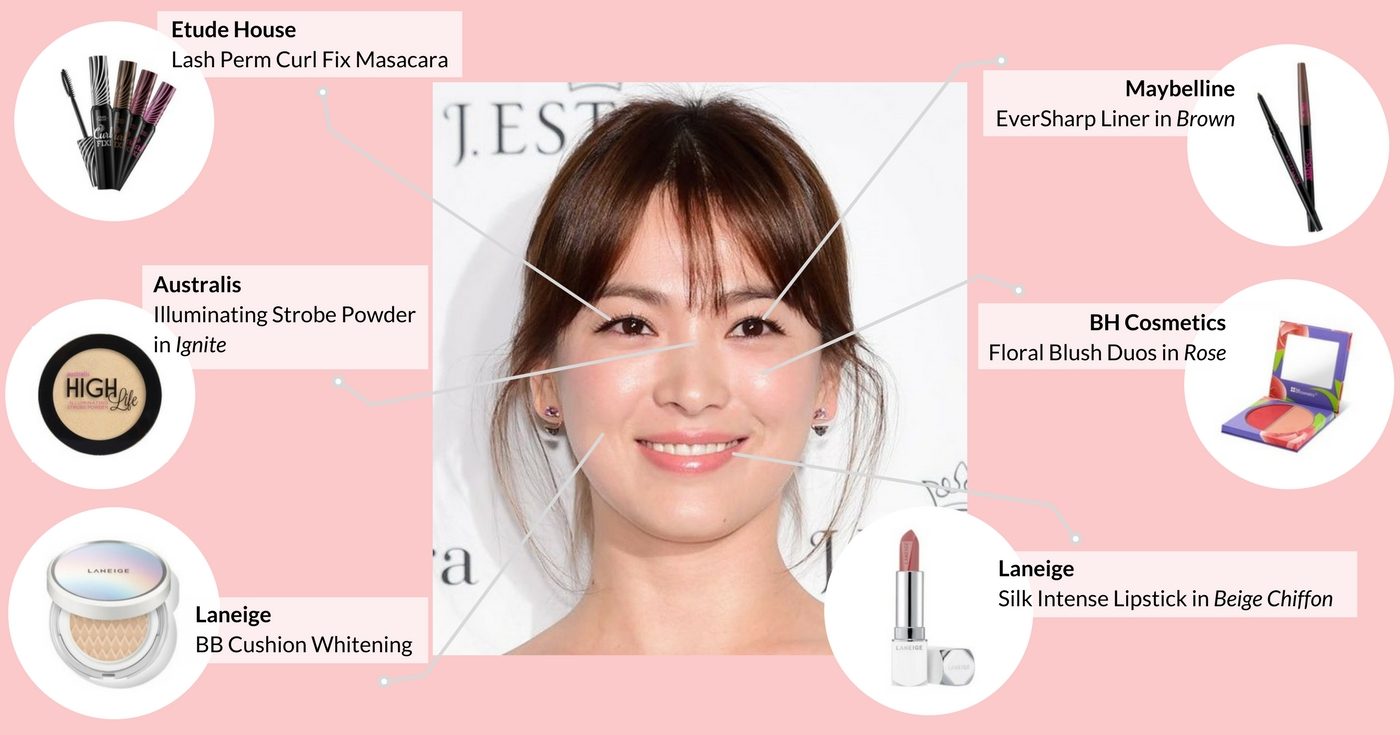 Song Hye Kyo's Korean makeup inspiration:
ZALORA
See full list of Zalora promo codes and deals
IU 
Singer-songwriter Lee Ji-eun, better known as IU, is also one of the fairer maidens in this list. A big K-pop star of this era, IU charms audience with her soulful, sweet voice and even sweeter looks. Her makeup can be described as clean and minimalistic, seemingly bare yet filled at the right areas, making it perfect for an everyday look.
The makeup she is sported with below has the slightest hue of pink on the cheeks, with a pop of brighter pink on the lips, bringing out the innocence and pure look. This is further emphasized with her slight aegyo-sal (aka, eye smile). There are tutorials online if you need a 101 on it! 
Koreans also tend to fill their brows on a straighter line, with the tail slightly tapered off to give a more natural feel. This look will probably go well with someone with fairer skin and likes an everyday-makeup face. Switch around the lip colours if pink is not your thing!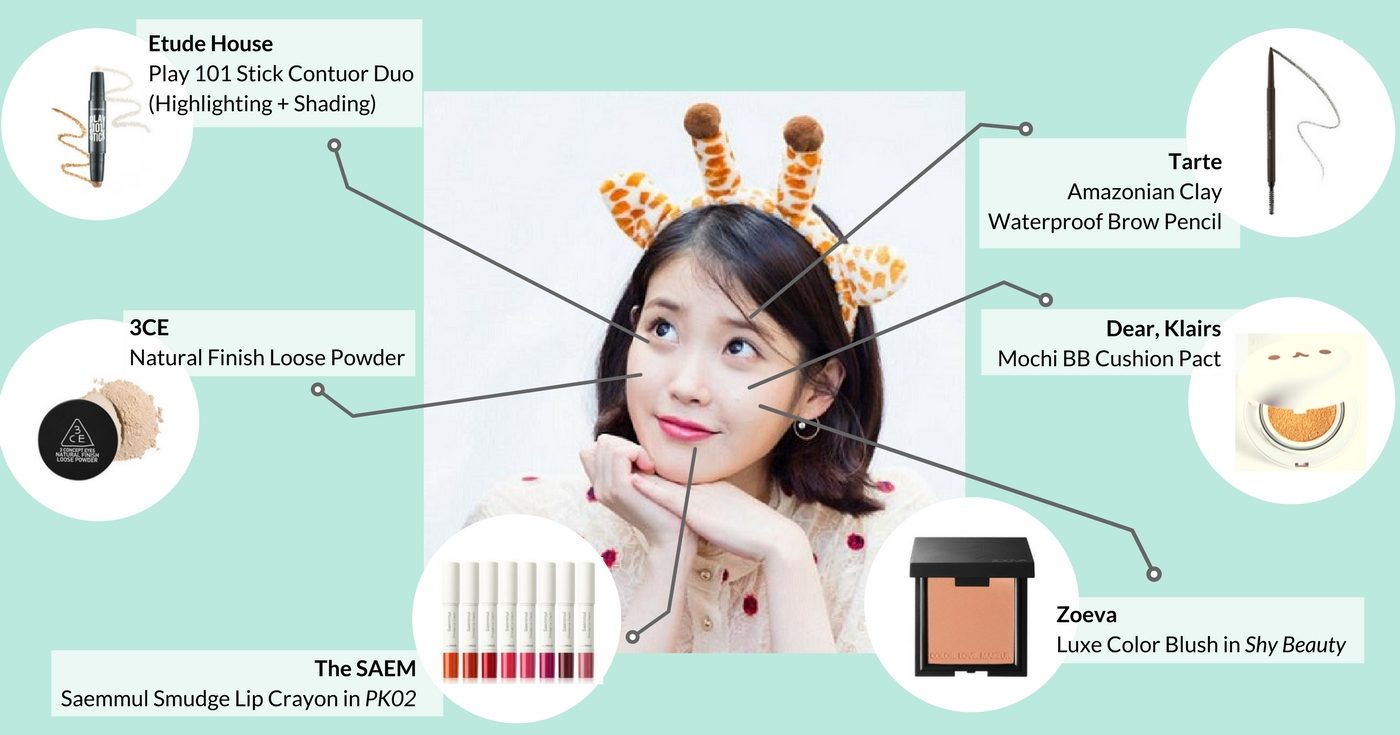 IU's Korean makeup inspiration:
---
ALSO READ: A Beauty Junkie's Guide to Online Shopping
---
Lee Hyori
Finally, this one is for the tanned, sun-kissed girls. I couldn't leave her out even if I wanted to, I mean, look at her gorgeous face! If you're not familiar with her, Lee Hyori is a singer who debut in 1998, and she is 38 this year. Yes, even older than Song Hye Kyo, and still looking every bit gorgeous. I love that she didn't try to fit in with all the other fair-skinned ladies in her industry. This is also the main reason why she will always have a place in my list of prettiest Korean stars.
Of course, this is not a typical Korean makeup look, but a good switch from the "norm" media has painted for us, and a particularly pretty one too! The key to achieving this sunny, bronzed look narrows down to 3 main points. (1) Highlighter (2) Warmer tones of brown with gold and bronze shimmers (3) Coral/peach blush
If you have wavy curls and sultry eyes like hers, lucky you, you've won half the battle! For the rest of us less fortunate mortals, fret not. With a little bit of help from good skincare habits and makeup, we can attempt to achieve this look as well, right?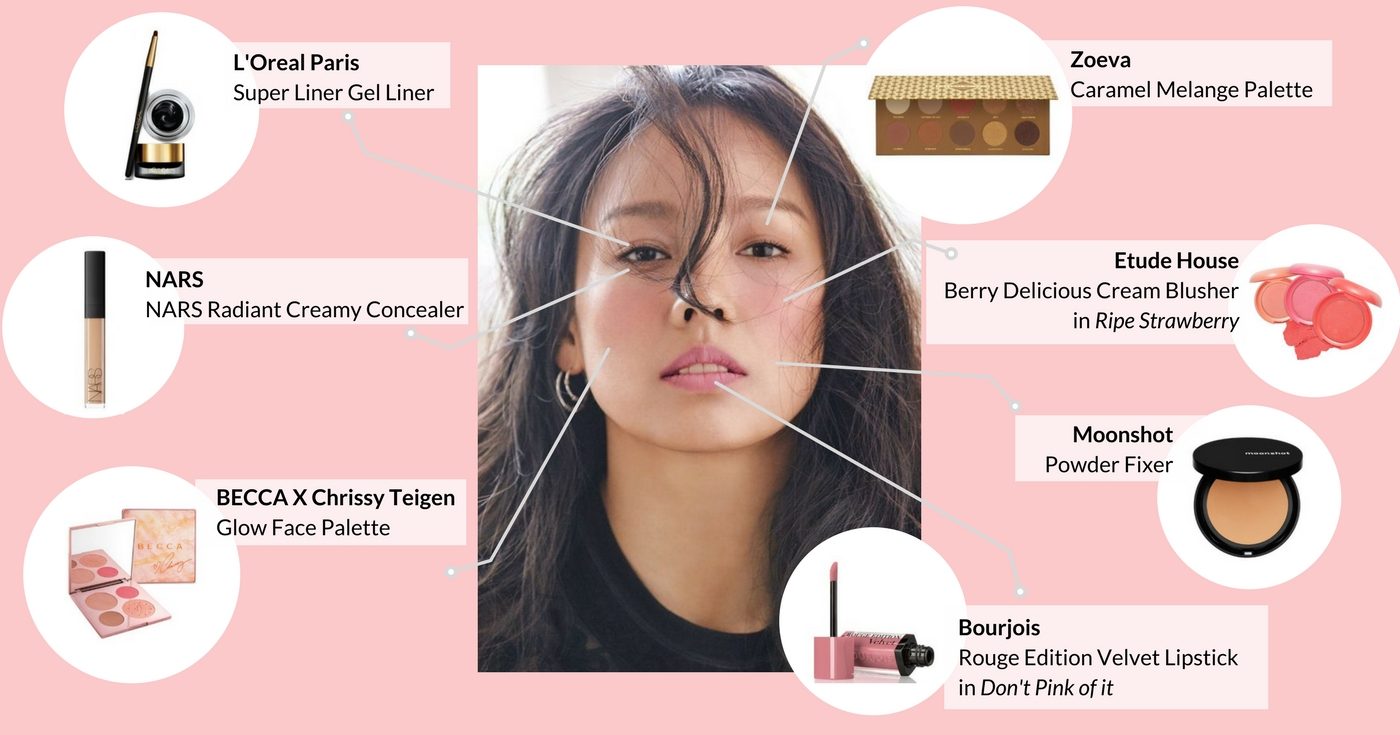 Lee Hyori's Korean makeup inspiration:
Be inspired by these Korean stars
Have these Korean makeup sparked any new ideas in your head? This list serves more as an inspiration, rather than a manual book for makeup. Feel free to switch up the recommended makeup with whatever you have or prefer! It is more important to feel comfortable with what goes on your skin and how you look, rather than pretend and feel awkward. Of course, if you decide to treat yourself to a little something, don't forget to secure your savings with the promo codes before you click "check out" on your cart!
If you're reading this line, thank you for sticking around! I hope this article helped you to discover something new with Korean makeup and the sites to shop for them. Till next time, keep getting inspired!
---
If the bulk of your monthly expenses are traced back to online purchases, be more financially adept and read about the credit cards most suitable for online shopping in Singapore. Your wallets will thank us!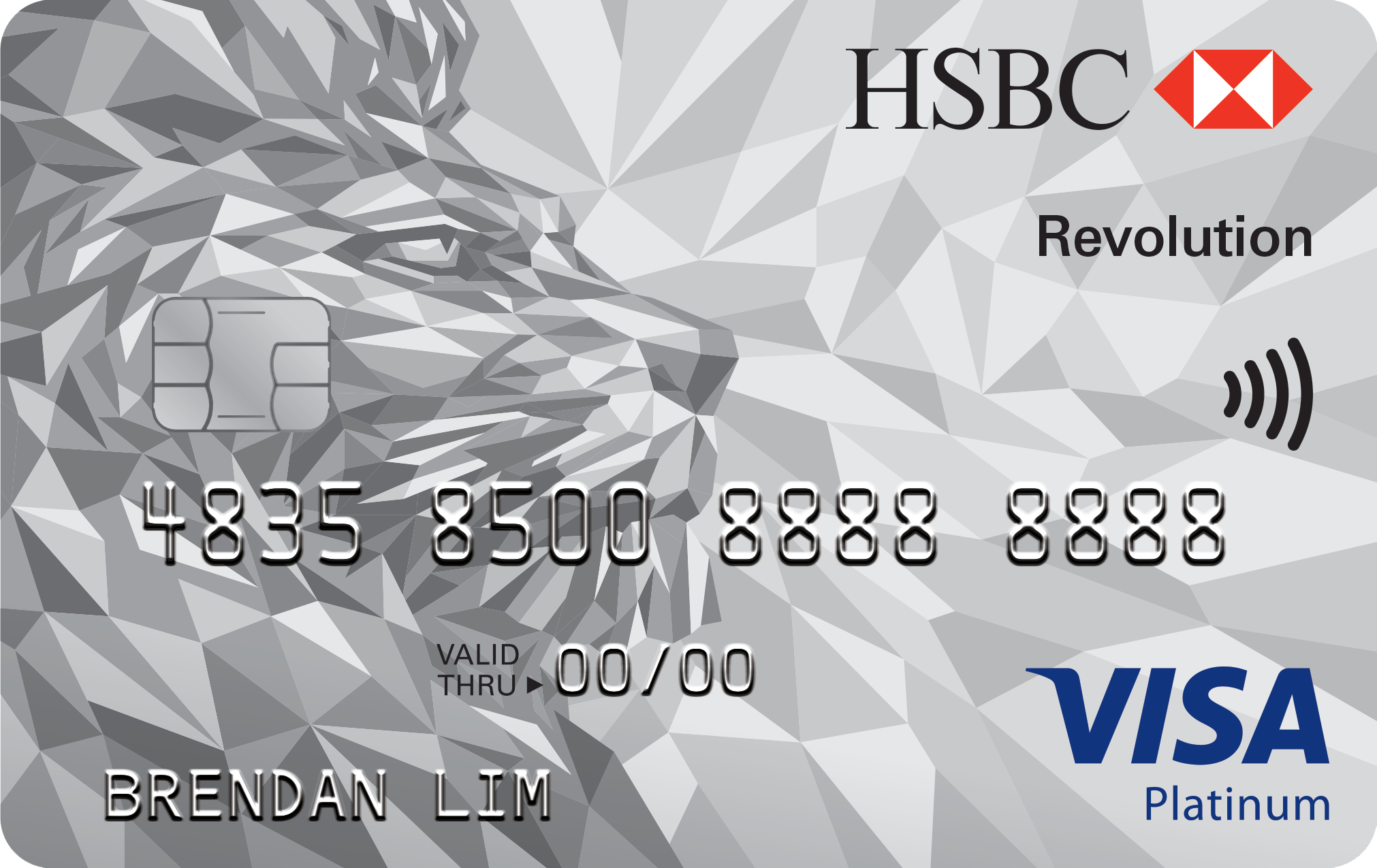 HSBC Revolution Card
Earn 5X rewards on online purchases!
Want more of such articles from Cardable? Sign up for our weekly newsletter to get notifications direct into your inbox.