Last Updated:
Editor's Note: All content and information in this article are accurate as of published time.
---
Do you happen to be in the mood to eat out at a nice restaurant or delicious buffet along with your friends and family, but don't want to get that sinking feeling when you finally receive the bill? Don't worry, because if you're a Maybank credit card holder, then you're in luck! With your Maybank credit card, you'll be able to avail of various dining promotions for a wide range of restaurants in Singapore. You won't always have to break the bank in order to have a good time, after all.
---
CHECK OUT: 14 Satisfying Buffet Promotions in 2022 You Don't Want to Miss
---
All Maybank Buffet Promotions
Restaurant
Promotion
Ends on

Atrium Restaurant, Holiday Inn Singapore Atrium

1-for-1 Lunch and Dinner Buffet
More Info

31 December 2022



BOOK NOW!

Carousel, Royal Plaza on Scotts

15% off total food bill for lunch, high tea and dinner buffets
More Info

31 December 2022
---
Ellenborough Market Café, Swissotel Merchant Court
Well-loved among locals for their delicious medley of Asian and International delights, Ellenborough Market Café also presents a modern interpretation of Peranakan cuisine in their daily buffet spreads. Do not miss their new menu highlights such as Nyonya Satay Chicken and Braised Pork Belly La Mian, along with popular favourites like the signature Ayam Buah Keluak and Durian Pengat.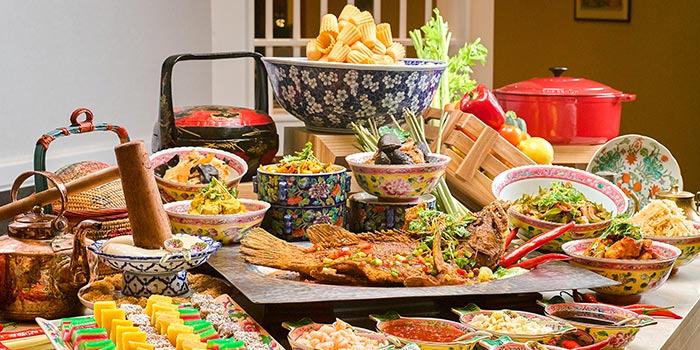 Crossroads Bar, Swissotel Merchant Court
Relax by the Singapore River at the newly revamped Crossroads Bar at Swissotel Merchant Court and enjoy an afternoon of Peranakan-inspired cuisine with the Straits Afternoon Tea. Available daily from 3.00pm to 5.30pm, tuck into an assortment of Nyonya savouries like the petite Braised Pork Belly in Steam Leaf Bun, Otak Otak on Toast, freshly made Kueh Pie Tee, Yam Cake with X.O Sauce and more! Round off the afternoon with Pandan Chiffon Cake, Kueh Lapis and a selection of homemade Nyonya Kueh.
If you prefer scones and french pastries instead, there is also the choice of English Afternoon Tea that comes with freshly baked buttermilk raisin and plain scones, smoked salmon sandwiches, macaroons, tarts and more.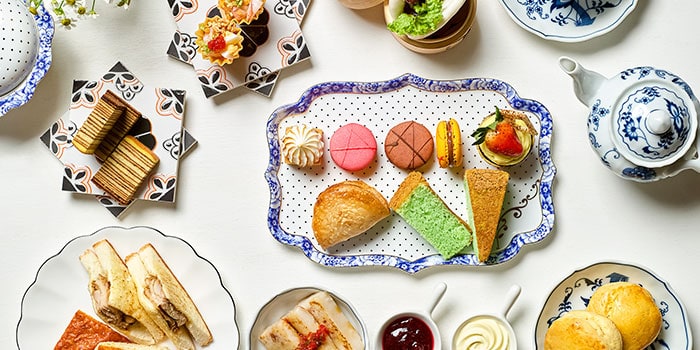 The Song of India
If you're hungry for a meal completely the opposite of boring, with spices and a kick, then the Song of India might be a restaurant you want to check out. Indian cuisine is incredibly popular in Singapore, and with good reason- it tastes absolutely delicious.The Song of India restaurant, however, takes the already amazing cuisine to the very next level. Being a Michelin-star restaurant, you can fully expect your money's worth when dining here. Indulge yourself in luxury dining and modernised Indian dishes filled to the brim with spices and unique flavors.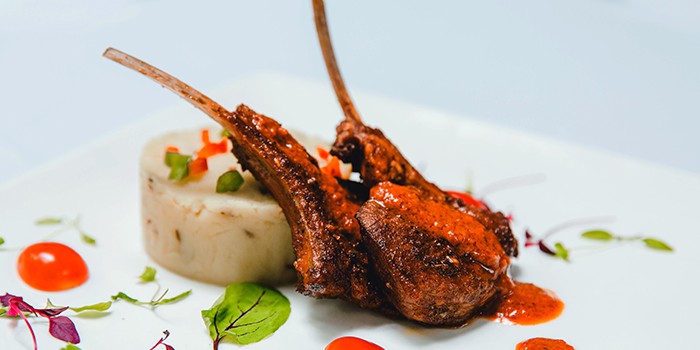 ---
---
Irodori Japanese Restaurant
Craving for Japanese food? It's hard to find a good authentic Japanese restaurant in Singapore, but when you do, you'll find yourself visiting it over and over again. The Irodori Japanese Restaurant is an example of that. Your food is made by the most experiences chef and all the ingredients are guaranteed to be as fresh as they can be.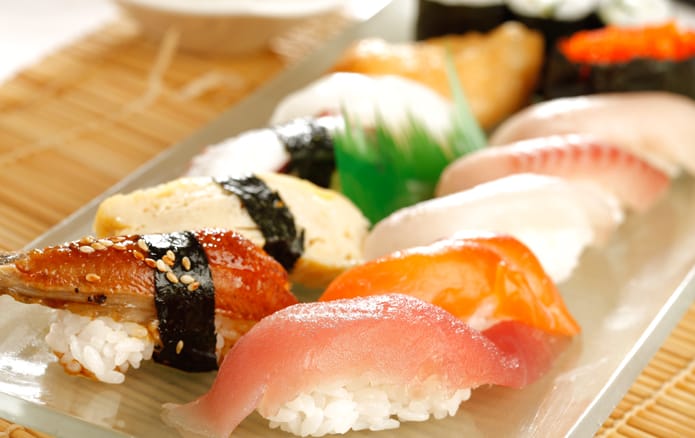 Kintamani Indonesian Restaurant (Furama Riverfront)
When you're really hungry, sometimes a regular buffet or restaurant just isn't going to fulfill your appetite. If you want to let loose and eat as much as you want, spend your calories at a restaurant that offers quality- The Kintamani Indonesian Restaurant located at the Furama Riverfront.
Enjoy and relish in authentic Indonesian halal cuisine with a wide buffet spread sure to not only satisfy your stomach, but also your tastebuds. Best to eat with family and friends in order to share the delicious flavors and also avail of great group promotions for the Maybank credit cards.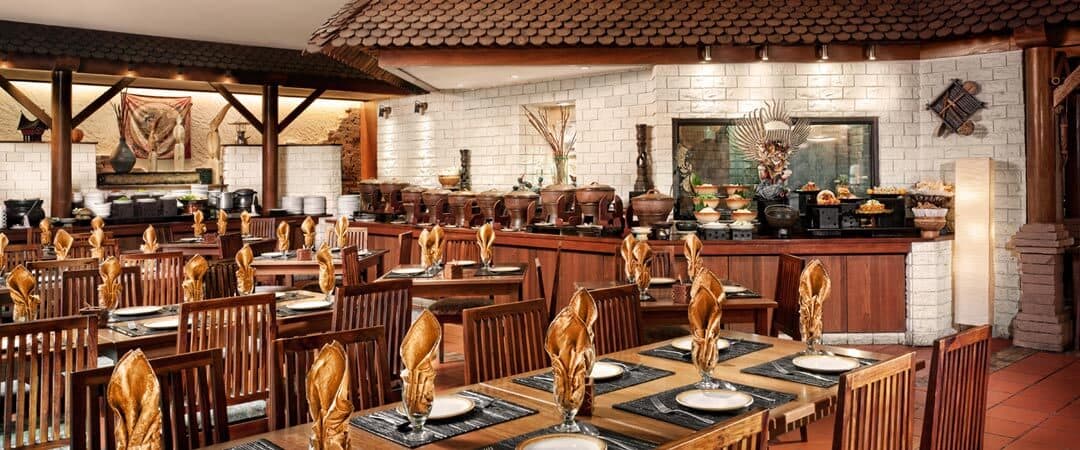 AquaMarine, Marina Mandarin Singapore
Indulge in a sumptuous selection at the Halal-certified buffet spread featuring Asian and international cuisines here at AquaMarine. Expect a lavish spread of fresh seafood, sashimi, local signatures such as chilii crab, roast duck and even a huge selection of desserts from nonya kueh to savory pastries and sweet cakes.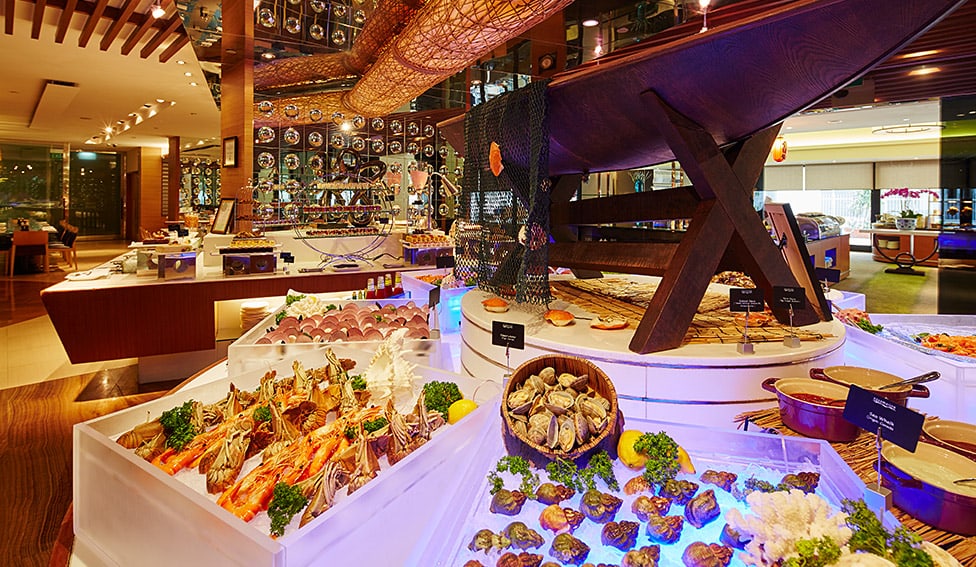 Carousel, Royal Plaza on Scotts
Go all out at this award-wining buffet at Royal Plaza on Scotts. Carousel serves up an amazing range of international delights from Mediterranean, Asian, Japanese to local favourites such as dim sum and more. Don't miss out on the fresh sashimi and seafood! All dishes are prepared in its halal-certified kitchens.

TIP: Do book in advance for your seats as Carousel gets booked out really quickly!
Charcoal Thai
Thai food is already amazing as it is, but Thai food fresh from the charcoal grill? Even better. Charcoal Thai is a restaurant that serves amazing authentic Thai dishes, which you can have cooked and completely ready to eat or, if you're more of an adventurous type, mix and match your very own personalized meal by cooking at the hotpot at your own table. The meals served at Charcoal Thai are healthy and rich. Whatever craving you might have, you're sure to satisfy it here.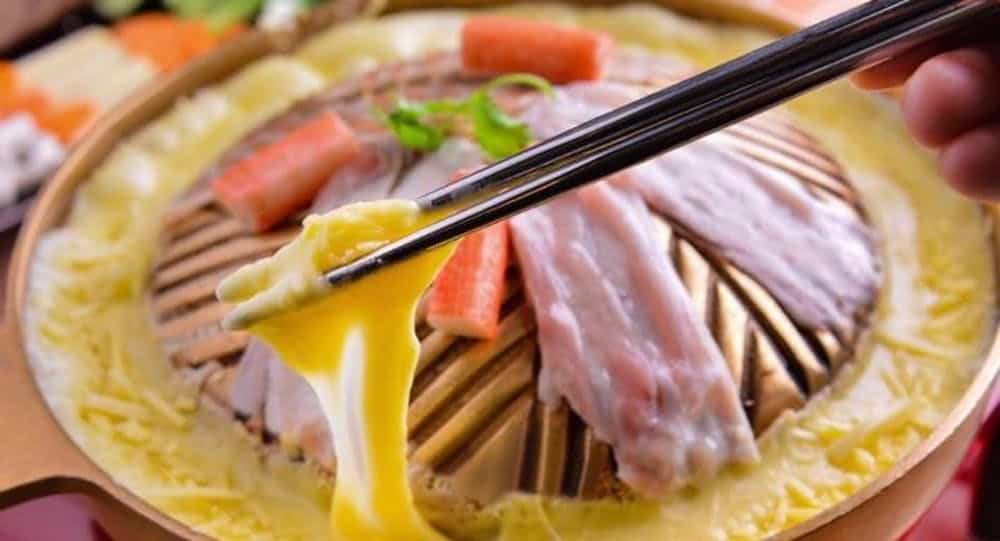 Locations:
NEX #B1-30/31, Singapore (Phone: 6288 6260)
Vivocity #03-07, Singapore (Phone: 6222 3880)
321 Clementi #02-08, Singapore (Phone: 6250 9298)
Concorde Hotel Singapore, Lobby Lounge
When spending one's hard earned money, it's a must that you book a table with items that are more than worth it. The Lobby Lounge at the Concorde Hotel gives you exactly that. Whether you want to sit back and relax all by yourself or have a little bit of fun with your friends or family, the Lobby Lounge is a great place to be. They offer a wide range of beverages to suit any mood or occasion, from the most creative of coffee brews to the flavorful alcoholic beverages, The Concorde Hotel Singapore only wishes to satisfy your needs.

Location: Concorde Hotel Singapore, 100 Orchard Road, Singapore 238840
Spices Cafe, Concorde Hotel
A wonderful spread of local delights such as Herbal Chicken Soup, Kway Chap and Peranakan classics like Ayam Buak Keluak, Durian Pengat and more await you during the lunch buffet here at Spices Cafe. If you prefer a dinner buffet, look forward to the freshest premium seafood, such as cold crabs, oysters, scallops as well as other delicious seafood on grill.
One thing for sure here at Spices Cafe, their desserts section is not to be missed so be sure to set aside some time to check out the sweet treats.
Location: Spices Cafe, Hotel Lobby Lvl 3,100 Orchard Road, Singapore 238840
More Maybank Buffet promotions? Here you go:
Restaurant
Promotion
Ends on

Atrium Restaurant, Holiday Inn Singapore Atrium

1-for-1 Lunch and Dinner Buffet
More Info

31 December 2022



BOOK NOW!

Carousel, Royal Plaza on Scotts

15% off total food bill for lunch, high tea and dinner buffets
More Info

31 December 2022
---
| | | |
| --- | --- | --- |
| | Maybank Platinum Visa Card | |
---
Previous Maybank Dining Promotions that You've Missed!
Straits Café, Rendezvous Hotel Singapore
Tuck into a delicious buffet spread of Halal-certified Straits Delights like KL Prawn Noodles, Nonya Laksa, Kueh Pie Tee, Rojak, Durian Pengat, Durian Puffs and more. Don't miss the Seafood Sambal Live Station available only on Sundays, where you get to enjoy fresh seafood that's prepared on the spot!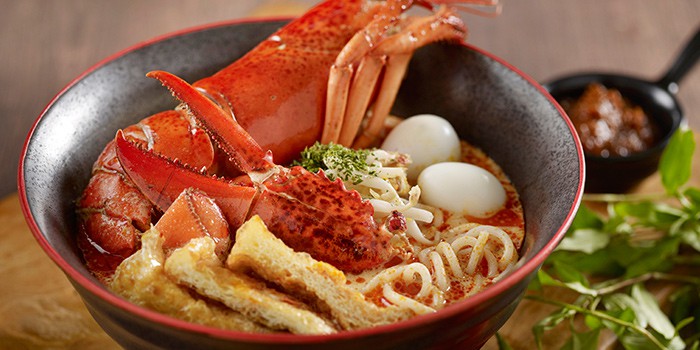 Promotion: 15% off buffet and à la carte menu (Halal-certified) | with Maybank Mastercard
Location: 25 Marine Parade Road, Village Hotel Katong Level 4, Singapore 449536
Katong Kitchen, Village Hotel Katong
Katong Kitchen is a halal-certified authentic Peranakan restaurant that serves up a great range of Peranakan cuisine from the feisty Ayam Pangang to rich and creamy Durian Pengat. One of the restaurant's most popular dishes is the signature whole sea bass with tangy calamansi-spiked, hand-pounded sambal. Also beautifully decorated with rustic wooden furniture and Peranakan features, spend a relaxing afternoon with all your favorite Nonya eats! Katong Kitchen makes it a worthwhile trip to the east of Singapore.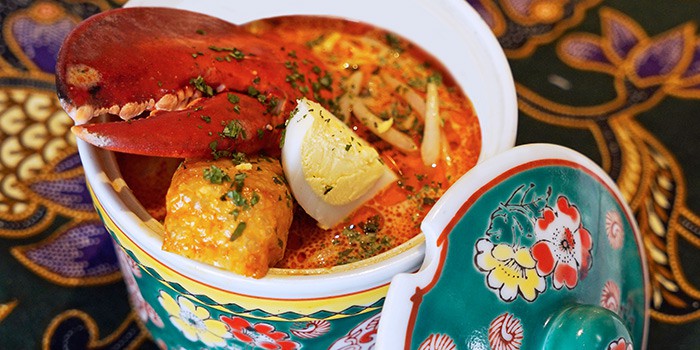 Promotion: 15% off buffet and à la carte menu (Halal-certified) | with Maybank Mastercard
Location: Spices Cafe, Hotel Lobby Lvl 3,100 Orchard Road, Singapore 238840
Typhoon Cafe
Designed to simulate one of those authentic hole-in-the-wall cafes along Taiwan's quaint Fujin Cafe Street, Typhoon Cafe actually means "台湾风味" (Taste of Taiwan). So the next time you are craving for Taiwan's classic dishes like the lu rou fan, crispy pork intestine or san bei chicken, you know where to go!
Must-try at this cafe include Typhoon Cafe's delicious signature dishes like the Australian Beef Short Rib with Wuxi Maltose Glaze and Canadian Pork Belly Stew with Preserved Vegetables.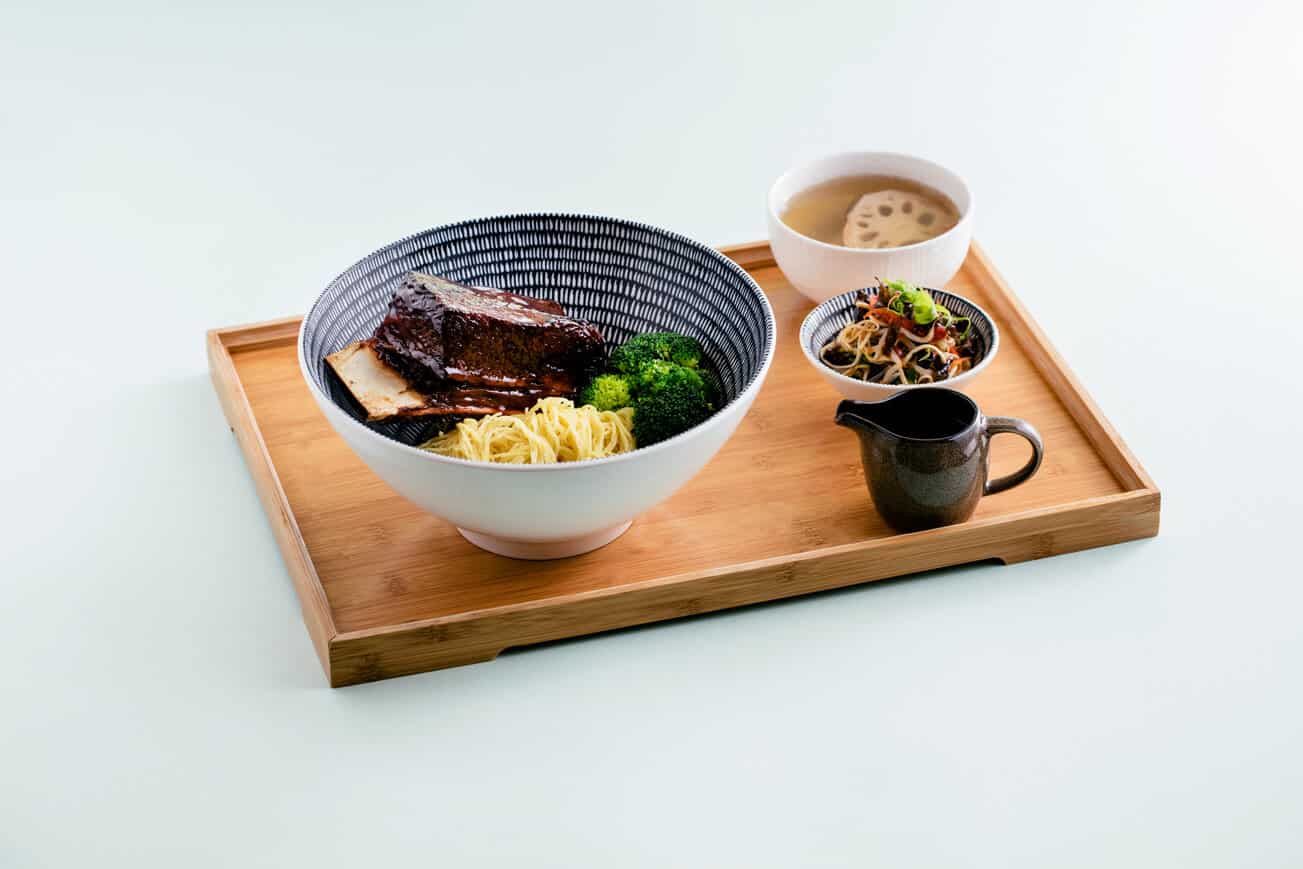 Promotion: 1-for-1 desserts | with Maybank Cards
Expires 31 May 2019

Valid from Mondays to Fridays (11:30am-6:00pm)
Address: 68 Orchard Road, #04-67, Plaza Singapura, Singapore 238839
Lantern
Think infinity lap pool and lush greenery when you wine and dine at Lantern. If that's not enough to entice you, the panoramic views of Marina Bay waterfront and Singapore's skyscraper skyline will be hard to beat. Spend the evening after the sun sets in good company, with good music, gourmet snacks and a drinks menu that will have you spoilt for choice. A popular up-and-coming hangout, take in only the good vibes at Lantern.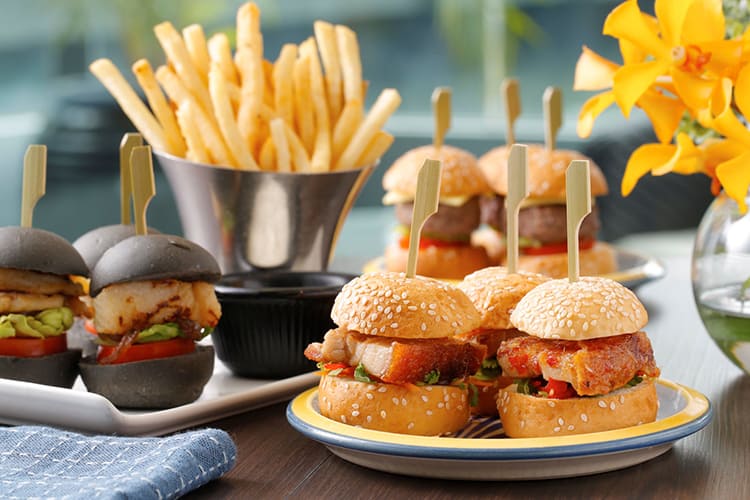 15% off à la carte food bill and housepours | with Maybank Cards
Address: The Fullerton Bay Hotel Singapore, 80 Collyer Quay, Singapore 049326
Window on the Park Restaurant (Holiday Inn Singapore)
At times, it's best to stick with the basics- with what we know and are used to, because they're never going to let us down. The Window on the Park Restaurant offers a large variety of dishes, mostly Asian inspired. They specialise in seafood and local favourites that are sure to make you happy to be here in Singapore. If you'd like to go on a date with a special someone or good friend, now's the time because the Window on the Park Restaurant is partnering with Maybank Cards in order to give you some exclusive promotions.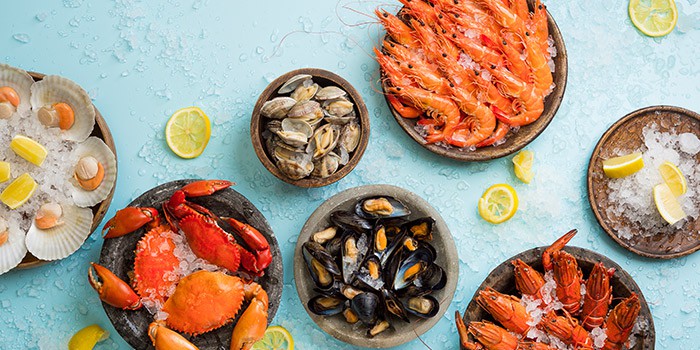 Promotion: 1-for-1 Daily Lunch/Dinner Buffet | with Maybank Cards
Expires 30 September 2018

View Promo Details
Locations: 11 Cavenagh Road Singapore Orchard City Centre Singapore 229616
Azur, Crowne Plaza Changi Airport
Azur is an award-winning halal buffet restaurant at Crowne Plaza Changi Airport. With a contemporary 'cooking theatre' concept, you can watch your food being skillfully prepared using the finest and freshest ingredients available.
Featuring a scrumptious spread from Singapore and around the region, you can expect fresh cuts of premium meat, fresh seafood on ice as well as international dishes such as Japanese sushi and a dessert table filled with gorgeous cakes, warm chocolate pudding and many Asian sweet treats.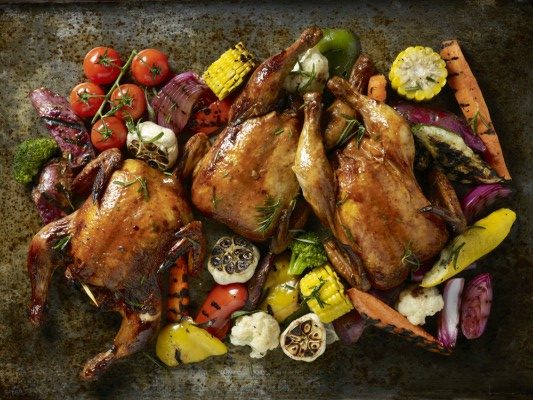 Promotion: Early Bird Promotion – 25% off Festive Buffet (1 to 15 December 2018) | with Maybank Cards
Promotion: 20% off Festive Buffet (16 to 23 December 2018) | with Maybank Cards | with Maybank Cards
Locations: 75 Airport Boulevard, Singapore
Waterfall Lounge, Furama RiverFront Singapore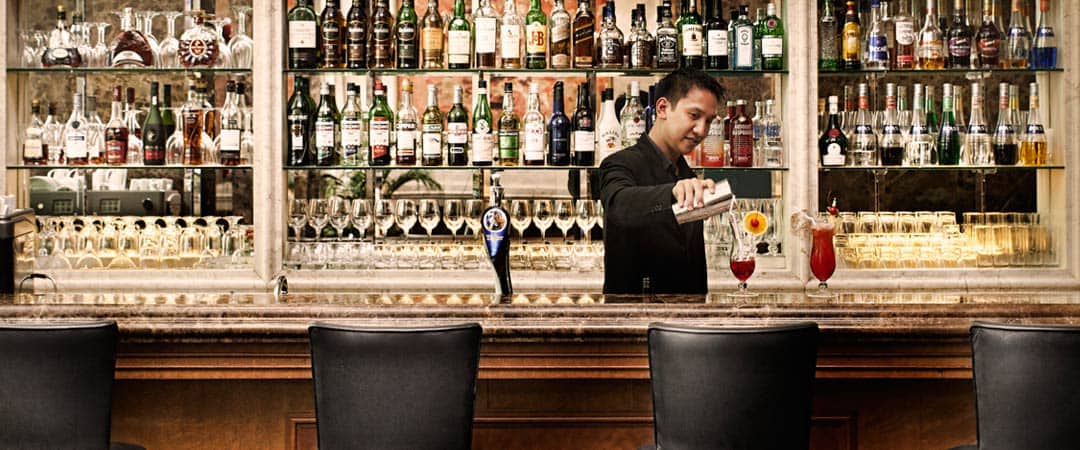 The Furama RiverFront Singapore doesn't only offer delicious dishes, they also serve coffee and cocktails for diners to relax with a 20ft waterfall set in the background. This is a perfect place to unwind and chill with friends and loved ones. What's more, with a UOB card, you are entitled to a 1-for-1 promotion on house pour beverages all day. Now that's an excellent reason to start on drinks before dinner!
Promotion: 20% off à la carte total bill | with Maybank Cards
Expires 31 March 2019

More info
Promotion: Complimentary one glass of Tiger Beer during birthday monthwith minimum 2 guests
Address: 405 Havelock Road, Singapore 169633