Last Updated:
If you haven't heard, there is a new kid in town. And we're pretty excited about it.
Introducing Mileslife, a new app in Singapore that helps you earn extra miles when you transact with Mileslife's merchant partners and make payment through Mileslife's app. Current partners with Mileslife including popular F&B brands such as Harry's and hotels like Shangri-La Hotel Singapore. If you're headed to any of these places, don't miss out on the opportunity to earn extra miles when you pay with the Mileslife app. You can even earn up to 5 miles per S$1! Keep an eye on the list of merchant partners, because the list is expected to expand.
Currently, Mileslife has 12 airline loyalty programmes they partner with, giving you ample options to choose where to chalk up your miles in. On top of using a travel-centric credit card to accumulate your miles, such as the American Express Singapore Airlines Krisflyer Credit Card, if you're a frequent flyer, this will definitely be beneficial for you as you can credit the miles you earn through Mileslife to any of the airline loyalty programmes available.
Want to learn how to start earning more miles than what credit cards are offering, so you can offset your next flight cost? Here's a quick guide on the app.
Start earning extra air miles with the Mileslife app
After signing up for an account and adding your credit cards to it, see list of merchants Mileslife is partnered with to make your first transaction.
Transact and make payment via the Mileslife app.

The amount of miles you earn will differ across transactions and merchants, and the miles shown on the app will not include the miles you also earn with the credit card you use.
You will also be given the option to choose the airline loyalty programme you would like to credit your air miles to

Sit back and relax! The air miles you earn through the Mileslife app will be credited to the airline loyalty programme you have selected.
On top of the air miles you earn with the Mileslife app, don't forget about the air miles you earn as per usual when you transact with your credit card. Adding these two components together, you're on the fast track to a free air ticket!

Combine the power of an air miles credit card with Mileslife
If you haven't already had a credit card that is focused on earning air miles, then now is the best time for you to apply for one.
The AMEX Singapore Airlines Krisflyer Credit Card is one of the iconic cards that come to mind when you think of air miles credit cards. The card name explains for itself the type of miles you earn, Krisflyer miles, which should draw you in if you're a frequent customer of our national carrier. You earn 1.1 Krisflyer miles with every S$1 spent, and 2 miles with every S$1 equivalent on foreign currency transactions. A bonus of 5,000 miles is rewarded when you first spend on the card, and another 7,500 miles will be given to you when you spend S$2,500 in the first 3 months upon approval of the card. At the 1.1 miles per S$1 earn rate, you earn 2,750 miles. All these 3 amounts add up to a whopping 15,250 Krisflyer miles if you are able to spend at least S$2,500 during the first 3 months of the card approval!
---
Interested in the AMEX SIA KrisFlyer Credit Card, or perhaps the AMEX SIA KrisFlyer Ascend Credit Card, which has a slightly higher miles earn rate? Read more to find out how the card can help you to offset your next flight ticket.
---
? 

Latest Mileslife Promotions

Earn 1000 bonus miles on your first purchase
Promo Code: 1000MILESCD
Minimum qualifying spend of S$49 is required to receive the 1000 bonus miles.
Valid till 31st December 2018.
Valid for all products in SGD.
Not to be used in conjunction with any other promo codes.
Mileslife T&Cs apply.
All Promo codes are non-transferable, non-refundable and non-exchangeable for cash once they have been credited into your preferred frequent flyer program.
Black Friday Sale: Earn up to 600K miles on Black Friday
Get 4x Miles on all transactions on 24 November 2017 only
Applies for all dining, spa, recreational activities and travel product purchase

Dining: Miles will be credited into your FFP account within 5 working days after your dining payment is completed or your booking is confirmed.
Hotel and ticket purchases: miles will be credited into your FFP account within 5 working days after your booking is confirmed, standard refund policy applies, please refer to deal details for reservation information and any additional information.

Promotion is valid for one user account per merchant per day, including but not limited to the same user account for Mileslife, phone number, email address and Frequent Flyer Program (FFP).
Sign up for a Mileslife account today and download the app for your Android or iPhone to start earning extra miles! Keep an eye on this page as we bring you the latest promotions with Mileslife as soon as they get released!
---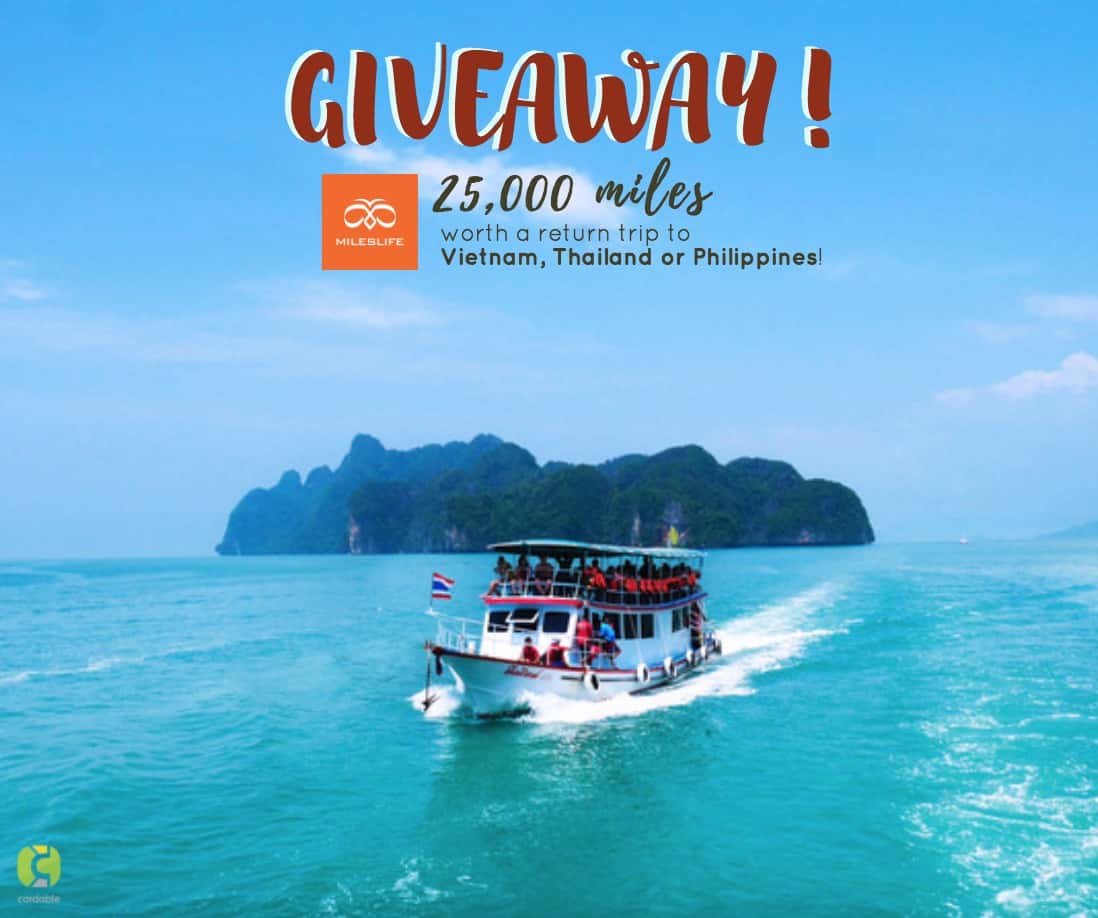 [MILESLIFE x CARDABLE GIVEAWAY] In collaboration with Mileslife, we're giving ONE LUCKY WINNER 25,000 miles, worth an exciting return trip to Vietnam, Thailand or Philippines!
Giveaway runs from 13 to 23 November 2017. Winner will be selected randomly and announced on Facebook on 24 November 2017. Good Luck! Join giveaway here!
---