Last Updated:
Editor's Note: All content and information in this article are accurate as of published time.
---
Calling all MUJI Fans! If you have been missing your favourite MUJI products since the retail stores of this popular Japanese lifestyle brand was temporarily closed in early April when Circuit Breaker started, here's where you can buy your favourite MUJI products now! MUJI is now available as MUJI Official Store on Shopee, and free shipping is also available with a minimum purchase of S$50.
While there's quite an extensive list of MUJI products available – ranging from electronics, stationery, furniture, storage boxes, houseware and more – However, popular products like clothing, accessories and shoes are not available at the moment. Despite that, I'm sure we are all glad that we can now top up our favourite MUJI snacks, drinks and stationery while waiting for its retail stores to be open again!
Apart from MUJI, did you know that there are also many popular brands, well-loved by locals that are available from Shopee Mall too? Yes, they are official stores and you can be assured that its products are 100% authentic! Let's check them out now!
1.

MUJI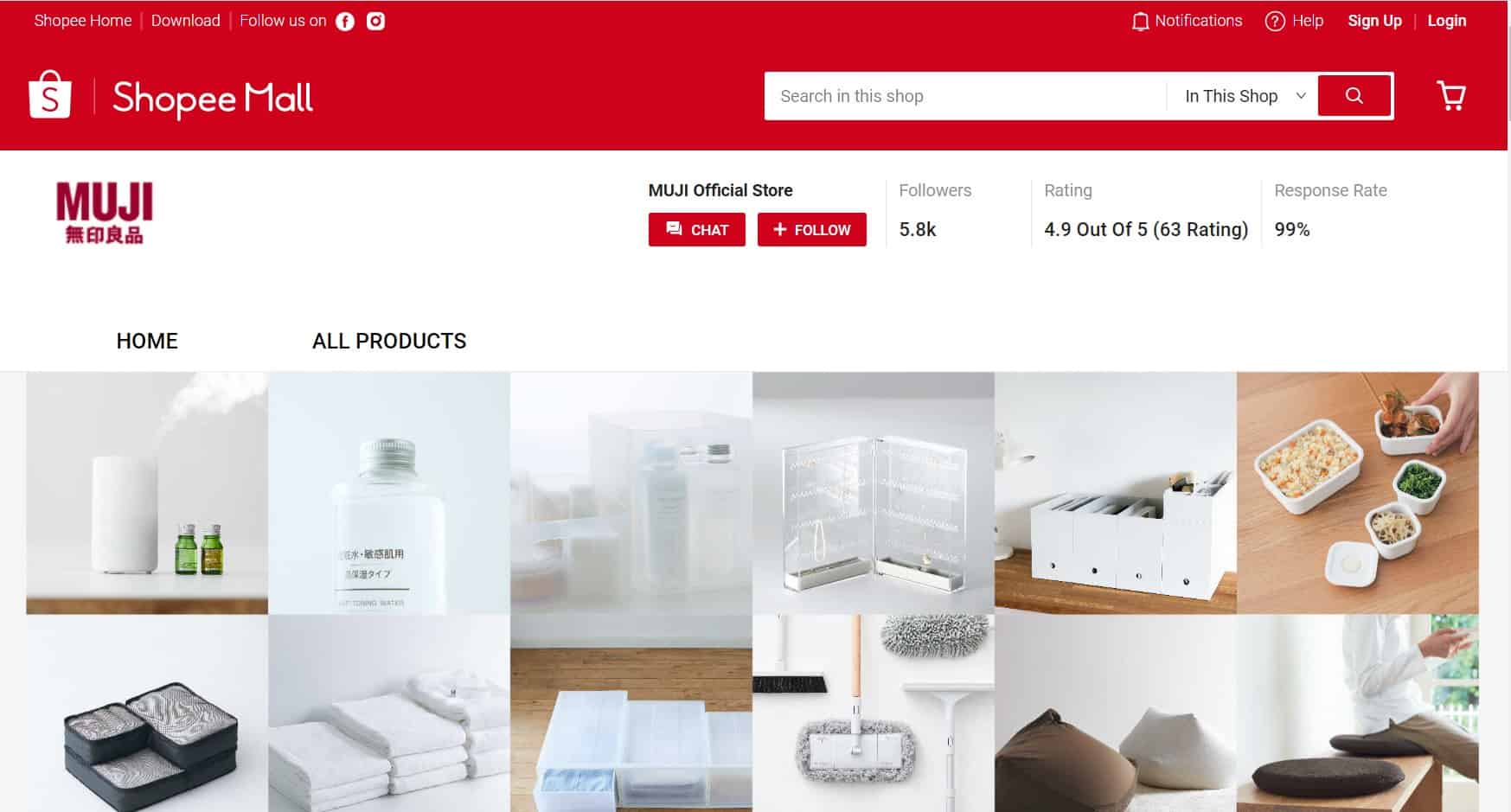 MUJI is well-loved for its minimalist and chic design that runs through all their products. If you are currently on a decluttering spree in all your spare time, you can now order yourself some practical and hardy storage boxes that would come in handy to sort out and organise your barang barang neatly.
One thing from the MUJI Official Store that would be perfect to make your work-from-home days more bearable would be the MUJI Ultrasonic Aroma Diffuser. Perk up your days with refreshing Sweet Orange or simply relax with the familiar scent of Lemongrass. Have your home smelling just like a spa in no time! It's also a good time to top up your stationery with all your favorite gel ball point pens and notebooks for the work-from-home days ahead.
Well, actually the best thing about MUJI being available online now would be its snacks and beverages! Hands up if you love MUJI Fried Rice Cracker Soy Sauce or MUJI Mini Ramen Tom Yam Kung! However, do note that they come in a bundle of 12.
What to buy: Stationery, houseware, storage boxes, snacks, aroma diffuser and essential oils
Shipping: Free shipping on orders over S$50
Promotion: MUJI Official Store launch on 30 & 31 May 2020 | First 100 customers will be able to redeem a $10 MUJI voucher with a min. spend of $80 with promo code "MUJI10OFF" (T&Cs apply)
2.

ToTT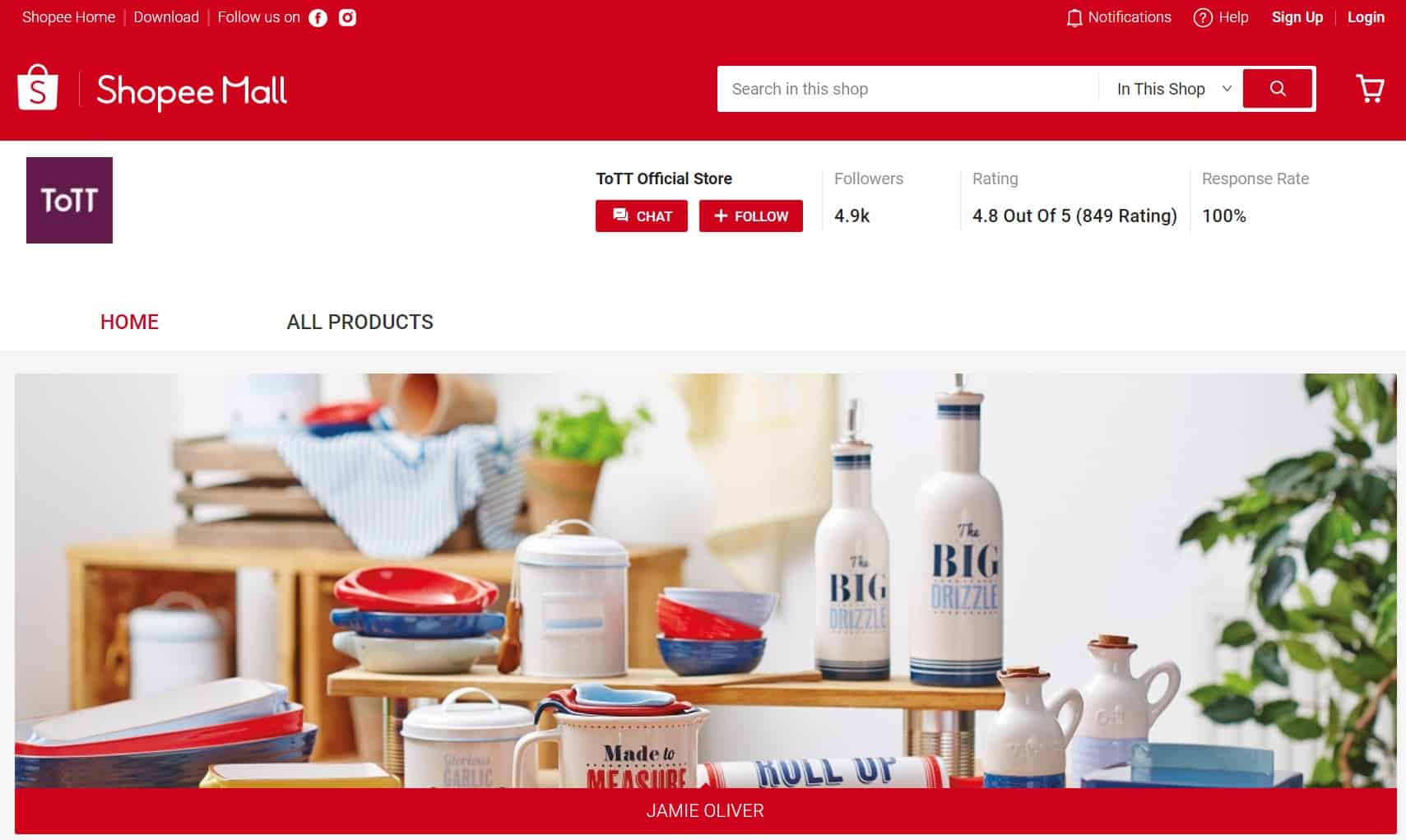 If you have been baking or cooking up a storm in the past few weeks during this #StayHome period, you'll be happy to know that whatever baking or kitchen accessories that you need to get, the ToTT Official Store on Shopee is open for you 24/7! At this "one-stop culinary haven", you can level up your kitchen with new pots and pans, bowls and even handy tools such as this Westmark Digital Cooking Thermometer.
Beat the heat with your own ice-cream using a set of handy ice-cream moulds or splurge on a Cuisinart Frozen Yogurt Ice Cream and Sorbet Maker and enjoy the finest homemade frozen treats! Simply add ingredients to the bowl, press "ON" and the machine does the rest in 20 minutes.
For baking enthusiasts, you'll need to check out the whole range of Nordic Ware Bundt Pans like this beautiful Nordic Ware Jubilee Bundt Pan here. 😍
Other useful items to check out would be the Zebra Stainless Steel Tingkat Smart Lock Food Carrier or a Stasher Reusable Platinum Silicone Sandwich Bag for dabao food days
What to buy: Kitchen accessories and tools, baking ware, resuable tingkat and sandwich bag
Shipping: Free shipping on orders over S$15
3.

Stojo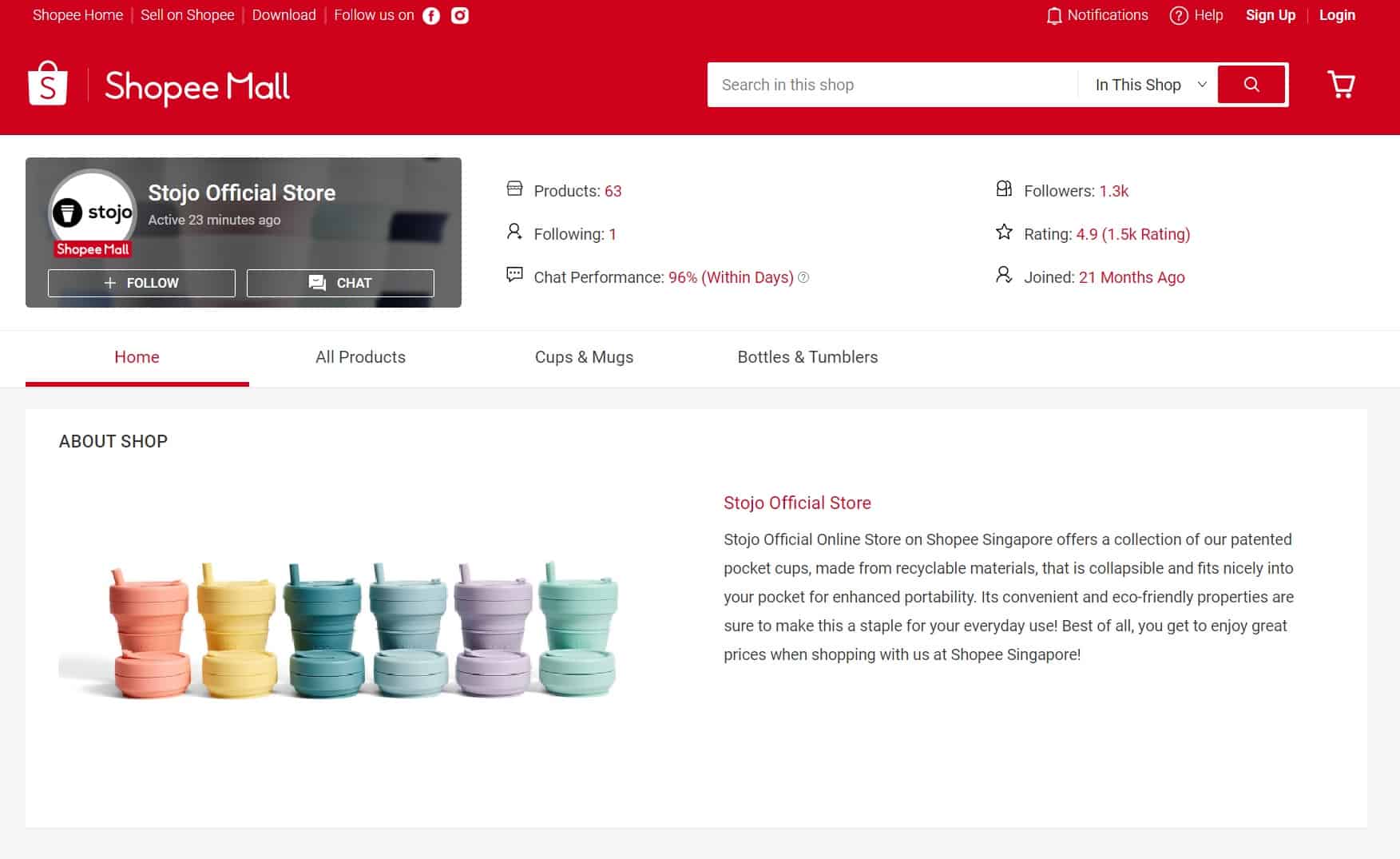 Get your very own pocket reusable cups that come in pretty colours, that is collapsible and even fits nicely into your pocket, making it so much easier to "bring your own cup" whenever you grab a cuppa or drink. Most important, Stojo cups and bottles are BPA free, made with food-grade silicone (LFGB certification), dishwasher-safe, safe with hot and cold, leak-proof and lead-free. Be assured that you are buying an authentic product from the Stojo Official Store here, plus enjoy free shipping on orders over S$25.
Apart from regular collapsible cups, collapsible waterbottles in 20oz (590ml) are now available too! Both designs come in a myriad of colours like Lilac, Sage, Aquamarine, Tribeca Carnation, Seafoam, Mimosa, Eucalyptus, Demin and more – It's really tough to just pick one favourite!
What to buy: Resuable, collapsible pocket-sized cups and waterbottles that are BPA free, leak-proof, lead-free and made with food-grade silicone
Shipping: Free shipping on orders over S$25
4.

Chinta Manis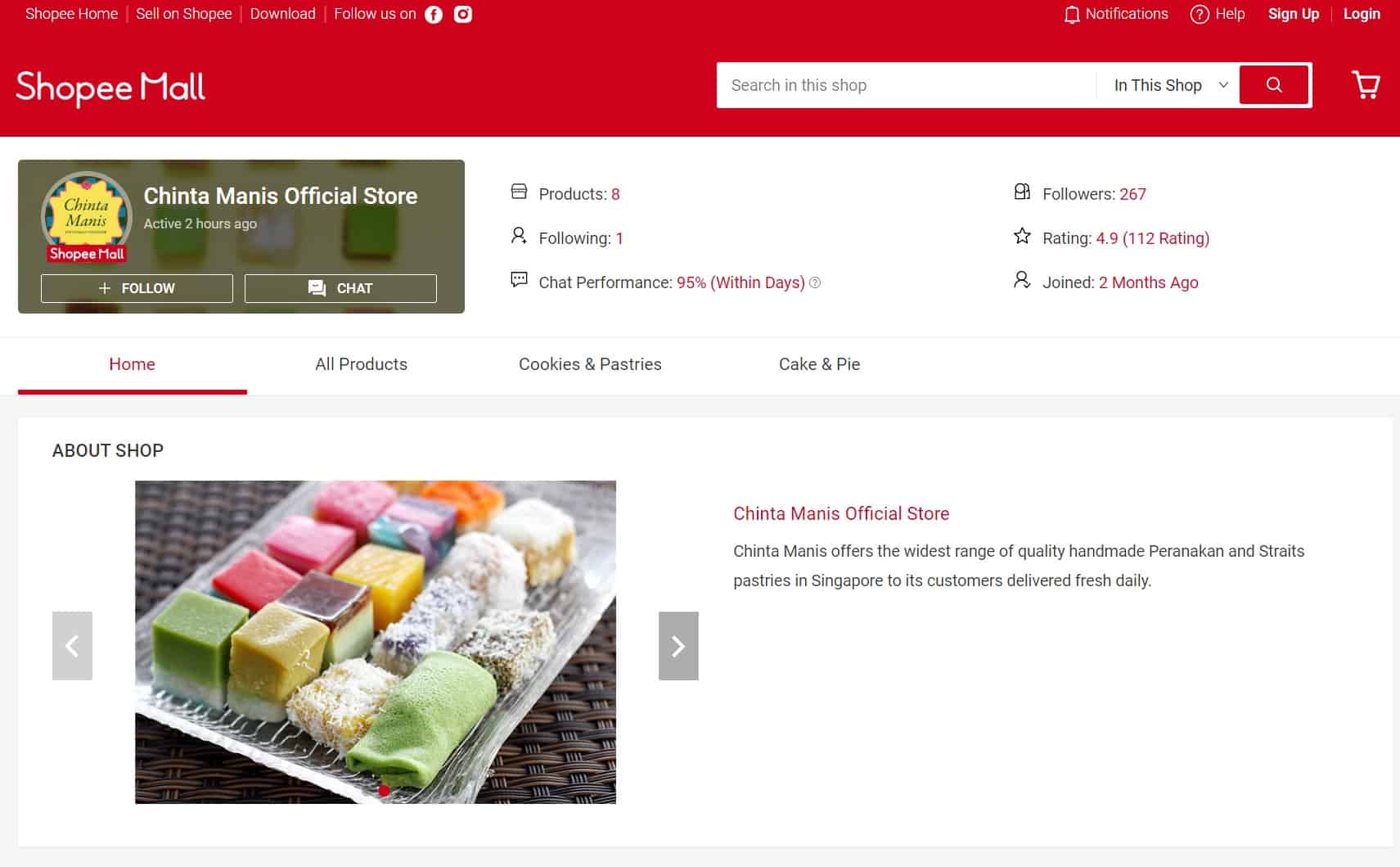 Sweeten your mummy with some delicious kueh kueh from one of the best Peranakan brands in Singapore! At Chinta Manis, all nonya kuehs are handmade fresh and with no preservatives. Now you can get it delivered to your doorstep with the Chinta Manis Official Store! A premium kueh platter comes in 40 pieces. As each nonya kueh is handmade fresh daily, the assortment of kueh will be selected by Chinta Manis. Popular for their Ondeh Ondeh Original, Chendol Agar Agar, Pulut Seri Kaya and Putri Ayu so if you have any favourites, be sure to let them know of your request!
If you prefer cakes over kuehs, check out the Halal Premium Loaf Cakes here that comes in a bundle of four – in Banana, Marble, Chocolate and Butter flavors!
What to buy: Chinta Manis Kueh Platter, Loaf Cakes and Kueh Lapis
Shipping: Free shipping on orders over S$50
5.

Perk Coffee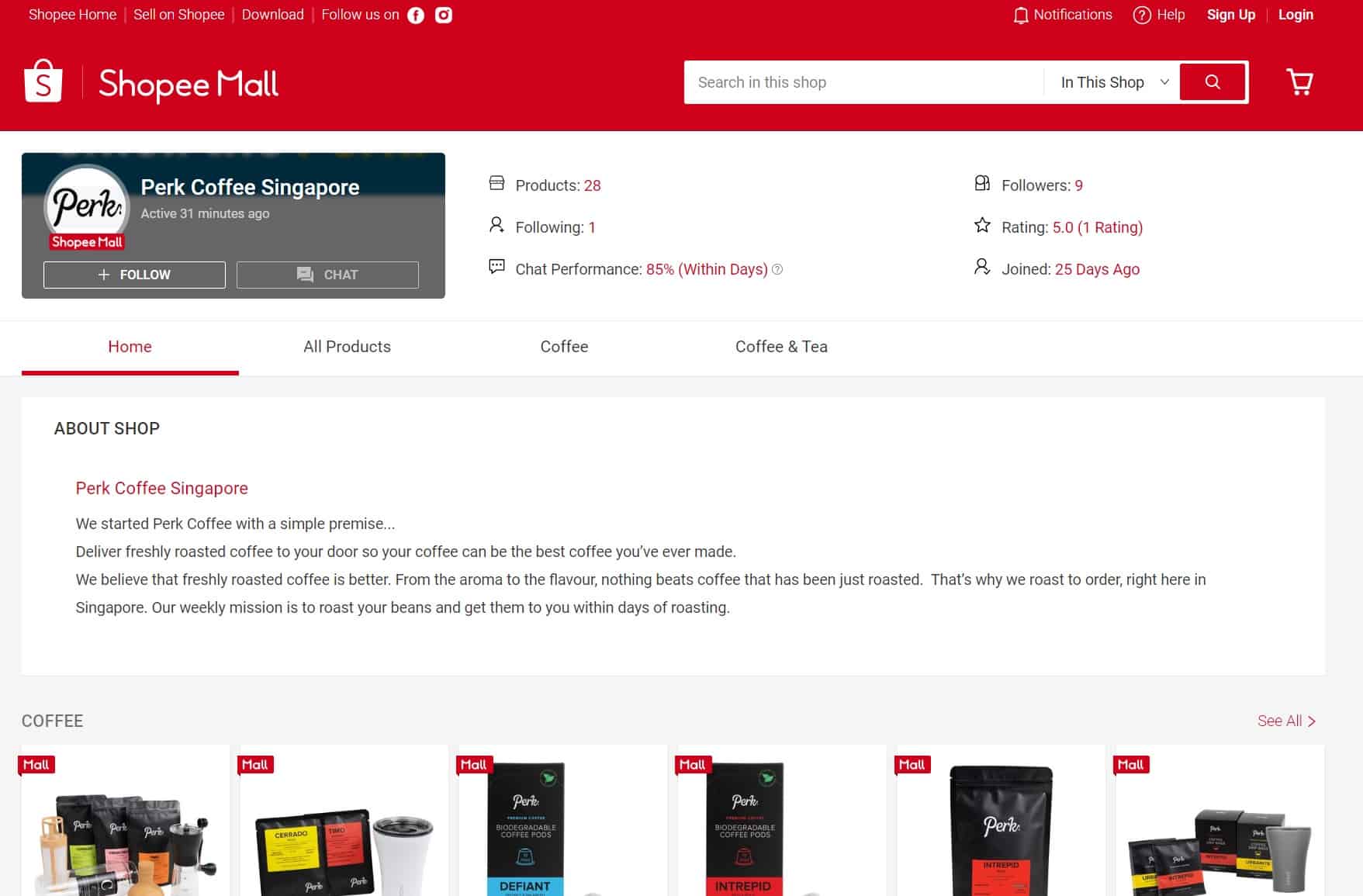 Missing a nice cup of coffee? With Perk Coffee, you can make your work-from-home days a lot better with your very own cup of freshly roasted coffee. Get started with Perk Coffee Official Store's Coffee Taster Pack here that allows you to sample three beautifully unique single origin coffees:
Intrepid (Sumatra / Brazil blend) – taste notes of dark chocolate, almond, bold
Urbanite (Brazil / Colombia blend) – taste notes of chocolaty, nutty, comforting
Maverick (Sumatra / Brazil / Ethiopia blend) – taste notes of dark lemon, hazelnut, walnut & chocolate
You can even try your hand at making a cold brew with Perk Coffee's very own Cold Brew Coffee Bundle that comes with everything you need!
What to buy: Freshly roasted-in-Singapore coffee that comes in drip bags, perk pods (compatible with Nespresso machines) or whole beans
Shipping: Free shipping on orders over S$35
6.

Beauty Emporium (Browhaus)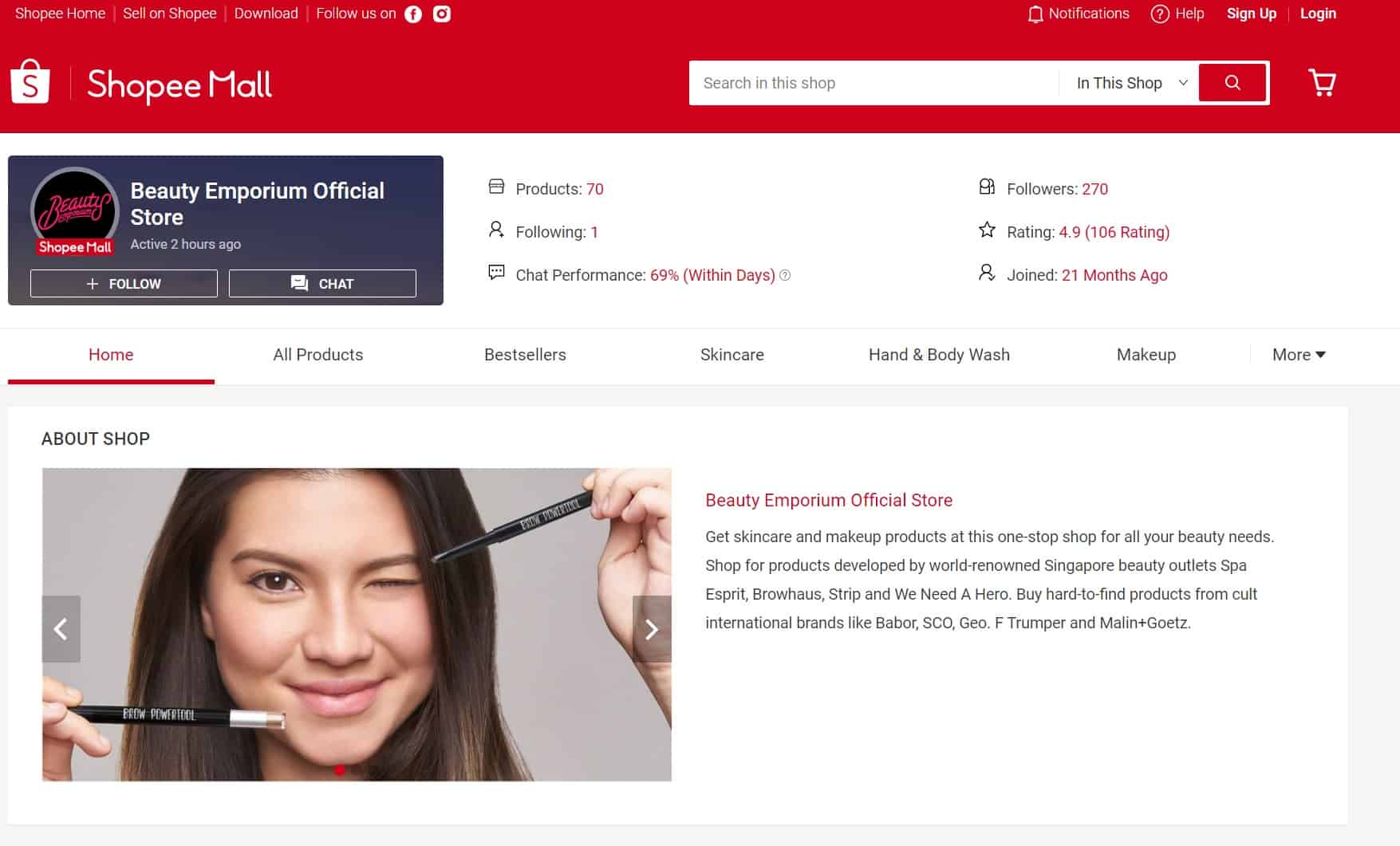 While you might not be able to head to the nearest Browhaus, Strip or Spa Esprit to top-up some of your favourite regular beauty or skincare products, the Beauty Emporium Official Store brings all of these products developed by world-renowned Singapore beauty outlets Spa Esprit, Browhaus, Strip and We Need A Hero right to you. You can also get hard-to-find products from cult international brands like Babor, SCO, Geo. F Trumper and Malin+Goetz!
Support local with exclusive products like the Tiong Bahru Bakery Spearmint Blend Chewing Gum Handwash that is proudly made in Singapore for use at Tiong Bahru Bakery outlets and contains no artificial fragrances or parabens.
If you are looking for something to help you relax and reset, there's the Spa Esprit Plantation Shower Gel Auralite Blend that is known as a "master healer" blend that helps to bring harmony and balance to all your energy centres. Doesn't that sound so good already? Get yours here!
What to buy: Browhaus lashes serum, Malin + Goetz Ingrown Hair Cream, Spa Esprit Shower Gel Blends & more!
Shipping: Free shipping on orders over S$25
7.

Pokémon Store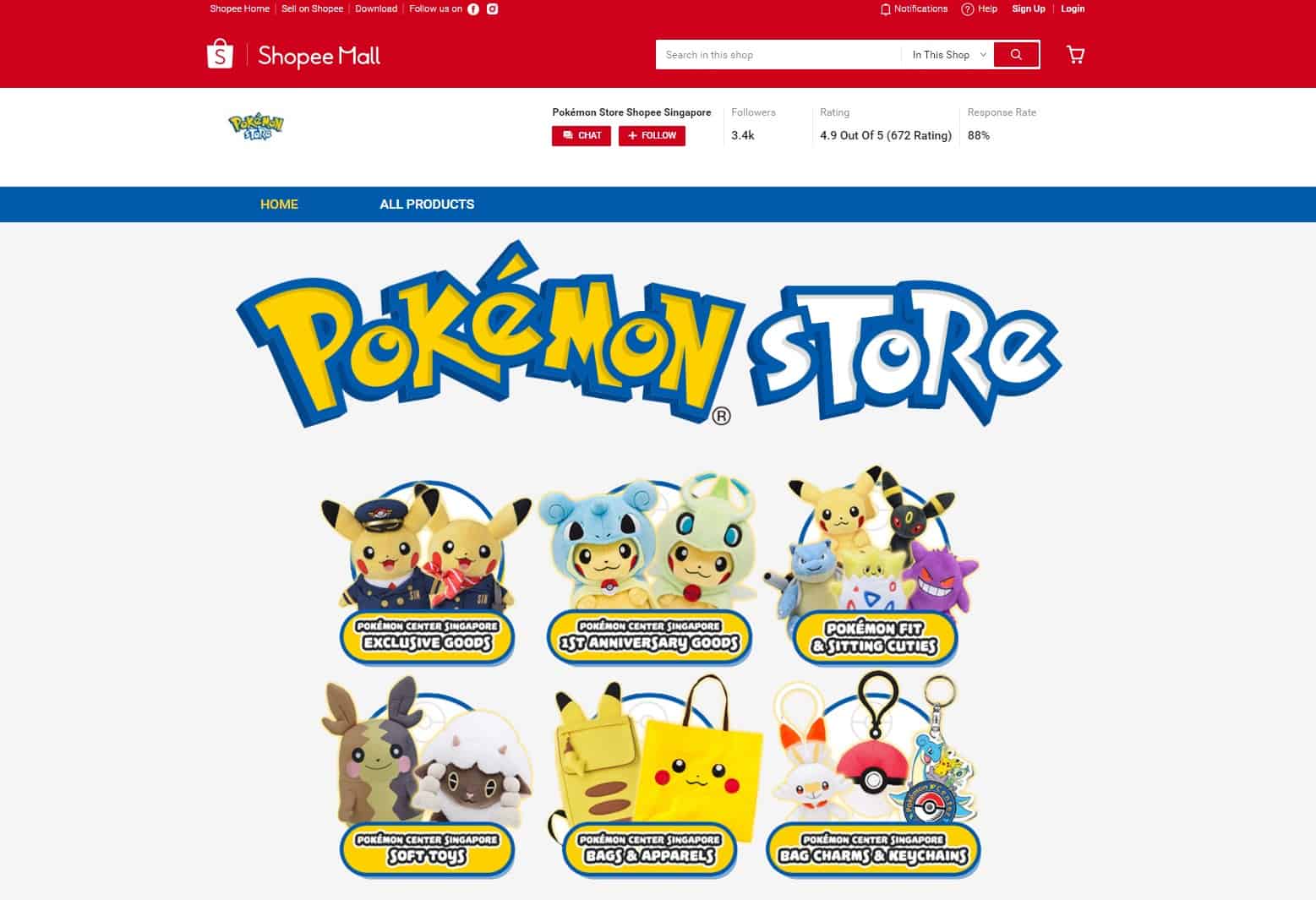 Great news, all Pokémon fans! From July 2020, you can shop the Pokémon Center Original products, including exclusives, on the Official Pokémon Store Shopee Singapore.
From the cutest cuddly Pokémon soft toys, sitting cuties, bags, apparels, accessories like bag charms and keychains as well as stationery, get them delivered free to your home with a minimum spend of S$25 (for a limited time only, T&Cs apply)!
Don't forget to check out the cutest Singapore's Pokémon Center exclusives here!
What to buy:
Shipping: Free shipping on orders over S$25
SHOP OFFICIAL POKEMON STORE NOW!
---
Before you check out your Shopee Cart filled with goodies from these well-loved brands, check out the latest Shopee Discount Code here and even promo codes that can be used with your credit cards!