Last Updated:

THIS ARTICLE WAS WRITTEN IN COLLABORATION WITH KLOOK. FIND OUT MORE AT THE END OF THE ARTICLE.
Heading to Osaka at the end of the year? Well you're in luck! If you're looking to end off the year on a magnificent note, you definitely won't want to miss these countdown parties happening in EXCLUSIVELY in Osaka! Even if you haven't made plans to head to Osaka this end of year, it's definitely not too late to squeeze in a trip!
From spending ringing the bell 108 times for good luck to catching the first sunrise of 2020 on a Ferris Wheel, read on to find out the best places in Osaka to kickstart your new year!
1.

Watch the city light up at the Umeda Sky building

If it's your first time visiting Tokyo, the Umeda Sky building should definitely be on your must visit list! The 173 metre tall building offers one of the best views of the city from its windows and open aired deck. If you're looking for first date ideas, this is definitely one of the best places to bring your crush. Apart from the amazing views, if you head there in the winter it'll definitely be chilly so you can bundle up and share the body heat! To further immortalise your experience there, be sure to purchase a lock and lock it onto the railings of the Umeda Sky Garden!

This new year's eve, the Umeda Sky building is definitely a spot you should camp out at if you want to catch one of the most spectacular light displays in the city! When the clock strikes 12, watch the sky illuminate with the laser light display, taking you into a whole new galaxy.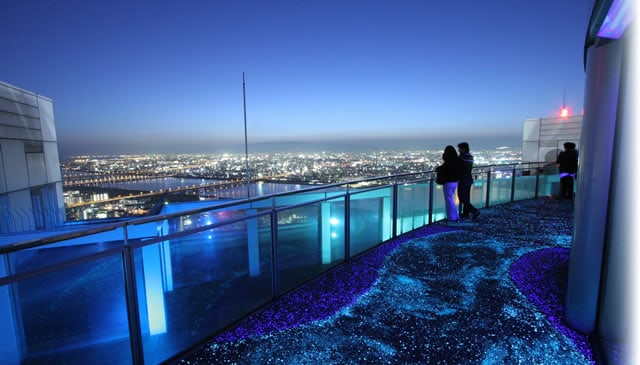 Klook yourself an Osaka Amazing Pass for free entry to the Umeda Sky building and a whole lot of other attractions, plus unlimited transport within Osaka!
Find out more about the Osaka Amazing Pass!
2.

Catch the first sunrise on the HEP Five ferris wheel

Enjoy the scenic flight up to a height of 106 meters and be rewarded with the views of the city from the top on the HEP Five ferris wheel! One of the best places to be as midnight hits on new year's eve would surely be in one of these red gondolas. It's definitely one of the best seats in the house for firework shows all around the city!

Otherwise, be sure to time your visit in time for Hatsuhinode, the first sunrise of the year. The Japanese believe that catching the first sunrise of the year brings one good luck! Watching the sky light up in a rose-tinted orange color as morning comes is for sure to be worth dragging your tired morning faces all the way to the city for!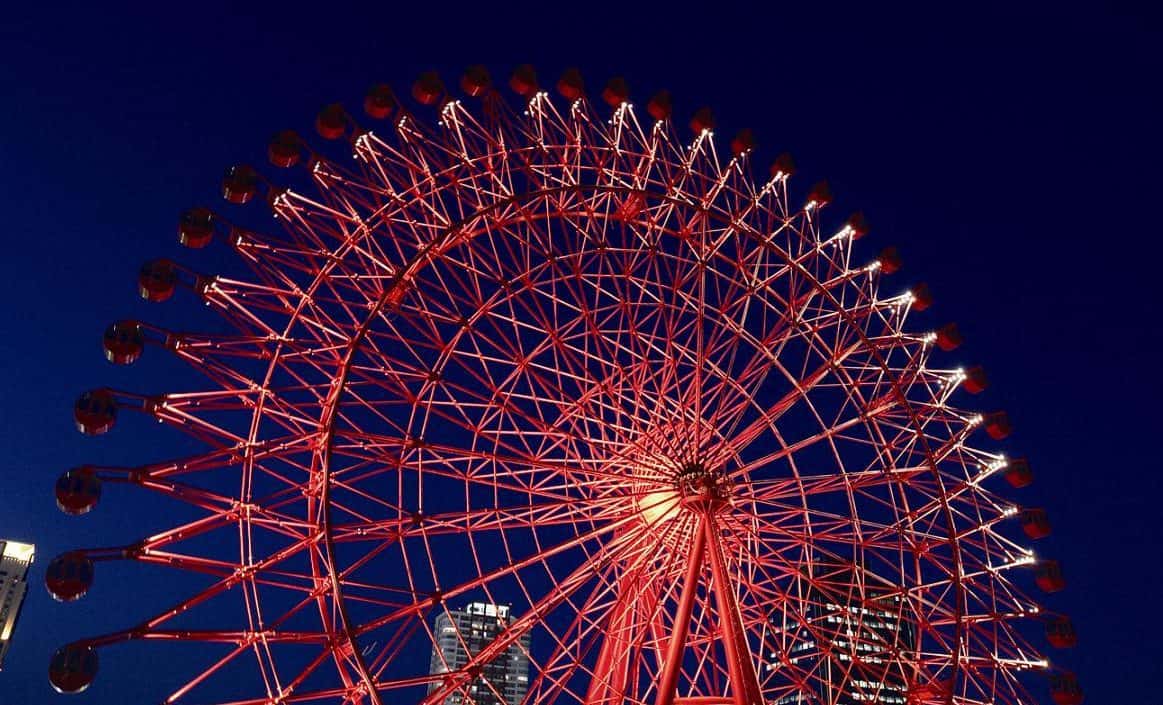 The best part is, if you Klook yourself an Osaka Amazing Pass, you'll get free entry to the HEP Five ferris wheel as well!
Find out more about the Osaka Amazing Pass!
3.

Get yourself a Fukubukuro (lucky bag)

If you've heard of the Black Friday sale, the Fukubukuro is basically the Japanese equivalent. For the uninitiated, a Fukubukuro or a lucky bag, is a sealed shopping bag sold at fixed prices containing all sorts of items! But, the catch is that you won't know what your bag contains until you purchase and open it. This hit or miss affair is definitely a fun experience you should try! (Read also: Luck Bag Roundup)

Items inside a lucky bag often contain more value than what they're being sold for and some of the most popular lucky bags include ones from the Takashimaya Osaka departmental store and everyone's favorites Starbucks, Hello Kitty Store and even Apple. More extravagant gifts include even a chance to drive a train during a package holiday in the Tohoku region.
4.

Play your favorite games till morning comes at Round 1

If catching the fireworks and squeezing with the crowds is just not for you, Round 1 is perfect for just chilling and hanging out with your squad over a bunch of games. This isn't an ordinary gaming arcade – apart from all the video games you can think of, they also have bowling, darts, karaoke rooms, roller skating and team games like soccer and basketball. You'll be so spoiled for choice that you won't know where to begin! Lucky for you, Round 1 is open 24-hours!

Just choose a package of the number of hours you and your friends want to hang there and you're all set! With so many different games to try out, we'd recommend staying all night!

P.S. If you Klook the Osaka Amazing Pass, it comes with TOKU discount coupons that you can use at Round 1 outlets in Osaka. Score!
5.

Experience Hatsumode and wish for the best for the New Year

For the uninitiated, the Japanese have a tradition – hatsumode – where they go to the shrine or temples on the first day of the new year to pray for their safety and health. If you happen to be spending new year in Japan, you should definitely give it a try!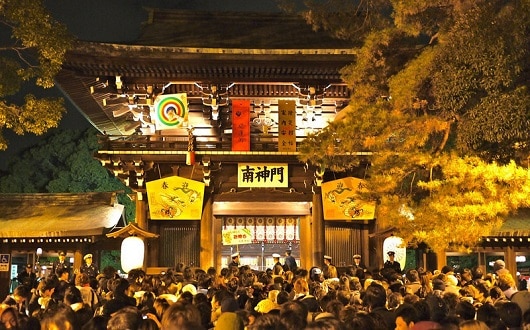 The Sumiyoshi Taisha is known for having lots of visitors during hatsumode, where the first 3 days of the year see over 2 million visitors! The Sumiyoshi Taisha shrine is a good place to get blessings for a successful business and family safety. It is also home to the Omokarushi, a rock that is said to grant one's earnest prayers. Other popular spots also include the Godairiki-san, 3 rocks that grant longevity, luck, strength, wisdom and wealth.
Address: 2 Chome-9-89 Sumiyoshi, Sumiyoshi Ward, Osaka, Osaka Prefecture 558-0045, Japan
Nearest station: Sumiyoshi Taisha Station
6.

Ring in the New Year at Kita-mido Temple

The Japanese have a tradition of ringing the temple bells 108 times as the clock strikes midnight to ensure that they steer clear of the 108 human desires in the coming year. Head to the Kita-mido temple, write your wishes onto a paper lantern and leave it on the steps of the temple before heading inside to ring the bell. Be sure to head there early as only the first 108 people will be allowed in to ring the bell!

Even if you're not one of the first 108, you can still bask in the festivities and catch the Umeda Sky building light and fireworks show from the Kita-mido! It'll definitely be worth standing out in the cold for.
7.

Befriend a friendly seal before the year ends at the Osaka Kaiyukan Aquarium

Head over to the LARGEST dome shaped ceiling tank in the world at the Osaka Kaiyukan Aquarium to catch a glimpse of these cute bubbly seals! Home to over 30,000 species of animals, apart from everyone's favorite manta rays, whale sharks and of course all the different species of fish you can think of there are even amphibians, reptiles and birds!

For a limited time only, head outside to catch the spectacular light show featuring a 20 meter tall whale which will be projected on the building exterior. If you plan on staying till the clock strikes 12, you'll also be in for a treat! We heard that the Tempozan Harbor Village next door also has a pretty exciting light and fireworks show so be sure to stay for that.

Be sure to skip the queues at the ticketing counter with your Klook vouchers! All you need to do is pick up your aquarium ticket from the redemption counters and you're all set for a good time! You'll even get a 500 Yen restaurant coupon for you to buy some munchies if you feel peckish.

Find out more about the Osaka Kaiyukan Aquarium!
8.

Take a day trip to Kyoto, out of the hustle and bustle of the city!

If you don't like the crowds and the bustle of the city, why not head out of the city for a day! Kyoto, located just one hour away from Osaka by train, is a great escape for those who just want to escape the fast-paced city life. Head to the famous Fushimi-Inari shrine to perform your hatsumode and get your Insta-worthy shot in front of the tori gates!

If you plan on heading to Kyoto, be sure to Klook yourself a ICOCA card for all your transport needs. It comes pre-loaded with a value of 1500 Yen and you can just top it up whenever you need!

If you plan on travelling to other Japan cities, Klook yourself a Japan Rail Pass for the ultimate hassle free journey! With unlimited travels on all JR lines, you've got transport covered no matter which city.
9.

Countdown the authentic Japanese way in a kimono!

If you want to truly immerse yourself in the Japanese culture, you definitely need to get yourself a kimono. It's a really rare sight for a man to be clothed in the full kimono set, but on hatsumode, many people dress up as a formal gesture to the shrines.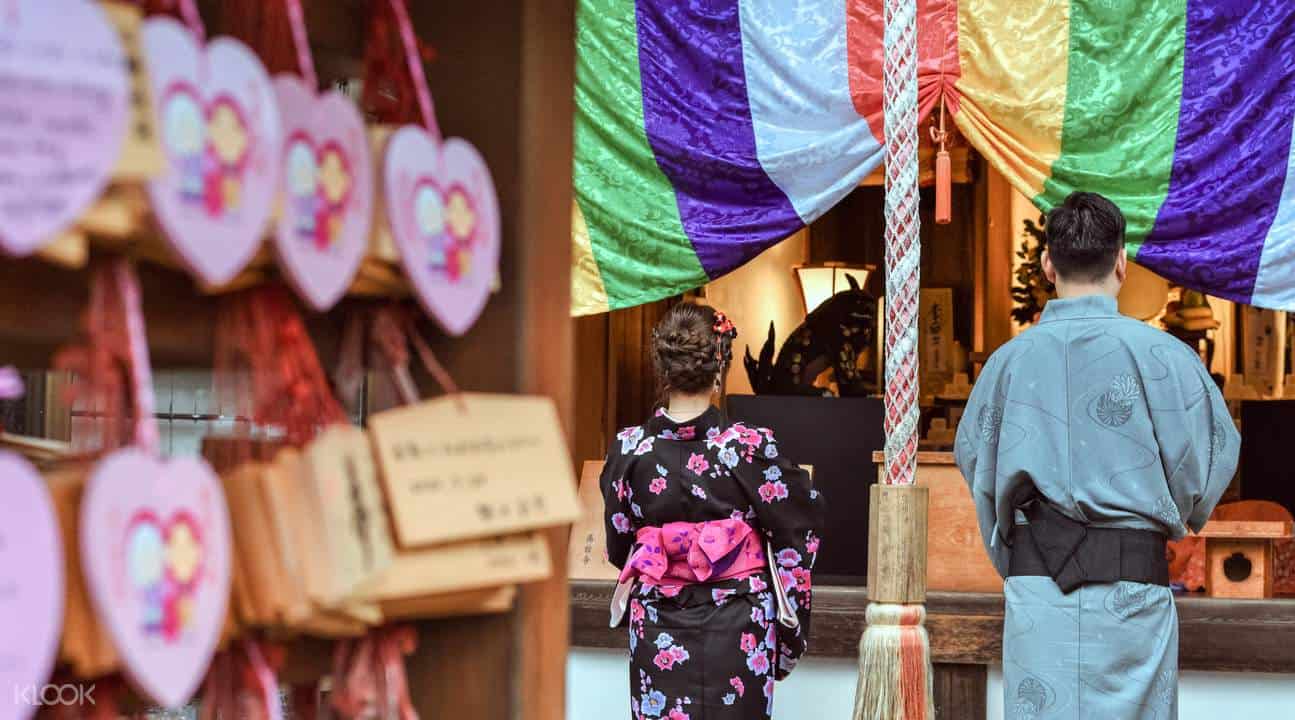 Even if you don't believe in those shrines, just put on a kimono and walk along the cobbled streets of Kyoto! You'll definitely see many photo-ops along the way, and trust us when we say the kimono will really level up those photos.
Find out more about renting a Kimono in Kyoto!
Other Osaka essentials :
Don't forget to pick up a 4G WiFi device for you to stay connected and send out those new year wishes! Plus, if you hate queues, be sure to pick up a USJ express pass to skip those lines at the park! After all, there's so many things to see and so little time!

TIP: Be sure to check out Klook's latest promotions here for some savings before you check out your Klook cart!
---
The world is yours to explore and there is no better way than to discover and book amazing things with KLOOK. With over 6,000 activities across 52 Asian destinations, Klook makes it simple for you to plan your travel itinerary and enjoy everything a destination offers at the best prices. Read more about KLOOK here!