Last Updated:
Within the humid confines of Singapore, there are three categories sweaters are often pegged as: expensive loungewear, an absolute abomination to wear or a savior in the office with freezing aircon. Thick and stuffy with a side helping of scratchy, most people consider sweaters a frumpy wardrobe addition. However, with the right fit and cut, sweaters can be a statement piece for a night out in town or a romantic dinner for two.
Here are our sweater picks for every occasion (yes, including something you can stylishly wear to keep warm in the office).
For A Night Out
It's Friday and you've plans with your gang of friends. A typical night out with them would mean late hours and cramped spaces but not to fret. While a sweater might sound an insane consideration, keeping warm can definitely be très chic!
With a night's worth of gossip and catching up to do over drinks and food, keeping warm whilst looking chic isn't all that difficult a task. Throw on Rosetta Getty's turtleneck poncho (S$1,810.44) for a streamlined look that'll turn heads. The more affordable New Fashion turtleneck knitted poncho (S$25.38) is a close dupe, which can be belted for a polished outfit. A close cousin to the poncho would be New Look's cropped sweater (S$32.30) or Factorie's cropped knitwear (S$29.95). Layering with cropped tops create interesting visual combinations for an otherwise bland outfit all while keeping the chill at bay.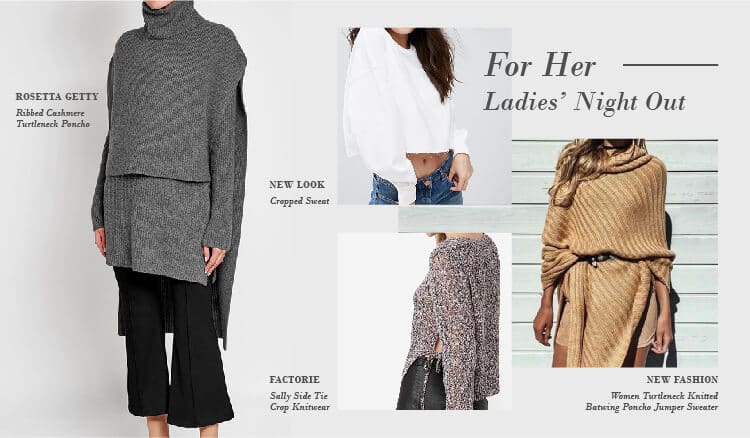 Hanging out with guys in the fun Alexander McQueen number (S$1,598.77) is one way to get the conversation going. Otherwise, Life8's knit sweater (S$60) fits the bill just as well with its preppy detailing. At only S$9.90, Zalora's pullover will cater to those whose minimalistic wardrobe will not take well to its flashy counterpart. D-Struct's distressed sweater (S$37.71) will strike a chord with the grungier lot. With a vast array of sweaters to pick from, there's no reason why comfort and style can't marry for a good time with the boys.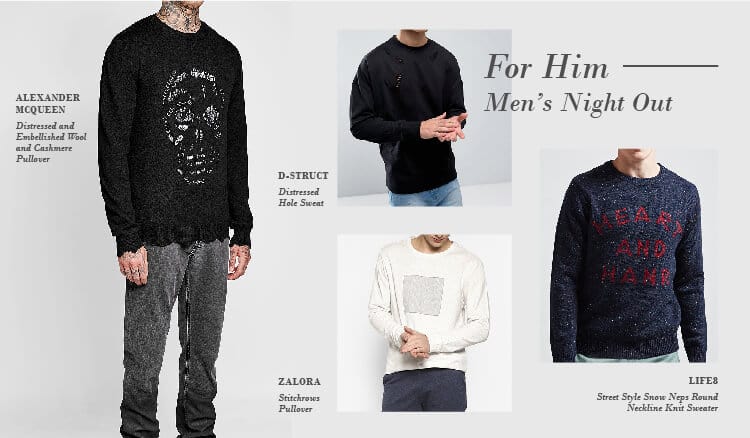 ---
Love online shopping?
ALSO READ: Best Online Shopping Credit Cards in Singapore 2017
---
Dinner for Two
Between dim lighting and tiny food portions, dressing up in a sweater for a candlelit dinner isn't all too farfetched.
Bell sleeves have always been trendy. Feminine and elegant, there isn't a better time to don Jonathan Simkhai's knit top (S$591.72) than a romantic dinner with your significant other. Pairing a pencil skirt or wide-leg pants with its affordable Dorothy Perkins counterpart (S$46.90) will present a stylish ensemble. For a dressier night look, ASOS White's midi dress (S$90.51) stands out with its chiffon detail whilst ASOS' cut out dress (S$38.79) is a bright option for the ladies who's looking for a little something more with a little something less. This LOST Ink's tie-waist sweater dress (S$52.90) from Zalora is also a great option and great for a chic office-to-dinner look.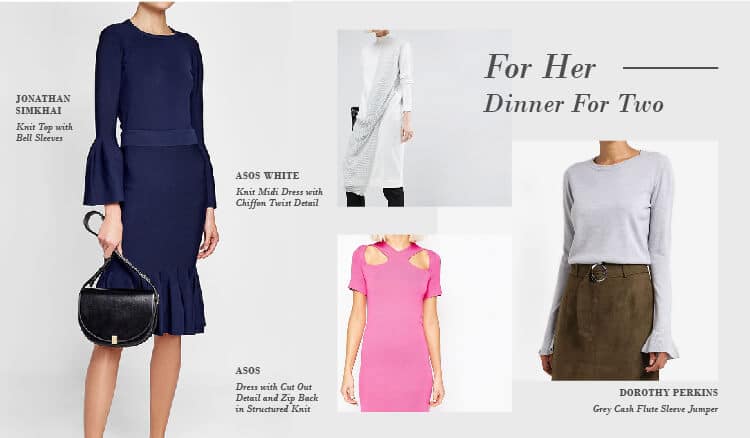 For the gentlemen, heavy textures give sweaters a luxurious finish, which makes the Rick Owens pullover (S$976.58) the perfect wear for dinner with that special someone. If mohair and merino wool isn't up your alley, Life8's crisp sweater (S$60) would make a fine stand-in pulled over a well-tailored shirt. For the less adventurous, fret not! Longline sweaters such as ASOS' knitted jumper (S$44.18) and !Solid's Edmond jumper (S$27.90 – out of stock) are perfect substitutes. Longer than most sweaters, they elongate the torso, producing a sleeker silhouette. A great alternative is the !Solid Kameron Geo Knit Sweater (S$61.90) from Zalora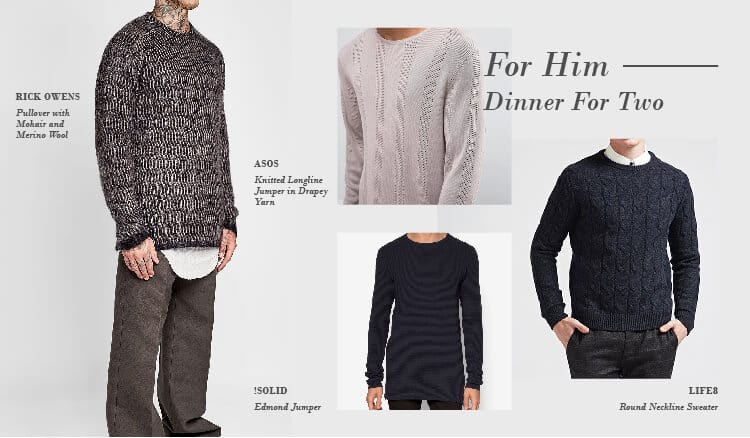 Work Uniform
Finding the perfect balance between professional and comfort can be trickier than most would let on. With the right material and cut, you can easily find a suitable sweater to wear in the office without feeling underdressed.
With Joseph's cashmere pullover (S$315.91), it is the epitome of professional chic with its soft lines and elegant ribbon fastening. If ribbons aren't your thing, strut into the office with Mango's ruffled sweater (S$29.90). If you're constantly out and about, you'll find the frilly short sleeved Lost Ink knitted t-shirt (S$107.75) or Y.A.S knit top (S$96.98) to be a better fit.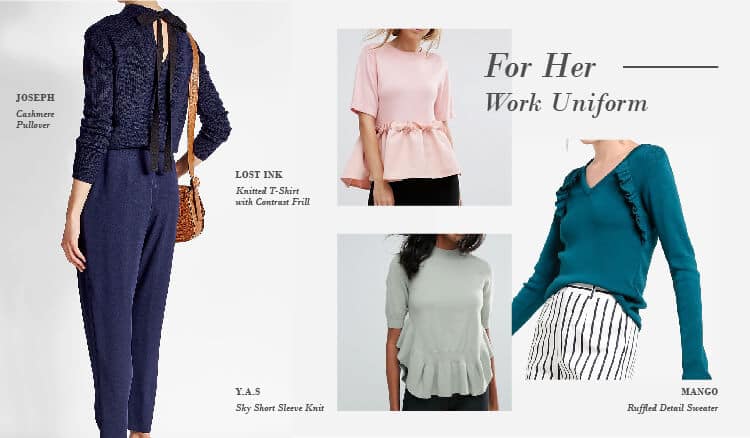 For the guys, elbow patches cannot get any more luxurious than with Burberry's pullover (S$482.68). If elbow patches are too passé for your liking, why not opt for Life8's embroidery sweater (S$66) with its subtle youthful adornments? For those sick of stifling crew necks, Mango Man's (S$43.08) and River Island's (S$47.41) knitted polos are options you can consider. One thing's for sure—office meetings will never be the same again.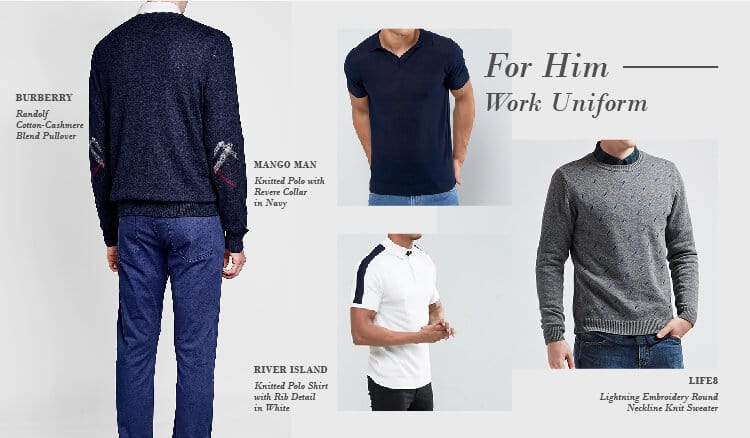 With sweaters being made from a variety of materials and cut into differing silhouettes, there's definitely one for everyone for every occasion. No longer limited to loungewear or scratchy fabrics, you're bound to find an ideal piece to add to your wardrobe in no time.
All the items above can be found on STYLEBOP, ASOS, Zalora or Lazada. Prices are accurate as of published time. 
---
Fact bite: HSBC Revolution Card allows you to earn 5 times more reward points on dining, entertainment and online shopping.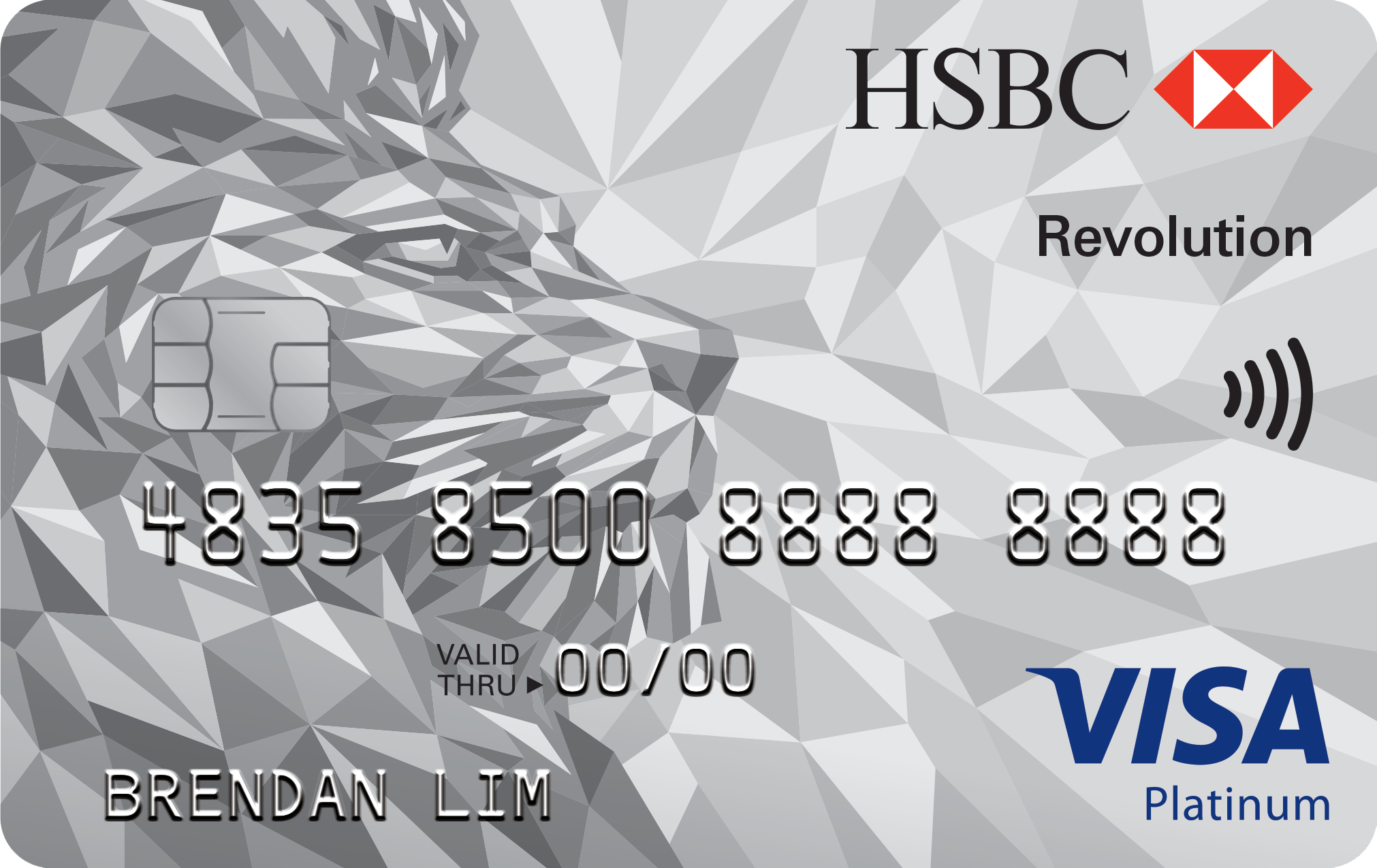 HSBC Revolution Card
Sign up to get a Free luggage or S$120 cashback!