Last Updated:
💭 Doesn't it feel like a dream to be able to "buy now, pay later"? After all, that is the basis of how a credit card works and we all know how much we love swiping our cards! The simple idea behind credit cards is to allow people who may not be able to afford to make a large sum of payment upfront but is able to repay in forms of installments. Well, this payment concept is now not only limited to credit cards and physical stores.
Homegrown fintech startup, Rely.sg is introducing a new way to pay for your shopping online. Building on the "buy now, pay later" concept, Rely is providing a service that shoppers can use to split the payment for their purchases into 3 equal monthly payments. You'll be able to make payment with debit cards too, which opens up a whole new payment avenue for users like us. With e-commerce on the rise, it is the perfect time for Rely.sg to launch installment payments for online shoppers too instead of just limiting the option to retail stores.

This transparent payment option by Rely SG removes the implications of compound interest and hidden fees. Instead, Rely benefits from customers paying their orders in full and on time so it's works out to be a win-win situation!
⚠️ Editor's Note: While it is extremely tempting to start on an endless shopping spree, remember to only spend what you can afford to pay back. Spending responsibly today goes a long way. 🙂
---
PARTNERSHIP WITH QOO10
Rely SG has partnered up with popular online marketplace Qoo10, to offer us an even more convenient way to shop online! No more headaches on how you're going to pay off that beautiful TV that you've longed for.
Qoo10 shoppers, take note! All you need to do is link up your Visa or Mastercard debit or credit card to your Qoo10 account and your purchases will be split into three equal monthly payments with Rely's API Integration on the Qoo10 platform. This will definitely give shoppers the confidence to make the purchase and also manage their personal finances better.
It's time to bring out your cards, the Rely x Qoo10 service is live on site and ready to use! To mark the launch of the partnership, the first 500 Qoo10 shoppers who uses Rely.sg's "Buy Now Pay Later" service at checkout are entitled to a S$10 coupon that can be used with a minimum spending of S$25! Oh, did I mention that there is ZERO interest on the installment plans? Count me in, I'm heading over to Qoo10 right now!
RELY x QOO10: HOW DOES IT REALLY WORK?
Shop on Qoo10 as you would normally do. Now, Qoo10 has a wide array of items to choose from, such as women's fashion, beauty products and even travel tour packages! One of my most favourite aspects of shopping on Qoo10 is that it gives me a strong sense of security coupled with various flexible payment options such as Rely.sg's "buy now, pay later"!
Step 1
Add items to shopping cart
Step 2
After you've filled your shopping cart to the brim, cart out your items, click on your "Cart" when you're ready to check out! Confirm the price of items that you've purchased, and also take note of the Shipping rate. Click on "Place Order when you're ready to make payment.
Step 3
With Rely.sg's API Integration with Qoo10, choosing to pay with Rely is easy. Under Payment Information, you'll see the different options of payment methods. Choose "Rely (Buy now Pay Later) and then click on "Order Now".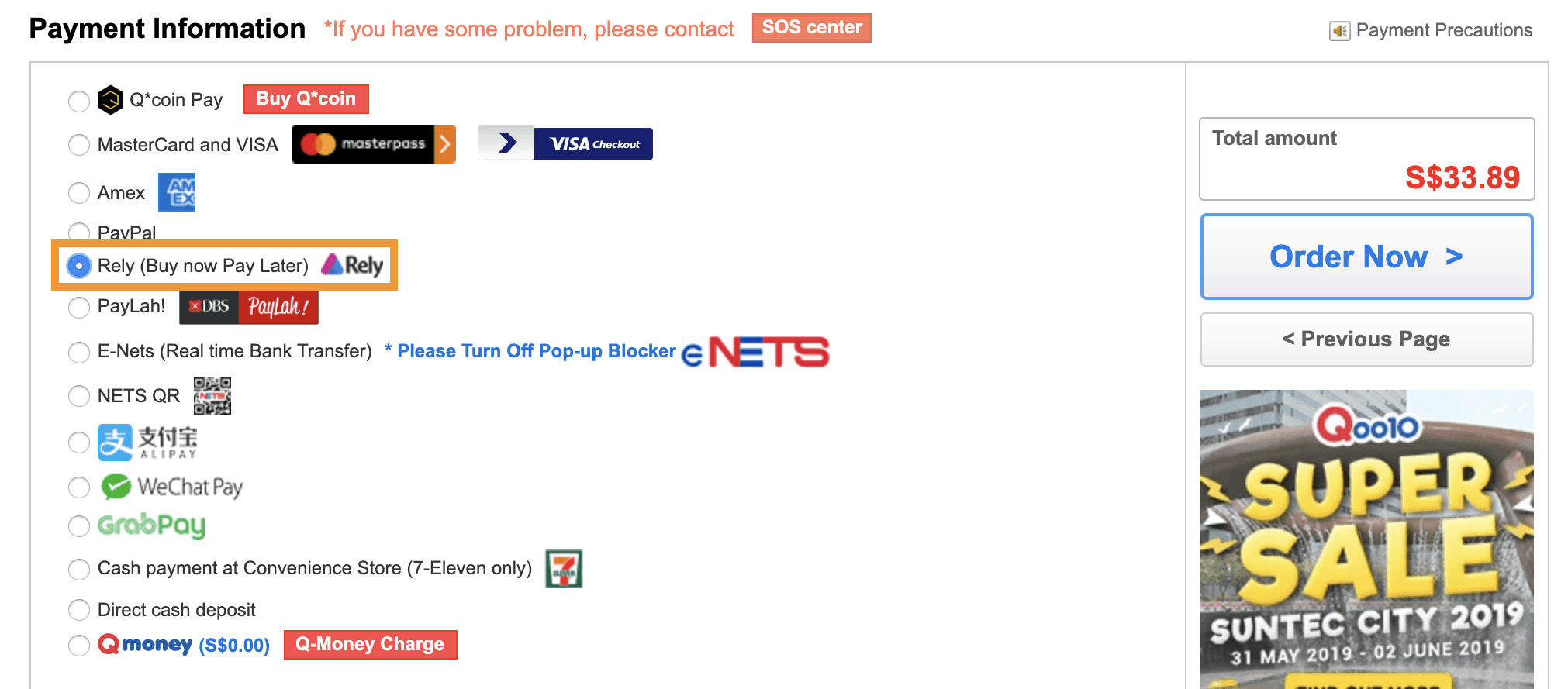 Step 4
Next, you'll be directed to Rely.sg's website via a pop up. All that's left is to create an account on Rely.sg and link up your credit or debit card! Once that is done, there will be a breakdown of what you'll have to pay now, and when your next payment is due. Voila, you're done! That's really an online installment payment plan made simple!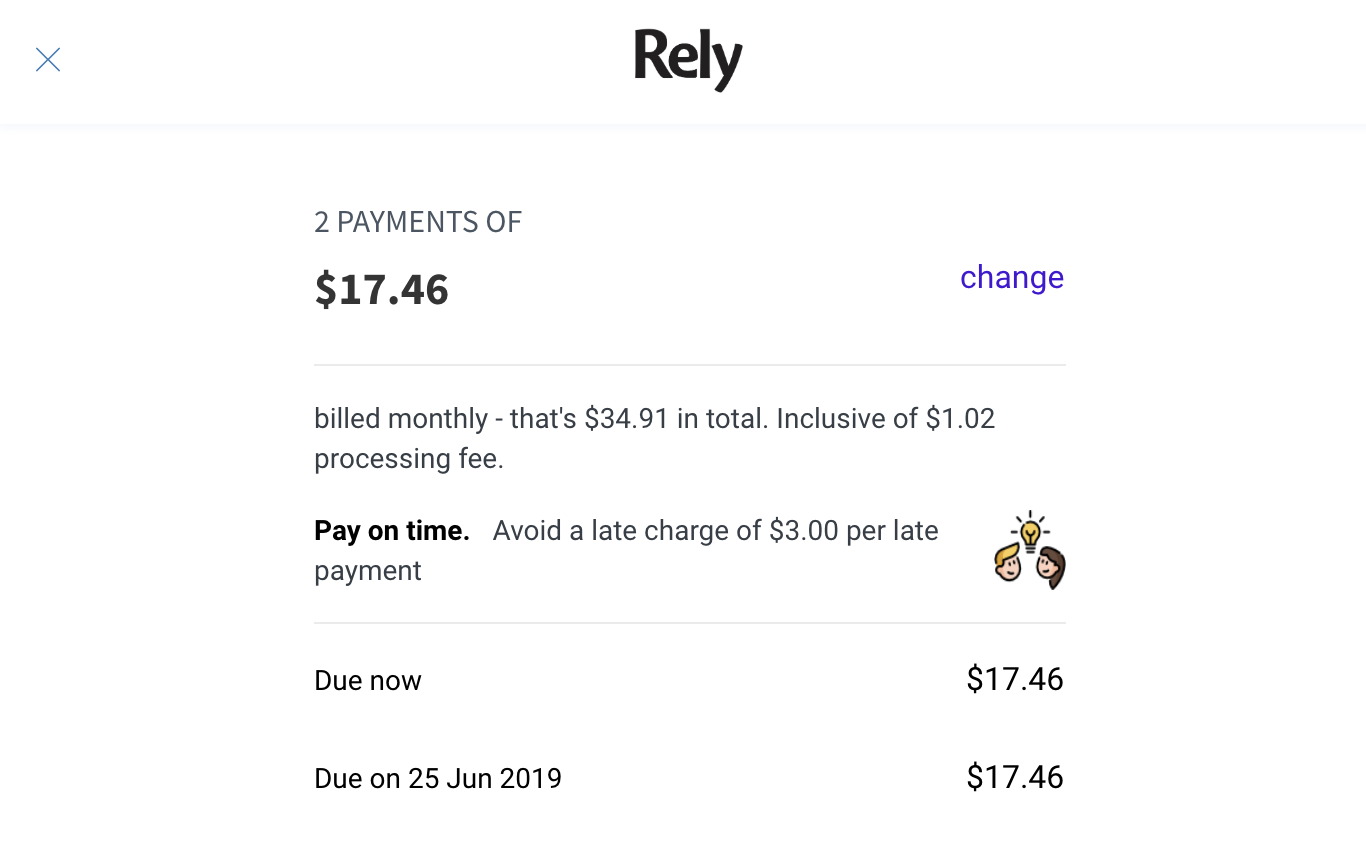 OTHER ONLINE STORES WITH RELY SG PAYMENT OPTION
Zalora, Zilingo, Hermo, Ohvola, HipVan, Little Baby are some other online stores that you can shop at to utilise this payment option! However, for these brands, you'll need to shop via the Rely platform here instead with these steps. We'll use Zalora as an example.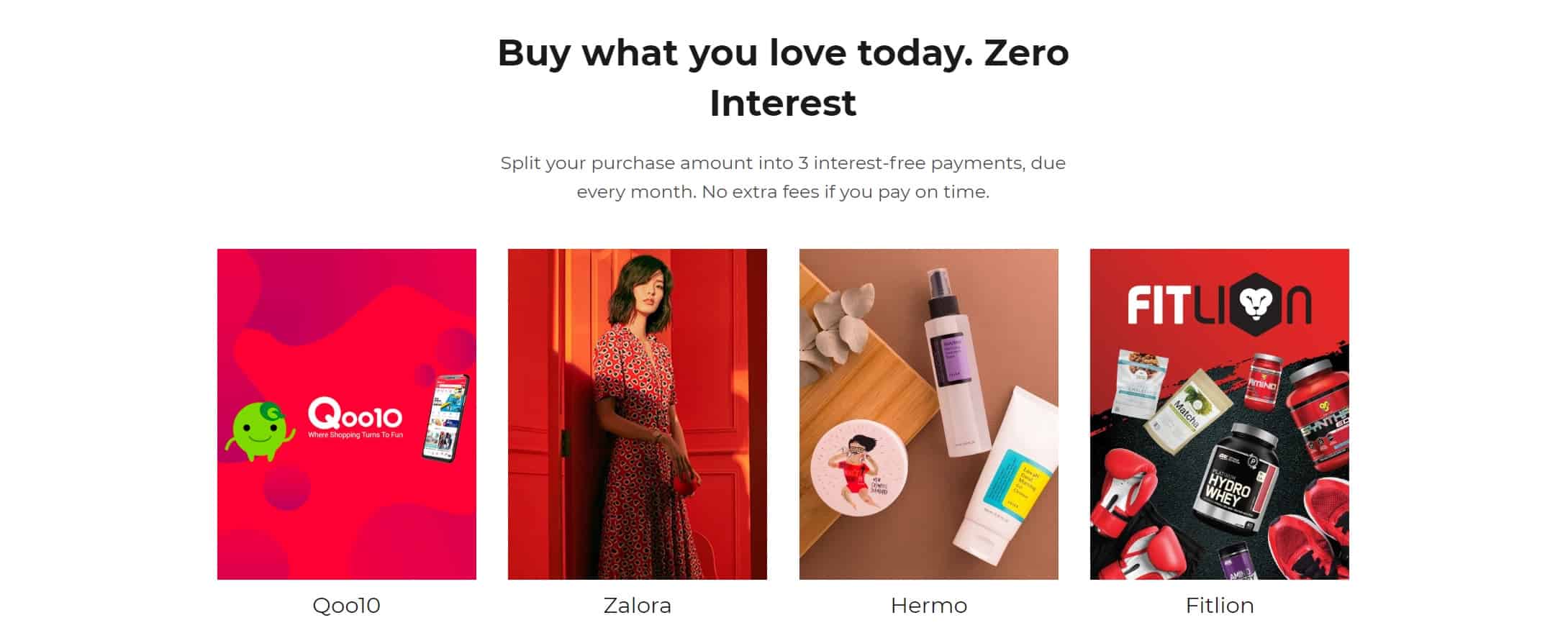 Step 1: Take a screenshot
Upload a screenshot of your shopping cart to let Rely know what you wish to purchase from Zalora
Step 2: Place order
Place your order with Rely to split your total purchase amount into 3 interest-free payments. Make the first payment today and the rest later.
Step 3: Receive your order
Your order will be processed within 1 working day and you can track your order on Zalora
IT'S SO EASY TO 'RELY' ON THEM
I've tried it personally myself, and wow, I must say I was amazed with how seamless the integration is and it really enhanced the whole user experience! The account took me less than 1 minute to create and inputting my credit card information was a breeze. To top it all off, my favourite part of the whole experience is that I get to choose whether I want to make 2 payments or 3 payments depending on my spending habits. If you are wondering how to be eligible for Rely's installment payment system, these are the few criteria that you must fulfill:
You must be over 21 years old

You must be a Singapore Citizen or Permanent Resident

Use a Singapore-issued debit card

Have a valid mobile number and email
According to Hizam Ismail, Rely's CEO and co-founder, this service is targeted to suit the needs and lifestyle of younger shoppers in Singapore. The idea came when he noticed online shoppers are mainly millennials and will dominate the consumer markets over the next few years. The fintech firm is actively on the look out to partner with more fashion and beauty retailers to expand its 'Buy Now Pay Later' service.
Have you tried this mode of payment? How do you like it? Share your experience with us in the comments below!
---
Looking for Qoo10, Zalora, Zilingo or even Ohvola promo codes? 🤭 You are at the right place! Get them all here at Cardable!