Last Updated:
We're back with another comparison of credit cards and this time on cash backs cards! This time we're comparing between OCBC 365, UOB One (cash rebates card) and Citibank Dividend. We've decided to add our own review and comments as well after hearing your feedback.
These 3 credit cards are well known for their cash backs or cash rebates, helping their card holders offset many purchases.
However, there are nuances and differences. We present them to you in an unbiased manner, for you to make your own choice. Which is the right one for you?
If you're still clueless even after reading this blog post, or perhaps you'd like to calculate exactly how much cash backs you'd received based on your usual spending habits – check out our Card Recommendation Tool on our homepage that matches people to suitable credit cards based on their income, preferences and spending habits.
Here are the categories for comparisons: Cash backs/rebates, Dining, Petrol, Shopping, Groceries, Miscellaneous, Other benefits, Fees and Charges, Eligibility, Things you may not know.
Long post ahead! We wanted to make it more comprehensive for you, while highlighting some of the key benefits of the cash back cards and things to take note of.
Final Reviews on Cash Back Cards
OCBC 365 Credit Card
APPLY NOW
Although cash back rates on Petrol (5%), Groceries (3%) and Dining (3-6%) are lower than that of Citibank Dividend card, it has higher cash back rates on other categories such as Telco, and 0.3% cash back on all spend.
The min. spend is at $600, which is lower than that of the other 2 cards, but it is something to consider. Otherwise, only a measly 0.3% cash backs will be awarded.
Another minor drawback is the difficulty in calculating the total cash back earnings due to the different percentages in different categories (0.3%, 3%, 5%, 6%, etc).
This card will be good for those who are confident of spending $600 a month and also perhaps for those who spend widely in different areas and those who are fully aware that they will be able to maximise the cash backs ($80 a month) even without calculations.
UOB One Card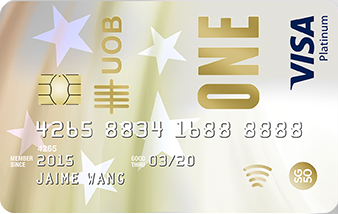 APPLY NOW
This card has very high rebates of 5% on all spend and additional 20% SMART$ rebates making it indeed one of the most generous rebate card. However, you should probably check out the SMART$ outlets to see if they are places that you'd frequent in order for you to maximise those rebates.
The impressive benefits of the UOB One Card come with a hefty price, however – a minimum spending of $2,000 per month for 3 consecutive months.
If you're unable to make such expenditure charges to your credit card, you'll still be able to enjoy 3.33% rebates on all spend instead of 5% as well as additional SMART$, which is generally higher than the other 2 cards' cash backs on miscellaneous/other spend.
Furthermore, there isn't a maximum amount of cash backs one can receive in a month.
Citibank Dividend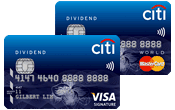 This citibank card has the highest cash back rates (of the 3 cards) at 8% on 3 categories: Petrol, Groceries and Dining. Additional Citi rebates and Citi privileges, such as Citibank's Best Dining Deal Promise and extra petrol savings, make this card an even better investment if a substantial amount of your monthly expenditure consists of those 3 categories.
However, there is also a min. total retail spend of $888 (on all spend, not limited to those 3 categories) and a cap of DIV$25 (cash backs) per each of the 3 categories of Petrol, Groceries, Dining. To maximise the cash backs, it is necessary to spend on all 3 categories – $312.50 has to be spent on EACH category.
For those who are not confident of spending $312.50 on any of the 3 categories e.g. if you don't own a car and wouldn't spend on petrol, you will have to top up the spending on the "All Other" category with 0.25% cash back, to hit the min. spend of $888 to enjoy the high cash back rates.
For those shopaholics, this card may not be the one for you as it is definitely not a shopping card with only 0.25% cash back for shopping retail spend.
Note also that Citi Rebates also needs to be accumulated as 50 Citi$ before the rebate offsets your bills.
For large spenders, especially those who spend a hefty sum on Petrol, Groceries and Dining, this card is definitely something to consider with its high cash backs.
Question for you: Which are some of your favourite cash back cards? Leave your comments (or feedback/suggestions) below!