Last Updated:
This guest post is written by Jes who blogs at SimplyJesMe.
---
Being a new parent of a 1-year-old baby is tough financially and it has made me more eager to stretch every dollar. Here, I am going to compare some credit cards to see which will give me the most rewards or rebates.
As a family, my main expenses are usually spent on these things:
Groceries  

–

Household items, wet wipes, snacks, fresh ingredients to cook at home.

Online shopping for groceries

– Bulk quantity is cheaper especially for milk powder and diapers, and I can easily get free shipping too!
Dining rewards are not especially important because we rarely eat in restaurants. My preference is cash rebates because the rewards are usually quite limited and sometimes inconvenient to redeem.
Using the comparison table on Cardable, I sorted out the cash rebates for groceries and did a comparison: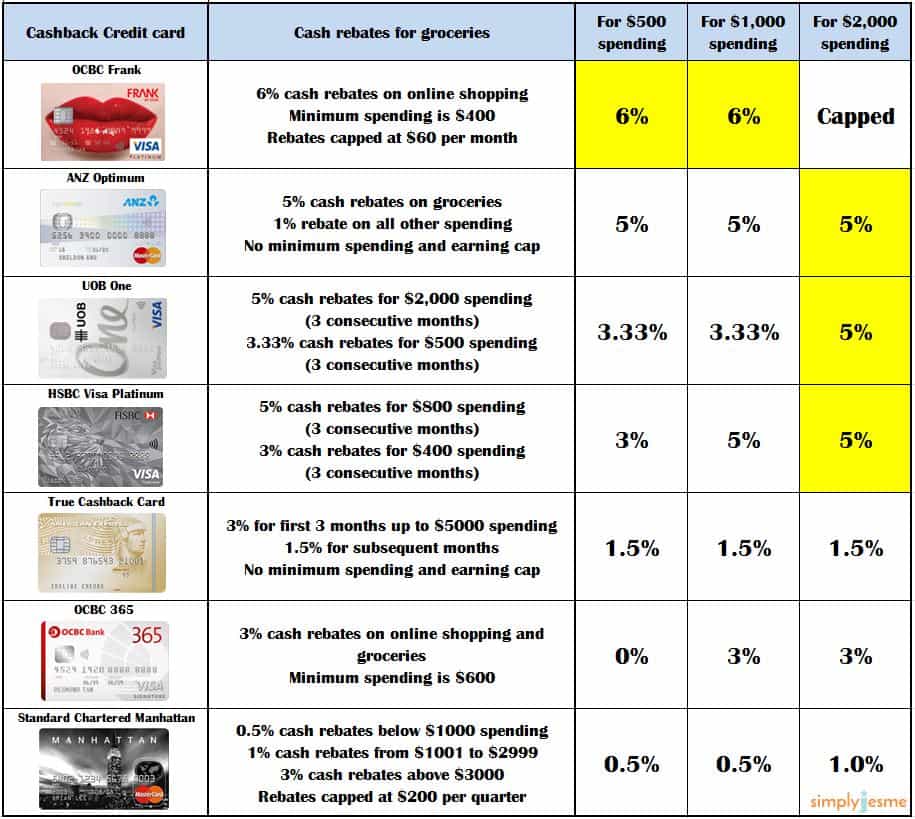 From here, the OCBC Frank card is the best for online shopping at 6% while ANZ Optimum is great for just groceries. I used the AMEX True Cashback card to pay the deposit for my stay in the hospital during my baby's delivery to get the 3% rebates for the first 3 months and I think it's a good deal.
Comparing only credit cards nowadays is not enough. You will also need to compare the different bank account interests as they are tied up with the credit card spending.
For example, if you have the OCBC 360 bank account, you can only use the Frank or OCBC 365 card to hit the minimum spending so as to get the additional interests. If you have UOB One account, UOB One card is your only choice. Standard Chartered Manhattan would be suitable for those with the Bonus Saver account so we can't just change credit cards now.
For me, I am using UOB One card as I have the UOB One account. It does not look that bad with at least 2% interest from my UOB One account. I can also get up to 2.43% from my UOB One account bank interests.
Just don't forget to monitor your bills closely to hit the minimum spending for the relevant credit cards. Otherwise, the cards without any minimum spending would be better for you!
---
About the Writer: Jes maintains a blog at SimplyJesMe and shares regularly on personal finance, free and easy travel, and recently, pregnancy and family topics. She hopes to influence others to turn their thoughts into actions, and live a life without regrets. She is also a co-founder on SnackFirst, which offers free shipping for all snacks.
---
Check out more lifestyle deals on Cardable's website here for all credit card promotions. We hope you find some of the best lifestyle deals in Singapore here!
Available on the Web, IOS and Android.
---