Last Updated:
An after-lunch snack always promises to perk up a day at work, especially if it's a long one. Whether you are planning an afternoon meeting, thinking about a light tea break snack, celebrating a co-worker's birthday, a treat for your team after a promotion, or simply need a perk-me-up to battle the post lunch zzz monsters, check out these sweet treats deals!
1.

Bakerzin

Well-loved for their classical French style creations and modern interpretations of traditional favourites, Bakerzin is one of Singapore's most popular patisseries. Whether you have a sweet tooth or simply enjoy some comforting bread and pastries, there will surely be something to delight your tastebuds at Bakerzin.

Treat yourself to the Zesty Rainbow Cake (S$39/cake). Dressed in cheeky rainbow hues, garnished with a pretty chocolate sphere brushed in gold, fresh raspberries and blueberries, a slice of this (S$6.90/slice) soft and heavenly seven-layer almond sponge cake with gorgeous butter cream and tangy orange ganache will be sure to brighten up your day and cheer you up on a slow moving weekday.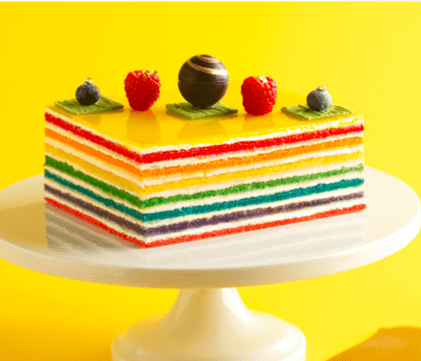 Promotion: 15% off dine-in and takeaways | with DBS Cards
Promotion: 15% off total bill | with Platinum PAssion Cards
Valid till 30 September 2019
Promotion: 10% off total bill | with Black PAssion Cards
Valid till 30 September 2019
Locations:
Farrer Park, 1 Farrer Park Station, #01-07, Connexion Singapore 217562 | Tel: 62448265
Gardens by the Bay, 18 Marina Garden Drive, #03-03, Singapore 018953 | Tel: 66047370
Tai Seng, 18 Tai Seng, #01-03/04/05/06, Singapore 539775 | Tel: 63847717
Maju Avenue (Artisan Breads), 28 Maju Ave, Singapore 556698 | Tel: 62822181
United Square, 101 Thomson Road, #01-07/60, Singapore 307591 | Tel: 62515550
Nom La La by Bakerzin, 9 Sentul Cresent, #02-04, Singapore 828654 | Tel: 63850409
2.

L'éclair by Sarah Michelle
L'éclair breathes new life into the plain old éclairs we've known our whole lives. For the longest time, éclairs were only filled with plain cream and glazed with dark chocolate. At L'éclair Patisserie, be surprised with the freshest and interesting flavours you can ever find on an éclair.
A must-try is the Ispahan (Box of 2 for S$17) that's topped with light rose cream, cut lychees and fresh raspberries. If you prefer something chocolaty, the Dark Chocolate éclair (Box of 2 for S$16) will hit the spot with its 66% Mexique dark chocolate cream and cocoa glaze.
A mid-autumn special to try will be the Salted Egg Yolk Lotus (Box of 2 for S$17)that's made with mooncake pastry and filled with salted egg yolk cream, lotus paste and sliced almonds.
If you're celebrating a birthday for a colleague with a sweet tooth in the office, consider getting the Le Bouquet De Éclairs (S$135). A box of 3 mini éclairs with flavours of your choice comes nestled in a beautiful bloom box of fuschia or pink pastel roses will make her day!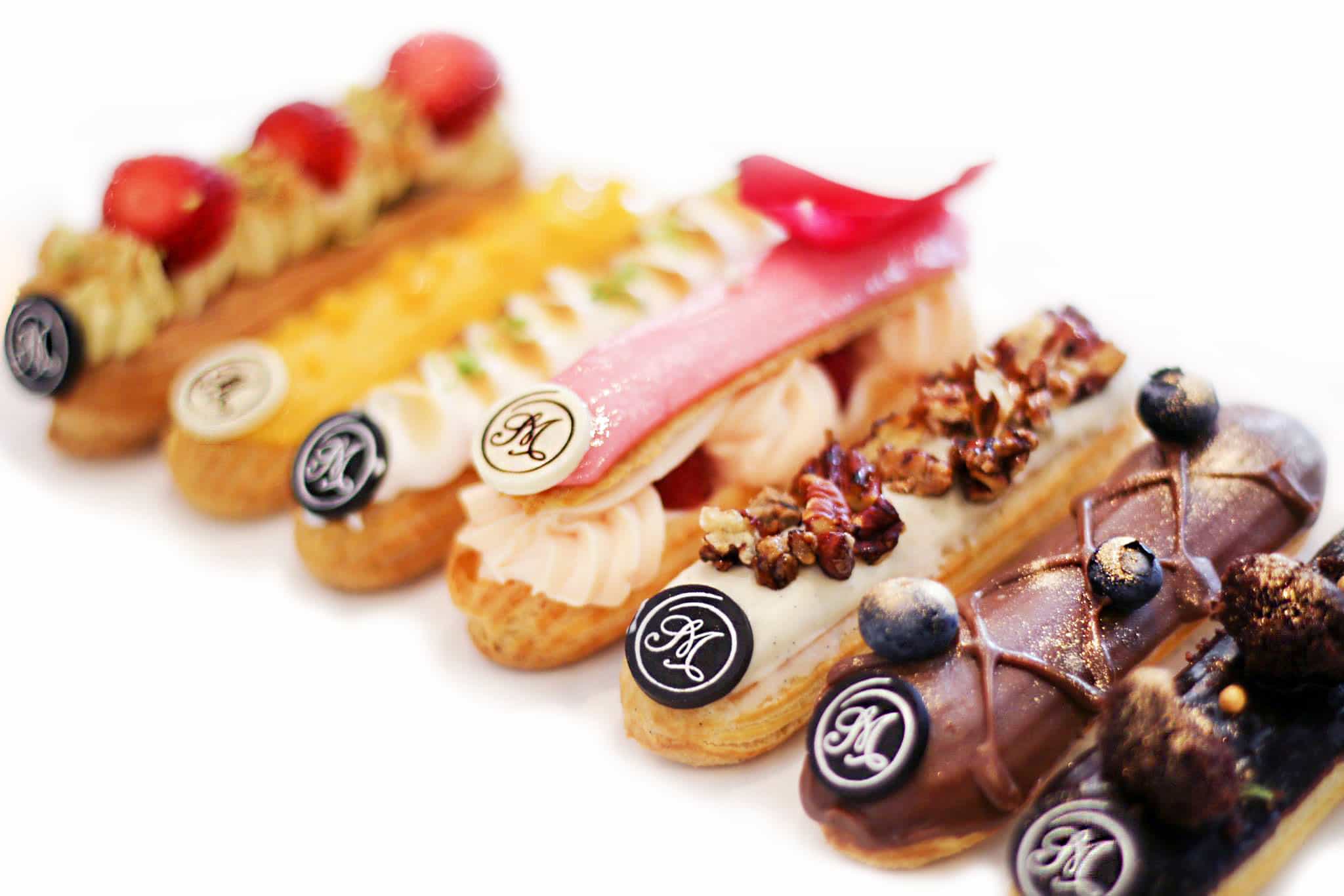 Promotion: 15% off 6 or more eclairs | with DBS Cards
Valid till 31 October 2017
Promotion: 10% off the first 4 eclairs | with DBS Cards
Valid till 31 October 2017
Location: Singapore Shopping Centre, 190 Clemenceau Avenue, #01-28, Singapore 239924 | Tel: 66357909
3.

Cat & the Fiddle

Well-known for their rich and flavorful cheesecakes, Cat & the Fiddle might be the perfect afternoon snack. Pair up with other colleagues in the office and you can order the most instagram-worthy cake, Fickle Feline, a specially-composed medley of their 10 top best-sellers in one gorgeous cake.

Sans alcohol, this is perfect for the office with these yummy flavors: Maneki Neko (Tangy Yuzu, Lemon and Lime), Modern Duke's Pudding (Oreo Cookies & Cream), Over the Moon (Classic New York), Queen of Hearts (Sweet Strawberry), Paws of Fury (Yuan Yang Coffee & Tea), Sweet & Smokey Taffy (Salted Caramel), Emperor's Romance (Lychee Martini), Once in the Blue Moon (Luscious Blueberries), Apple of My Eye (Apple Crumble) and Naughty and Nice (Devil's Chocolate).

It'll be wise to chope the one you want first 😛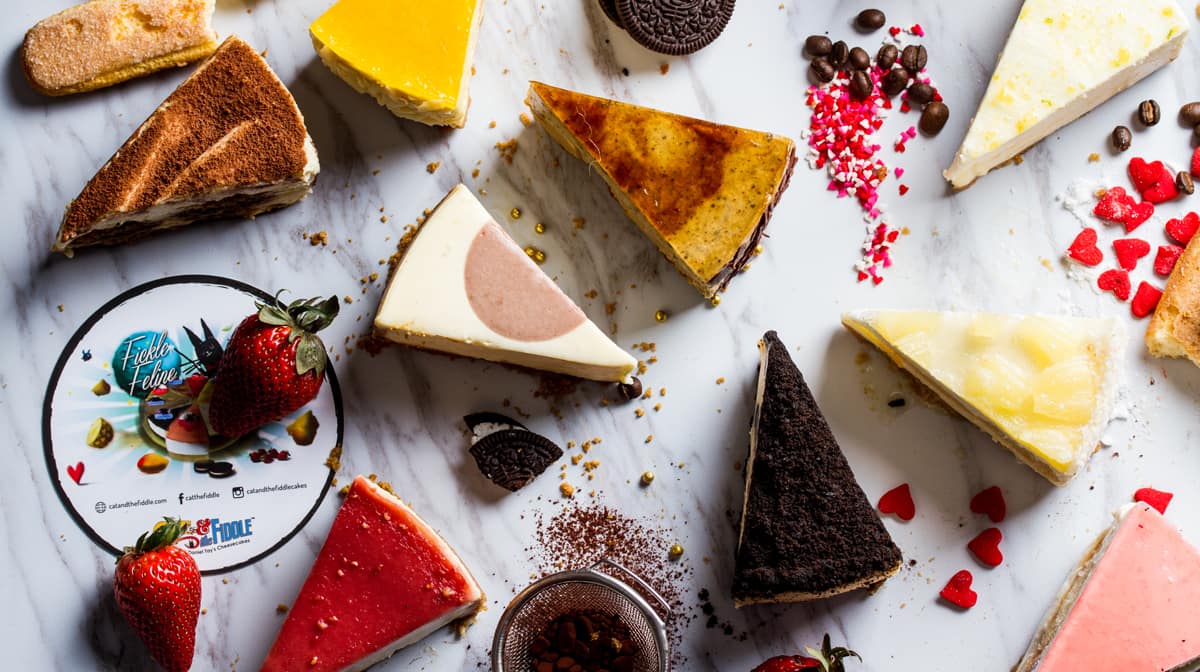 Promotion: 10% off regular-priced cheesecakes | with SAFRA Cards
Valid till 31 March 2019
Excluding 'Make Your Own Fickle' cheesecake
Promotion: 15% off whole cheesecakes only at Clarke Quay Central Outlet | with Maybank Cards
Valid till 31 December 2019
Promotion: 1-for-1 sliced cheesecakes only at Clarke Quay Central Outlet | with Maybank Cards
Promotion: 1-for-1 sliced cheesecakes only at Clarke Quay Central Outlet | with DBS Cards
Valid till 31 December 2019
Locations:
The Central @ Clarke Quay, 6 Eu Tong Sen St, #01-41, Singapore 059817
Tai Seng, 171 Kampong Ampat, KA Foodlink #05-04, Singapore 368330 | Tel: 6287 0077
4. Boulangerie Asanoya (Asanoya Bakery)
You don't have to go to Japan to get bread from the famous Asanoya Bakery! The bakery's history dates back to the 1930s, where it was founded in Karuizawa, Nagano, Japan. They serve up rustic Japanese bread, and have a popular milk tea bread series. Their Royal Milk Tea – a stone-oven baked Earl Grey infused tea bread matched with condensed milk is one of their signature bakery items that must not be missed.
If you prefer something savoury for your afternoon snack, try the French Potato – a delightfully yummy whole potato encased in French bread accented with butter and mayonnaise.
Psst… new items are launched frequently (some are available only for a limited time period), so do go by to try delightful new breads such as Golden Honey Leaf, Cheese Fondue Curry Bun, Coffee Danish, Salted Caramel Toro Toro Cream Donut and more while they last!
Promotion: 12% off your bill | with Maybank Cards
Locations:
15 Queen Street, #01-03, Singapore 188537 | Tel: 6703 8703
Paragon, 290 Orchard Rd, #B1-K27, Singapore 238859 | Tel

:

6703 8711
Bukit Timah, 913 Bukit Timah Road (Next to Tan Chong Motor Bukit Timah), Singapore 589623 | Tel

:

6703 8713
5.

Beard Papa
Beard Papa's cream puffs are so sinful yet irresistible. It first started in Japan, and has over 300 outlets worldwide! If you're searching for something creamy that has just the right amount of sweetness, their Original Custard Puff is a real comfort classic.
The more adventurous should go for their seasonal flavours like the Hazelnut Chocolate Marshmallow Cream Puff or the Kyoho Grape (with Kyoho Jelly) Cream Puff!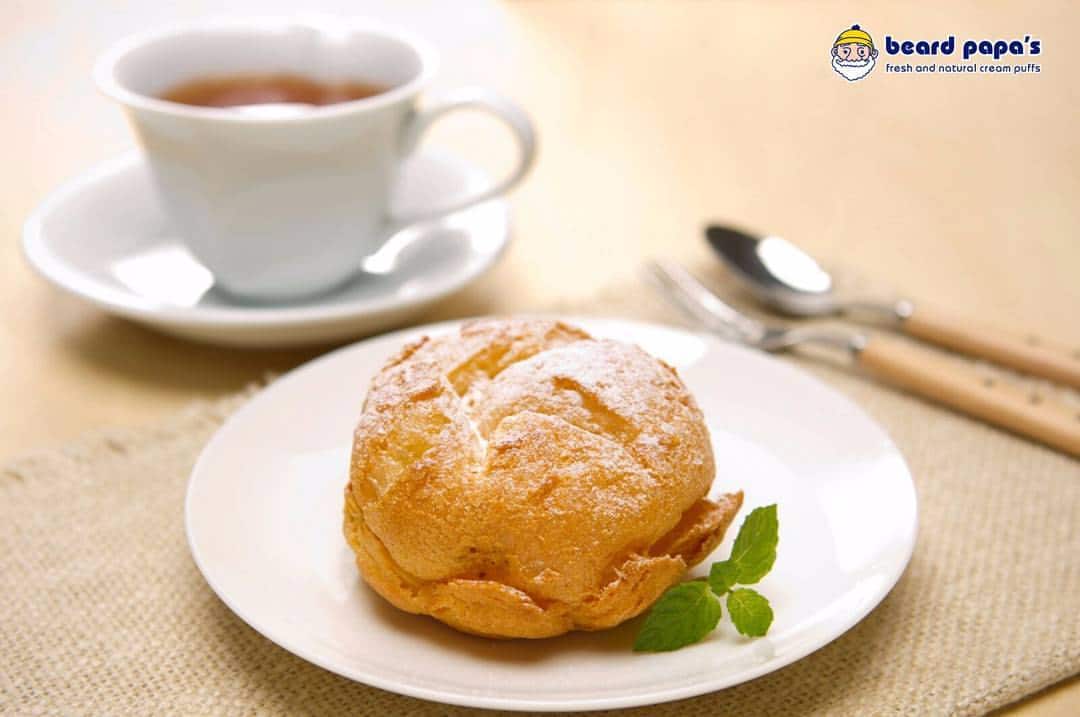 Promotion: Buy any 5 items and get a seasonal Pie Cream Puff (U.P. S$3) or Chocolate Fondant (U.P. S$3.20) FREE | with SAFRA Members and Service men (11B) Cards
Expires 31 December 2019
Promotion is valid at all Beard Papa outlets.
Seasonal flavour of free Pie Cream Puff may vary according to the period and stock availability at point of purchase.
Free seasonal Pie Cream Puff excludes Premium D24 Durian Pie Cream Puff.
Chocolate Fondant is available at selected outlets, check in-store for details.
Please present valid SAFRA card or 11B in person upon ordering or purchasing of product(s).
Locations:
Bugis Junction, 200 Victoria Street, #B1-12A, Singapore 188021
Clarke Quay Central, 6 Eu Tong Sen Street, #01-32, Singapore 059817 | Tel: 62214831
Changi Airport Terminal 3, Basement 2 South, 65 Airport Boulevard #B2-07, Singapore 819663
Compass One, 1 Sengkang Square, #01-37A, Singapore 545078 | Tel: 66579073
Singapore Post Centre, 10 Eunos Road 8, #B1-161, Singapore 408600
The Clementi Mall, 3155 Commonwealth Avenue West, #B1-K24, Singapore 129588
VivoCity, 1 Harbourfront Walk, #B2-K13, Singapore 098585
6.

Paik's Coffee
Paik's Coffee is a Korean style cafe serves up HUGE cups of iced coffee that's definitely enough to share with a colleague. If it's too late in the afternoon for you to have your coffee fix (hello, insomnia), you can still try other delicious K-beverages and Korean desserts. A must-try is their signature Chocolate/Strawberry Banana Smoothie with Froyo (S$5.50) which is rich, creamy and certainly filling. Perfect for the after-lunch snack!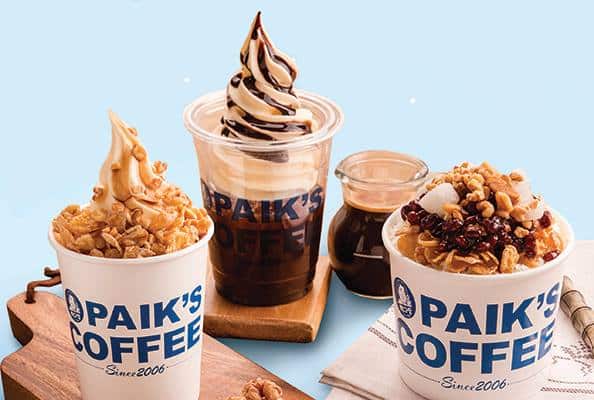 Promotion: 5% off total bill | with NTUC and Black PAssion Cards
Promotion: 8% off total bill | with Platinum and Silver PAssion Cards
Promotion: 5% off total bill | with SAFRA Cards
Valid till 30 September 2019
Locations:
7.

The Terrace @ Conrad Centennial Singapore

For times when you're feeling fancy and in need of a serious treat, why not takeaway some dainty looking cakes or tarts from The Terrace at Conrad Centennial? Their bestseller is the Chocolate Royal Hazelnut Crunch (S$11) that combines smooth chocolate mousse with a crumbly, buttery hazelnut base. Sounds like quite the pairing!

If you don't have much of a sweet tooth, try their mini croissants (S$4.50 each) instead. Their menu includes savoury fillings such as the Parma Ham with Mozzarella, and the indulgent Soya Beef with Paprika.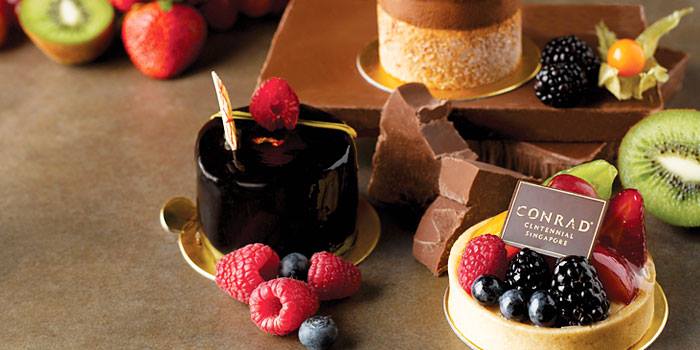 Promotion: 15% off your total bill | with Citi Cards
Location: Conrad Centennial Singapore, 2 Temasek Blvd, Singapore 038983
Did you know that the Citi Cash Back Card entitles cardholders to Citibank's Gourmet Pleasures list of restaurants and bars in Singapore? Sign up for the card today to get access to more SWEET dining deals!
[citi_cashback]
8.

Island Creamery
With signature flavours like Teh Tarik Ice-cream, Pineapple Tart, Pulut Hitam, Tiger Sorbet, Pear Sake and more, it is little wonder why Island Creamery's freshly made ice-cream and frozen confections are a hit on our little sunny island.
Perk up a sleepy meeting with an order of a Baked Alaska, a very berry ice-cream on a layer of fluffy sponge cake covered in meringue or indulge your team-mates in a luscious Mud Pie. Bite into layers of chocolate, cookies & cream and burnt caramel ice-cream topped with Oreo cookies crumbs!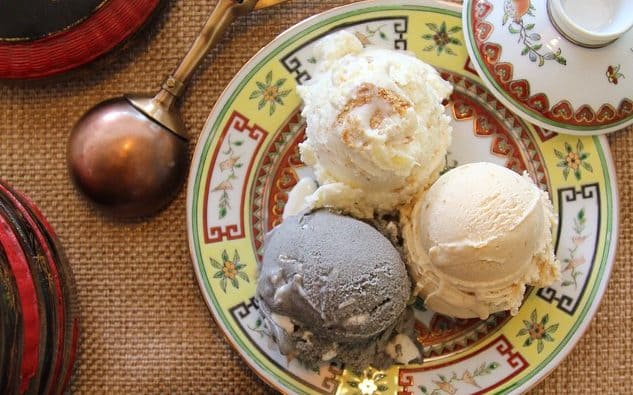 Promotion: 15% off with min. spend of S$30 on whole cakes and/or tubs | with DBS Cards
Locations:
Katong,

452 Joo Chiat Road Singapore | Tel: 62477760

Serene Centre, 10 Jalan Serene #01-03 Singapore 258748 | Tel: 64688859

9.

Jewel Coffee
Combat that post lunch food coma with a strong cup of coffee. Jewel Coffee first started in Shenton way in 2011 and is now a popular specialty coffee company in the heart of Singapore's CBD. As each cup of coffee that they serve consists of a double shot, it will definitely perk you up at work. Whether you enjoy a velvety flat white or strong, nutty espresso, you'll definitely find a satisfying cup of coffee here.
Choose from a large variety of beans, from the Mandheling Terminator 3 from Indonesia which has a sweet and clean flavour, to the Garzon beans from Colombia that has a malty aftertaste.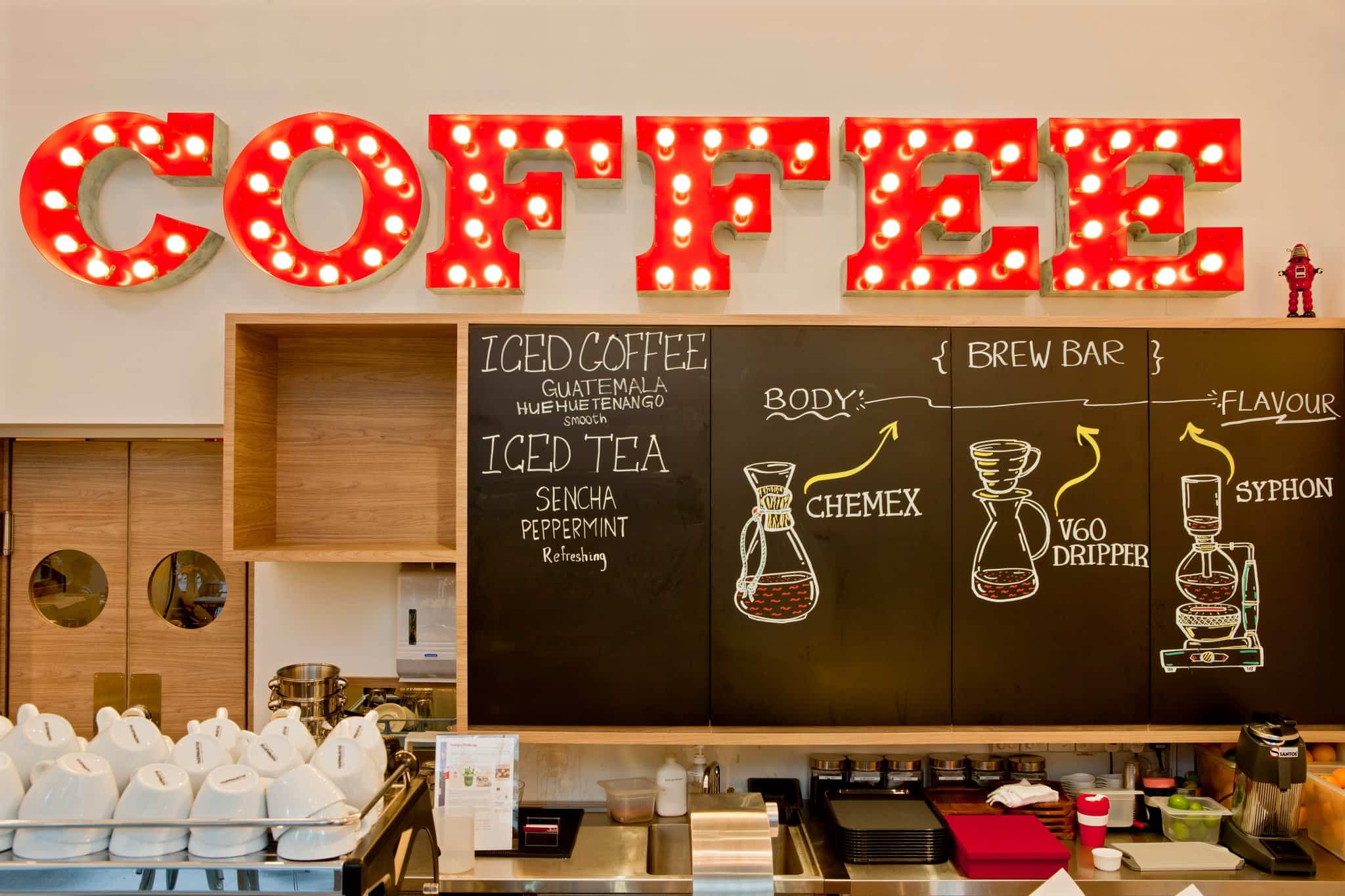 Promotion: 1-for-1 Beverage / Sandwich | with HSBC Cards
Expires 30 December 2019
Valid at Jewel Coffee – Tanjong Pagar Centre Outlet via the Entertainer app with HSBC programme

Promotion: 1-for-1 Beverage / Sandwich | with HSBC Cards
Expires 30 December 2019
Valid at Jewel Cafe & Bar via the Entertainer app with HSBC programme

More info
Locations:
Jewel Cafe & Bar,

129 Rangoon Road,

Singapore 218407 | Tel: 62989216

Jewel Coffee (Tanjong Pagar Centre), 7 Wallich Street #B1-06, Singapore 078884 | Tel: 62093474
---
Does your day only starts after a cup of good coffee? Is that burning up a hole in your pocket? ?
ALSO READ: Best Credit Cards for Coffee Lovers in Singapore 2017.
---
10.

Joe & Dough
Joe & Dough (not to be confused with Joe & the Juice!) serves up specialty blends and handcrafted bakes. Taking pride in serving up simple, honest food, you can expect a bespoke treat out of your daily routine of coffee and sandwiches.
Even their handcrafted gourmet pizzas are deliciously kneaded with love, topped with fresh tasty ingredients and baked to golden perfection. If you're headed here for lunch, don't leave here without buying back some cakes for your teabreak!
Their signature cake is the Singaporean style Gula Melaka Pandan Cake that was launched 3 National Days ago and became a permanent item on the menu simply because it represents the familiar flavour of home to everyone! Do not miss the absolutely decadent and luscious Belgium Chocolate Cake that will surely please the chocoholic in you. But, a must-try would be their Coconut Tart (S$3.80), which has crunchy desiccated coconut sandwiched inside a tart crust that is buttery and crumbly.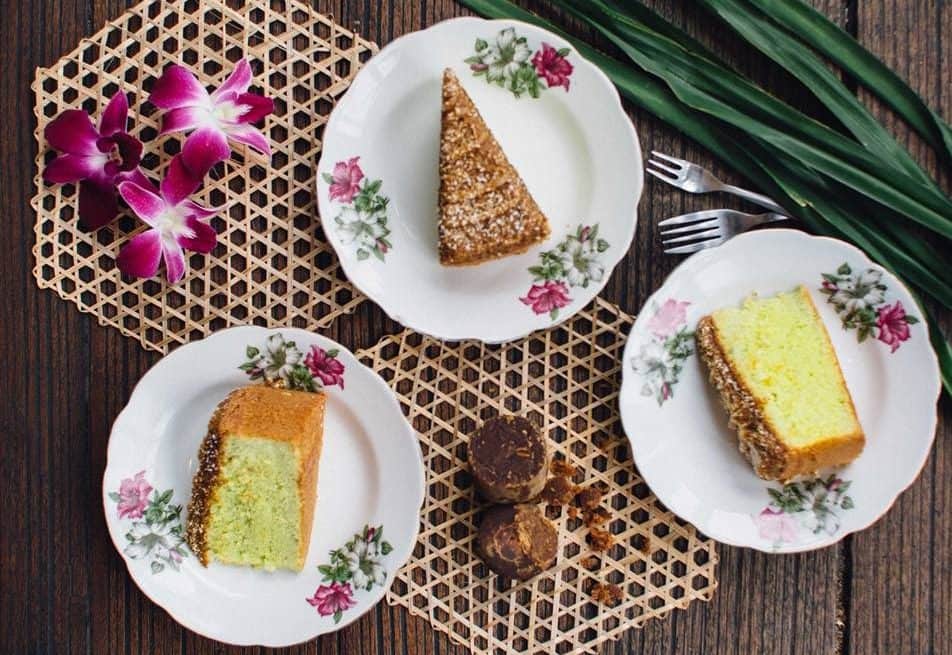 Promotion: 15% off your bill | with HSBC Cards
Promotion: Receive two complimentary drinks with a purchase of a whole pizza | with Standard Chartered Cards
Locations:
Capital Tower, 168 Robinson Road, Level 36, Singapore 068912 | Tel: 63279192
Income @ Raffles, 16 Collyer Quay, #02-05, Singapore 049318 | Tel: 64382115
International Plaza, 10 Anson Road, #01-33, Singapore 079903 | Tel: 64932503
Millenia Walk, 9 Raffles Boulevard, #01-86/87, Singapore | Tel: 6337 0938
Junction 8, 8 Bishan Place, #02-52, Singapore 579837 | Tel: 91456853
Leisure Park Kallang, 5 Stadium Walk, #01-12, Singapore 397693 | Tel: 6348 2848
Marina Bay Link Mall, 8A Marina Boulevard, #B2-68/69, Singapore 018984 | Tel: 6636 9698
Orchard Gateway, 277 Orchard Road, #01-10, Singapore 238858 | Tel: 6702 4656
Square 2, 10 Sinaran Drive, #01-156, Singapore 307506 | Tel: 6397 2669
11.

Spinelli
If you need a quick coffee fix, there's always Spinelli for a good, rich Vanilla Latte, iced-cold Hazelnut Cho Spin (espresso blended with ice), Mocha Spin or Choc Mint Spin! Pair it with an Apple Crumble for the ultimate contentment during tea break.
Watching your diet? Power up with a bowl of delicious granola or some sunflower pumpkin crisps and a Strawberry-T Twist (black tea and strawberry fruit mix blended with ice).
If you're planning something for your colleague's birthday, what's a celebration without cake? Order a whole cake online from Spinelli that's sure to feed everyone in the office. For a rich and sinful treat, get the classic White Chocolate Philly Cheesecake (S$57 for 1.3kg). It combines the deliciousness of cheesecake and white chocolate, and is a creamy and decadent option. Office ladies on a diet, don't fret. Spinelli also has a Low-Fat Lemon Yuzu Tea Cake (S$48 for 1.2kg), a refreshing and light tasting cake made with UHT low-fat milk and yuzu juice.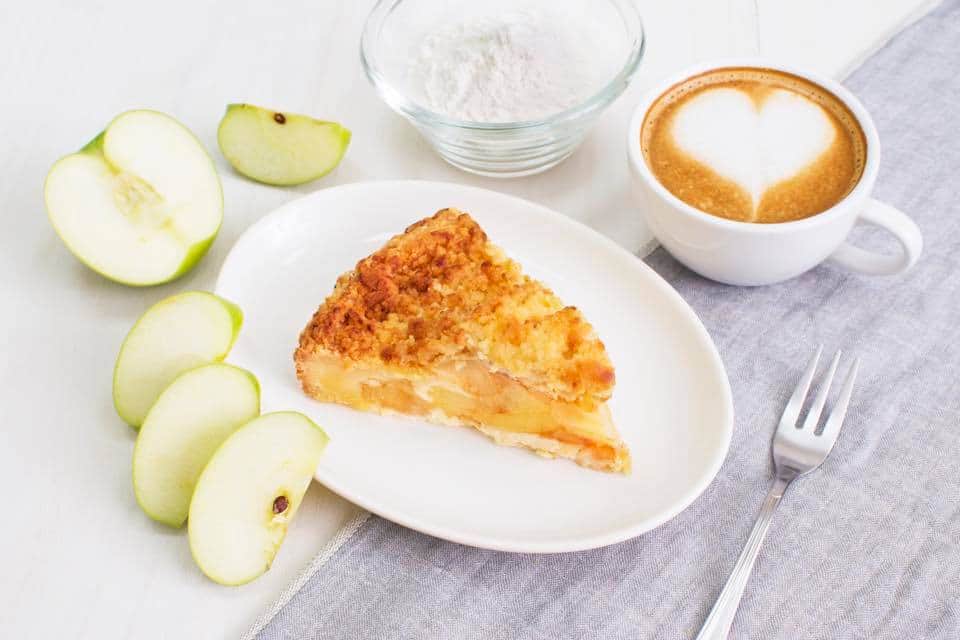 Promotion: 15% off whole cakes | with Standard Chartered Cards
Expires 30 June 2018
Only for online orders
Promotion: 10% off total bill with minimum spend of $5 | with Standard Chartered Cards
Expires 30 June 2018
Valid for any size of beverage and food on the menu board, excluding bottled drinks and juices
Locations:
Aperia, 12 Kallang Avenue, #01-27, Singapore 339511 | Tel: 67021856
China Square Central, 18 Cross Street, #01-28, Singapore 048423 | Tel: 63274837
Ocean Financial Centre, 10 Collyer Quay #01-04, Singapore 049315 | Tel: 65095109
Galaxis @ One North, #01-K1/K2 One Fusionopolis Place, Singapore 138522 | Tel: 62508819
IBM Ph 2 Bldg, No.9 Changi Business Park, Central 1, #01-03, Singapore 486048 | Tel: 67831825
National University of Singapore, University Hall (UHT-01-05), 21 Kent Ridge Road, Singapore 119077 | Tel: 67775025
One Raffles Quay, 1 Raffles Quay, #B2-01, Singapore 048583 | Tel: 65366354
Peninsula Excelsior Hotel, 3 Coleman Street, Singapore 179804 (1st storey next to Hotel Lobby) | Tel: 63378618
Plaza 8, 1 Changi Business Park Crescent, #01-19, Singapore 486025 | Tel: 65442636
MYP Centre, 9 Battery Road, #01-01, Singapore 049910 | Tel: 62257781
The ARC, Alexandra Retail Centre, 460 Alexandra Road, #02-29, PSA Building Singapore 119963 | Tel: 62754626
The Strategy, 2 International Business Park, #01-01, Singapore 609930 | Tel: 6316 7051
Harbourfront Tower 1, 1 Harbourfront Place, #01-01, Singapore 098633 | Tel: 6271 6902
12.
Delifrance
Delifrance is the go-to place for Halal-certified French pastries in Singapore. Why not check out some of their pastries for tea? The spiral Sultana Croissant and the original Butter Croissant are popular favourites amongst Singaporeans. Pair it with a cup of coffee or tea to maximise the rest of your work day productivity (if you are avoiding caffeine, their hot chocolate is awesome).
For the perfect indulgence, try these gourmet handcrafted croissants that are simply bursting with flavor: Cookie Butter croissant with a Biscoff caramelised biscuit crumb finishing, the Hazel O'tella croissant that's filled with 100% Nutella and sprinkled with chopped almonds, P'Nut Lava croissant that's oozing of peanut butter topped with desiccated coconut shreds and lastly, the Salted Egg croissant with a rich real salted egg yolk filling and covered in sesame seeds (S$2.30 each; S$6 for three). They sell out quite fast so be quick!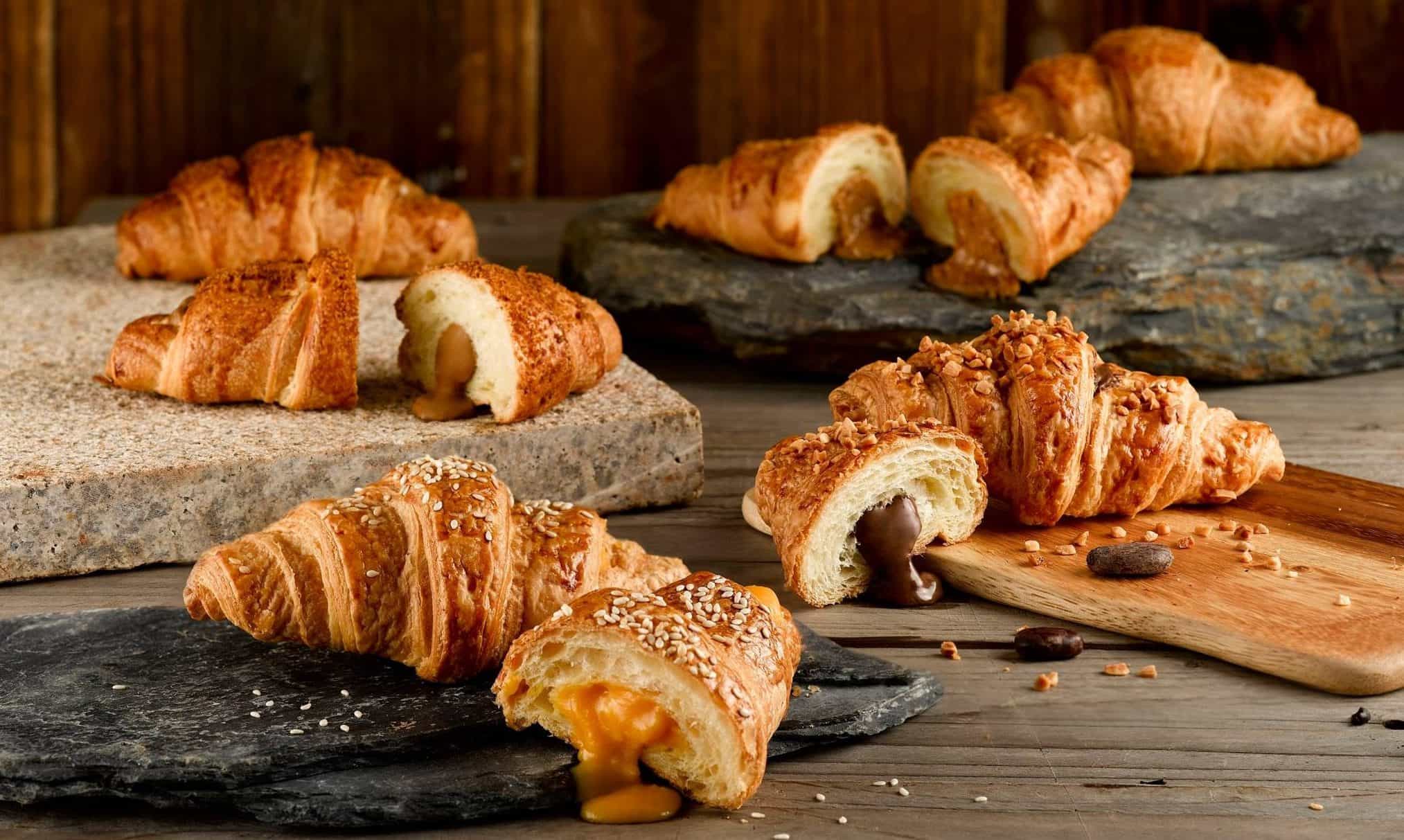 Promotion: 10% off a la carte products | with PAssion Cards
Valid till 30 September 2019
Promotion: 20% off a-la-carte menu with minimum spend of S$20 | with NTUC Cards
Valid till 31 December 2019
Locations:
ARC, 460 Alexandra Road #02-42/43 Alexandra Retail Centre, Singapore 119963 | Tel: 6376 3528
Causeway Point, 1 Woodlands Square, #B1-21, Singapore 738099 | Tel: 6462 6447
Clifford Centre, 24 Raffles Place, #02-19, Singapore 048621 | Tel: 6236 9592
Lot One Shoppers Mall, 21 Choa Chu Kang Ave 4 #03-K14A, Singapore 689812 | Tel: 6767 0751
Coronation Plaza, No. 587 Bukit Timah Rd #01-01, Singapore 269707 | Tel: 6465 0434
Gleneagles, 6A Napier Road #02-29/30 Gleneagles Hospital, Main Administration Block, Singapore 258500 | Tel: 6471 6237
HDB Hub, 480 Lorong 6, Toa Payoh #01-10, Singapore 310480 | Tel: 6353 6233
Jelita, 293 Holland Road #02-10B, Singapore 278628 | Tel: 6462 6440
JEM, 50 Jurong Gateway #B1-K15/16 JEM, Singapore 608549 | Tel: 6779 9276
KK Hospital, 100 Bukit Timah Road #01-08/09/10, Singapore 229899 | Tel: 6341 5205
Mt. Elizabeth Hospital, 3 Mount Elizabeth Block B, Level 2 Next To Lift Lobby B, Singapore 228510 | Tel: 6838 0324
NUH Medical Centre, 1 Lower Kent Ridge Road, #04-11/12 One@Kentridge, Singapore 119082 | Tel: 6339 9150
Tampines Mall, No 4 Tampines Central 5 #01-38, Singapore 529510 | Tel: 6260 8522
Thomson Medical Centre, 339 Thomson Road #01-05, Singapore 307677 | Tel: 6355 0628
Parkway East, 321 Joo Chiat Place, Singapore 427990 | Tel: 6342 4451

UE Square, 81 Clemenceau Avenue #01-25, Singapore 239920 | Tel: 6238 9332

West Mall, 1 Bukit Batok Central Link #B1-03 , Singapore 658713 | Tel: 6238 4641
Wheelock Place, 501 Orchard Road #02-17/17A, Singapore 238880 | Tel: 6732 0146

Know of other yummy sweet treats not listed here? Check out more sweet deals on Cardable's website here for all credit card promotions. We hope you find some of the best sweet treats deals for your tea break in Singapore here!
---
Cardable presents all your credit card and membership card promotions on one platform, and matches people to suitable credit cards according to their income and spending profile with an advanced recommendation tool
Available on the Web, IOS and Android.
---
[cta id='23342′]