There is no question that Singapore now stands as one of the most famous city-states in the world and it's pretty amazing on how the small country built itself from scratch after it gained independence 50 years ago.
At present, Singapore welcomes thousands of tourists every day and people keep coming back for more because of the unique blend of Asian and European culture that permits the city, not to mention all of its world-renowned infrastructures, and of course, the enviable Metro Rail system that can transport you from place to the next without sweat!
So if you are planning to visit the Lion City, make every moment of your stay count, and carefully design an itinerary that would allow you to visit all of the top-rated tourist attractions in Singapore. Also, make sure to take a lot of photos of the charming city while you are there.
Merlion Park
Probably one of the most recognizable infrastructures in the world, the Merlion statue is a symbol of Singapore's history as a fishing village before it made its roar heard across the world. The lion head captures the passion and resilience of the country in creating a successful city against all odds.

So it would be a shame to miss seeing the Merlion statue for yourself once you get to Singapore, as it speaks of the country's journey towards prestige.
Location: You may find the Merlion Park in front of the Fullerton Hotel and overlooking the Mariana Bay Sands. The full address is 1 Fullerton Rd, Singapore 049213.
Contact Info: +65 6736 6622
Lau Pa Sat Festival Market
Singapore is really doing good in blending striking architecture and culture, which you can witness if you visit the Lau Pa Sat Festival Market, where you can have the taste of local cuisine while listening to a live band or merely watching the diversity and chatter of people around you.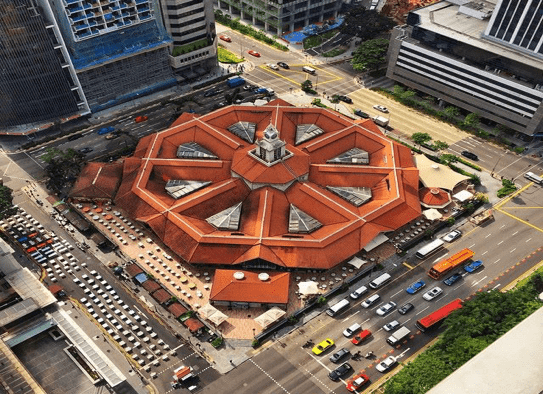 Location: You may find the market at the intersection of Boon Tat Street and Robinson Road. But here is the full address—18 Raffles Quay, Singapore 048582.
Contact Info: http://www.laupasat.biz
Marina Bay Sands
Probably one of the most iconic infrastructure in Asia and easily recognizable as something unique to Singapore, you definitely cannot visit the country without dropping by at Marina Bay Sands, which is a wonder of architecture and engineering.
It dominates the Marina Bay front area for over 155,000 square meters, complete with posh hotels, five-star restaurants, shops, museum, convention center and event's place plaza, but it is the Sky Park linking the three buildings together that makes it so special. Sky Park has several amenities including an infinity pool and gives you a 360-degree view of the city.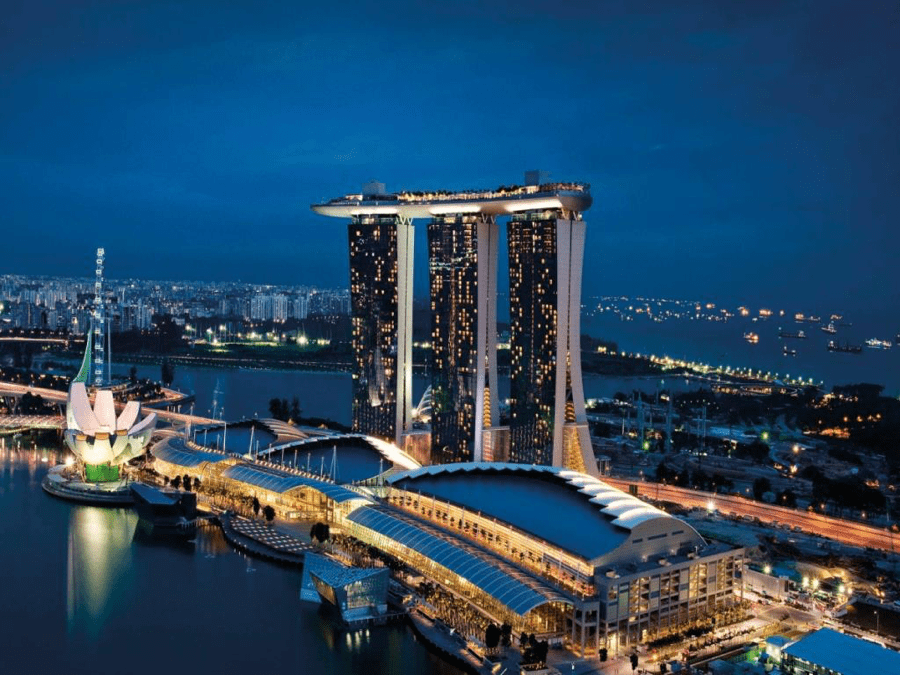 Location: You may easily spot the towering park in the sky at this address 10 Bayfront Avenue, Singapore 018956
Contact Info: http://www.marinabaysands.com
Art Science Museum
Another awesome place to visit while you are in the Marina Bay area is the Art Science Museum that is shaped like a lotus flower with 10 "petals" varying in length to symbolize how Singpore welcomes people from all over the world.
Aside from the iconic infrastructure, it is also where art meets science as they host international exhibitions, even hosting "The Deep," which features the life under the sea and went on to become the largest collection of such theme to grace the Southeast Asia. Moreover, it houses "Future World: Where Art Meets Science," showcasing dynamic and interactive art regarding Nature, Town, and Science.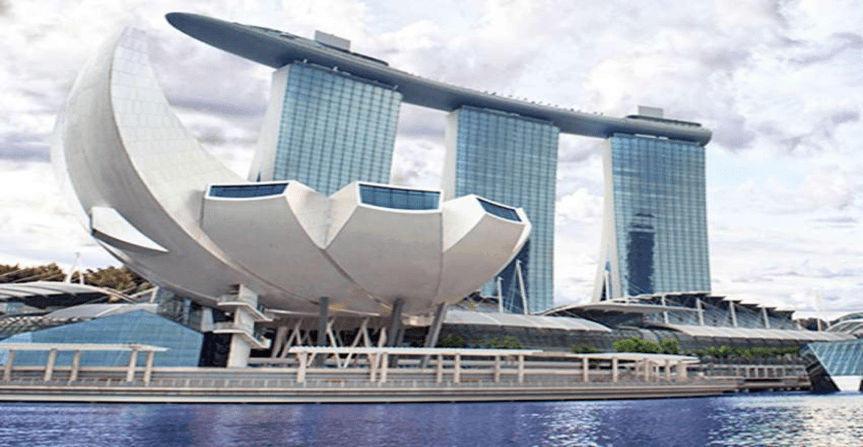 Location: Found at the Central Area in Singapore, within the Marina Bay Sands resort, at this address—6 Bayfront Ave, Singapore 018974
Contact Info: +65 6688 8888
Singapore Flyer
Another easily recognizable tourist spot in the country and Asia's largest observation ferris wheel, Singapore Flyer towers for over 165 meters from above and gives you a 360-degree panoramic view of the city and even gives you a glimpse of Indonesia and Malaysia on a good day.
So step in one of its 28 air-conditioned glass capsule and enjoy the 30-minute ride just watching the view or you can avail of several dining packages for a romantic dinner in the sky!
Location: Sticking out among Singapore's skyscapers, you can find Singapore Flyer in the middle of downtown Marina Bay at 30 Raffles Ave, Singapore 039803
Contact Info: http://www.singaporeflyer.com
Clarke Quay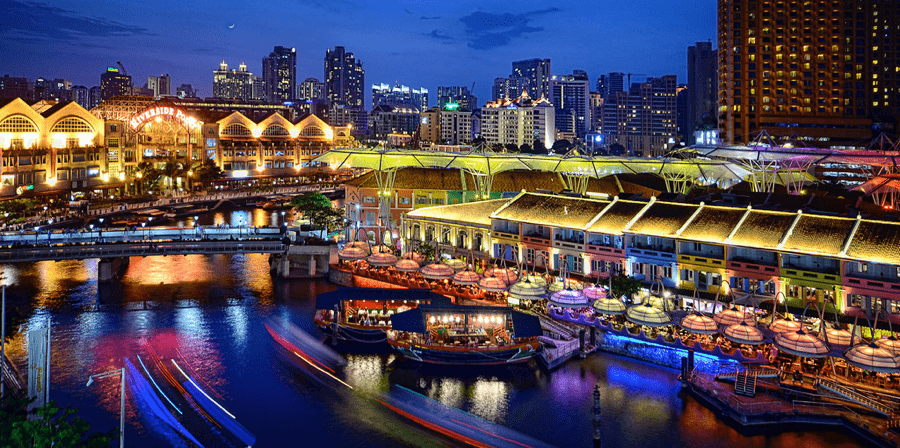 Work through Singapore history by visiting Clark Quay, since it served as the city's commercial hub during the late 19th century, but it is bustling with life today, filled with fancy restaurants, boutiques, and even hotels. However, you can simply stroll for street food around every corner and have some fun in the areas' night life.
Location: Situated at the opening of Singapore River, Clarke Quay is easy to find at 3 River Valley Rd, Singapore 179024
Contact Info: http://www.clarkequay.com.sg/en/
Gardens by the Bay
Singapore is truly an architectural hub since another iconic structure is built in a reclaimed area that sprawled for around 101 hectares. You can easily spot the Gardens by the Bay while ob-board the Singapore Flyer or swimming in the Marina Bay Sands' infinity pool.
It sports a futuristic design based on themes of nature and also functions with state-of-the-art technology that focuses on energy efficiency and environment preservation. It has Flower Domes with over 32,000 plants and the Cloud Forest housing the largest indoor waterfall in the world. Then you can walk at the OCBC Skyway, suspended walkway, to visit one Supertree to another and of course, get a glimpse of the huge garden's view.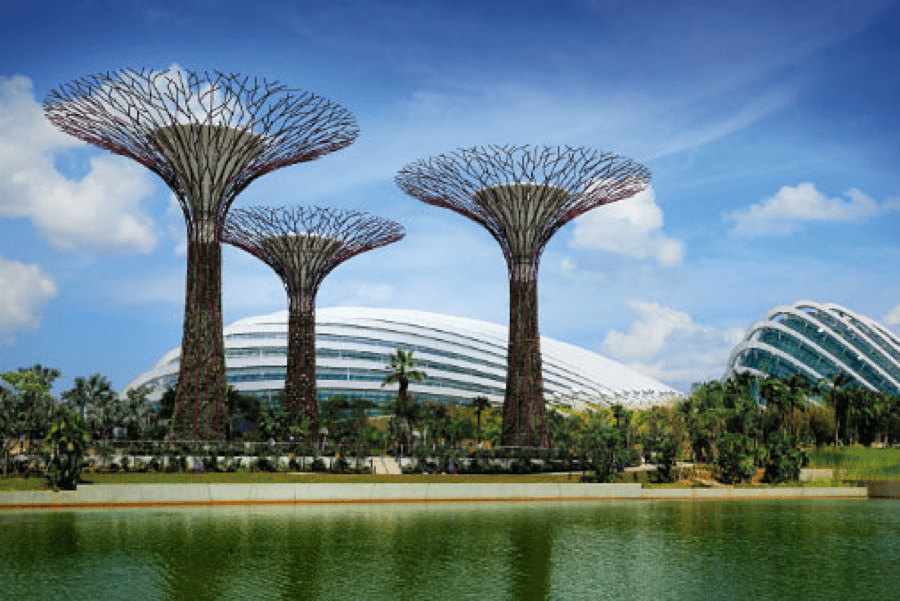 Location: Found at the Central Area in Singapore, within the Marina Bay Sands resort, at this address—6 Bayfront Ave, Singapore 018974
Contact Info: +65 6688 8888
Madame Tussauds Singapore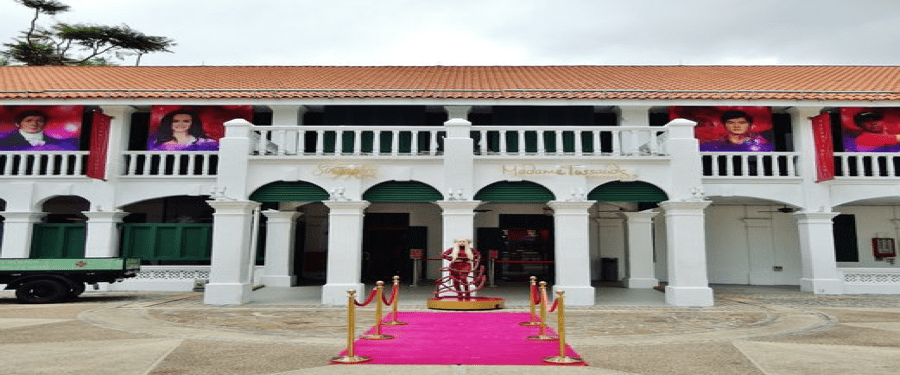 It is really difficult to meet celebrity's in real life, but you can visit Madame Tussauds Singapore to take a picture beside your idol ithout being chased by bodyguards! It is a wax museum filled with creative wax figures of famous people and also serves as a walk through history of the world.
Location: You can find the wax exhibiton in Imbiah Lookout of Sentosa Island at 40 Imbiah Rd, Singapore 099700
Contact Info: https://www.madametussauds.com/singapore/en/
Sentosa Island
This is a place where fun does not sleep and it has just everything for everyone including Resorts World Sentosa, five-star hotels, trendy restaurants, churning night life, high-stakes casino, and the Universal Studios Singapore. You can even play in Siloso beach where you can rent a kayak and skim-board, or just marvel at the wonders of ocean life and swim with dolphins in Underwater World aquarium.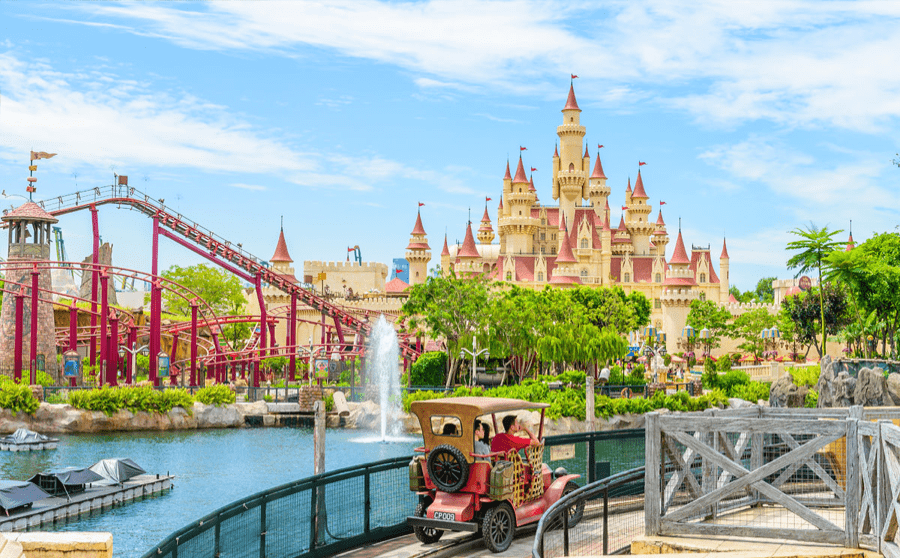 Location: It's located at the Southern coast and easily accessible via car, monorail, boardwalk, and cable car.
Contact Info: http://www.sentosa.com.sg/en/
Orchard Road
Lined with prestigious shopping centers with products that only the rich could possibly afford, Orchard road is a famous tourist attraction as an upscale shopping district, which is a total dream come true for anyone. The Chinese-inspired design during Christmas is also famous for being so bright and extravagant.
Location: You may find Orchard Road at the Central Area of Singapore, flanked by Newton in the east and north, Tanglin in the west and River Valley at the south.
Contact Info: http://www.orchardroad.org
Are you excited to visit Singapore and see all of the top-rated tourist attractions in the list above? You should be since almost everyone is raving about all the fun they have experienced in the city and for once, the hype is totally real! Go ahead and explore Singapore, dear traveller.