Last Updated:
Welcome to Singapore, where there is plenty of food to try and fun experiences to explore. Think East meets West, tradition and modernity coexisting perfectly together in this metropolitan state.
This guide features the top ten best places to eat, sightsee and have fun to your heart's content. Most of the attractions are accessible via our convenient Mass Rapid Transit (MRT) system so go forth and explore Singapore, dear traveller!
1.

Lau Pa Sat Festival Market

Foodies rejoice as Lau Pa Sat offers a myriad of mouth-watering options served up by over 100-odd stalls housed under one roof. You can enjoy the taste of local cuisine such as Kway Chup, Hokkien Mee, Fried Carrot Cake and Nasi Lemak at economical prices!

Hungry for more? Take advantage of these awesome credit card deals at various restaurants and cafes around the city to make the most out of your dining experience.

Tourist Tip: Take note of Lau Pa Sat's striking Victorian architecture, which often goes unnoticed by many people. If you have got a drone, we recommend flying it to get a gorgeous shot of the beautiful roof!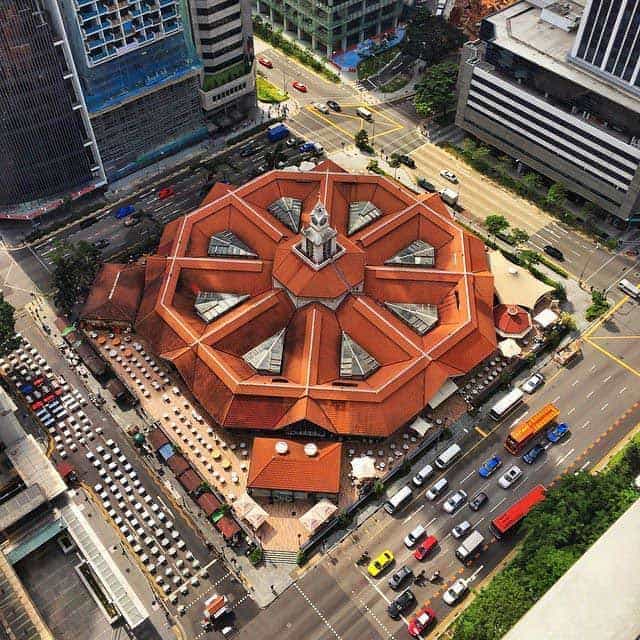 Location: 18 Raffles Quay, Singapore 048582
Directions: Alight at Raffles Place MRT (North-South line & East-West line). Take Exit I and cross the road at Cross Street.
Contact Info: 6220 2138
2.

Haw Par Villa

Be prepared to step into a whole new world filled with Chinese mythology and folklore at Haw Par Villa. The highlight of this unique theme park would definitely be the 10 Courts of Hell installation that portray grisly punishments inflicted on sinners,  such as having intestines pulled out for cheating in exams in the Eighth Court of Hell. Well, we warned you! Avoid this if you are the squeamish sort. Not all installations are gruesome though. There are fascinating scenes from well-known Chinese classics like Journey to the West, Legend of the White Snake and Romance of the Three Kingdoms. It certainly isn't the usual, run-of-the-mill theme park you have in mind!

Tourist Tip: Remember to bring your mosquito repellents as insects there can be nasty!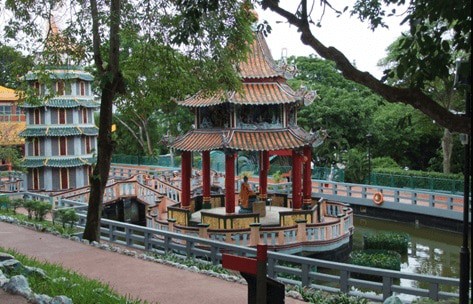 Location: 262 Pasir Panjang Road, 118628
Directions: Alight at Haw Par Villa Station (Circle line)  and take Exit A
Contact Info: +65 6736 6622
3.

Wild Wild Wet

Got some time to spare before your flight? You can consider having a splashing good time at Wild Wild Wet! Conveniently located 3 stations away from Changi Airport, it is considered a cheaper alternative compared to Adventure Cove in Sentosa at only S$20/adult. Some of Wild Wild Wet's attractions are the iconic giant Yakult bucket, flume ride, lazy river, wave pool and even a jacuzzi! There are many large cubicles available in this water-themed attraction for you to wash up before taking your flight out.

Tourist Tip: Hungry after splashing around? Head out of Wild Wild Wet to Downtown East, where there is a wider selection of food choices. Be sure to get a stamp on your hand before you leave so you can get back into Wild Wild Wet again!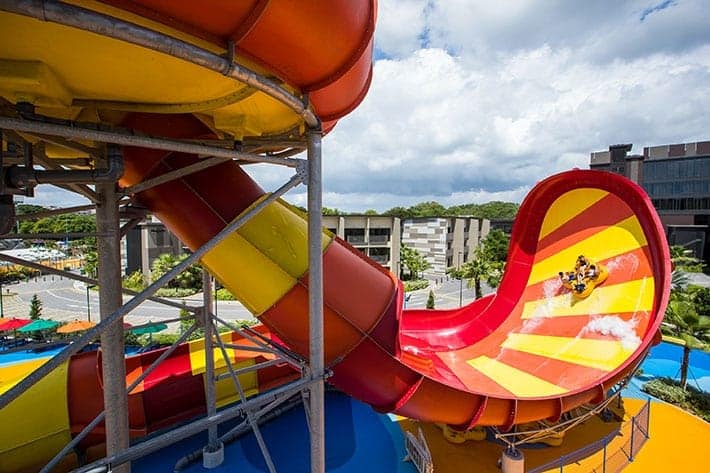 Location: 1 Pasir Ris Close E! Hub@Downtown East, Singapore 519599
Directions: Alight at Pasir Ris Station (East-West Line) and take Exit B. Walk to Pasir Ris Bus Interchange and board 3, 17, 21, 354 or 358. Alight one stop later at Downtown East. Walk to Wild Wild Wet.
Contact Info: +65 6581 9128
4.

Sri Mariamman Temple

Only in Singapore would you find a Hindu temple in the middle of Chinatown. This temple is Singapore's oldest Hindu temple that is built in 1843 by specialised craftsmen from Southern India. It definitely would be a culturally enlightening experience to explore the Indian community's place of worship.

Tourist Tip: If you're visiting this attraction in October or November, the Theemithi (fire walking ceremony) would be celebrated annually at the temple. Try to catch the amazing experience!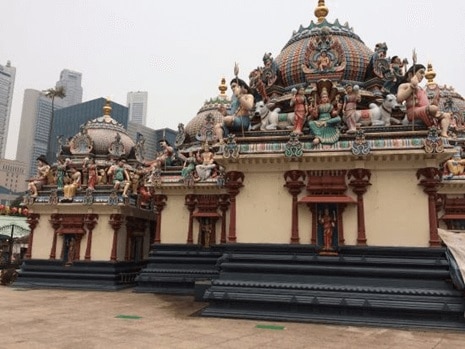 Location: 244 South Bridge Rd, Singapore 058793
Directions: Alight at Chinatown Station (North-East line & Downtown line) and take Exit F
Contact Info: +65 6223 4064
5.

Merlion Park

Our iconic statue, the Merlion, features the head of a lion spouting water with the body of a fish. Its head represents Singapore's original name, Singapura, or 'lion city' in Malay. There are 7 Merlions in Singapore: 2 are located at Merlion Park, the rest are located at Mount Faber, Sentosa, Tourism Court and along Ang Mo Kio Avenue. A fun thing to do is to try to "catch" the water spouting out from the Merlion's mouth on camera!

Tourist Tip: Wow your friends by telling them that the bigger Merlion at Merlion Park faces East as that direction is believed to bring prosperity in Chinese Feng Shui.
Location: 1 Fullerton Rd, Singapore 049213
Directions: Alight at Raffles Place station (East-West line & North-South line) and take Exit H
Contact Info: +65 6736 6622
6.

Singapore Flyer

Asia's largest observation ferris wheel that towers over 165m from above ground, Singapore Flyer gives you a 360-degree panoramic view of the city and even a glimpse of Indonesia and Malaysia on a good day. There are 28 air-conditioned glass capsules and each ride lasts for 30 minutes for S$33/adult and S$21/child.

Tourist Tip: Fancy a romantic dinner in the sky? You can browse the various dining packages here.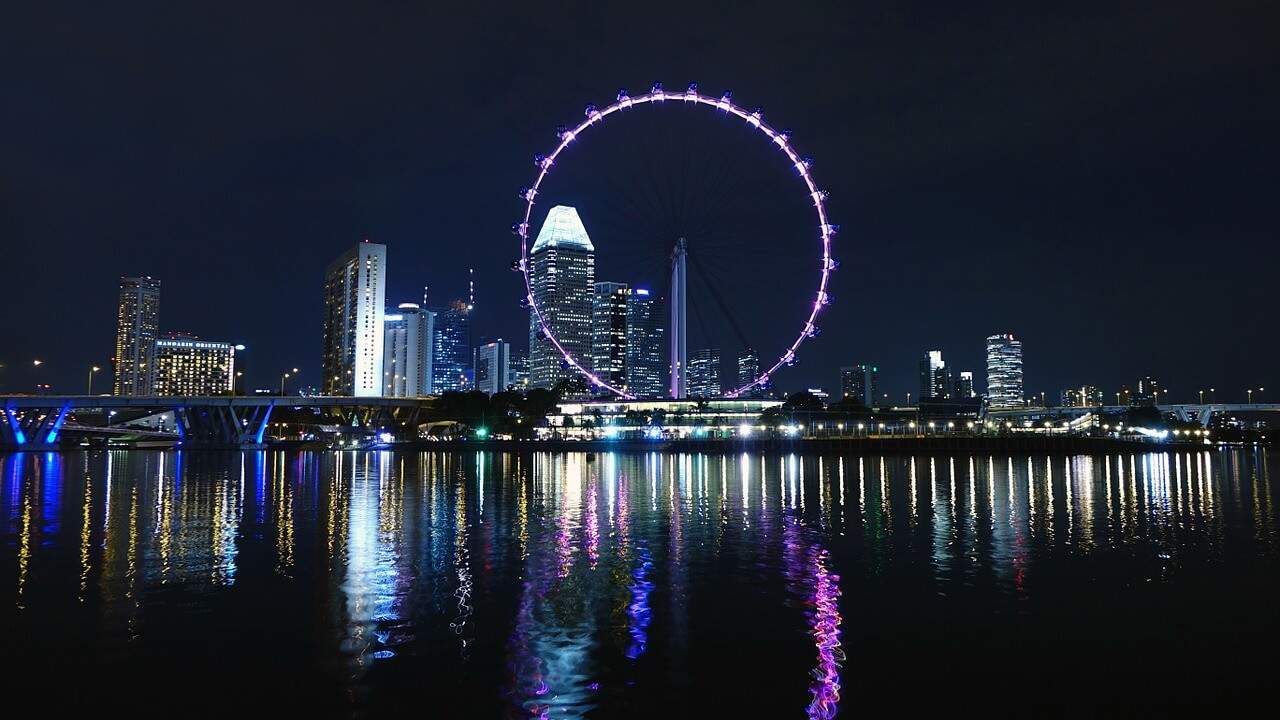 Location: 30 Raffles Ave, Singapore 039803
Directions: Alight at Promenade Station (Circle line & Downtown line) and take Exit A
Contact Info: +65 6333 3311
7.

Gardens by the Bay

Set in the heart of the city, be prepared to be wowed by the magnificent Supertrees that are 25m to 50m high. Beat the heat by entering the two fully air-conditioned domes: Flower Dome and Cloud Forest. The Flower Dome replicates a mild, dry climate with over 32,000 plants while the Cloud Forest replicates the cool moist climate and also houses the tallest indoor waterfall in the world.

Tourist Tip: Go in the early evenings at around 4pm as it is cooler to roam around. Be sure to catch the Garden Rhapsody, Gardens By The Bay's stunning light and sound show at night (7.45pm/8.45pm) !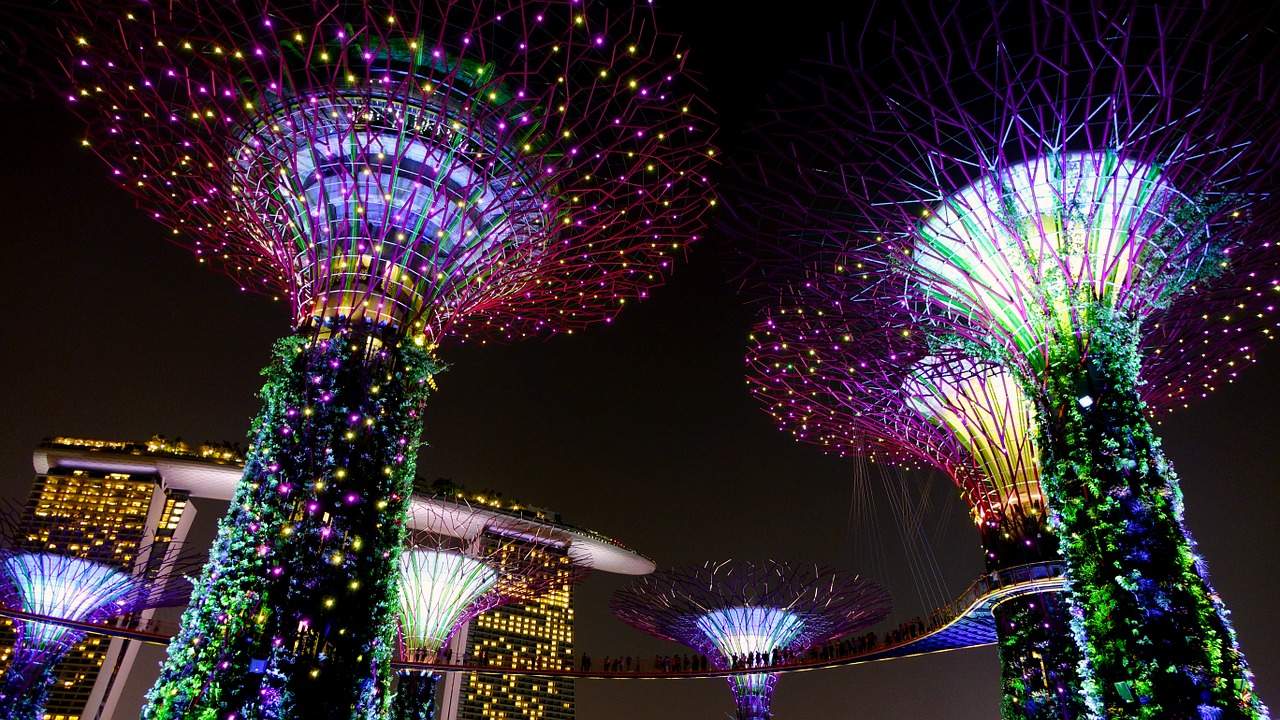 Location: 6 Bayfront Ave, Singapore 018974
Directions: Alight at Promenade Station (Circle line & Downtown line) and take Exit C. Board Buses 97, 106 or 133 and alight two stops later at Marina Bay Sands Hotel. Walk towards the direction of Gardens By The Bay
Contact Information: +65 6688 8888
8.

Sentosa Island

Sentosa Island, Singapore's famous man-made island, is filled with so many great attractions for all ages that it would take you at least 2 days to explore all of them properly. Get an adrenaline rush by riding the famous Battlestar Galatica in Universal Studios Singapore, confuse your senses with realistic illusions in the Trick Eye Musuem, take a picture beside (the waxed version of) your idol in Madam Tussads or even marvel at the wonders of ocean life at S.E.A. Aquarium.

Tourist Tip: There are several ways to get to Sentosa, including taking a leisurely stroll down along the Sentosa Boardwalk from VivoCity! Check out the various alternatives here.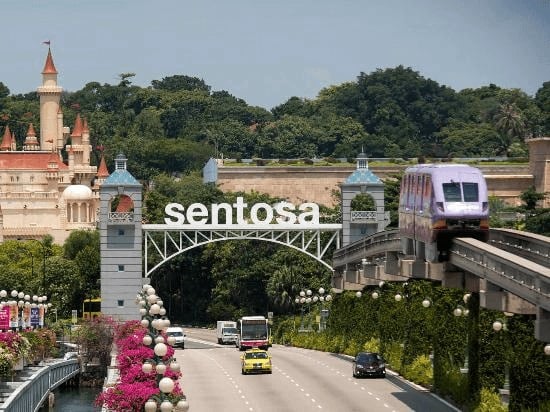 Location: Sentosa Island
Directions:  Alight at HarbourFront Station (North-East line & Circle line). Take the Sentosa Express located at the 3rd level of VivoCity shopping mall (Lobby L)
Contact Information: +65 6688 8888
9.

Marina Bay Sands Integrated Resort

Dominating the Marina Bay front area at 155,000 square meters, this futuristic rocket-like building comes complete with a casino, posh hotels, five-star restaurants, shops, museum, convention centre and even an event's place plaza! At the top, the Sky Park links the 3 buildings together and has several cool amenities including an Instagram-worthy infinity pool. The Mastercard Theatres located in Marina Bay Sands also showcase many international top acts and musicals!

Tourist Tip: At night, head out to catch the nearby Helix Bridge breathtaking light-up. The Helix Bridge, along with the ArtScience Museum and Marina Bay Sands Integrated Resort, has become a showcase of futuristic architecture in Singapore, and is a place perfect for photo taking!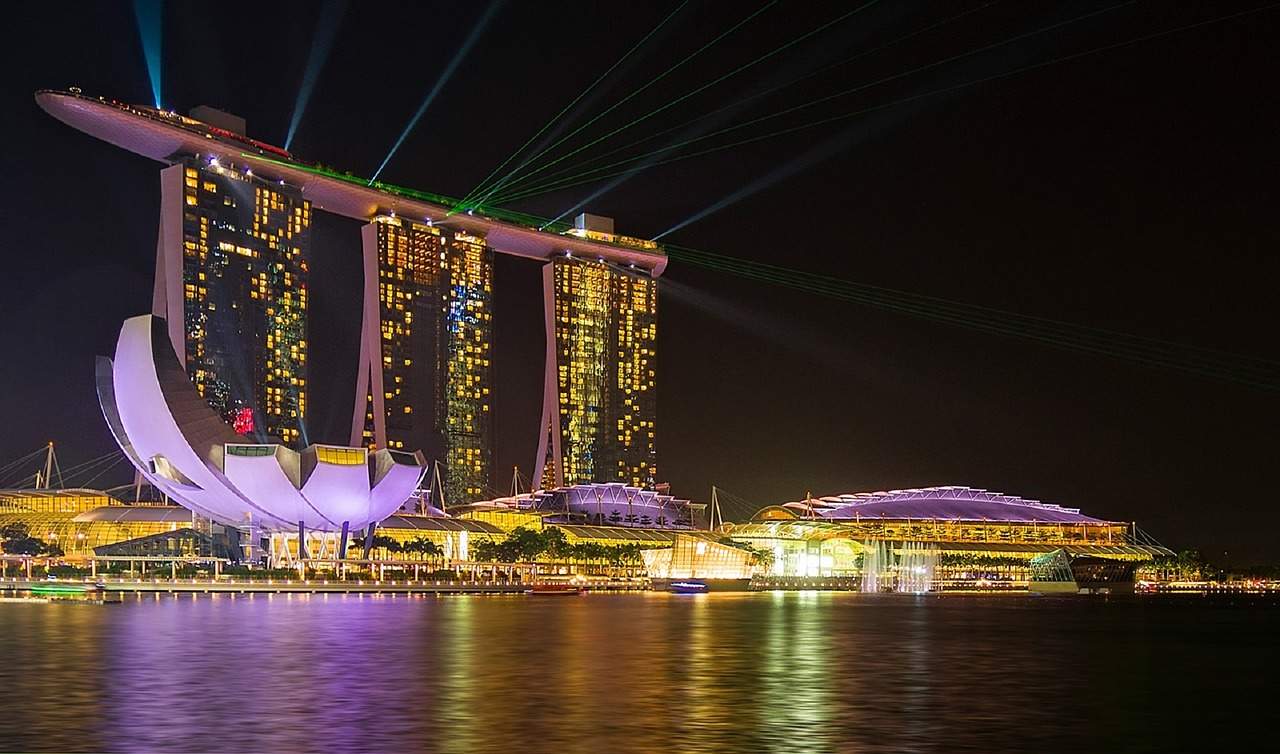 Location: 10 Bayfront Avenue, Singapore 018956
Directions: Alight at Bayfront Station (Downtown line & Circle line). Take Exit B and walk to Marina Bay Sands Integrated Resort.
Contact Info: +65 6688 8868
10.

ArtScience Museum

The ArtScience Museum is a fantastic place to appreciate the finer things in life, whether you are a fan of the arts, science, design, media or even technology. Many exhibitions at the ArtScience Museum are only featured for a limited time so admission prices will differ. Usually, prices range from S$18/adult to S$28/adult.

Tourist Tip: Did you know that its unique shape represents a lotus flower with 10 "petals" varying in length to symbolize how Singapore welcomes people from all over the world?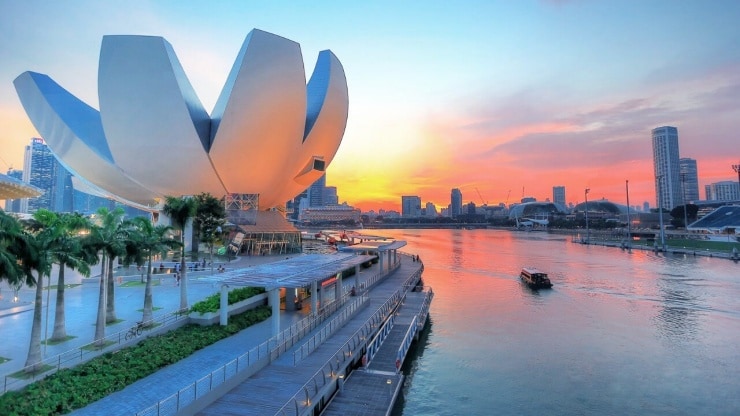 Location: 6 Bayfront Ave, Singapore 018974
Directions: Alight at Bayfront Station (Downtown line & Circle line) and take Exit C
Contact Info: +65 6688 8888
---
And these are ten attractions in Singapore you should try to visit if you're headed for our sunny island. Being a tropical country, we get the sun (and heat!) all year round, but if you're visiting in the months between November and March, do take note that those are the monsoon season months!
Need another option? Changi Airport is definitely worth a (longer) look! Rated World's Best Airport in the world for the fifth consecutive year, explore Changi Airport's full-fledged facilities and services like the Butterfly Garden in Terminal 3 or the Entertainment Deck at Terminal 2. With all these amazing attractions to visit, be sure not to miss your flight back home!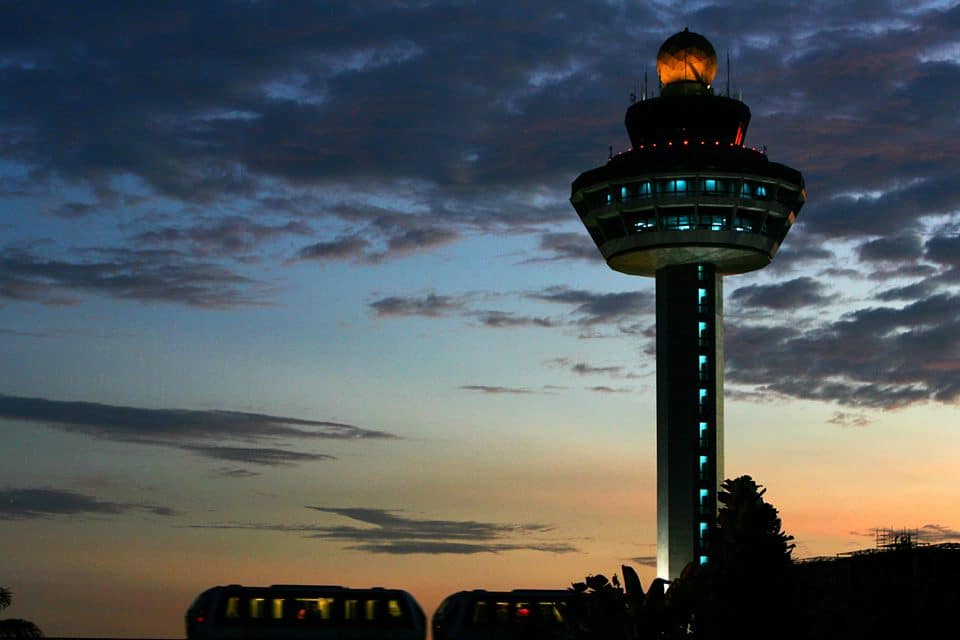 Since you're here, why not check out our best Travel deals too? Satisfaction guaranteed!
Want more travel-related articles? Visit our blog for more of such articles.