Last Updated:
Time flies. It shouldn't come as a surprise that we're less than 4 weeks away from 31 December, but it still is. That is less than 30 days to the end of 2019, everyone.
If you fall into the category of people who'll travel out of your home country to experience a New Year in a foreign land and culture, what we're going to talk about today may pique your interest. Yes, we're talking about countdown celebrations and parties today, specifically in the Asia region.
Also, check out some of our hotel recommendations that are near the locations of the countdown parties. After an amazing countdown party, the last thing you'll want is to navigate a long way back to your hotel.
Ready to find out how our neighbouring countries welcome the new year?
Taiwan
You don't have to be in Taipei to know the city's famous skyscraper, Taipei 101. This landmark stands at 508m and was the tallest building in the world from 2004 to 2010, after which it was surpassed by Burj Khalifa in Dubai. Although not the tallest building anymore, the city's most iconic and enchanting countdown takes place at Taipei 101 every year.
The building's lights light up layer by layer from the bottom as the countdown starts, and ends with fireworks shooting proudly from the tip of the building and at every layer, displaying a magnificent show for party-goers gathered on the streets around the building.
Last year's programme featured a light show together with 20,000 fireworks at the stroke of midnight and we'd expect no less as we welcome 2020. If you're headed for Taipei and are keen to indulge in the beautiful sight with the locals, be warned that the streets will be extremely crowded and it will take you some time to get on public transport after the show ends.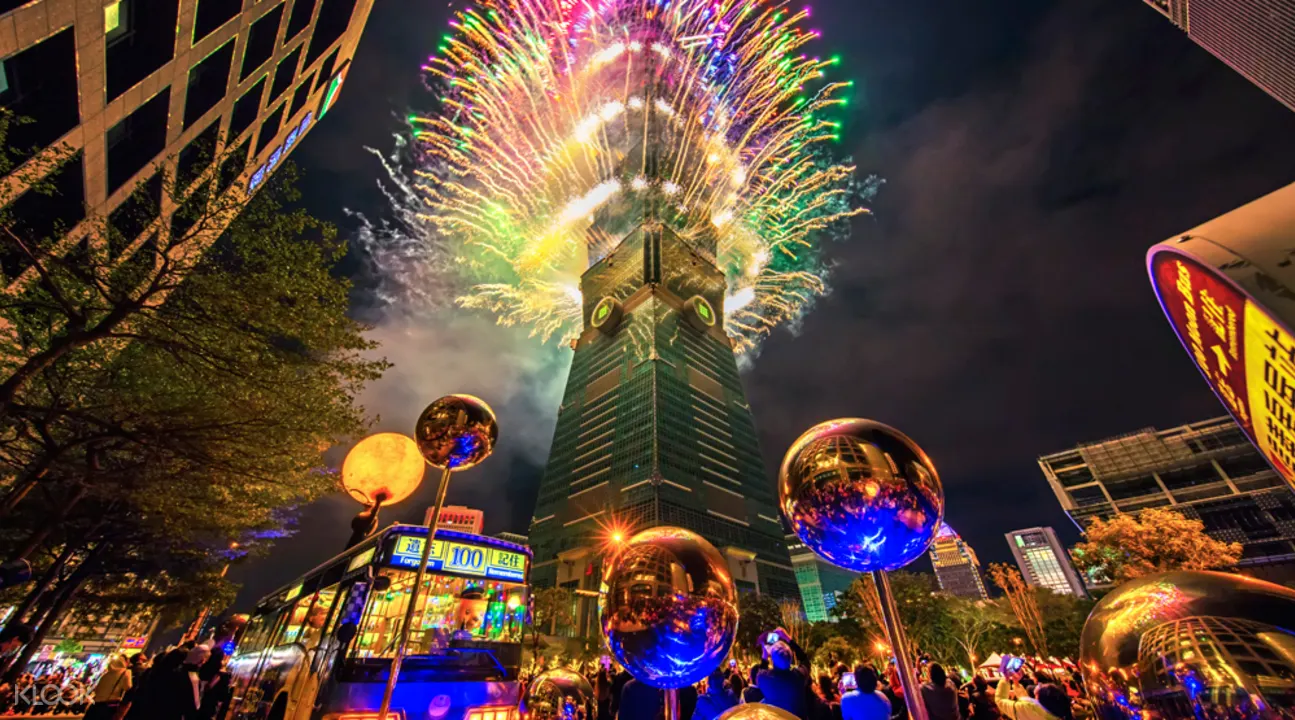 If you aren't keen on squeezing with the massive crowd, the hotel recommendations below are fairly near Taipei 101 building. Check with the hotel staff to see whether you can book a room that will get you an unobstructed view of the spectacular fireworks! Get down to booking now, because these rooms definitely get sold out fast!

2020 Taipei 101 New Year's Eve Observatory Party
Location: Taipei 101, No. 7, Section 5, Xinyi Road, Xinyi District, Taipei City, Taiwan 110
Entry Time: 31 December 2019, 10pm to 11.20pm
---
Hotel recommendations near Taipei 101
Amba Taipei Songshan


Amba Taipei is conveniently located to the Taipei's must-see destinations, especially Taipei 101, famous night market and Wufenpu clothing market. A shopping mall is also just a short walk away with easy access to the City Link Mall connected to Songshan Metro Station.
Grand Hyatt Taipei
This 5-star hotel is a wonderful choice with its excellent location near to the Taipei 101 World Trade Center Metro Station as well as accessibility to the city's biggest attractions. One can never go wrong with Grand Hyatt!
Tango Hotel Taipei Xinyi
Tango Hotel Taipei Xinyi is centrally located in the Sin-Yi district and adjacent to many of Taipei's popular shopping and entertainment areas. With modern decor and comfortable amenities, even a whirlpool bathtub, this is the perfect choice to wind down the year in.
---
Japan
In Japan, countdown parties and fireworks during New Year's Eve isn't a common sight. Compared to many other big cities in Asia and across the globe, New Year is a rather quiet affair. The locals preserve an important tradition called Hatsumode, translated to mean "first visit", where they visit shrines on 1st January to wish for a good year ahead.
If you know a little about Japan, you should know that in the midst of mouth-watering ramen and fresh sashimi, there are many shrines in the whole country. Different shrines are known for different purposes, such as Tokyo Daijingu for good fortune and marriages, Kanda Myojin for good luck in businesses, and Meiji Jingu for happy marriages.
These shrines are very popular among locals and tourists, so prepare yourself to squeeze with throngs of people if you want to immerse yourself in the traditional culture of Hatsumode.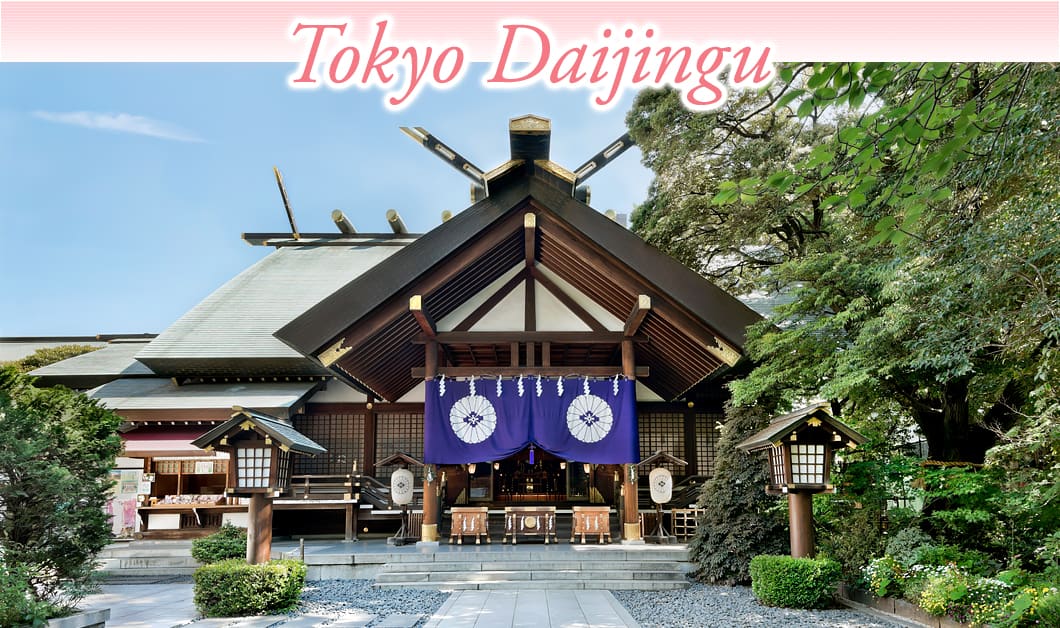 Location of Shrines (Tokyo)
Tokyo Daijingu: 2 Chome-4-1 Fujimi, Chiyoda, Tokyo 102-0071, Japan
Kanda Myojin: 2 Chome-16-2 Sotokanda, Chiyoda, Tokyo 101-0021, Japan
Meiji Jingu: 1-1 Yoyogikamizonocho, Shibuya, Tokyo 151-8557, Japan
---
If you will be in Kyoto, why not book yourself a New Year's Eve Celebration Tour? Immerse yourself in the festive atmosphere with this half-day tour that will bring you to some of the famous shrines and temples in Japan such as Shimogamo Shrine and Chionin Temple.
New Year's Eve Celebration Tour in Kyoto: Shimogamo Shrine, Chionin Temple and Yasaka Shrine
Tour Dates: Daily from 26 to 31 December
Meeting Point: JR Kyoto Station Karasuma-guchi Bus Terminal
Meeting Time: 10:30am
More details here
---
Of course, there are still quite a few other places in Japan with really awesome countdown parties. One popular place is Universal Studios Japan in Osaka, where you can get on rides with minions and witness the fireworks show at midnight. What better way is there than to spend the last day of the year on New Year's Eve having a ball of a time? Ticket sales are now open, so hurry get your tickets before they sell out!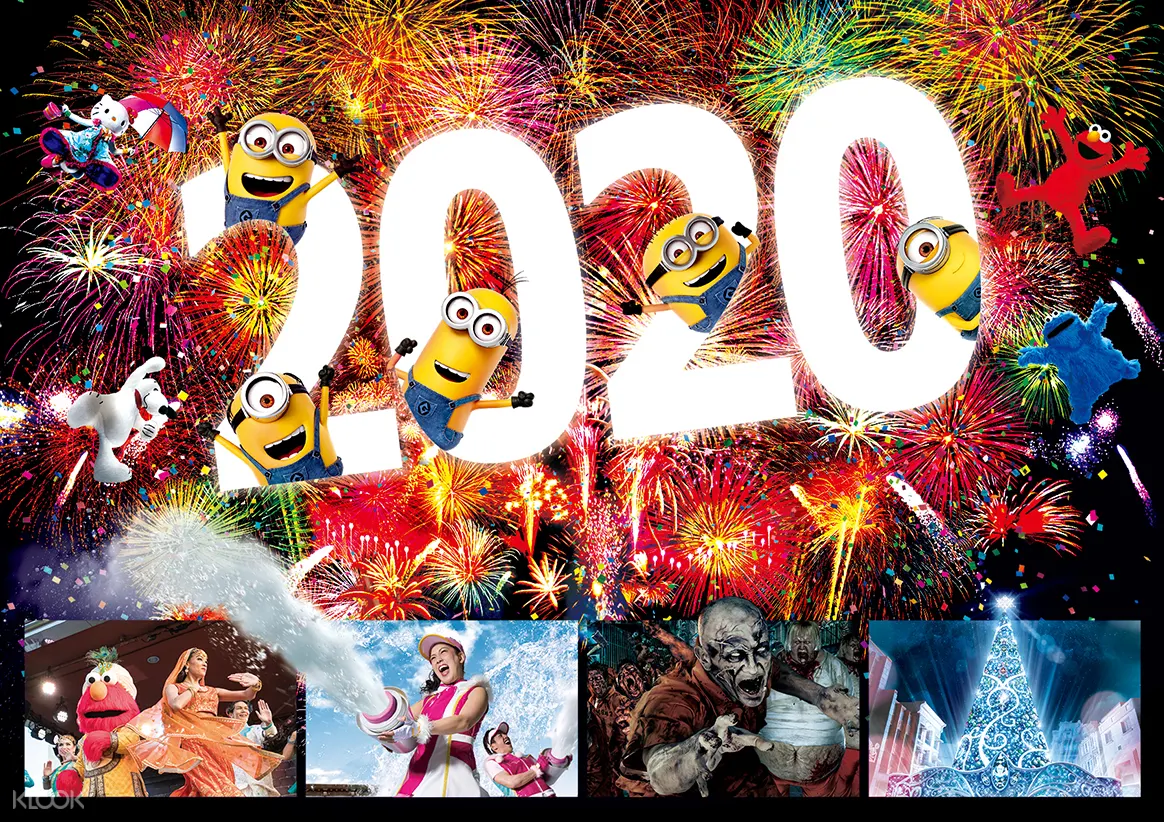 Universal Studios Japan Countdown Party 2020
Location: 2 Chome-1-33 Sakurajima, Konohana Ward, Osaka, Osaka Prefecture 554-0031, Japan
Time: 7.00pm – 2.00am
---
If you're up for some partying, the clubs in Shibuya and Shinjuku area often have countdown parties as well. As of now, the details for the year-end parties have not been released, but we will update this space as soon as they are.
The last popular year-end activity Japan is famous for is the annual Kōhaku Uta Gassen, a year-end music and song festival where artists and performers are divided into two teams, the Red and White team, and battle to win. It is a large-scale event congregating many high profile singers from the Japanese entertainment industry, and is broadcasted live by the NHK network.
The show will be running it's 69th contest this year, so you can imagine how significant and popular this event is in the country.
Hotel recommendations near Universal Studios Japan, Osaka
Hotel Universal Port
A stylish marine-themed hotel right at the entrance to Universal Studios Japan, Hotel Universal Port is a great choice for a family vacation, with even kid's rooms available.
The Park Front Hotel at Universal Studios Japan
The Park Front Hotel at Universal Studios Japan is a great base from which to explore Osaka as it offers easy access to city's must-see destinations. Surprisingly spacious, we hear that the food at this hotel is really good!
Hotel Keihan Universal Tower
As the official hotel of Universal Studios Japan, this is a comfortable and convenient option for your stay in Osaka. Hotel facilities even include a sauna and hot spring bath!
Hotel recommendations near Shinjuku / Shibuya
Shibuya Tokyo REI Hotel
Conveniently located in front of Shibuya Station, Shibuya Tokyo REI hotel is within walking distance to many Tokyo's attractions like the Meiji Shrine, NHK Broadcasting Center, Yoyogi Park and more!
APA Hotel Shinjuku-Kabukicho Tower
Right in the very center of Shinjuku, APA Hotel Shinjuku-Kabukicho Tower is an oasis of quiet in this exciting and lively location. A popular choice amongst travellers, there is also a free onsen on the top floor.
Keio Plaza Hotel Tokyo
Keio Plaza Hotel Tokyo is just a few minutes walk from Shinjuku station and has a free shuttle bus to Disneyland. It also has its own convenience store within the hotel till 2.30am!

Thailand
Bangkok is perceived as a big party city, with countdown parties not just in clubs but on streets too. We highlight a few of the large-scale parties Bangkok is famous for, so you can take your pick if you're headed for Thailand this New Year.
Khao San Road, a backpacker's land and an area known for street dancing, live music and booze, will no doubt welcome the New Year with music and dance. If crowds don't leave you frazzled and you want to soak up the high spirits, visit Khao San Road between 8pm to 1.30am (Bangkok time) for a good party time!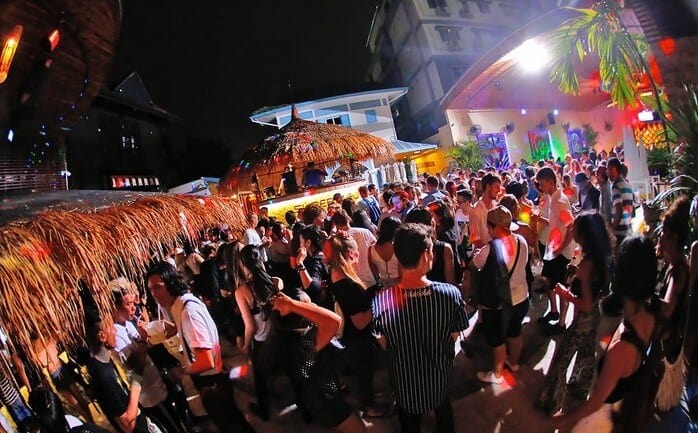 Location: Stretch of Khao San Road
Time: Anytime from 8pm onwards
---
If you like some good food with fireworks display, the celebration at Chao Phraya River is the place you should check out. There are several types of dinner cruises you can sign up for, where food and drinks are served in the midst of performances and music. At midnight, be in awe of the marvellous fireworks illuminating Bangkok's skies over the Chao Phraya River. Get your tickets fast before they're gone!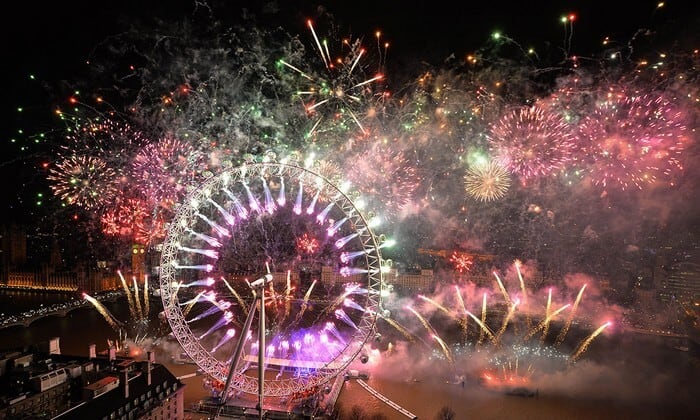 Chao Phraya Princess Cruise (Dinner Cruise with New Year's Eve Programme)
Location: Depending on cruise type. Check details here

Time: Depending on cruise type. Check details here.
---
Outside of Bangkok, we have the popular Koh Phangan full moon beach party, where thousands of party-goers flock to Haad Rin beach to drink, dance, party and repeat. The full moon party has become so famous among foreigners that they offer packages to simplify logistics for visitors.
Location: Resorts in Koh Phangan
Time: Depending on individual resort's party
---
Going up north of Thailand is Chiang Mai, where a lantern festival takes place every New Year's eve. Locals and foreigners would light up paper lanterns at temples and let them off into the night sky, a beautiful sight you'll want to experience personally. Monks will be in meditation and chanting in the last hour of the year, and set off their good-luck lanterns at midnight, often together with Thai locals.
Hotel recommendations in Bangkok
Bangkok Marriott Marquis Queen's Park


The perfect choice for one to soak in the sights and sounds of Bangkok, Bangkok Marriott Marquis Queen's Park is relatively new with modern comforts and decor.
Novotel Bangkok Sukhumvit 20
Novotel Bangkok Sukhumvit is a popular accommodation for many in Bangkok. Do check out the awesome pool sky bar that'll give you a great view of the city!
Amber Boutique Hotel Silom
Centrally located in Silom with easy access to Saladang or Chong Non Si BTS stations, Amber Boutique Hotel offers just 19 guestrooms in Moroccan, Sino-Portuguese, and modern styles.
Hotel recommendations in Chiang Mai
U Chiang Mai Hotel
Enjoy the comforts of this 4-star luxury hotel that allows you to customise preferences from your choice of pillows, soap, tea, even up to the items in the mini-bar prior to arrival.
Namamema Colonial Boutique House
In the heart of the town, the Namamema Colonial Boutique House comes with just 10 beautifully appointed guest rooms, you can expect a comfortable stay with lots of privacy.

Seoul, South Korea
Another vibrant city in Asia, South Korea has been one of the most popular holiday destinations for Singaporeans, partly due to the infectious influence of Korean culture all over the world now.
Times Square, a giant shopping mall in the Yeongdeungpo district of Seoul, has been organising a countdown party on 31 December night every year, with exciting performances by K-POP artists and rappers to liven the mood up as people usher in the new year. The ticket information and artists line-up for this year's countdown has not been revealed yet, but you should bookmark this page because we'll refresh this article with updates as and when they come in!
Location: 15 Yeongjung-ro, Yeongdeungpo-dong, Yeongdeungpo-gu, Seoul
Time: Information unavailable as at published date
---
If you want to experience how Koreans traditionally welcome in the new year, you may opt to participate in the Bosingak bell-ringing ceremony. Koreans welcome in the new year with the striking of the bell, similar to western countries' "ball drop ceremony". This takes place at midnight at the Bosingak Belfry located near Jonggak Station, and it is advisable to take the public transport as roads will be congested. Expect to see big crowds as locals and tourists will be gathered around the belfry to ring in the new year with wishes for blessings, good health and happiness!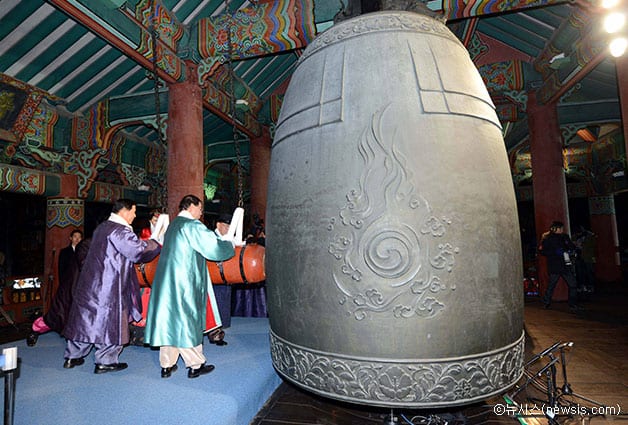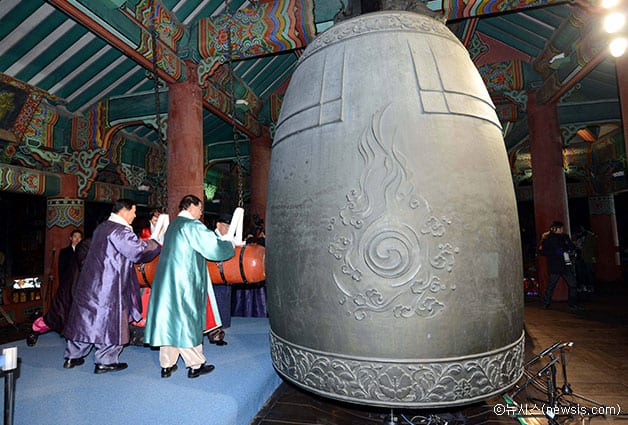 Location: 54, Jong-ro, Jongno-gu, Seoul
Time: Night time. Performances will only start from 11.30pm onwards
Hotel recommendations in Seoul
CenterMark Hotel
Centrally located in the Jongro/Insadong are and with Myeong-dong just a 10-minute walk away, CenterMark Hotel is a perfect choice with its easy accessibility to restaurants, shopping, and other tourist attractions in Seoul.

Crowne Park Hotel Myeongdong Seoul
Crown Park Hotel Myeongdong Seoul is just a short walk away to Myeong-dong Street Market and is surrounded by cultural tourist attractions such as Deoksugung and Gyeongbokgung Palace, shopping areas such as Seoul Plaza and Namdaemun market. What's interesting is that the guestrooms are made of environmentally friendly materials.
Ocloud Hotel Gangnam
Simple yet modern, Ocloud Hotel Gangnam has really pleasing and comfortable rooms and is a great location with just a 10 minutes walk from Sinnonhyeong station. It is also conveniently located near the main street where all the shopping and restaurants are.

Manila, The Philippines
One of the most popular and talked-about countdown parties in The Philippines is the one at Quezon Memorial Circle. The celebration here is lively, to say the least, with performances, pyrotechnic shows, and a fireworks display ready to wow the crowd. Be prepared to party into the new year with thousands of locals and tourists at this national park. Bring along some food and drinks if you expect to go hungry!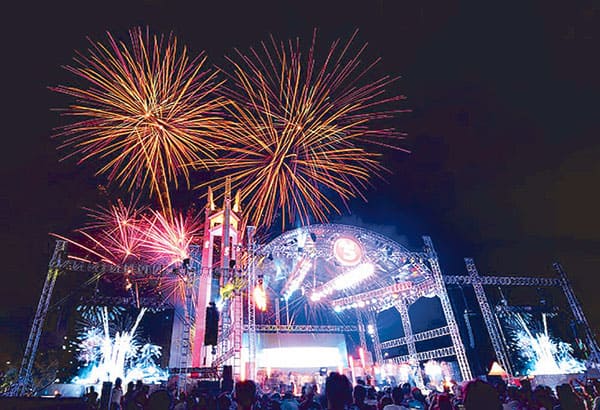 Location: R-7, Diliman, Quezon City, Metro Manila, Philippines
Time: From 9.00pm onwards
---
Another large-scale celebration in the country is the one over at the SM Mall of Asia. In the last few years, the countdown parties at SM Mall were lined up with exciting live performances and fireworks display, attended by big stars and top celebrities, making them the talk of the town. There had also been mascot parades by characters such as Powerpuff Girls and Doraemon, an event perfect for children to attend. The details for this year's countdown party has not been released yet, so if you're planning to include this celebration into your itinerary, do check back on their Facebook page for the latest news!
Location: SM Central Business Park Bay City, Pasay, 1300 Metro Manila, Philippines
Time: Information unavailable as at published date
---
Besides these two larger celebrations, several hotels and clubs hold their own countdown parties as well. Last year, we saw Resorts World Manila, Sofitel Philippine Plaza Manila, Palace Pool Club and Valkyrie Nightclub hold parties on New Year's Eve, so be sure to keep a lookout on their updates for this year's countdown events.
Hotel recommendations near Quezon Memorial Circle
Sulo Riveria Hotel
Located just 30 minutes from Manila's city center in vibrant Quezon City, Sulo Riveria Hotel is in the heart of the business and commercial districts and located near places such as the Quezon City Memorial Circle and Quezon City Hall.
Hotel Rembrandt
A boutique hotel conveniently located in Quezon City, Hotel Rembrandt is positioned along Tomas Morato Extension. It is also in close proximity to shopping malls and a wonderful selection of local and international cuisine, from fine dining to fast food and locally-owned restaurants.
Hotel recommendations near SM Mall of Asia
Conrad Manila
A luxurious 5-star hotel, Conrad Manila is in the heart of everything – the airport, shopping mall and restaurants. What's amazing about this hotel is the sea view, so be sure to pick a guestroom that offers this.
Golden Phoenix Hotel Manila
The Golden Phoenix Hotel Manila is a popular choice for Manila visitors who enjoys a relaxed and hassle-free stay. Located 2 km away from the city center, the hotel's strategic location makes it easy and quick to get to many local attractions.

Singapore
We couldn't possibly leave our Little Red Dot out of this list. If you're not one to travel during such festive seasons and are looking for countdown parties in town, we've got a few suggestions for you.
Marina Bay Sands Countdown has become a firm fixture in our country's new year events every 31st of December. With Singapore's dazzling skyline in the backdrop of Marina Bay Sands, you can marvel at the beauty of our Lion City as you usher in the new year with thousands of people at The Float. Keen on a night picnic with your loved ones as you have front row view of the fireworks display? Get your tickets at just S$5 while stocks last! There is even a Marketplace to get food and drinks so you don't have to worry about going hungry.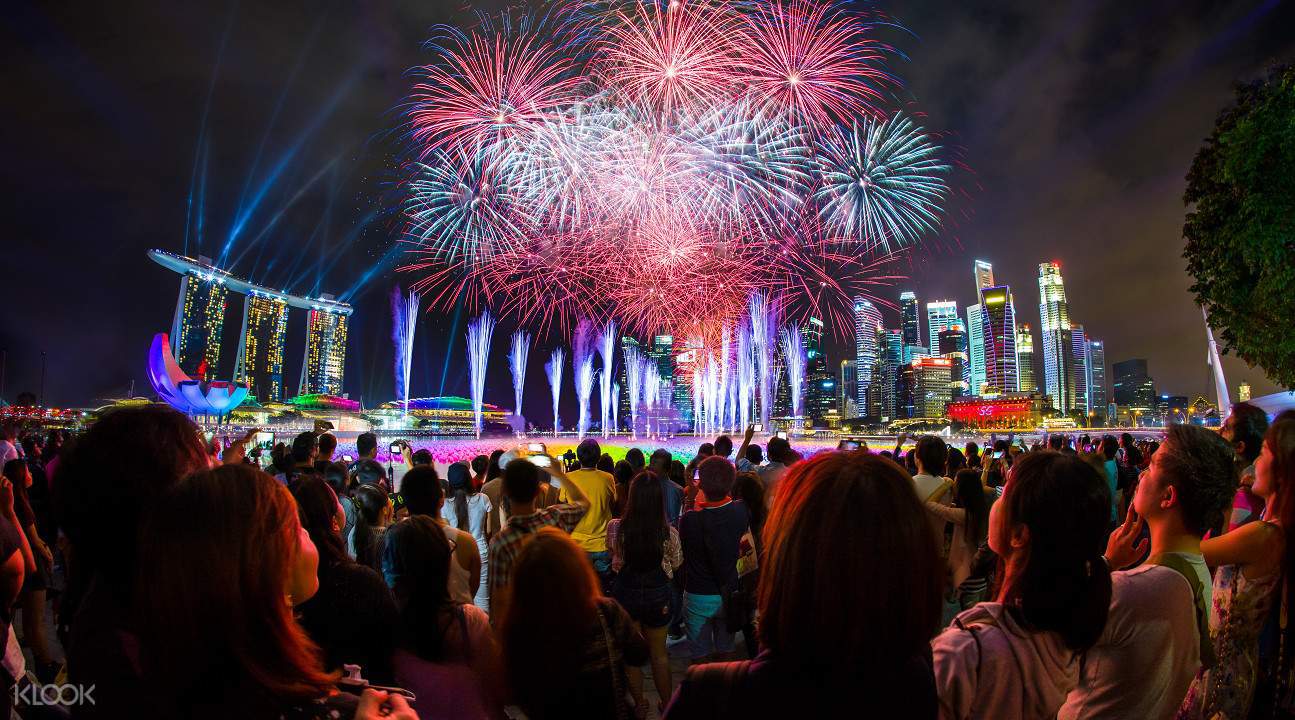 Location: The Float @ Marina Bay, 10 Bayfront Avenue, Singapore 018956
Time: 5.00pm – 1.00am
If you don't need front row tickets, the other popular spots to catch the fireworks from the biggest countdown party in Singapore would be around the Esplanade area and The Fullerton Hotel. Try to head down early (preferably without your cars!) to find the best spot for viewing. It is safe to assume that traffic will be bad in that area, with road closures and car-free zones, so it is advisable to leave your car at home that night or book yourself a staycation at the Fullerton for that weekend.
A beach party is almost always a good idea, what more a countdown beach party? Join in the fun as Sentosa runs its annual Siloso Beach Party, dancing into the new year with music by various local and international DJs and a spectacular fireworks show! If you're ready to have a pumping good time, get your tickets now before they sell out!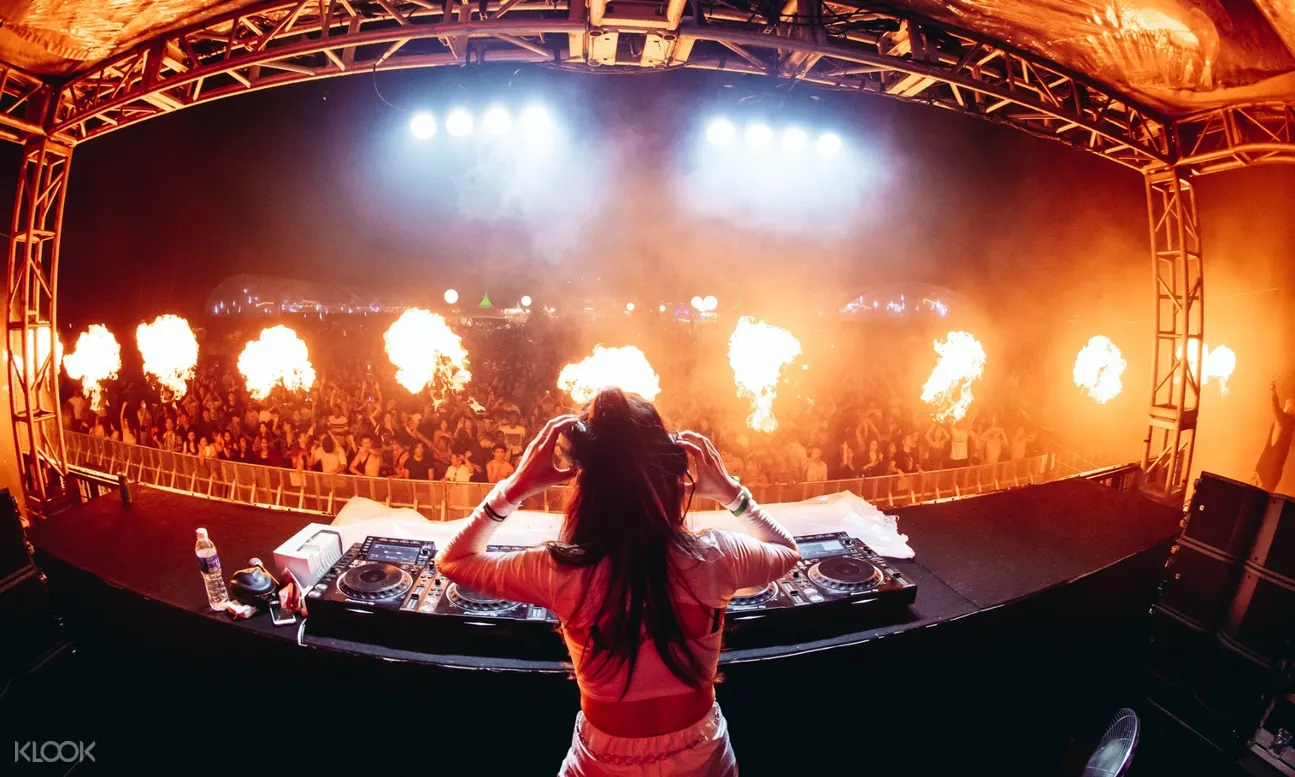 Sentosa Siloso Beach Party
Location: 45 Siloso Beach Walk, Sentosa, Singapore
Time: 6.00pm – 6.00am
More details here
---
New Year's Eve may as well be one of the rare occasions where squeezing with a crowd isn't entirely a put-off, if you keep your spirits high on this joyous day. What do you have in mind to bid 2019 goodbye and countdown to a brand new year?
---
Don't worry, we didn't forget about the flights. Check out the flights + hotels packages Expedia offers. There are always some ongoing Expedia credit card promotions, so you should do a quick scan to see whether there are any offers you can utilise!
500