Last Updated:
The human brain is really interesting. I've written many articles on choosing the right credit card for yourself; and yet, I get asked the same question repeatedly- "Which Credit Card should I choose?".
I admit that when you first embark on credit cards, it can be a rather daunting and scary new chapter of your life. Who hasn't heard of the story of the young salaryman made bankrupt because of his overspending on luxury goods through his reckless swiping of his credit cards? Till this day, my sister has an aversion towards credit cards as she believes that her financial self-discipline will crack in the presence of delicious food.
3 types of Credit Card Reward Programmes
There are 3 main types of reward programmes for credit cards:
Rewards cards earn you points (based on issuing banks) that can be exchanged for either vouchers, cash or air miles.
Cashback cards earns a percentage of your total spending and allows you to pay your bills with the accumulated cashback. Credit cards can earn up to 10% cashback depending on the category of card spend.
Air miles cards earn air miles, which can be redeemed for air tickets at selected airlines (KrisFlyer for Singapore Airlines and AsiaMiles for Cathay Pacific Airways. Most Singaporean credit cards focus on KrisFlyer Miles and Asia Miles. However, it is no secret that I prefer KrisFlyer Miles and I talk a lot about them, as after comparing the dollar value of the miles redeemed, I have found KrisFlyer Miles to be more cost-effective than Asia Miles (based on the credit cards reward systems in Singapore).
So how then do we decide which credit cards we should apply for? Well then, it first depends on whether you want to focus on a particular reward programme. Focusing on one type of reward programme helps you clock points faster. However if you are all about extracting value from credit cards, I would recommend for you to have a mixture of different types of reward programmes (I have all 3 types of credit cards!).
We all have different preferences/ methods that help us arrive at a decision. Some of us make decisions based on visual cues (infographics anyone?), some of us take the analytical approach, while others just prefer to make a decision based on our lifestyle patterns.
Flowchart for Choosing the right Credit Card
Today, here is a flowchart that will help you decide on the type of credit card you should get.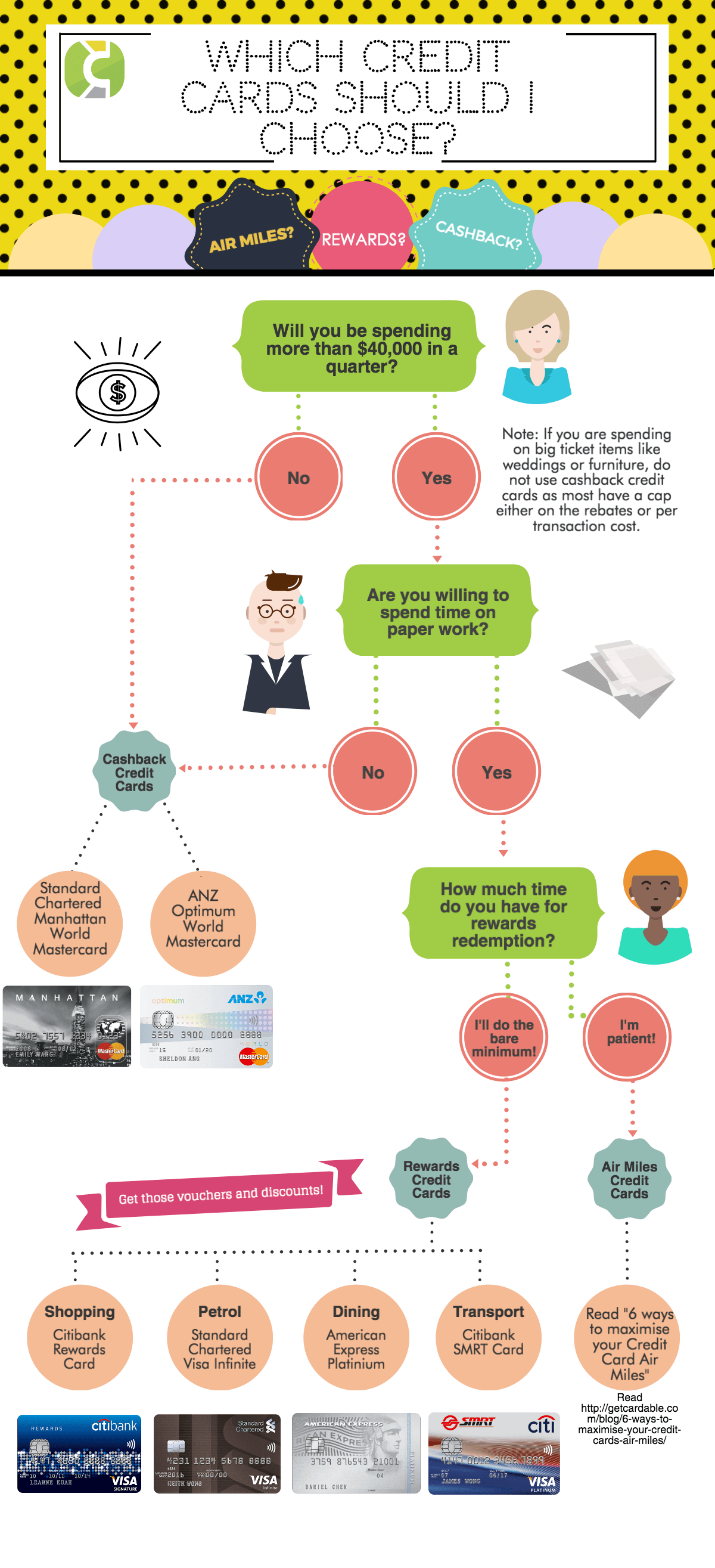 Has this been useful for you? Let us know which one of the credit card reward programme you have decided on!